Meinl Percussion HE-112 Darbuka is a must have percussion for those who live the musical dream. This is durable, elegant and conveniently easy to carry. The synthetic head only adds to its charisma and durability. It is a hand-hammered darbuka making it easy to play with a fair amount of practice. The sound projection of the percussion is more than satisfying and ambient. It synthetic head is easy to tune and can be replaced upon tear and injury as per the user's convenience. The sound range of the percussion is wide and diverse, adding to the depth and clarity of the sound produced. This only implies that the range between the highs and lows are well-defined. This darbuka comes in certified frustration-free packaging. It is also easy to obtain by direct payment or by a basic EMI payment, making this exquisite piece of percussion a must-have.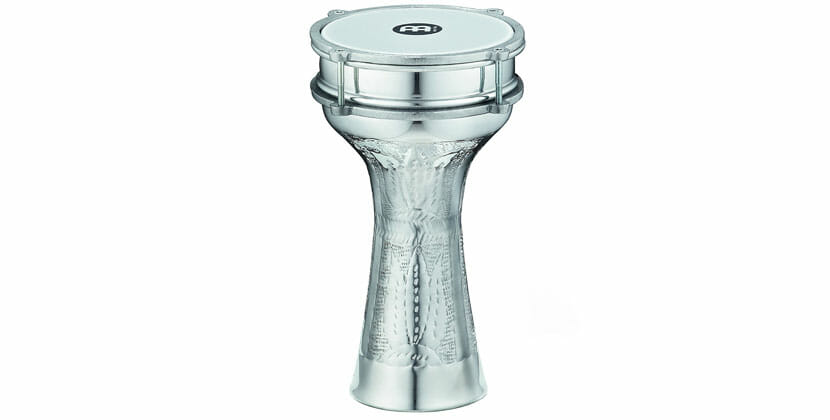 Table of Contents
Basic Construction
Meinl Percussion HE-112 Darbuka is made of high-quality, well-stretched synthetic head that is strong and durable. It is light-weight and easy to carry about. Its shipping weight is near about 2.2 pounds. The product dimensions range at 8.3 x 8.3 x 13.8 inches. The Meinl Turkish-style darbuka percussion comes equipped with a well-built hand-hammered shell.  This powerful darbuka drum also comes with a tuning key that only make it easier for the instrumentalist. The sound projection of the instrument is strong and powerful and it ensures that the resonant lows and the extended highs have a well defined, diverse range in between for maximum clarity, depth and quality. It is mostly preferred by professionals with a flair for percussion drumming but beginners can very well opt for the Meinl Percussion HE-112 Hand Hammered Aluminium Darbuka to start with. The full aluminium body measures 6 ½ inches x 12 ¾ inches.
Attractive Features
The Meinl Percussion HE-112 Hand Hammered Aluminum Darbuka is a professional percussion drum that is beautiful to behold and experience. It however possesses significant features that would make you want to buy it just about, now!
The stretchable synthetic skin is replaceable and tunable.
Tuning the synthetic skin becomes easier with the tuning key that is included in the package.
The product is long-lasting and lightweight, so you can happily carry it about for shows.
The aluminium finish makes it not only beautiful to look at but also makes it a long-lasting product with a well-defined sound range.
It is a hand-hammered darbuka drum that is fashioned on the Turkish darbuka.
The Meinl Percussion HE-112 Hand Hammered Aluminum Darbuka has a lovely sound and makes for an amazing percussion drum that is convenient to play.
How Does It Fare?
This one is a real winner! This aluminium finish darbuka is not only beautiful to look at but also provides an enriching experience to play. Designed inspired from the Turkish style darbuka drum, it lives up to the reputation of the brand and does not disappoint. Built lightweight and with several attractive features the HE-112 Hand Hammered Aluminum Darbuka with Synthetic Head is a value for money product.
It is lightweight, which means you can conveniently carry it for your shows without having to shell out a lot of money on transportation. Let's talk about the sound. The sound is rich, loud and does not lack the clarity that most synthetic skin darbuka drums complain of. This only means that this Meinl Percussion product fares well when compared to its market counterparts.
Now, here's an additional list that states why you should probably invest on the Meinl Percussion product. First, it is a household brand name among musicians who have vested their trust on the brand for so long. The thin shell and the aluminium finish give a distinct timbre to the percussion drum that is unique to each model. This full-bass instrument has a tunable head with the help of external rings that are set close to the shell.