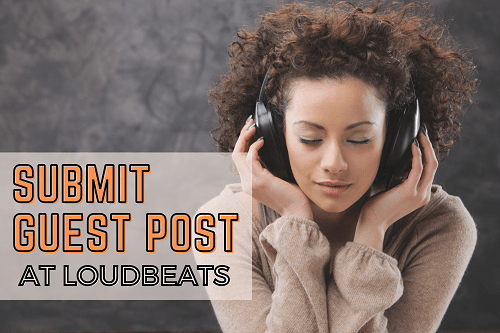 Hello Folks!
I'm quite sure that you live for music too, just like me. If I begin talking about my favorite drums or microphone, I can literally go on for hours. You've probably seen my blog and understand my sentiments well.
It's fantastic to know that you've decided to channel your passion for music into writing. And I'm thrilled that you're willing to write a guest post for LoudBeats.org.
SUPER FANTASTIC!
There is so much knowledge to be gained from incredible people like you, who have embraced the world of music like a quest. Everyone at Loudbeats.org would love to be inspired by your quest and share the journey with you. We'd love to hear your ideas and opinions about musical instruments and gadgets.
We'd love to read about anything related to music that strikes the right chord with our blog and readership.
But let me lay out some specifics for the sake of clarity.
Table of Contents
Guest Post Topics We Accept
Music is an ocean in itself! There's no end to the topics you can write on. I'll just try to break down vastness to some clear categories. Hopefully, that'll give you some direction and focus for the writing too.
Musical gadgets
One of the regular buzz on my blog is about musical gadgets. You can also pitch in your posts related to musical gadgets, go in the details of new launches and their review. Please don't write about the gadgets already covered by existing posts.
Buying guides
Buying guides are among the most frequently read posts on LoudBeats. Check the buying guides already posted to get a hang of how these posts should be structured.
Music tips
Been in the music industry for quite some time now? I bet you've got some noteworthy tips for fellow musicians, singers and artists. That's absolutely great! Pen down your thoughts and share it in your guest post.
Music business
Music business can come with a lot of roadblocks. We all need some inspiration to help us tide over the challenging phase. You may have business strategies or experiences that can give a boost to many new entrants.
Music production
There are many technicalities that go into music production and recording. You may already have enough experience to know how to manage time and resources for success in this field. It would be really nice if your blog could focus on the technical (and tricky) aspects of music production.
Music review
Many of LoudBeats readers are not professionally involved in singing or music. They are here just because they love to read about music and entertainment. Your constructive reviews about music albums, singers and songs, are always welcome for the guest post.
Top songs listicles
You can also contribute listicles. These are a list of featured songs or albums from a particular genre. You can also write about the tops songs and albums for a particular month or the year. Of course it is going to be about the chart toppers, but I expect the guest post to be more descriptive (and creative) than just giving a list of the chart toppers.
Best musicians
You're welcome to write guest posts about your favorite musicians, the legends of our times. Well researched and accurately documented information will only be accepted in this category.
Best instruments
You'll find that many instruments have been covered on the blog already. The featured instruments include regional and traditional instruments and also instruments that are popular in international and pop music. If you can contribute similar posts on other musical instruments, it'll be my pleasure to feature them on LoudBeats.org.
I've listed most broad categories here. But if there's anything else related to music that comes to your mind, feel free to send along your submissions.
Key Guidelines For Your Guest Post Submissions
It's just better that guest posts adhere to the website's standard and quality expectations. Don't worry. There are only a few quick rules you'll have to stick to.

Generally, the guest post should be

at least 1000 words

in length. Since buying guides are supposed to be comprehensive, the expected length for these posts is 2500-3000 words.

Please double-check the spellings and grammar before submitting the post. Any submissions with poor English (and foul language) will be rejected straight away.

While writing reviews, please take care that you're providing constructive criticism and feedback. If there are any personal affronts or offensive statements, your post will be rejected.

Please don't send any images or media with your submission files.

Please make sure that your content is unique and fresh. There's no point submitting copied material. (

There are tools to check plagiarism

).

You can include an author bio in the guest post. Feel free to add one outbound link to your website or blog. You're not allowed more than one link. Also please ensure that the anchor text to your link is not solely for the purpose of self-promotion. And please don't try to lead readers to scam sites, adult content or any illegal business.

Last thing, I expect that your guest post will bring some value to the readers. Your writing style should be clear and straightforward. Wherever suitable, add bullet points, lists and subheadings. The content shouldn't be drab!
When you send in your submission, I'll try to get back to you as soon as possible. In any case, you should hear back from me within a week if your post is selected for publication. I may also contact you for suggested revisions, if required.
That'll be all from my end. If you have any queries, please do contact me on the email.
Please submit the form below to reach us.