One of the unique musical instruments, Djembe was first manufactured and used for producing music in West Africa. This instrument which generally is a single long drum is constructed out of wood and can is about 15 to 30 inches high. Therefore, if you are looking to add some new and unique masterpiece to your music collection, Meinl Percussion HDJ3-M Djembe Drum is a product you should own.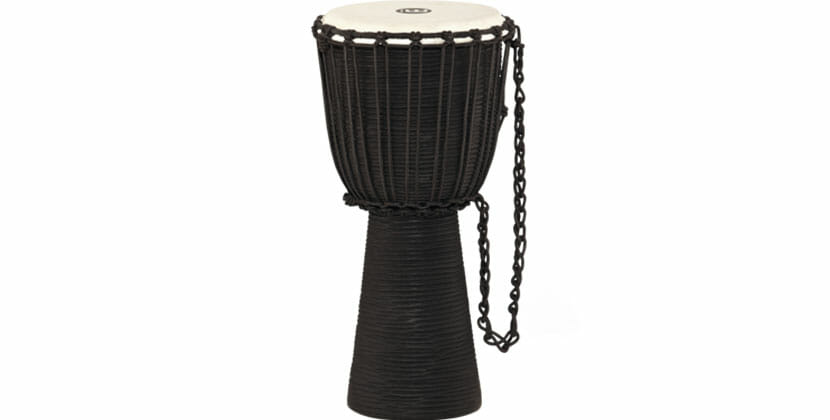 Table of Contents
Basic Construction
This djembe manufactured by Meinl Percussion is crafted out of a single bark of Mahogany wood. It has a height of 20 inches and has attached to itself, handcrafted shells to produce top quality sounds. There are nylon strings attached to these drums which offer the users a chance to tune this drum according to their requirements.
Attractive Features
This product which is one of its kind does boast a number of interesting features some of which include:
20 inches of height make this drum easy to play, providing a comfortable reach to the musicians thereby helping them produce quality music.
The single Mahogany wood body makes this drum durable as well as strong enough to absorb heavy pressure which players do apply on its face.
Extremely lightweight to ensure easy portability.
Nylon ropes for fine tuning and added strength.
How Does It Fare?
Seeing the quality of wood used in the making, the nylon strings attached, this product sure does fare well in the manufacturing department. Talking about the design, the black exterior combined with handcrafted shells do give it a unique and fresh look. Very easy to tune as well as much easier to play, this djembe sure does fare well in terms of quality as well as design.
Value For Money
Meinl Percussion HDJ3-M Djembe Drum has been made out of with one of the finest quality of woods and has nylon tuning ropes attached to it. Considering the cost factor, the product is definitely worth buy.
You can insure your product against any damage by purchasing the additional warranty available on Amazon. So, if you do wish to see something new, something unique then Meinl Percussion HDJ3-M Black River Series Headliner Rope Tuned Djembe is one efficient and beautiful instrument to own.