Meinl Percussion HDJ4-M Djembe Drum is carved out of a single solid piece of mahogany wood and hand selected natural goat skin. The tuning ropes are made of pre-stretched nylon and the shells are hand carved. The construction is of superior quality. The goat skin is held tightly by the high-quality nylon ropes- the crown ring on top and flesh ring at the bottom. The quality of the ropes and their diameter is an important aspect as the tuning is done by twisting the ropes and shortening them.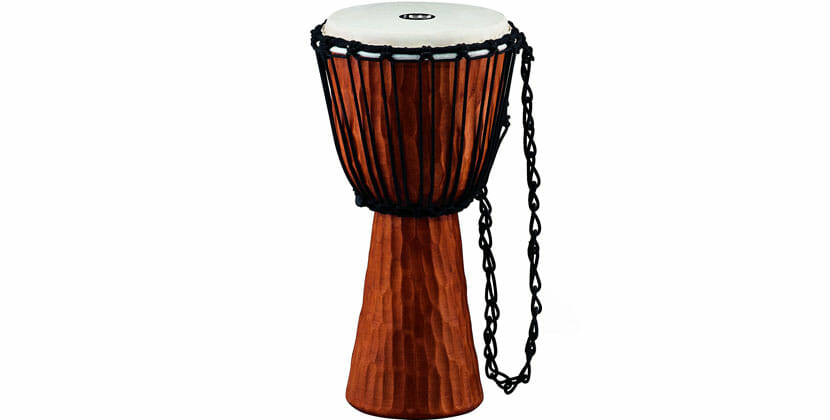 Table of Contents
Basic Construction
Material Used: Mahogany
Length: 10 inches
Breadth: 10 inches
Height: 20 inches
Weight: 15 pounds
Attractive Features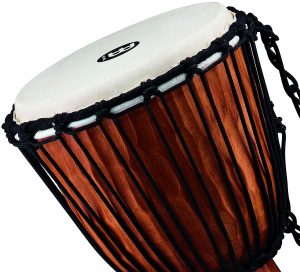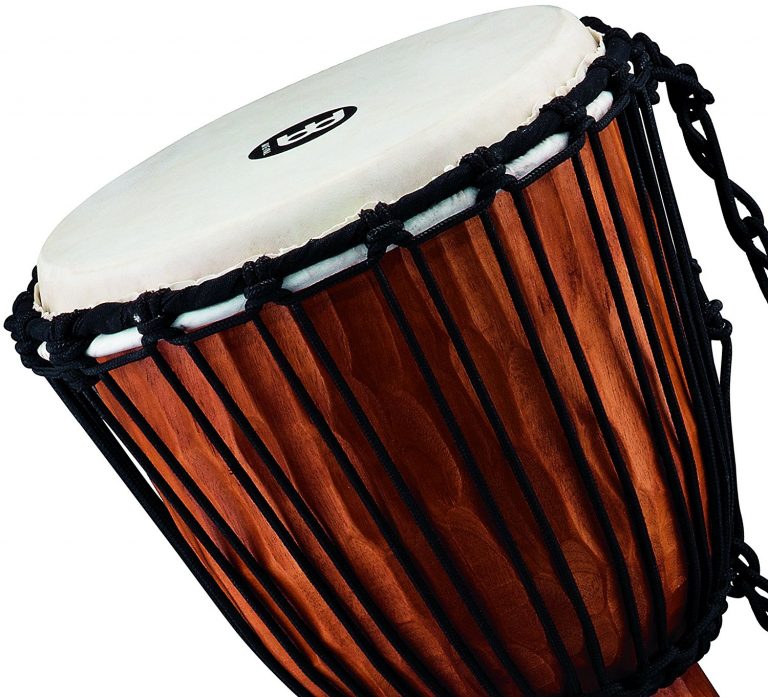 The goat skin does not come loose as it is secured by a traditional weave system using strong nylon ropes.
It has excellent acoustic features ranging from resonant, deep bass tones to high pitched crisp slaps.
The size is such that it can be transported very easily.
A gig bag accompanies the package to make sure the djembe is properly stored.
It can be very well used for beginners as a guide with tuning instructions is a part of the package.
The size of the drum head is just perfect- allowing a plethora of different tones.
The craftsmanship and construction quality is of exquisite quality.
It is very loud and can be used as either a solo instrument or with other harmonic instruments.
Skilled players can extract sound pressure of 105 dB from it which is as loud as a jackhammer.
With increasing skin tension, the volume of the drum keeps increasing.
How does it Fare?
Going by the reviews it has turned into a wonder drum. Most users are impressed with the high slap tone and construction quality. It has a clear and beautiful starting condition and comes along with tuning instructions. Drum enthusiasts are going gaga over this because of its versatility in sound production. It is equally beneficial for beginners because a tuning guide accompanies the package. It has been declared a star among drum circles as various drummers have vouched for its quality.
Value For Money
It is available for a justifiable price with free shipping. It is well packaged and designed very gracefully. The sturdy material and carefully designed drum head win the customer's heart at first glance. All customers have agreed that they are more than satisfied with the price and not one person has labeled it overpriced.