REMO Apex Djembe Drum has three features which have blown away even professional drummers. First is the durable ABS plastic used to mold the drum body. Second is the Goat Stripe drums head with Sound Control which allows a range of melodious sounds to be emitted from the djembe. Finally, the steel rim on the drum head which makes it so easy to hold and play the drum.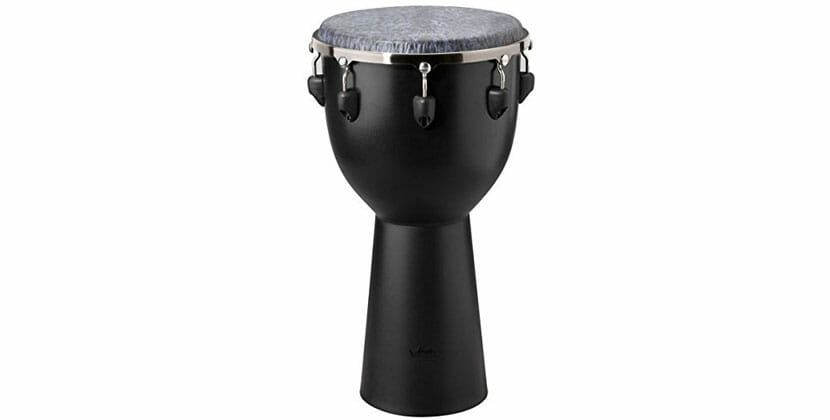 Table of Contents
Basic Construction
Material Used: Molded from durable ABS plastic
Length: 10 inches
Breadth: 10 inches
Height: 10 inches
Weight: 10 pounds
Shipping Weight: 11.4 pounds
Attractive Features
Especially light steel plated radius counter hoop which provides extra playing comfort.
The USP of this djembe lies in the tuning hooks. They are specially engineered and have inverted tuning hooks that allow you to tune the drum with absolutely no effort.
The Skyndeep black goat stripe drumhead is synthetic but it enhances the volume multiple times and is very good for live performances.
It stays well tuned in every weather and gives you no chance for complaint.
The sound quality is unmatched when compared with other contemporary djembes.
The specially engineered drumhead boasts of small foam dot which is actually a removable sound control.
The sound control is very useful because it prevents extra overtones and produces a dry sound.
It has resonant bass tone and rich, crisp slap tones.
Portability is not an issue because it has negligible weight.
Taking into account the size of the djembe, the base exceeds all expectations!
The materials are tough and weatherproof. So, your djembe need not be" under the weather!"
How Does It Fare?
It is a boon for drummers and drumming circles alike! Since it requires very little tuning in the beginning, beginners benefit from it too. Even without tuning, it produces quite a few bass tones and hence provides the beginners with the pleasure they desire. And even professionals are over the moon with this. Skilled players manipulate it to their desire and produce slaps and bass tones to their heart's desire. It hardly matters who plays it, it will end up pleasing all!