A great birthday gift for you percussionist friend, the X8 Mini Djembe Drums with Gecko Painted Design is one of a kind masterpiece designed to perfection. This djembe, an instrument originally crafted in West Africa will provide the classic Latin taste to the music you produce.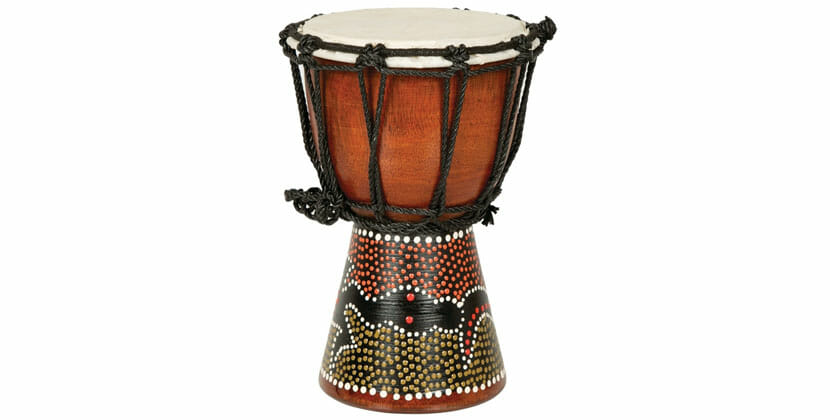 Table of Contents
Basic Construction
Crafted from a single Mahogany wood bark, this djembe looks classy in appeal thanks to the design at its bottom. With a diameter of 5 inches as well as a height of 7, this djembe can be tuned using the nylon ropes on its sides. The head is made using the original goat skin to produce one of the finest sounds you have ever heard.
Attractive Features
Unique in design as well as looks, this djembe has many features and some of them are listed below.
Made using mahogany wood, the djembe has an elegant appeal. The base has been painted manually by skilled artisans, thereby providing you with one of a kind look.
The head has been made out of original goal skin which relieves and excess pressure applied to your hands. The same also helps in producing finest of sounds when a percussionist thumps it to produce beats.
Small size, as well as height, make it easy to carry as well as stock in.
Nylon ropes are attached for easy tuning.
How Does It Fare?
Considering the whole instrument being handcrafted by skilled labor, the product sure offers durability to the users. The head of this instrument has been made using goat-skin while the design and paint have been imparted by skilled labor, making it one of a kind in appearance. This product sure does fare well in all departments, be it design, looks and or durability.
Value For Money
This beautiful piece hand designed by skilled craftsmen is available at reasonable price which no doubt is the best price you can get. This product which has been made out of single mahogany wood bark does offer you a great degree of durability and unless subjected to extreme conditions will probably last for a decade. However in case you are worried about the product's durability then Amazon offers an additional 2 years of warranty at a small value, and therefore you can rest assured of this product's life.
X8 Drums Mini Djembe Drum with Gecko Painted Design is one of a kind available in the market and a sure product any musician would love to own.