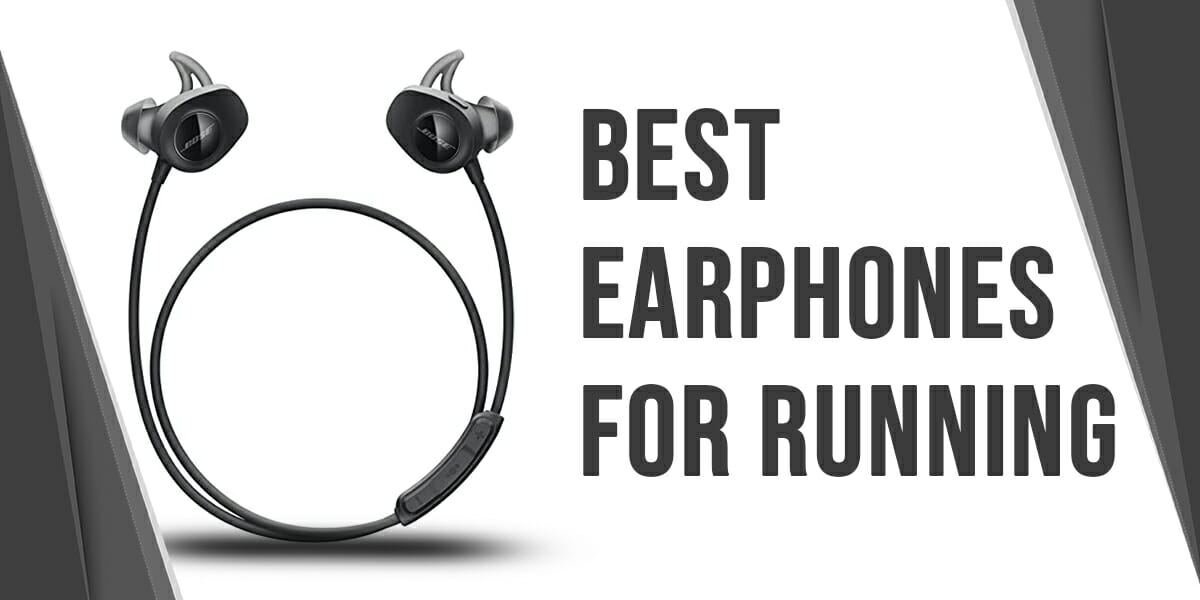 Earphones falling out while running and exercising is a common problem we all face. That is the reason every other good earphone brand is sure to have a sport variant that is supposed to stay with you while you're out enjoying your long runs.
An important thing to consider while you choose your pair is whether you're okay with wireless looped earphones or if buds work perfectly for your exercise routine. Then there's special features specifically included for vigorous activity that are a must.
Here are some trusted running earphones that won't fall out if fitted perfectly and prevent your musical experience from being ruined.
Table of Contents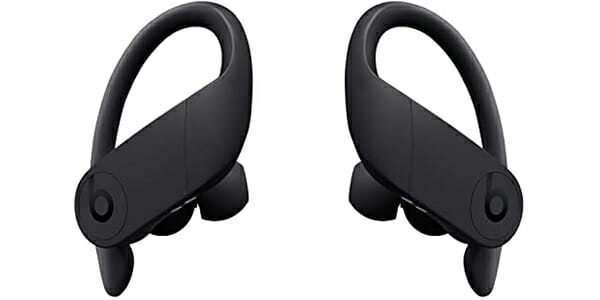 These high performance earphones offer a listening time of upto 9 hours with fast-fuel 5 minute low battering charging offering 1.5 hours playback. Specifically designed for all your workout needs the earphones have adjustable hooks and durable sweat-proof design. Probably the best features are the Apple H1 Headphone Chip for lesser dropouts and the Class 1 Bluetooth for better extended range.
Pros
Lightweight with adjustable hooks for increased stability
Enhanced phone call handling
Fast-fuel 5 minute charging in low battery conditions
Identical controls on either earphones
Cons
Might hurt on long duration use
Lacks midrange
Not too loud
These earphones do what they're made for, i.e., not falling out and staying in place. The identical controls on both sides are an added perk along with the Apple H1 Chip for good sound quality and fewer dropouts.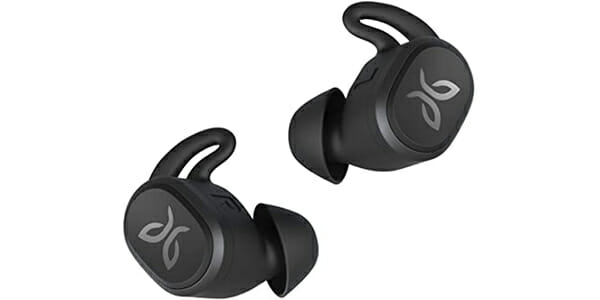 The most durable of all the products chosen in this list, the Jaybird Vista is protected from anything; you name it. These earphones offer 6 hours of playback time and a 5 minute quick charging feature for an hour of playback. The JBS1 wireless bluetooth technology offers cutting-edge connectivity without lags and you even get EQ controls over the 6mm drivers for a brilliant customized experience.
Pros
Extremely lightweight with Stash-It carrying case
Fully waterproof, drop-proof, crushproof design
Interchangeable ear gels for perfect fitting
Tracking feature through Jaybird app
Cons
Less functionality with single button
Not so great for calling
With great EQ control options to customize your listening and passive noise cancellation these earphones have some great features and durable design cut out for active use.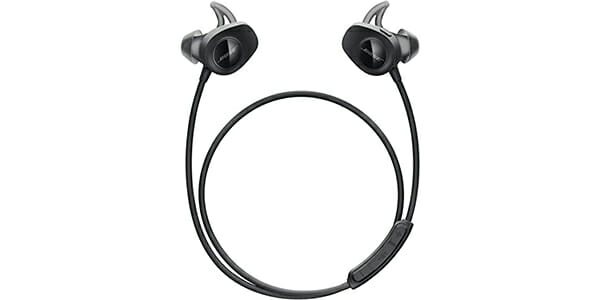 If you're looking for a high quality audio experience with easy NFC Bluetooth pairing and sweat and weather resistance, these earphones might be the right choice for you. The music is consistently balanced owing to the Bose EQ connectivity the exclusive stay-hear tips make the earphones comfortable during workouts so you don't have to worry about them falling out. You get 6 hours of listening time.
Pros
Bose Active EQ controls
Track using the Tile app
StayHear+ tips
Amazing sound quality
Cons
Charge using a micro-USB and not USB-C
A little bulky
There's a simple reason for choosing these earphones which is Bose being a solid brand name when it comes to audio devices. The connectivity on this one is absolutely amazing too, so the only challenge you will face is your workout now.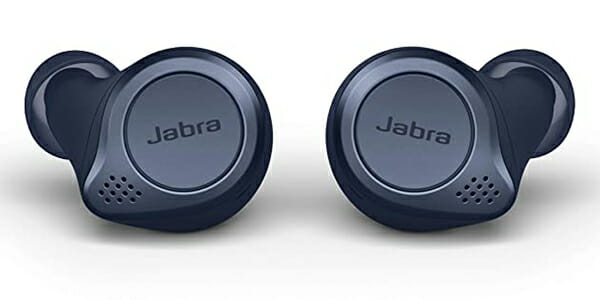 These earphones fit perfectly with a special grip coating and active secure fit to ensure hassle-free movement. With active noise cancellation and ANC activation on the Jabra Sound plus app you can focus on just the music filtering out everything else. Upto 7.5 hours playback time is offered on this one. The best feature might be the crystal clear calling with four microphones and multiple compatibility.
Pros
IP57 rated sweat-proof protection
Individual hearing profile with the Jabra app
Fast charging 15 minutes for an hour of listening
HearThrough mode with 4 microphones
Cons
Bass might be too overpowering
Bulky in the ear
Voice cancellation could've been better
These earphones offer what others lack when it comes to wireless design: the crystal clear calling feature owing to the 4 microphone and atmospheric adjustment. The design is rather sturdy and dust-proof too.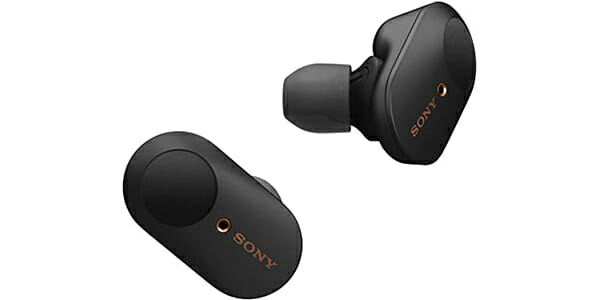 This pair might not have been specifically designed for gym wear but the earphones don't lack anywhere when it comes to performance. With digital noise canceling, 24bit audio processing the Sony WF-100XM3 offers dramatically good sound quality. There is the hands-free calling option with a double tap and smart listening technology to customize your sound settings. You get a 6 hour playback time with 10 minutes quick charging option.
Pros
Alexa built-in for hands free access
Digital industry leading noise cancellation
24bit audio processing for great sound quality
Headphones connect app for sound setting control
Cons
No wireless charging
No volume controls without phone
Lack of multipoint (NFC)
Sony doesn't let down when it comes to sound quality and the sound quality is significantly better than other options in range. The passthrough technology is inherently superior as well. These earphones are a very very smart choice.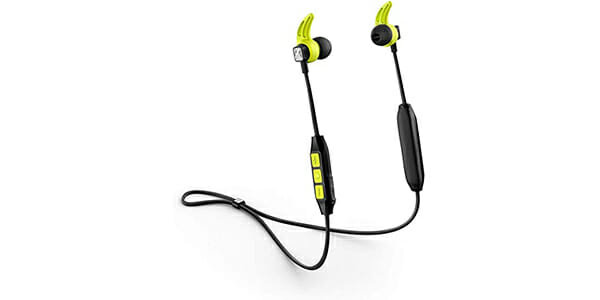 These earphones offer a listening time of upto 6 hours with an additional one hour playback time with 10 minutes quick charging. The Sennheiser proprietary transducers ensure dynamic bass and balanced sound. Multiple sizes and three ear fin sizes allows you to find your perfect fit. Bluetooth 4.2 ensures multi-point connectivity and the design is sweat and splash resistance making the earphones a great option.
Pros
Sweat/Splash resistant perfect for workout wear
Optimized fitting with multiple sizes
Superior sound quality with Qualcomm apt-X processing
Slick 3-button remote for easy controls
Cons
Reduced lifespan due to looped design
Weight balance is a little off
The CX Sport is a decent pocket-friendly option when it comes to sound accessories. The sound quality is good on Sennheiser and the operation is effortless owing to the three button remote for play/pause and call management. Definitely a good choice out there.
Frequently Asked Questions
How do you stop my earphones from falling out while running?
Good sport earphones will stay in your ear even during the toughest workout sessions, being designed for such activities. However, you can loop your earphones once around the ears to prevent them from falling. If you insert the earphones properly deep inside the canal to create suction, the earphones should stay in place.
Do wireless earbuds fall out when running?
While wireless earphones are built to stay in your ear there are a couple of reasons as to why they could fall out while running and exercises such as bad fitting in ear, the jaw being in close proximity to the ear, wax buildup in the ear making the canal slippery, etc.
What are the best earbuds for running?
We believe that the Powerbeats Pro completely wireless earphones are made for movement and are probably one of the best running earphones with securefit earhooks that are adjustable to keep them from falling out and offering upto 9 hours of playback.
Do Airpods fall out while running?
For easy workout days the Airpods are usually as good as any sport earphones and they stay in your ear but they can be a little annoying and fall out while vigorous running and exercise especially if you're training for a marathon.
Why do my Earbuds always fall out?
The most common reason for earbuds always falling out is them being a bad fit for the ears. Some people have large ear cavities which doesn't let them hold earbuds as compared to others who have miraculously perfect size ears for earbuds.
How do I keep my Earpods from falling out?
Some simple methods to prevent your earpods from falling out are making sure they are firmly inserted in the ears and hanging the cord around the ears. Use the right size tips that fit your ears and clean any wax buildup if there.
How easy is it to lose wireless earbuds?
Wireless earbuds are small and ridiculously easy to lose if they fall out while running or you forgot to keep them in their case. Many wireless buds come with lost track features to find them using your phone which could significantly help with this problem.
What are the best wireless earbuds for small ears?
The JBL Live 200BT Wireless, Jaybird Freedom F5 Wireless, JBL E25BT Wireless, Beats urBeats3, etc. Are some great options if you have small ears and typical bulky earbuds don't work for you.
Conclusion
When it comes to running earphones one should always go with known brands. Brands offer customized accessories along with great built quality to boost your musical experience. With features such as lost-track with your phone, adjustable hook design and sweat resistance you're sure to not regret the choice of your ultimate running partner.