Some of the obvious choices when it comes to guitar bodies are rosewood, maple and ebony. The different combinations of wood sitting on your guitar determine the overall tone and quality of the sound that comes out of it. The fingerboard will play a major role in defining the aesthetic sound of your guitar and its overall feel.
Ebony has tight grains and is known for producing a crisp and clear attack. It's dark in color, does not require finishing because of its texture and adds a fast playing quality to your guitar which is often what professionals opt for. Therefore, ebony occurs to be the most commonly used material for guitar fretboards.
If you have been in a fix about what guitar to buy, our curated list below with some great options featuring an ebony fretboard might just help you in picking your perfect instrument.
Table of Contents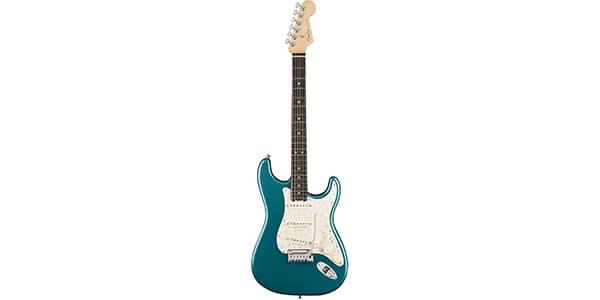 This double cutaway body-shaped guitar a maple joint, a standard satin neck finish truss rod, an ebony fretboard in medium jumbo size with 22 frets. The orientation is right-handed on this one and the neck has a C-D shape. As with the entire American Elite series, this one also features the fourth generation noiseless pickup and the classic fender style. The overdriven tones remind of the timeless rock n' roll. Make no mistake, this is a new generation guitar for the old musician in you.
Pros
Vintage style Stratocaster
Versatile sound with cleans and fats
2-point modern tremolo
perfectly hugging the player's body with sleek design
Cons
Nothing that we noticed
Great instrument
When it comes to timeless guitars, fender never has it wrong. A beautiful instrument with the innovative Noiseless Pickup characteristic of the Fender American Series.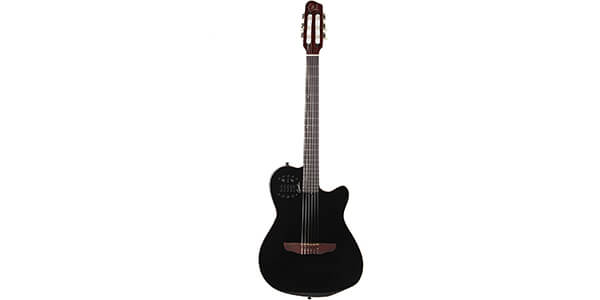 This right-hand oriented guitar comes with the custom RMC guitar pickup configuration, an ebony fretboard, with mahogany neck material, maple wood back material and cedar wood top material, quite a build we would say. The neck comes with offset dot inlays and the RMC configuration is preamp with three band equalizers. This guitar clearly seeks to combine the classic design concept with a solid hybrid body.
Pros
22 medium nickel frets
Dual output: ¼ inch and 13-pin hexaphonic output
Beautiful black gloss finish
Cons
Players with large hands might need a wider scale
No hard case
This one right here is an awesome instrument and needs no out-of-the-way adjustment other than simply tuning it. The synth adds an even fresher aesthetic to the overall feel of the guitar.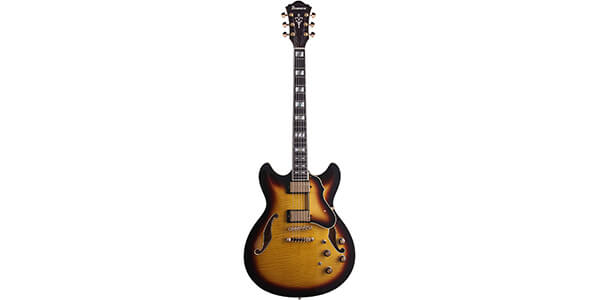 This Ibanez model comes with H guitar pickup configuration and is right-hand oriented. The guitar features an ART-1 hardtail bridge system, a maple wood top body, mahogany neck material, maple back material and an ebony fretboard. The fretboard comes with pearl and Abalone block inlays. Great detail has been given to the instrument such as the F-hole binding, smooth frets and three-way neck toggle.
Pros
Great sound, good playability
Super 58 pickups
Amazing finish and overall look
Cons
Might experience some fret buzz out of the box
Tuners might not handle tension appropriately
You might never want to play this guitar considering how cool its design is. The antique yellow sunburst finish catches the eye like nothing else and the hardware is simply gold. A really cool jazzer!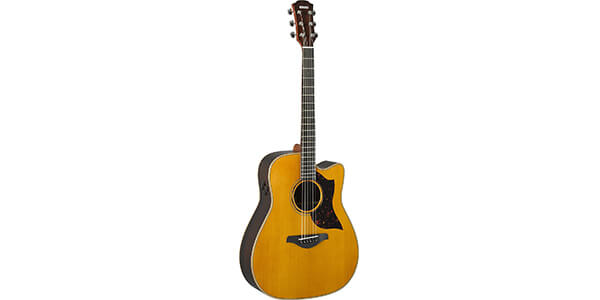 This Yamaha acoustic model has a Piezo pickup configuration, rosewood body and back material, a satin mahogany neck and an ebony fretboard. The top material is solid sitka spruce with scalloped bracing for a more rich, clear acoustic sound quality. The guitar has right-hand orientation and a hardtail bridge. Elixir bronze strings are provided for lively tones and a simple vintage natural color enhances the distinctiveness of the guitar.
Pros
Dreadnought cutaway body with slim profile
Blend between piezo pickup and microphone models
80/20 Elixir Bronze Strings
Cons
Little fretboard buzz
Control knobs need slow handling
The workmanship on this guitar is worth appreciation. The sound is great in handling the tones and the glossy finish is pretty eye catching. You get the Yamaha reputation as well.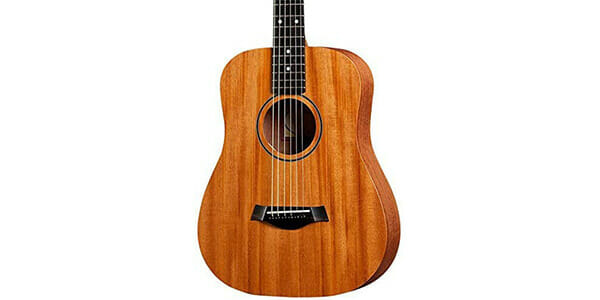 This guitar from the Taylor series has right-hand orientation with a layered sapele back, an ebony fretboard, mahogany neck material, and a mahogany top. The guitar has a matte finish with a textured feel to it. The neck is bolt-in, the body is light and the same size as most acoustic guitars. The guitar has a surprisingly crisp sound ranging from mid to high. Overall this is not just a kids guitar, but perfect for a small-framed person.
Pros
Sounds bigger than its size
Great beginner guitar
Rounded back to compensate for lost resonance
Lightweight, easy to reach higher frets
Cons
Sound lacking somewhat on the low-end
Frequent tuning required
This guitar basically gets the job done, much like its other counterparts and sounds rather good for its construction and size. The acoustic tone is full enough for the price. Could serve as a good travel guitar.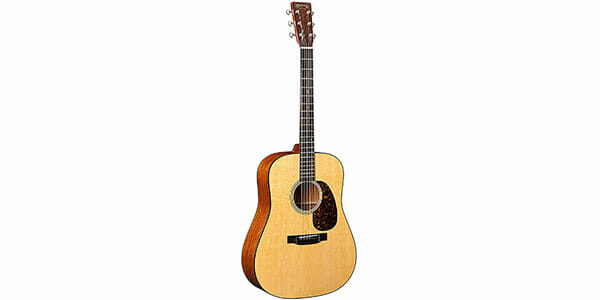 This acoustic guitar guarantees a high resonance rich sound with classic tones. The orientation is right-handed, the guitar has an ebony fretboard, a hardwood neck, spruce wood top material and sitka spruce and mahogany body and back material. There are several models with different shapes, innovative bracing and handmade detailing. Great choice for the money.
Pros
Enhanced playability
Good separation, accentuation, and definition
Good bass
Cons
Original pickup might curl up over the years
The Martin Series are preferred by many professionals for their distinctiveness. Each guitar with its unique body shape and versatile playability offers great sound quality, not an imitation but original craftsmanship.
Frequently Asked Questions
Are ebony fretboards good?
Ebony fretboards are generally considered the best, providing the players a smooth experience due to its non-sticky texture which maple has. Ebony is also the hardest of all, doesn't require much finishing and thus lasts years. They have a similar tone to maple but are much sturdier than rosewood.
Can you oil an ebony fretboard?
It is often said that while using an ebony fretboard you have to pay more attention to what not to do instead of what you need to be doing. While some advocate the use of oils to care for them, others believe the oils in your hands are enough for the purpose and you just need to keep them in a humidity controlled environment.
Why is ebony used for fingerboards?
Ebony is used in fingerboards not just to make a guitar look pretty. Ebony is a very sturdy material and each time the strings are pressed down it provides a strong defense. Since it requires little to no finishing, it provides a fast playing quality to your guitar and lasts years.
How do you treat an ebony fretboard?
The fretboard can develop cracks, chip, loose frets, etc. if you don't take proper care. Ebony fretboards require cleaning with a damp cloth and conditioning with lemon or linseed oil. Also, you need to keep your guitar away from humid conditions that is the most important step in treating an ebony fretboard.
Is Ebony harder than Rosewood?
Yes. An ebony fretboard is much denser than rosewood making it last longer than rosewood fretboards. Although the player is not supposed to come directly in contact with the fretboard but the strings often get to pushed harder in the wood and therefore ebony is a better option than rosewood.
What is the best wood for a fretboard?
Longevity wise, ebony is considered the best category of wood for a fretboard because it is the strongest and produces crisp notes much like maple without the extra finishing that maple requires. However, for people preferring warmer, richer tones, rosewood is quite often a popular choice.
What is the best fretboard oil?
Some of the best fretboard oils available in the market are: the Music Nomad F-ONE Oil, the Jim Dunlop 65 Ultimate Lemon Oil, the Music Nomad MN144 Total Fretboard Care Oil, Planet Waves Guitar Oil, etc.
What is the most expensive wood for guitars?
Massacar Ebony and African Ebony are some of the most expensive tropical woods used for making guitars. African Ebony is considered the holy grail among guitar woods by many enthusiasts and is pretty expensive, although Maple also delivers quite similar sound tones.
Conclusion
By now you must know how crucial it is to select on a type of wood for your ideal instrument and just as personal, that would relate to your aesthetic sense. There are literally tens of woods to choose from, but when it comes to the density of the wood upon which the strings will rest, a fretboard made of ebony wood is the best if you're looking to increase your guitar's functionality and lifetime by years.