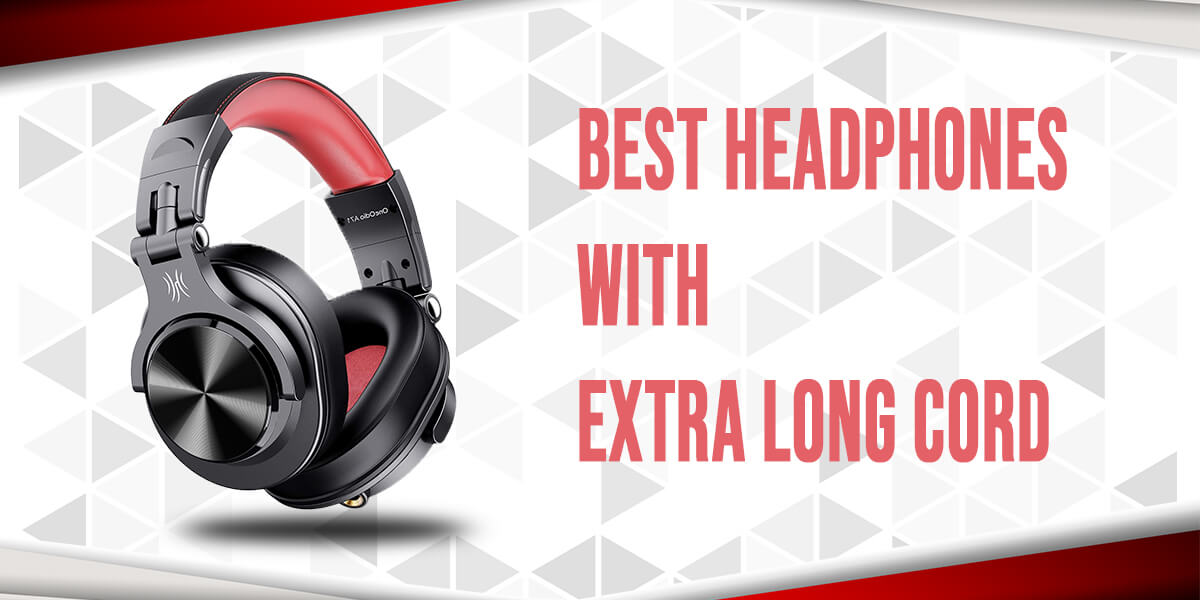 Are you someone who likes to have some extra distance between your audio device and the place you're sitting/working? These could be situations like watching the TV, playing games or for professional DJing. Many people look for some additional distance between their audio device and themselves for some mobility and comfortable playing experience.
The perfect solution to solve this problem is to get the best headphones with extra-long cord. These cords are especially designed to provide you room for movement so you can enjoy streaming music, videos or play games while sitting at a distance from your device. These are also constructed with durable material to provide excellent sound quality and performance. The design and feel of the headphones also allows perfect noise cancellation and helps you relish personal playing sessions without disturbing others. They also feature durable speaker drivers which boost and deepen the bass and enhance sound performance.
Check out these best Headphones with Extra-long cord below:
Table of Contents
Our Top Picks
Best Headphones For DJing/Mixing: OneOdio Pro-50 Over Ear Headphones
It features a larger 50mm driver for enhanced bass boost and rotatable and foldable design ideal for mixing and recording sounds. 
Best Headphones For Playing Games: OneOdio A71 Wired Over Ear Headphones
It has a boom mic and comfortable and soft ear cushion muffs which are ideal for longer use. 
Best Headphones For Watching TV/Home Theatre: Avantree HF039 Long Coiled Cord Headphones
It features a 16.4ft/5m coiled cable and clip-on collar for safety to avoid snagging or tangling and can be used for larger distance.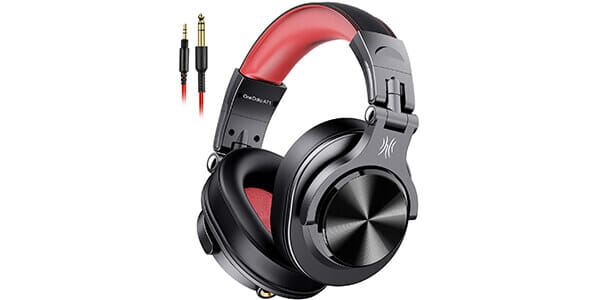 The OneOdio A71 is a superiorly designed headphone for professional adapter-free monitor recording and mixing with stereo sound performance. It has large 40mm speaker unit drivers with neodymium magnets which provide powerful bass with clear sound and crispy high tones. These headphones provide extra comfort and noise isolation with ear padding and adjustable headband. It works with all devices which have 6.35mm and 3.5mm plug and these are completely detachable. It has an extra-long 9.8 foot long cable for easier reach from your audio device to your chair.
Pros
9.8 foot long cable 
6.35mm and 3.5mm plug 
Adjustable headband 
Single sided monitoring 
Deep bass and excellent sound quality 
Two colour options
Cons
No volume control buttons
It is a well-designed headphones with extra comfort from padded-cushioned ear pads and foldable design ideal for monitoring and mixing.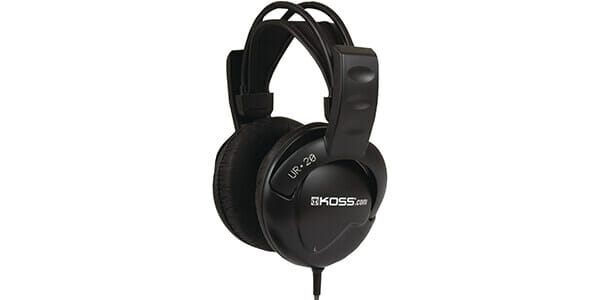 The Koss UR20 is a lightweight over-ear headphone with a flexible sling headband which helps in one side listening and enhances your playing experience. It features neodymium rare earth magnets and 16 micron mylar elements for deep bass and treble clarity. The straight single-entry 8 foot long cord is suitable for any use and ensures durability with portability. It is suitable to use with any PC, studio equipment, Tablet, DVD player and other device with its 3.5mm plug. It also includes a 6.3mm adapter if you want to replace the smaller one.
Pros
Single-entry 8 foot long cable 
3.5mm plug 
Studio sound 
Lightweight and flexible sling headband 
Easy connectivity
Cons
No microphone or volume control
It is designed to provide studio sound quality and deep bass with clear treble and frequency response.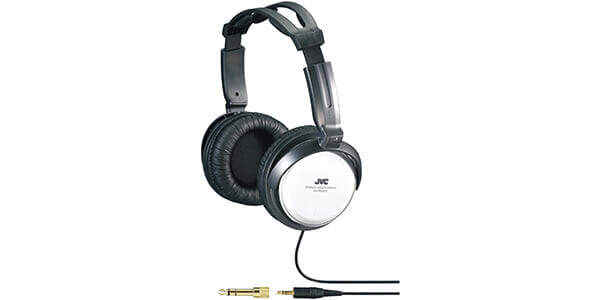 The JVC HARX500 is another full-size headphones with 11.48 foot cable and gold-plated 3.5mm plug which can be connected to any external device with ease. It is equipped with a comfortable cushioned headband which is suitable for longer use and a twist-action structure for added comfort. It also features a 40mm driver for faithful sound production and clearer powerful and deep bass. The corrosion-resistant gold-plated plug ensures stronger connection without distortion or any lost signal. These provide a nominal impedance of 32ohms which makes them sound excellent.
Pros
11.48ft long cord 
3.5mm plug 
Large 40mm driver 
Ear-directory structure 
Gold-plated plug
Cons
No volume control or microphone
It features an extra-long 11.48ft cord which can be used for watching TV from a distance and provides excellent clear sound quality.
The OneOdio Pro-50 is another over-ear headphones by OneOdio which are designed to provide you the maximum comfort with superb sound performance. It features a 50mm larger driver and certified voice coil for high-quality sound and noise isolation. These provide highly accurate mid-high tones with original sound output without losing composure. It features two cords: one red cord with 9.8ft length and 6.35mm to 3.5mm plug, and another black 4ft long cord with 3.5mm to 3.5mm plug. It features an in-line microphone for making calls with crystal clear sound.
Pros
Detachable cords 
In-line microphone 
4ft and 9ft long cord 
Rotatable and foldable design 
Bass boost feature 
Protein leather memory earmuffs
It is designed with an upgraded protein leather memory foam earmuffs which provide an enhanced passive noise reduction effect and clear sound.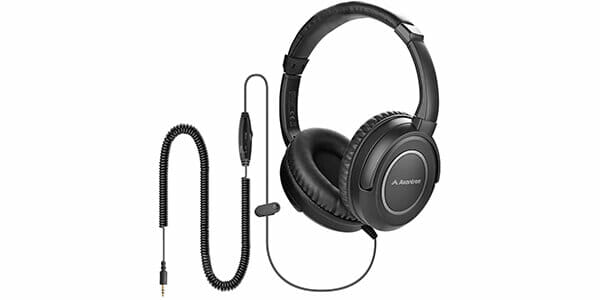 The Avantree HF039 is featured with an extended long coiled cord which measures 16.4ft or 5m which is ideal for TV watching from a distance. It is equipped with a precise sounding 40mm driver for extra bass boost and clear sound quality. The added clip-on collar is added for safety and to ensure a secured listening environment without falling out. The built is super lightweight, has adjustable headband and soft over-ear pads are ideal for longer use. It also features a built-in volume control for easier sound adjustment.
Pros
16ft/5m coiled cable 
Clip-on collar 
Soft ear pads 
Rich precise stereo sound 
Adjustable lightweight headband 
Built-in volume control
It is a superiorly designed headphone with comfortable and easy to access design and provide amazing sound performance.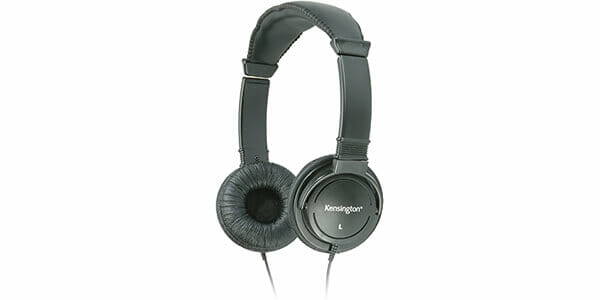 The Kensington K33137 is a high fidelity on ear headphone which is built for excellent sound output. It is featured with a 40mm driver for a powerful deep bass and wider dynamic range which delivers exceptional sound. The padded headband and plush sealed ear pads are useful for longer use and provide extra comfortable listening experience. It has a robust 9 foot long cord with gold-plated plug for any and every use. The flexible ear cups also provide an easier option for one-side listening and monitoring capability.
Pros
9 foot long cable 
Gold-plated plug 
Comfortable design 
40mm driver 
Exceptional sound
Cons
No microphone or volume control
It is a Hi-Fi on ear headphone with a 9 foot long cord which can be used for any device connectivity and delivers excellent sound quality.
Frequently Asked Questions
How can I make my headphone cord longer?
You can make your headphone cord longer by attaching a long extension cord to both ends or replacing the older one. You should get a good quality extension cable with your desired length and solder it in the place of the original cable. Or you should get an audio cable extender. These typically have two ends, with one 3.5mm male end and another female end which you can plug into your headphones original cable and make it longer. Though these can make some slightly distorted noise but they're easy to plug in or remove based on preference. 
How long is a headset cord?
There are certainly different sizes of headset cord available in the market, which is based on their pricing, durability, brand and other similar factors. But a standard headset cord measures between 1.5m to 2m in length. And typically a standard headphone cord measures anything between 4m to 10m. Usually headset cords are smaller to ensure better sound quality and comfortable wearing experience. 
Why are headphone cords different lengths?
Headphone cords are manufactured differently by different companies, and their length varies because of the purpose they're built to adhere to. Usually, shorter cords are designed for smartphones or for devices you're carrying along. One of the sides is purposely made longer so it can go behind your ear and not come in your way. In addition, the extra-long wires are designed for individuals who need more space and mobility. They can be used for DJing or watching TV, when you have your device away from you, it helps in reaching the distance so you can enjoy private listening. 
Do headphone cables affect sound quality?
The sound quality of headphones is measured by focusing on the accuracy of sound and the enjoyment of the user's experience. And there's no accurate description or measurement of sound quality, it highly depends on personal preference, taste and requirements of the user. Some people might like sound with strong and deep bass, and someone might enjoy the natural and accurate sound. It's true that headphone cables are important components which protect the sound quality and signal transmission from one end to another. And getting a better quality headphone cord can ensure less harm and lessen the chances of signal loss during the entire process. And indeed there are also different cables designed specifically for different audio systems. Like the 6.3mm size cables are suitable for home stereo, amplifiers, electric guitars and bass and 3.5mm is suitable for CD media players, MP3 players and computer desktops. And the sound quality may also depend on the wiring and length of the headphone cable. 
What is a headphone cord called?
A headphone cord is mostly referred to as Headphone cable, headphone wire or audio cable. And there are also other terms like headphone extension cable which are given to cables used to increase the length of the original headphone cord. 
How do you replace a headphone cable?
You can easily replace a headphone cable, either by getting a complete fixed new wire or making your own through the following method:
1. First and foremost, choose a high-quality cable to replace the older one. You can go for a flexible 4 conductor microphone cable which is typically under budget. 
2. Choose the length of the new cable, the recommended length would be anywhere between 4 feet to 10 feet. You should choose the length according to your comfort and needs, if you plan to use your headphones for watching television then go for a longer length. 
3. The next step is to pair the wire with a gold plated and quality stereo mini/standard jack based on your preference. 
4. Now gather the tools that you need: 
5. A soldering iron with small tip 
6. Sharp blade 
7. Wire stripper 
8. Core solder 
9. Diagonal cutters (or anything to cut the wires) 
10. Head screwdrivers (to open the headphones)
11. Needle nose pliers 
12. Multimeter or a continuity tester 
13. 3rd hand tool or soldering vice 
14. You need to prepare the cable and attach all the parts together. First cut out the wire and attach it to the stereo jack carefully. Ensure that you cut off extra pieces of rope material, paper and spread out wires. 
15. Move to the next process of soldering the wire. Strip and place black and white wires all the way down and tie them together. Place the plug into the 3rd tool or soldering vice and measure the length to cut the red and blue wires. 
16. For the tricky part of soldering shielding wires to the body of the body, melt some solder inside the plug's sleeve. Now solder the wire to the body of the sleeve and make sure to not touch the ring or tip. Now move on to solder the next two wires: red and blue, red wire to the tip and blue to the ring lead. 
17. Now slide a coiled cable or shoelace over the cable and secure everything tightly. 
18. Take off the foam padding of your headphones and you'll notice 4 screws surrounding where the wires are connected. Unscrew these and examine the wires, the two going into the second earpiece need not be touched. 
19. Furthermore, you need to place and solder the other wires in place of the taken out older ones. And secure the headphones by screwing up the screws. You should also check there is not too much cable inside the earpiece, you can cut out the extra cable if desired. 
20. Now put the headphone jack in an audio device and check the sound. 
Conclusion 
There are a lot of Headphones with Extra-long cord available in the market, but we've listed the top-rated products for you. These provide additional comfort and distance between your audio device and yourself so you can enjoy streaming audio/video by sitting on your Sofa or other place. 
They're equipped with padded earmuffs and adjustable headbands for a longer period of use. All of these deliver great sounding powerful bass and sound performance which is ideal for any audio system. Additionally, these are typically under budget without compromising on the design and sound performance.