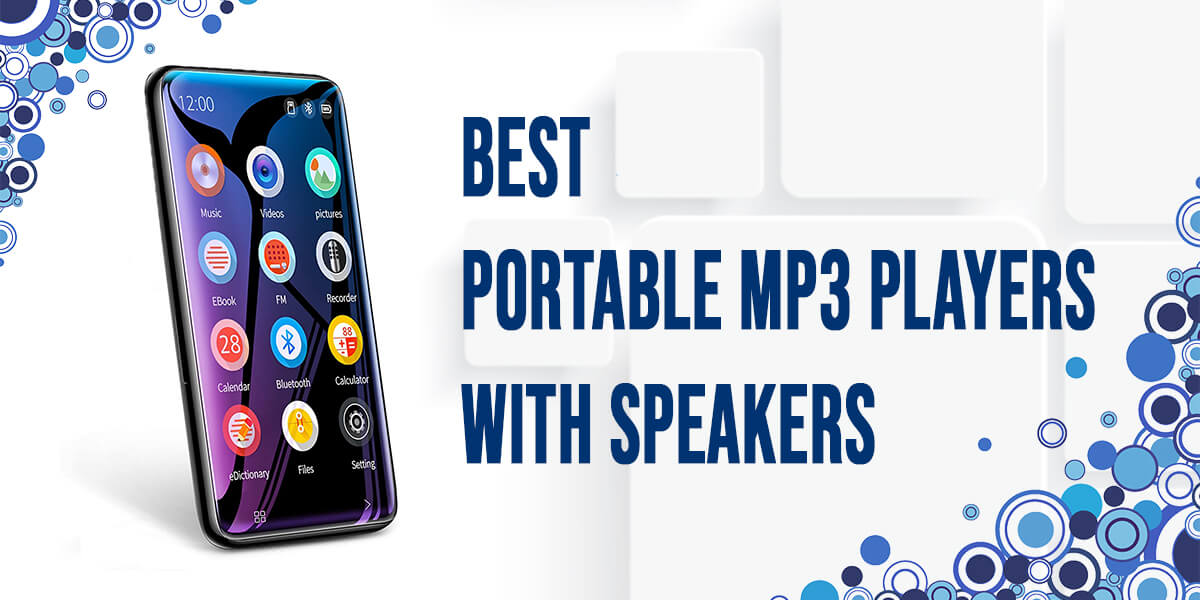 Portable MP3 players are a reliable and convenient way to play music anywhere. You can carry it in your bag or purse and travel anywhere with it. You also get other features like Bluetooth and FM radio.
These players also come with speakers which are designed to produce a sufficiently loud sound output. Given below are the best MP3 players with speakers.
Table of Contents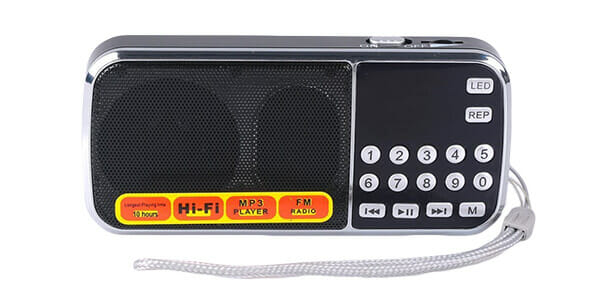 The Mfine 088 Mini Speakers Portable Music Player is a very handy and budget friendly MP3 player with a good quality speaker. You can play your MP3 music files through a USB stick or SD card. You also get FM radio with MP3 player. A button allows you to scan and save radio channels which are available in your area.
It has easy and accessible controls. This includes a rotary volume control and number keys which you use to type in the song number or station frequency. This player has a replaceable and rechargeable battery. The battery life is long enough to last for a few hours. The player also comes with an LED light which can be useful in some situations.
Pros
Very affordable
Good volume level
LED light
Lightweight
Easy controls
Cons
No battery display
No song title display
This lightweight and portable MP3 player eliminates the need of big and bulky devices to play your music.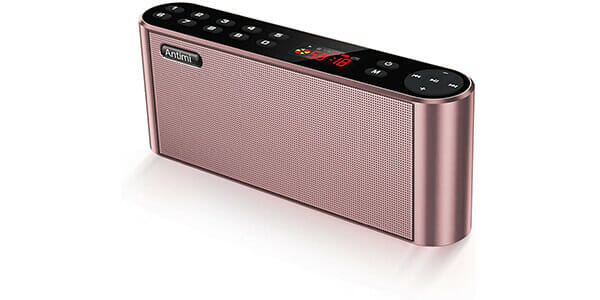 The Antimi Bluetooth Speaker And MP3 Player is a very compact and lightweight MP3 player which has a very sleek and elegant design. It has a wireless Bluetooth feature and is compatible with all Bluetooth enabled devices. You also get connection options with auxiliary devices using the aux input. You can also listen to music through your headphones or earphones.
This player has an impressive battery life and takes only 1 to 2 hours to charge. You also get a built-in microphone which you can use to make hands free calls. The speaker is very impressive for the price and delivers clear and distortion free audio. This player has a digital display screen which is clear and legible. You can easily carry this in your bag and it also makes a great travel accessory.
Pros
Affordable
Impressive sound output
Good battery life
Compact design
Hands free calls
Cons
Fm reception is slightly weak
This MP3 player has a pretty impressive sound output for its small size.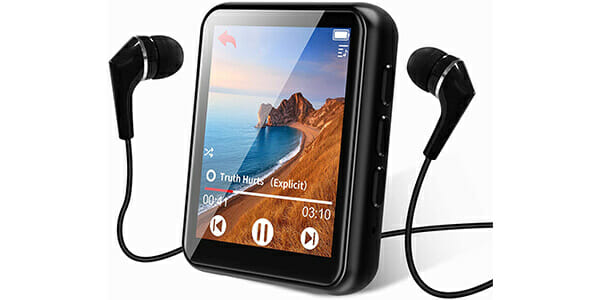 The JOLIKE 166GB Portable MP3 Player With Speaker is a very functional MP3 Player with a modern touchscreen design. You can easily wear this player on your body while walking, exercising or doing any other activities. It comes with accessories including a protective case, a pair of earphones, a chord and a USB cable. This MP3 player also comes with extra features like a pedometer and a recording feature which you can use to record conversations or music.
The touchscreen is very responsive and the menu interface is easy to navigate. The player also offers pre-set equalizer settings. The FM radio has a pretty good reception. It also has a very good battery life which will last you an ample amount of time. You can listen to audiobooks and downloaded podcasts on this player.
Pros
Affordable
Compact and portable
Responsive touchscreen
Good battery life
Includes accessories
Cons
Short Bluetooth range
Small screen
This MP3 player makes it very practical to listen to your favourite tunes anywhere and anytime.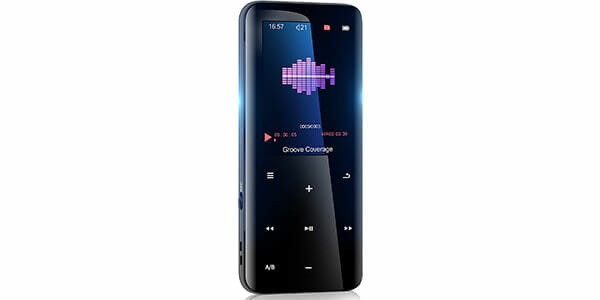 The Aiworth 32 GB MP3 Player With Bluetooth 5.0 is a multi function player which has many useful features. It has an aesthetically pleasing design and comes with a clear and bright display screen. This player has a very good storage capacity which is more than enough for your music files. It also supports many music formats. The 3.5 mm audio jack can be used to connect your headphones or other devices.
The external speaker delivers clear and crisp audio which is sufficiently loud. This player has a very good Bluetooth range along with a strong connectivity. The screen automatically shuts off after a period of inactivity to conserve battery life. There are many different language options and it is easy to switch between them.
Pros
Sleek design
Good Bluetooth range
Clear and crisp sound
Free earphones
Free armband
Cons
Buttons are a little difficult to operate
This small MP3 player is capable of delivering an amazing music experience.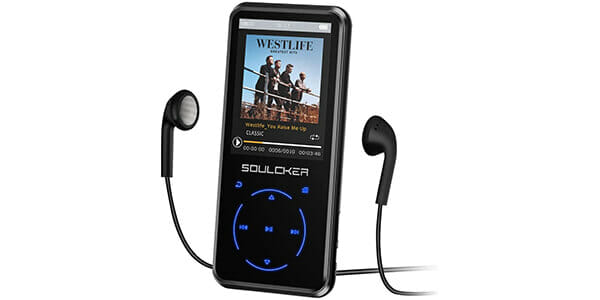 The Soulcker 16 GB MP3 player With Bluetooth 5.0 is a very impressive MP3 Player with a good range of functions. It comes with a screen protector, armband and other necessary accessories. The armband has a strap which helps to secure your player. The brightness of the display screen is easily adjustable. You also get additional features like a stopwatch and pedometer.
Bluetooth pairing takes place easily and you can connect the player to Bluetooth enabled headphones and speakers wirelessly. The player has an inbuilt speaker which does a pretty good job at reproducing the sound output. There is also a button lock feature which prevents you from turning off the player accidently. You can have multiple playlists and folders with your favourite songs.
Pros
Many features
Sleep timer
Button lock feature
Good display screen
Supports many formats
Cons
User interface could be better
No search option
This MP3 player has everything you need including sufficient storage space.
The TIMKOO MP3 Player With Bluetooth 4.0 is a very feature rich MP3 player. It has a touchscreen which is bigger than standard MP3 player touchscreens. It also comes in two colours – black and blue which are both Bluetooth enabled. The user interface presentation is simple and easy to operate. You also get useful preinstalled apps like a dictionary and calculator.
You get a protective case and film which protects the screen from scratches. The built-in FM radio has a good reception. The memory is expandable in case you want more storage space. You can download pre-recorded playlists and the data transfer takes place very smoothly.
Pros
Good display
Useful apps
Protective case
Quick Bluetooth pairing
Good user interface
Cons
Speaker volume is a little low
This MP3 player comes with a lot of bonus features and accessories.
Frequently Asked Questions
Can you connect an MP3 player to speakers?
Yes you can connect MP3 players to speakers using a few different ways. Speakers with a 3.5 mm TRS connector can directly connect to your MP3 player. Some players can connect to speakers through wireless Bluetooth. You can also use a Bluetooth adapter in case your player is not compatible with Bluetooth. However you must connect the player to speakers which have built-in amplifiers otherwise the sound output will be very low.
What is the best portable device for listening to music?
Given below are some of the best portable MP3 players,
1. Astell and Kern Kann Alpha
2. Onkyo DP-X1A
3. Sony Walkman NW-ZX507
4. Apple ipod Touch (7th generation)
5. SanDisk Clip Sport Plus
6. Aiworth 32 GB MP3 Player With Bluetooth 5.0
7. TIMMKOO MP3 Player With Bluetooth 4.0
Are MP3 Players better than phones?
MP3 players are better than phones in some cases like portability. MP3 players tend to be very compact and lightweight and you can easily wear them or carry them anywhere. But phones have way more features compared to MP3 players. MP3 players are limited when it comes to advanced sound options. Many modern smartphones today have better sound quality compared to old school MP3 players. But you also have advanced MP3 players which have great sound quality.
Do MP3 players need Wifi?
MP3 players are not usually designed to work with Wifi. Their primary goal is to play preinstalled songs or songs which are transferred from your phone or computer. This does not require an internet connection. However you can stream music from Spotify or itunes if you have access to Wifi.
How do you load music onto an MP3 player?
You can follow the steps given below,
1. Install driver for your MP3 player.
2. Connect your MP3 player to your computer with the help of a USB cable.
3. Go to the music folder which contains all the music files you want to transfer to your MP3 player.
4. Locate the 'Removable Disc' option under 'My Computer'. This is your MP3 player.
5. Drag and drop your music files from the folder to the 'Removable Disc'.
Conclusion
Portable MP3 players serve as a very handy and useful music accessory. The addition of speakers also eliminates the need to connect other external devices. We have compiled a list of the best portable MP3 players with speakers.