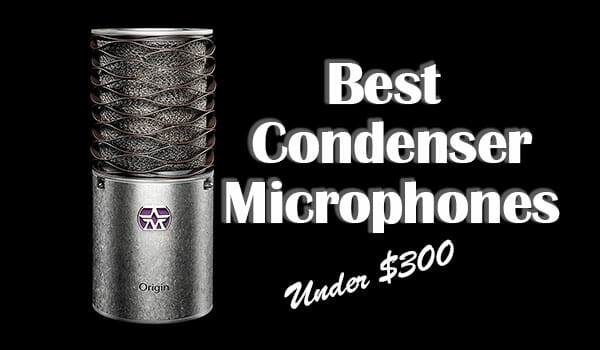 Searching for a condenser mic with a budget of around $300? Look no more. We've got you covered.
Condenser mics allow you to capture sound accurately, and makes it sound very natural and crisp. They are the highlight of any audio set up.
Even though condenser mics tend to be pricier than dynamic mics, you don't need to spend a lot of fortune to get a good one.
A budget of $200 to $300 will land you a pretty reliable condenser mic that will open avenues for your musical or recording career.
Here is a list of 9 Best Condenser Microphones Under $300 in 2020.
---
---
---
---
---
---
---
---
---
Condenser Mics Buying Guide
Trying to decide on what microphone to buy can be confusing for a beginner. There are also many things you don't understand, so many things to consider.
We are here to lessen your confusion.
You need to think about 4 things.
Budget
Purpose
Singing style
Environment
Firstly, and obviously finalize your budget. The price can be a deciding factor. If you have a set budget, you can make the most out of your money.
Pick a niche, be it loose. You need to know what you will be recording the most. In this way you can make the most of your money and get the best option that suits you, and satisfies all your needs and wants.
Here are some examples.
Electric Guitar – Shure SM57, Heil PR30
Acoustic Instrumental – AKG P170,  Oktava MK-012 or Rode NT-5
Everything – CAD m179, Audio Technica AT4050
Now, if you're looking to record your own songs or vocals, things can get somewhat complicated.
In that case what you need to do is match your singing style with your mic. It is but obvious that you'll require a slightly different mic depending on whether you're singing heavy metal or classical Indian.
Now, there is not a sure shot way to recommend the best mic for your particular genre. It can only be figured out through experimentation.
You'll just have to test some mics out and see what suits you.
Here are some vocal styles and mics that will suit them to give you a rough idea –
Aggressive – Get something that can work well with loud voices and screams.
Rap – Get something that can work well with explosive sounds.
Generic Female Vocals – Get something that doesn't get sibilant.
Generic Male Voice – Get something that can work well with low pitch.
You also need to keep in mind the environment you're going to be recording in. The environment is just as important as your set up. You need to choose a mic according to your surroundings.
Here are a few suggestions –
Dynamic mics are best for an unfavourable environment. They minimize the bad sound.
Rode NT1A and Neumann TLM 102 are some good options.
Some places can have naturally good acoustics. If you do have one, take full advantage of it.
A small diaphragm condenser and a nice ribbon are ideal for such a setting.
Now that you know everything you need to know, get on with the mic shopping!
Best Brands
Shure
Shure is a famous microphone brand. More so for dynamic mics. Shure's mids have been used by many iconic musicians and even by the President of the United States.
Shure works very hard to deliver durability, quality and reliability. Naturally, Shure has a lot of magnificent, award winning microphones.
Sennheiser
Sennheiser is very well known around the globe and is used in a number of professional settings. They try to deliver the best in the audio industry. And their track record tells a similar tale. No matter what your needs, Sennheiser will have a mic for you. Be it marketing, research or development, they excel in all spheres.
Neumann
Neumann is somewhat of a figurehead in the microphone community. George Neumann is considered legendary. For decades Neumann has been the world's leading studio microphone manufacturer. Later on, it was acquired by sennheiser but the name survives and deserves a spot on the list.
Rode
Rode is the best Australia has to offer. They have a wide range of versatile mics that are regularly used around the world. Rode are known for their price to performance ratio which is quite high. They continue to come up with new, amazing affordable products for everyone's wants and needs. You're bound to find something you like.
Audio – Technica
Granted, Audio – Technica is better known for their headphones, they also sport an amazing range of microphones. Audio Technica is a leading manufacturer of microphones for practically all applications. Their installation includes but are not limited to – United States Presidential debates, United States House of Representatives and Senate, the Grammys, and so on.
Blue Microphones 
The Yeti USB line has launched Blue Microphones into world wide popularity. But they also produce a lot of professional grade mic along with USB mics. Their products should definitely be considered by professionals too. They also make XRL dynamic, condenser and ribbon mics.
Frequently Asked Questions About Condenser Mics
1. What are condenser mics used for?
They're used to record a wide range of frequency and transient sounds. They're most commonly used in studios.
2. What accessories do I need with a condenser mic?
Here are some useful but not mandatory accessories. 
Pop Filter 
Studio Mic Stand
Portable Vocal Booths
Microphone Cables
3. Does a condenser mic need warm up?
Yes, mere 5 – 10 seconds. 
4. Can you connect a condenser mic to a phone?
You can. You would need adapters and some other equipment to do so.
5. Are condenser mics good for live performance?
Yes. A cardioid condenser mic would be a good option.
6. Are condenser mics better than dynamic mics?
They both have their uses. You need to choose one based on your need. Dynamic mics are better for loud noises.
7. Do you need a soundcard for condenser mic?
Yes, if your mic didn't come with one. 
---
Conclusion
Now that all is said and done, you're truly ready to go and get a condenser mic for yourself.
Try not to get lost in the complicated technicalities, and not to stress about it. Test a couple and see what feels right for you. Keep in mind your purpose for the mic and your environment.
In the end, everything comes down to personal preference, likes and dislikes.
We've tried our best to initiate you into the vast world of microphones. We hope we helped in more ways than one.