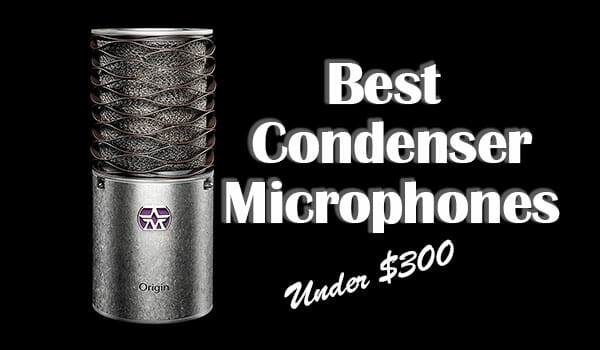 Searching for a condenser mic with a budget of around $300? Look no more. We've got you covered.
Condenser mics allow you to capture sound accurately, and makes it sound very natural and crisp. They are the highlight of any audio set up.
Even though condenser mics tend to be pricier than dynamic mics, you don't need to spend a lot of fortune to get a good one.
A budget of $200 to $300 will land you a pretty reliable condenser mic that will open avenues for your musical or recording career.
Table of Contents
Here is a list of 9 Best Condenser Microphones Under $300 in 2023.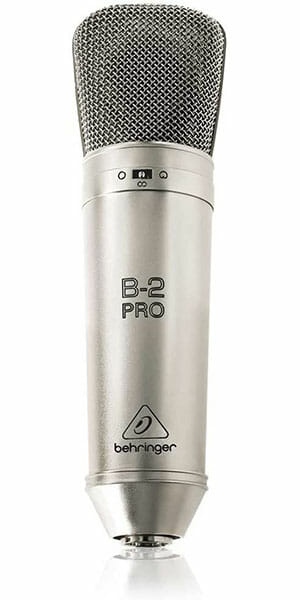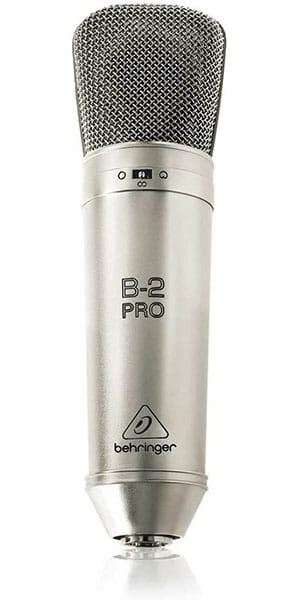 Behringer B – 2 Pro has low – filter, selectable patterns, and inbuilt shielding. This is perfect for people who are into acoustic instruments. It provides excellent sound quality.
There are a couple of options to choose from – omnidirectional pattern, the figure – 8 pickup patterns, and cardioid pattern.
The cardioid pattern helps you get rid of the annoying background noises giving you good quality recording.
With a large diaphragm, this is a great mic for beginners, and it will grow with your career.
Pros
77dB signal – to – noise ratio.
Good quality suspension mount.
Dual diaphragm.
Good price / performance ratio.
Cons
Might not be the best for recording in open spaces.
It is a good place to start. Perfect for home run projects, provides good sound quality and minimizes background noise.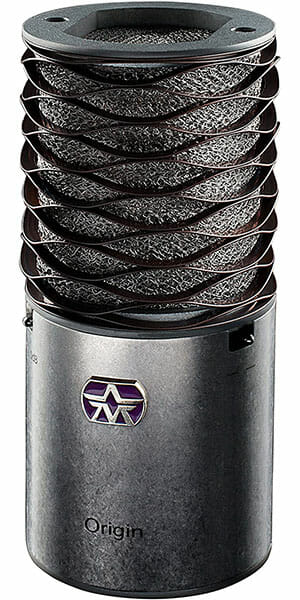 Just at the first sight, the Aston Microphones Origin catches your fancy immediately due to its pleasing looks. It has a very industrial aesthetic with solid stainless-steel chassis and a tumbled finish.
It could be considered one of the best condenser mics in this price range.
The internal shock suspension keeps the self-noise low. The cool mesh head with a built in pop filter is a highlight.
It has a frequency response range of 20Hz to 20kHz and a max SPL of 127dB.
It works well with vocals as well as instruments.
Origin may not be the best for drums or basses but is excellent for acoustic instruments. It provides a lot of clarity, warmth and details in the recording.
Pros
Durable.
Affordable.
Good design.
Cons
Somewhat noisy.
No case or shock mount.
The grille is a highlight in this one. Makes it very rugged and reduces sound distortion.

Shure SM – 27 has this sleek, stylish look which is classic. It is completely black with a three layer mesh. It is a very good looking mic, and has a minimalist aesthetic.
The features of this mic don't disappoint either. The hardware is top notch. It has a super low mass Mylar diaphragm, with a thin layer of gold and a Class A preamp. Pretty solid of a condenser mic which is also flexible.
It also has three position low frequency filters, an attenuated switch, a fixed cardioid polar pattern, and a standard XLR connection. It also comes with a very sturdy shock mount and a basic bag.
Vocals are this mic's forte. It will work well with many instruments. It also adds a lot of warmth.
Pros
Switchable low frequency filter.
Catches sound naturally.
Durability.
This condenser microphone is very durable and gives you very crisp and clear recording.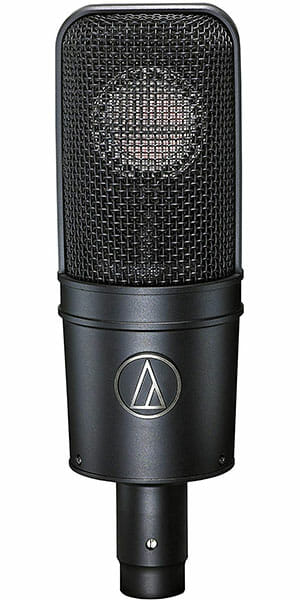 Audio – Technica AT4040 is one of the best AT has to offer. The condenser mics produced by Audio-Technica are perfect for buyers of all price ranges. The sought after large diaphragm mic is particularly fascinating.
Speaking in terms of build, the mic is chic, but simplistic. The intricately knit mesh exposes the skillfully crafted mechanism underneath. The mesh shouldn't be taken as a sign of fragility for it can endure anything the requirements of the studio thrusts upon it.
This mic has the ability to record sounds as clearly as they are produced for its frequency response is between the wide range of 20Hz to 20kHz, thus allowing the creativity of artists to shine through.
Pros
Low distortion.
Captures details.
Cons
Dull highs and average lows.
Gives you very smooth and natural recording.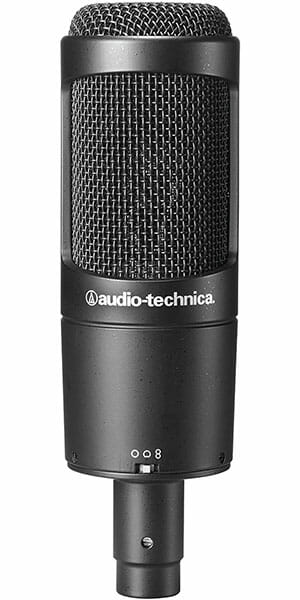 Audio Technica AT2050, which is a dual diaphragm mic is yet another condenser mic marvel. It has proven to be popular amongst buyers as it falls under the under $300 price range.
This mic, like many others produced by this company, maintains the modesty it is well known for. The dual diaphragm mic's classic black exterior is punctuated only by the brand logo in the front.
This model works exquisitely well with both vocals as well as instrumental recordings for it provides a frequency range between 20Hz and 20 kHz and a SPL range of 149 dB to 159 dB. Besides this, the mic offers an array of features making it easy to cater to the needs of the studio.
Pros
Great sound quality.
Switchable polar patterns.
Comes with shock mount and pouch.
It is very versatile while being affordable.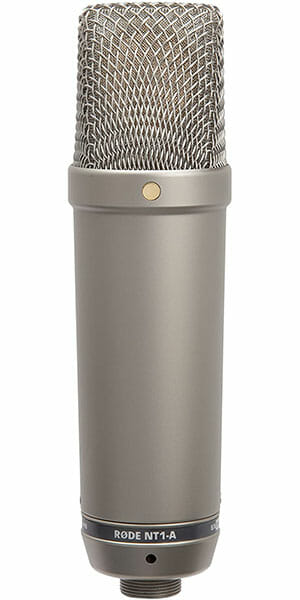 The Rode NT1 does not beg much description as far as features go, but it too has its share of desirable features.
This condenser mic pays homage to the condensers of the past. Built in Australia, it is sturdy yet is sleek in appearance. The chassis is a chic matte black is coated with nickel-plated Aluminium with a ceramic finish for extra protection.
The popularity of this mic can be attributed to it's high quality electronics as well as to the newly added HF6 capsule. Besides this, the frequency range this mic offers is the standard 20Hz- 20kHz.
The most significant quality Rode NT1 has is the quality of sound. The soft sound of the mic makes it an incredibly desirable one.
Pros
Great range
Durability
Scratch resistant
Removable metal pop filter
Self noise is next to nonexistent. It is good for instruments.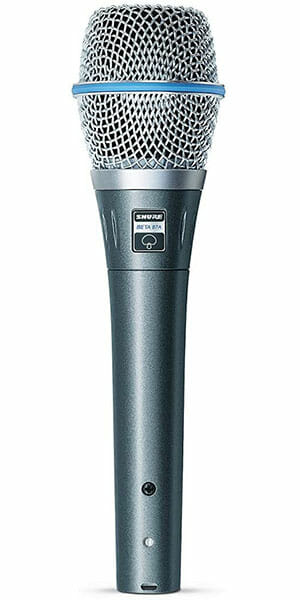 The Shure Beta 87A is a handheld mic that has attained great popularity among buyers looking for condenser mic under the $300 price range.
Being a handheld mic, its weight proves to be a great asset for it only weighs about a half pound. The exterior is classic, and does not require any improvements.
The design is great as is. The woven mesh shields any unwanted sound interruptions and has the capacity to endure accidents.
It has a super cardioid polar pattern and offers a frequency range between 50Hz to 20kHz. It requires a 48v phantom for it to function.
The mic comes with a XMLR connection, a mic clip as well as a carrying pouch.
The Shure Beta 87A isn't the preferred option for instrumental recordings as it is catered to suit the needs of live vocal performances.
Pros
Durable.
Good pick up.
Rugged.
Good sound clarity.
It is dynamic and has a wide range. It does not distort the sound a lot.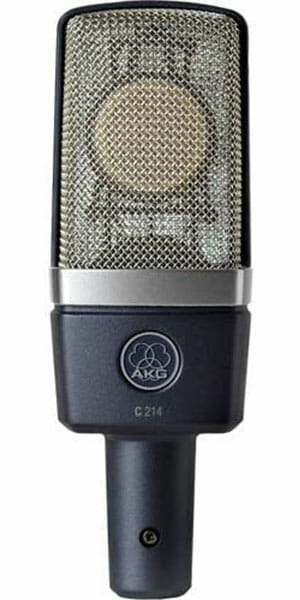 The AKG Pro Audio C214 gives you detailed, crisp recording of solo instruments and lead vocals.
For good quality recording it has ultra low noise. It also has a very dynamic range.
This mic is very sturdy and heavy duty. It has an all metal body. The switchable 20 dB attenuator and help reduce proximity effects along with bass – cut filter.
It automatically reduces vibrations and mechanical noise.
Pros
Durable body.
High quality sound.
Has good range and balance.
Reduces self noise and vibrations.
Saves you a lot of work in post as it reduces self noise.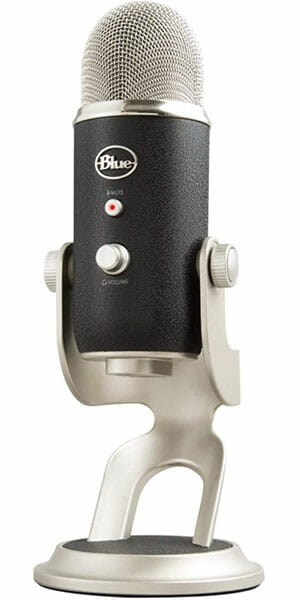 The Blue 1967 Yeti Pro USB is a favorite for a lot of people. This mic has a variety of polar range settings. Four to be precise. cardioid, bidirectional, stereo, and omnidirectional. This helps you in capturing sound regardless of your set up. This is a good mic for people who want their work to be heard on headphones. As it comes with built-in headphone amplifier for zero-latency monitoring.
It also gives your microphone gain and pattern selection. There is a great A – D converter chip with separate analogue circuit path for preamps and professional studio mixers.
Pros
Versatile.
Crisp sound quality.
Good for preamps and studio mixers.
Cons
Some products may have faulty USB connections.
It has the features of a professional mic. But, it doesn't over complicate things. It is simple to use.
Condenser Mics Buying Guide
Best Brands
Shure
Shure is a famous microphone brand. More so for dynamic mics. Shure's mids have been used by many iconic musicians and even by the President of the United States.
Shure works very hard to deliver durability, quality and reliability. Naturally, Shure has a lot of magnificent, award winning microphones.
Sennheiser
Sennheiser is very well known around the globe and is used in a number of professional settings. They try to deliver the best in the audio industry. And their track record tells a similar tale. No matter what your needs, Sennheiser will have a mic for you. Be it marketing, research or development, they excel in all spheres.
Neumann
Neumann is somewhat of a figurehead in the microphone community. George Neumann is considered legendary. For decades Neumann has been the world's leading studio microphone manufacturer. Later on, it was acquired by sennheiser but the name survives and deserves a spot on the list.
Rode
Rode is the best Australia has to offer. They have a wide range of versatile mics that are regularly used around the world. Rode are known for their price to performance ratio which is quite high. They continue to come up with new, amazing affordable products for everyone's wants and needs. You're bound to find something you like.
Audio – Technica
Granted, Audio – Technica is better known for their headphones, they also sport an amazing range of microphones. Audio Technica is a leading manufacturer of microphones for practically all applications. Their installation includes but are not limited to – United States Presidential debates, United States House of Representatives and Senate, the Grammys, and so on.
Blue Microphones
The Yeti USB line has launched Blue Microphones into world wide popularity. But they also produce a lot of professional grade mic along with USB mics. Their products should definitely be considered by professionals too. They also make XRL dynamic, condenser and ribbon mics.
Frequently Asked Questions About Condenser Mics
What are condenser mics used for?
They're used to record a wide range of frequency and transient sounds. They're most commonly used in studios.
What accessories do I need with a condenser mic?
Here are some useful but not mandatory accessories. 
1. Pop Filter 
2. Studio Mic Stand
3. Portable Vocal Booths
4. Microphone Cables
Does a condenser mic need warm up?
Yes, mere 5 – 10 seconds.
Can you connect a condenser mic to a phone?
You can. You would need adapters and some other equipment to do so.
Are condenser mics good for live performance?
Yes. A cardioid condenser mic would be a good option.
Are condenser mics better than dynamic mics?
They both have their uses. You need to choose one based on your need. Dynamic mics are better for loud noises.
Do you need a soundcard for condenser mic?
Yes, if your mic didn't come with one.
Conclusion
Now that all is said and done, you're truly ready to go and get a condenser mic for yourself.
Try not to get lost in the complicated technicalities, and not to stress about it. Test a couple and see what feels right for you. Keep in mind your purpose for the mic and your environment.
In the end, everything comes down to personal preference, likes and dislikes.
We've tried our best to initiate you into the vast world of microphones. We hope we helped in more ways than one.