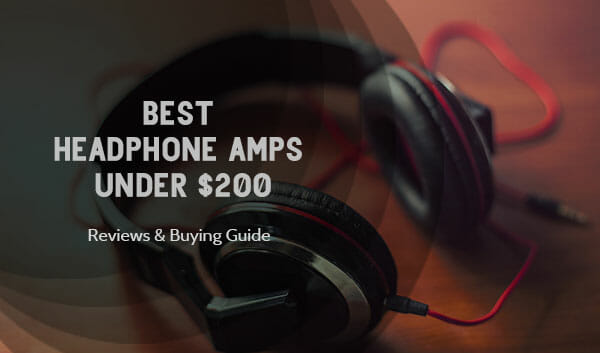 At times headphones may disappoint us, even the expensive ones. When at such crossroads, a well-sounding amplifier can come to the rescue.
A headphone amplifier can further boost the audio character of compressed song files. Here, we have listed the best headphone amplifiers under $200, which can significantly upgrade your listening experience in 2020.
Top Headphone Amplifier Reviews of 2020
---
---
---
---
---
---
---
---
---
Buying Guide: Headphone Amps
Buying a headphone amplifier is like a gateway to the audiophile world. It is, therefore, very important to choose the right headphone amp, which will enhance the way you experience your music stream or library. Consider these tips when buying a headphone amp, so that you make the right choice.
Impedance
A headphone amplifier boosts sound quality output by applying more power for greater performance. Headphones with low impedance do not require much power to drive optimum sound. However, high impedance headphones require a powerful amplifier to drive great sound, and the difference is noticeable.
Gain Switch
Some headphone amplifiers allow the users to control the power supply to the headphone so that it matches the sound impedance level of the music played. The advantage of such flexibility is that you can accommodate the amplifier's capacity according to any headphone.
Output
Headphones require either 2.5 mm or 3.5 mm connections. At the time of buying a headphone amplifier, you must check if the output connections on the amplifier are compatible with the headphones you possess. Some of the headphone amplifiers come with both output connection options and offer greater usability over multiple headphones.
Input
The headphone amplifier must allow necessary input connections suited to your specific requirements.
Example: When choosing a digital-to-analog converter (DAC) amplifier comes with a USB cable connection, please check whether the USB is A-type or C-type. For analog audio connections, the amplifier must allow RCA cable input.
Noise and Dynamic Range
The dynamic range of a headphone amplifier is the clarity of sound at the loudest undistorted output. A headphone amplifier with a higher dynamic range delivers high-quality undistorted sound even at louder volumes.
Power
Many headphone amplifiers are plug-and-play USB-type converters, which extract power from a computer device or power-bank. Some amplifiers have built-in battery power or require to be plugged-in to a power source. It is important to consider the power requirements of the headphone amplifier while making a purchase decision.
Portability
The size of an amplifier is a very important determinant of its portability. There are very compact lightweight amplifiers in the market that can be used on-the-go with any music device. A small size amplifier is suitable as a headphone amplifier for ease of use and handling.
Volume Control
The volume control on an amplifier allows you to pass the desirable amount of signal for amplification. Analog volume control is knob-type or dial-type volume button which allows the user more accuracy in determining the volume level and the sound output. Digital volume control does not offer a great degree of flexibility and accuracy for volume levels.
DAC
Usually, amplifiers process ordinary analog audio files and boost the sound quality. The added advantage of an amplifier with a digital-to-analog converter (DAC) is that it can convert digital media files or streaming music into a clear analog audio signal.
Best Brands: Headphone Amps
FiiO
FiiO is a Chinese brand of sound gears and amplifiers. The company aspires to elevate the reputation of 'Made in China' goods, by delivering innovative technology in quality products.
Radsone
Radsone, abbreviated from the phrase 'Radical Sound', delivers specialized sound solutions for premium smart-phone audio. It has released some of the best selling audio systems in the market
iFi
iFi is a leading manufacturer of amplifiers for personal sound devices and speakers. The award-winning company has made its mark with high quality products without echo or jitters.
AudioQuest
AudioQuest is a California-based company which is renowned for outstanding quality products at fair price. The brand is highly trusted and revered by music lovers globally.
Audioengine
Audioengine has delivered a premium range of quality sound amplifiers since 2007. The customer policies include the attractive 30-day audition option and 3-year warranty on authorized purchases.
FAQs About Headphone Amplifiers
1. What is a headphone amp?
A headphone amp is an amplifier which connects to the headphone and upgrades the quality of sound and reduces distortions.
2. How many headphones can be connected to an amplifier?
The number of headphones which can be connected to an amplifier depends on the number of output ports. Usually a headphone amplifier allows one or two output with 2.5 mm or 3.5 mm connections.
3. Why do my headphones need an amplifier?
Usually, mobile phones and other devices do not have sufficient power to drive high-impedance sound. If you own headphones with high impedance which require more power to drive the sound, it is a good idea to supplement your set up with an amplifier.
4. Do I need an Amp with DAC?
High-fidelity headphones yield better performance while processing high resolution music files. However, most of the downloaded music files and streaming music files are in compressed digital form. A digital-to-analog converter (DAC) can process such digital music files to high-fidelity audio files and significantly boost the performance of the headphones.
5. If I do not hear music at loud volume, do I need a headphone amp?
Even if you do not want to use the headphone amplifier for loud volume listening, the headphone amplifier can significantly reduce noise and distortions and give you a better listening experience.
6. How can I determine the impedance level suitable for my headphone?
Usually, amplifiers and headphones are paired on the basis of impedance. You can choose an amplifier which is 1/10 the ohms value as that of your headphone's ohms value.
---
Conclusion
Decoding the world of headphone amps can be intimidating and even confusing. You might have never heard of headphone amplifiers before. Or even if you did hear of it, the sheer technicality may have driven you off.
Our list of top quality headphone amplifiers is a great reference for understanding the nuances of headphone amplifiers and selecting your first headphone amp at an affordable price.