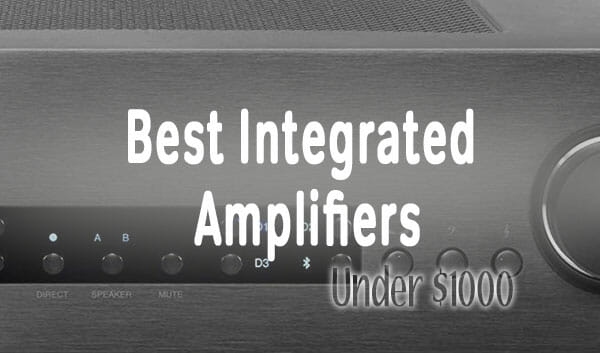 In the modern world, our homes play host to lots of electronic entertainment systems – CD/DVD players, TVs and sound systems. However, the experience that we get from these systems is maximized significantly by great audio output. And this is where integrated amplifiers come in.
Integrated amplifiers are devices which have the audio preamplifier (that converts regular sound signals such that they can be amplified) and a power amplifier (which boosts the volume and strength of said signal) within the same casing. Integrated amps also have input ports for multiple products, making them versatile and giving them the edge over traditional amps.
Here are the nine best integrated amps under $1000, guaranteed to perform consistently and liven up your homes/studio any day you want in 2020.

Top Integrated Amplifier Reviews of 2020 (Under $1000)
---
---
---
---
---
---
---
---
---
Buying Guide: Integrated Amplifiers
Integrated amps definitely have quite the edge over their traditional cousins, with added versatility and compatibility being foremost among them. However, the list is even more extensive with these being the outstanding features:
1. Compatibility
Integrated amps have many more options when it comes to input ports. Most modern amps are considerate enough to add in the minimum requirements like coaxial and optical inputs. However, it is pretty rare for amps to have USB capabilities. Look out for amps that have the basic ports like Phonograph, CD/DVD, USB and Stereo inputs.
2. Quality Of Audio
Integrated amps under a thousand dollars, while of decent audio quality are generally reserved for use at homes. Many contemporary amps have alright sonic feedback, but are usually only as good as say, a mid range traditional amp that is paired to a matching power amp. Only top amps have the technical wizardry to compete with the old heads, like the CXA60 or the Marantz.
3. Wireless Capabilities
It is no denying that wireless is truly the future, if not the present. However, a major portion of the amplifier industry has a lot of catching up to do in this aspect. Bluetooth capabilities are not found in every integrated amp; some amps have accessory dongles while others don't have wireless capabilities altogether. An important factor that influences your purchase must surely be whether you can pair up your daily drivers (phones, tablets) with the amp of your choice.
It is inevitable that the compact pieces of technology that are integrated amps will have a few trade-offs. The more portable ones usually end up sacrificing either sound quality or signal strength of amplification. The bigger ones, on the contrary, are absolute units and are very unmanageable when it comes to their portability. It would be prudent to choose an amp that somehow finely balances these aspects; a weight of about 10 lbs would be considered a standard for a good amp. Also look out for devices with high end (24 bit, 192 KHz being the bar) DAC circuits.
Top Brands: Integrated Amps
Some of the more reliable brands that you should definitely start off with are as follows:
1. NAD
Has an excellent pedigree and a plethora of integrated and traditional amps. Its 3020 series is among the best of the integrated amps at present. It has managed to not be weighed down by expectations and has shown that it can consistently make amps that hold their own against the original 3020.
2. Denon
The amp maker has upped its game in recent years, producing solid products that have well rounded music abilities across genres. Compatibility features are an added bonus.
3. Cambridge
While it is a relative newcomer, this company has produced some fantastic amps so far, with CXA60 being the favourite amp for many reviewers. It is fast gaining a reputation of being a top-notch amp maker and managing to do so on a tight budget.
4. Yamaha
An old, trusted hand, the Japanese product maker has enthralled music lovers the world over with its fantastic set of products over the decade. It's a fan favourite for the dedication it has shown to perfecting the musical sensitivity and performances for rock and hip-hop.
FAQs About Integrated Amps
1. What device is better: a portable, lightweight amp or a higher end, heavier one?
It all depends on the specific use for the amp; a consummate professional who takes his amp with him on his commute would obviously require a very portable amp. On the other hand, medium-to-large workspaces (or homes) just wouldn't be able to deal with the limited connectivity. It is there that bulkier models are advantageous, provided that they are in a fixed place. Lightweight amps also naturally tend to have more wireless features.
2. Are budget integrated amps really worth the purchase?
Here, the dichotomy lies in the niche the product is being used in; budget devices, up to a certain extent, are perfectly fine for a domestic setting. In fact, top-of-the-line amps from Cambridge and Denon are usable even by professionals of some calibre. The problem makes itself evident when you need an amp for high-end use, like minutely critiquing, say, operatic music. In that case, go ahead; it is advisable to make an upgrade and perhaps invest an extra five hundred dollars more in amps that are a better fit.
3. How important are wireless features in an amp?
This is something that simply cannot be stressed upon enough – wireless features, in the near future, will definitely make or break the success of an integrated amp. It is absolutely necessary for a device to include some sort of connectivity – be it bluetooth or wireless fidelity.
4. What about secondary and follow-up services for amps?
This is an important question, and should be taken seriously. Relative newcomers like Cambridge put out solid products that are reliable for the most part. However, in the instance that they do break down or malfunction, the dedicated company service centers are very few and far between in North America. You will have to rely on third party providers to make that happen, and that can put off many potential buyers. A cautious decision is a must!
---
To conclude, the market for integrated amps is now booming, with dozens of decent options coming in frequently. However, most of these amps find themselves lacking in at least a few crucial aspects that can drive away would-be buyers. Hopefully, with this list, we've provided you enough information and options to make sure you now have an educated opinion on the best budget integrated amps, and this might just give you the edge in choosing the amp best suited for your needs. Good luck!