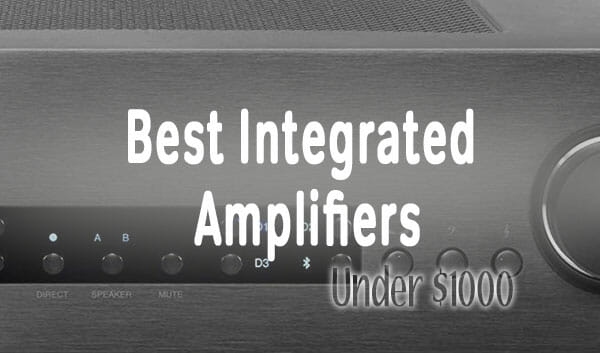 In the modern world, our homes play host to lots of electronic entertainment systems – CD/DVD players, TVs and sound systems. However, the experience that we get from these systems is maximized significantly by great audio output. And this is where integrated amplifiers come in.
Integrated amplifiers are devices which have the audio preamplifier (that converts regular sound signals such that they can be amplified) and a power amplifier (which boosts the volume and strength of said signal) within the same casing. Integrated amps also have input ports for multiple products, making them versatile and giving them the edge over traditional amps.
Here are the nine best integrated amps under $1000, guaranteed to perform consistently and liven up your homes/studio any day you want in 2023.
Table of Contents
Top Integrated Amplifier Reviews of 2023 (Under $1000)

The Marantz PM6006 is one solid amplifier. It has a power rating of 45 Watts and is of very impressive build quality. For those interested in technical know-how, the PM6006 has a Digital-to-Analog (DAC) converting CS4398 192kHz 24-bit circuit from top brand Cirrus Logic. Where the amp maker has excelled is in applying existing technologies well, including a premium power circuit and a discrete current feedback amp. Also of note are the extremely potent toroidal transformer and the speaker connectors, which are gold plated and certified by the company as corrosion resistant.
All of these combine to provide an impressive sound that is crisp and is of very high quality indeed, along with the fact that the buyer does not need to have a lot of knowledge about amps to utilise it fairly comfortably.
Pros
Very easy to use with a basic remote control.
Is a reliable piece of equipment.
Excellent designer pedigree, highly durable.
Has backward compatibility – has phonograph input.
Has an extra two optical inputs and a coaxial(can be used for radio) input.
Cons
Cannot be used in a wireless capacity.
Lacks a much-needed subwoofer input.
It is a very easy to use versatile amp that will last a significant amount of time without any noticeable damage.

The Dayton Audio MA1240a, made from a company with a heritage of building quality amps, certainly doesn't disappoint. Being yet another Dayton product that delivers quite the bang for one's buck.
The amp is the quintessential modern amp, having a 40 Watt rating and consisting of a whopping 12 different input channels. It also features a standard steel chassis that acts as a sturdy enough covering for the inner workings.
Where the MA1240a sets itself apart is in the utility department. This amp performs the amazing job of amplifying sound through as many as six different inputs. This is done by the amp sending source signals to six different "zones" of the space in which it is being used. This means that one person could be watching some TV in the bedroom and another could be listening to music in the kitchen, and the MA1240a would be able to service both speakers simultaneously.
The amp is, naturally, very power intensive and is provided with interior cooling fans for this very purpose. The amp also has an added air of versatility with a wide frequency response range from 5Hz to 72KHz.
Pros
Presence of an LED indicator showing functionality of all six zones.
An efficient and simplistic build design makes it easy to figure out.
An absolutely incredible performance from the 12 channel inputs.
Cons
It has a tendency to get overheated very quickly.
The fans do not provide adequate cooling at all times.
The amazing one device, multi-zone functionality packaged with solid performance makes it a very tempting buy.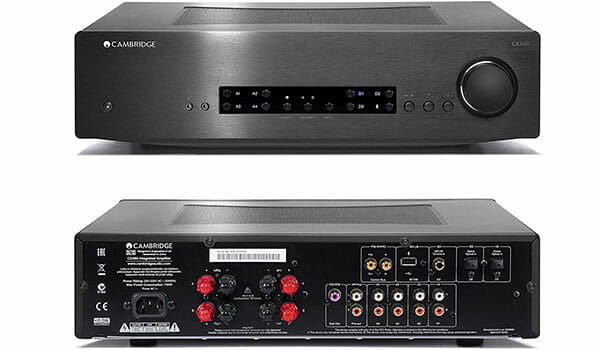 In all of its mid-range priced CX Series, the CXA60 is most certainly its calling card – it reflects peak performance delivered within a tight budget, and is definitely among the most reliable amps available on the market, period.
So what makes the CXA60 so special? For one, the build quality in and of itself is top notch, looking and feeling extremely strong. And this applies not just to the amp, but to the remote as well. Like the Marantz, the CXA60 also has a 24 bit 192kHz DAC that is very appropriate for high resolution audio. What's unique here is that besides the regular optical and coaxial inputs, it has an auxiliary input for MP3 devices, even a 3.5mm headphone jack!
It goes without saying, of course, that the CXA60 has near-unmatched levels of audio quality and intensity. The output quite easily fills up any reasonably sized room, with the amp performing well for music of all genres. It also has the very best in distortion reduction technology, and utilizes it very well indeed.
Having such excellent performance in all facets, one can hardly deny that the CXA60 deserves to be up there as one of the best amps currently available.
Pros
Excellent build and finish of both amp and peripherals.
Has excellent connectivity with multiple devices.
Fantastic, top of the line audio quality.
Uncluttered, easy to read instrument panel.
Cons
Has no support for wireless devices; bluetooth dongle sold separately.
Crucial USB input missing.
One of the best amps in the business sound quality wise, it includes impressive wired connectivity features.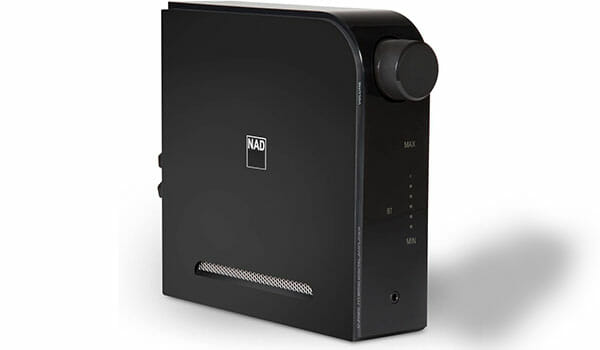 Few audiophiles will require an introduction to legendary amp maker New Audio Dimension. 35 years ago, they released the 3020, a vintage amp that was then the pinnacle of performance, becoming the highest selling amp in human history. With the arrival of the new fangled D 3020 in 2013, NAD set the bar high for its successor, the D 3020 v2, which, as it turns out, more than lives upto the hype.
The v2 is unique in many aspects, starting from its design, which is vertical in comparison to other horizontal amps. The v2 also has slick panels including the instrumentation. It has easy to use controls that are responsive yet look and feel tough enough for the long haul.
Having the pedigree it does, the 3020 v2 has excellent amplification capabilities, and belongs in the top tier when it comes to reduction of sound distortion, even with boosted bass. Also of note is the special care taken to make sure the gravelly baritones and high pitched tenors are given equal importance by the amplifier's inner algorithm. At this price range, you cannot go wrong with the D 3020 v2.
Pros
Has an excellent finish and a sleek, durable exterior.
Extremely easy to use instrumentation panel and remote.
Can play music from a wide range of frequencies very well.
Cons
On extremely rare occasions, components of complex musical pieces are not perfectly synced.
It is a fantastic modern reiteration of the classic amp. Ticks all the right boxes.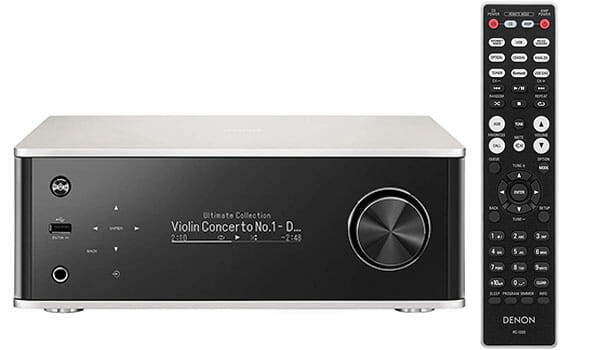 The Denon PMA-150H is an amp that reflects everything that is good about current amp technology. Despite being on the more expensive side of things, it makes an admirable attempt at justifying its price.
The Japanese company has been around for over a century, allowing them to hone and perfect critical aspects of an amp like their converter circuits. Competing with Yamaha over the years has also helped with respect to their amps' versatility: the bass and treble aspects are especially noteworthy, though not as good as Yamaha's A-S701BL.
Denon makes up for this, however, by choosing to focus more on percussion and even woodwind instrumentation. This makes it a highly sensitive amp that delivers fantastic performance at lowering distortion at even the loudest of volumes.
Where the PMA-150H really shines, however, is in compatibility, where it is ahead of the rest of the field by a country mile. Like many amps, it has the regulation coaxial and optical inputs for CD players, TVs and turntables. Unlike most other amps, the PMA-150H also has internet connectivity alongside stereo input. And did we mention the voice control feature, which lets you access the amp through Amazon's Alexa, Google Home or Apple's Siri? Yes sir, this amp definitely has it all.
For a seasoned audiophile, it is an appealing and worthwhile purchase.
Pros
Best-in-class in reducing vocal distortion.
A no-fuss instrumentation panel and monochrome screen makes using it child's play.
Is the most compatible amp on this list. Period.
Cons
Is extremely pricey, relatively speaking.
A pretty good amp with otherworldly compatibility, it is sure to work well with any listening device at home.
The Olasonic NANOCOMPO is, as its name suggests, an extremely compact integrated amp; so compact, in fact, that it weighs in at just over two lbs, a mere tenth of the weight of the rest of the amps on this list.
However, apart from this novelty factor, is the NANOCOMPO any good at its job? The question is answered pretty comprehensively by the amp: it does an alright job and performs well across all genres of music. The only kicker? This is an amp that is, strictly speaking, only for very small houses and apartments.
As far as its amplification abilities, the NANOCOMPO is above average. Yes, its amplification range for instrumentation(especially pianos) and voice distortion reduction is not exactly on par with, say the Cambridge CXA60. Then again, you would be able to lug your NANOCOMPO during your daily commute without being afflicted from chronic back ailments for the remainder of your life. And that can be a dealbreaker in a lot of practical cases.
As a complete package, the NANOCOMPO finds itself lacking in certain aspects like having a robust enough signal, or being a rugged, durable build. However, the sheer novelty factor of its size and portability makes it a decent niche product.
Pros
It is at the top of the list of all amps when it comes to portability.
Signal strength features make it suitable for small homes.
Cons
Pretty pricey with respect to its limited amplification abilities.
Has okay connectivity features and can be carried around for more than ten minutes by a human being of regular strength. We rest our case.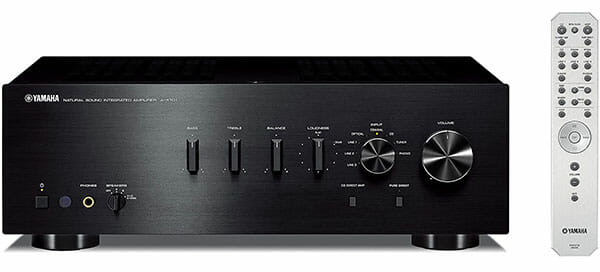 The Yamaha A-S701BL, like most of its ilk nowadays, is a 100 Watts power rating and dual channel integrated amp. Almost identical to the A-S801BL, the A-S701BL only differs from its more expensive cousin in terms of the DAC circuit. Otherwise, it consists of the same exterior: a highly minimalist jet black instrumentation panel that only consists of the bare minimum of the knobs and dials.
As usual, Yamaha has decided to reserve the bells and whistles for the inner workings. The A-S701BL has an incredibly complex set of circuits that help it output a tremendous amount of bass. It has various input ports like the Phono, CD, Coaxial and Optical inputs. However, it too lacks a much required USB port.
One thing that can't be held against Yamaha is the not using quality components, and it has decided to go with Texas Instruments chips for its circuits. This has allowed the amp to have greater control over treble and bass outputs, even at high volumes. All things considered, it is an alright package geared towards having a stripped back sound performance.
Pros
Unmatched bass and treble performance.
Excellent pedigree assures quality service.
Packs a massive punch in terms of intensity of output.
Cons
Though well finished, the body under the instrumentation panel is made of plastic.
At this price, it does not have the best musical quality in other aspects such as tenors and higher pitched instruments.
The A-S701BL, with excellent bass amplification, is definitely suited for rock and hip hop music consumers.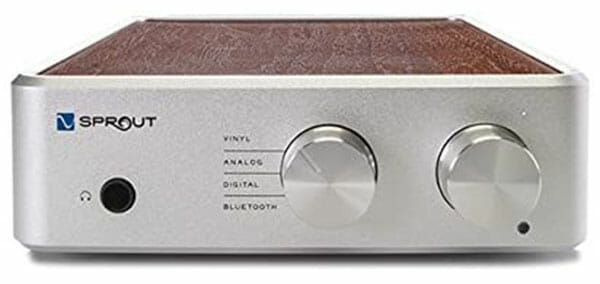 The PS Audio Sprout100, much like the Cambridge CXA60, comes from a lesser known brand in the industry. This, however, is no indication of its quality, as the amp maker has proved with the excellent Sprout100.
An improvement in every sense over the original Sprout, which came out in 2015, the Sprout100 features a clean silver design with two massive dials being the only means for controlling the amp. It belongs in the same category as the NANOCOMPO, though it is not quite as portable, weighing in at over 5lbs.
The Sprout100, while geared towards the same niche audience, provides a significant upgrade over its predecessor with respect to an increase in signal strength, allowing it to comfortably increase the amplification abilities and works perfectly within a moderately sized apartment. The addition of a beautifully designed remote, having a USB-B port alongside other regulation inputs and a doubling of the previous power capacity are a massive bonus. Definitely among the top choices for compact workspaces and homes.
Pros
The product feels solid and sturdily built.
The remote control is the best designed and functioning of all the ones in the list.
The dedicated subwoofer output and bass boost switch make listening to Rock and Hip-Hop music an enjoyable experience.
Cons
The lack of manual controls on the panel might turn off traditional amp users and audiophiles.
A very sleek, portable amplifier, the Sprout100 improves massively on its predecessor and provides a viable choice for small homes and workspaces.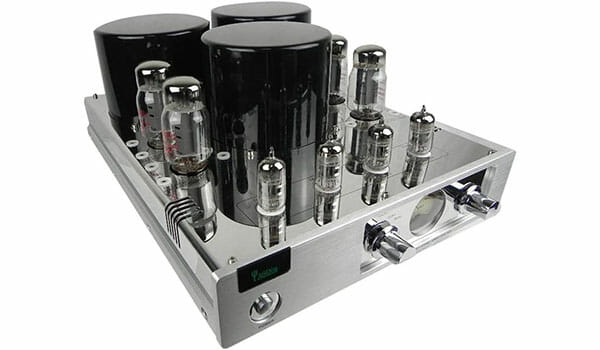 Lastly, we get to what is probably the most unique amp of the lot, the Yaqin MC-13S. The MC-13S is classified as a tube amplifier, and has a rather singular design. It consists of an open case that shows its set up of vacuum tubes and digital workings.
A tube amplifier works by using vacuum tubes to increase the amplitude and power of the signals emitted. A vacuum tube may seem like a piece of outdated equipment, this is no old, simple solid state amplifier, instead combining the best bits of both vintage and modern to make a spectacular amp. It has three sets of tubes – the small EL34B tubes and the larger 12AU7 and 12AX7 ones. These varying sizes help in adjusting the volume and frequency of the signal. The resulting sound has the booming quality that only a tube amp can produce.
As usual, the amp has four gold plated standard RCA jacks and two output jacks giving it some durability. All in all, it sure is a well-rounded package invoking nostalgia but performs like a modern machine.
Pros
Sound distortion, even in the most extreme cases, is very minimal.
Every output channel has an amazing 40 Watt capacity.
The "Push and Pull" current flow feature makes the amp more efficient.
Cons
Is extremely heavy at 22 kilograms, not making it very portable.
Set-up can be a bit of a hassle with a manual in Chinese.
The fuse pipe has a tendency to blow up and is crucial to the functioning of the amp.
An old school amp with easily repairable components, the MC-13S is a charming amp that fills up any room with clear, booming sound.
Top Brands: Integrated Amps
Some of the more reliable brands that you should definitely start off with are as follows:
1. NAD
Has an excellent pedigree and a plethora of integrated and traditional amps. Its 3020 series is among the best of the integrated amps at present. It has managed to not be weighed down by expectations and has shown that it can consistently make amps that hold their own against the original 3020.
2. Denon
The amp maker has upped its game in recent years, producing solid products that have well rounded music abilities across genres. Compatibility features are an added bonus.
3. Cambridge
While it is a relative newcomer, this company has produced some fantastic amps so far, with CXA60 being the favourite amp for many reviewers. It is fast gaining a reputation of being a top-notch amp maker and managing to do so on a tight budget.
4. Yamaha
An old, trusted hand, the Japanese product maker has enthralled music lovers the world over with its fantastic set of products over the decade. It's a fan favourite for the dedication it has shown to perfecting the musical sensitivity and performances for rock and hip-hop.
FAQs About Integrated Amps
What device is better: a portable, lightweight amp or a higher end, heavier one?
It all depends on the specific use for the amp; a consummate professional who takes his amp with him on his commute would obviously require a very portable amp. On the other hand, medium-to-large workspaces (or homes) just wouldn't be able to deal with the limited connectivity. It is there that bulkier models are advantageous, provided that they are in a fixed place. Lightweight amps also naturally tend to have more wireless features.
Are budget integrated amps really worth the purchase?
Here, the dichotomy lies in the niche the product is being used in; budget devices, up to a certain extent, are perfectly fine for a domestic setting. In fact, top-of-the-line amps from Cambridge and Denon are usable even by professionals of some calibre. The problem makes itself evident when you need an amp for high-end use, like minutely critiquing, say, operatic music. In that case, go ahead; it is advisable to make an upgrade and perhaps invest an extra five hundred dollars more in amps that are a better fit.
How important are wireless features in an amp?
This is something that simply cannot be stressed upon enough – wireless features, in the near future, will definitely make or break the success of an integrated amp. It is absolutely necessary for a device to include some sort of connectivity – be it bluetooth or wireless fidelity.
What about secondary and follow-up services for amps?
This is an important question, and should be taken seriously. Relative newcomers like Cambridge put out solid products that are reliable for the most part. However, in the instance that they do break down or malfunction, the dedicated company service centers are very few and far between in North America. You will have to rely on third party providers to make that happen, and that can put off many potential buyers. A cautious decision is a must!
To conclude, the market for integrated amps is now booming, with dozens of decent options coming in frequently. However, most of these amps find themselves lacking in at least a few crucial aspects that can drive away would-be buyers. Hopefully, with this list, we've provided you enough information and options to make sure you now have an educated opinion on the best budget integrated amps, and this might just give you the edge in choosing the amp best suited for your needs. Good luck!