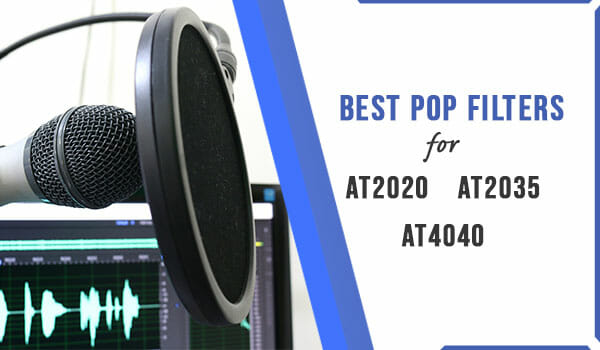 Why do you need a pop filter when you have already bought the Audio Technica microphones? Fair enough.
You see, whenever you use plosives, unpleasant popping or rumbling sounds add to your recording which result in your audio sounding a lot worse.
What are plosives now? These are the b, d, g, k, p and t sounds which cause an air burst from your mouth, which results in an ugly, distorted sound, which once recorded, is almost impossible to remove.
And that is precisely why, you NEED pop filters, as these disperse those air bursts resulting in a much clearer sound, devoid of any disruptions. Here's 6 best pop filters for your Audio Technica microphones, be it AT2020, AT2035, AT4040:
Our Top Picks
Here's looking at the best bass headphones in each category:
Top Pop Filter Reviews For AT2020, AT2035 & AT4040 In 2020
---
---
---
---
---
---
Buying Guide: Pop Filters
There are certain features of pop filters which you have to keep in mind while comparing different products. Some of those terms and features, which would ensure you get to buy an optimum po filter, are:
1. Filter Material
Most of the pop filters you'll find are made up of nylon or other materials which too are fabrics. Manufacturers choose this because these materials are usually cheaper, and you get your job done.
Some manufacturers prefer using metal, either woven or perforated. These manufacturers strive for better transparency and clarity, particularly for higher frequencies which you'll usually find problematic in case of filters made using fabrics.
It's difficult to say which is better. Most of the professionals and experienced users prefer the nylon mesh, while filters made using metal are generally used by the more premium users.
2. Filter Diameter
Most of the pop filters are made keeping in mind the standard filter diameter that is 6″. Apart from this, you can find some smaller ones, like 4″.
Now what are the advantages of a bigger pop filter than a smaller one? Well, having a pop filter with a bigger diameter means, you will have a larger area for movement. This would mean you don't have to be in one position strictly, and can move about freely, hence keeping your vibes in check and your inspiration high.
While if you have a smaller recording space or a smaller mic, then pop filters with small diameters will be perfect for you. They are also light in nature, which would mean less stress on the gooseneck, and which in turn would mean more durability.
3. Gooseneck Quality
How you position your filter, is partly decided by the qualities of your gooseneck, like its length, stability and flexibility. You have to keep in mind, the gooseneck is suitable, otherwise you might get a filter which droops, and which you'd have to constantly adjust, or you might get a neck, which requires constant bending to switch it to proper position every time.
. Mounting and Compatibility
Most of the pop filters you'll see, come with mechanisms for clamping and mounting the pop filter with mic stands, providing a secure attachment. Now this is great, if you have mics which are mounted on stands.
But in case, you're using a mic which is mounted on a desktop, particularly for home recording purposes, you should look for a pop filter which can clip on the mic itself, or on the desk.
5. Filter Layers
A pop filter can have different numbers of layers, like one, two, or more. Usually the DIY pop filters which people make at home are single layered. The disadvantage it has, is that it can not completely stop the popping, hissing noises, hence defeating the purpose of using pop filters.
Most of the market pop filters have two layers, which are quite effective as the first layer partially blocks the noises, and the air gap reduces the intensity of those disturbances so that by the time they reach the second layer, they are almost completely blocked, and the remaining part is blocked by that second layer.
Having more than two layers means that you are compromising on the actual sound which you want to record, hence, again defeating the purpose of using pop filters in the first place.
Hence, as you can see, two layers in a pop filter is the optimum condition to have.
---
Conclusion
Only buying a good microphone isn't enough. You need to make sure there are no disturbances, and using a pop filter is very necessary for that.
By now, I hope you have an idea about the perfect type of pop filters for your Audio Technica microphone. Best of luck!