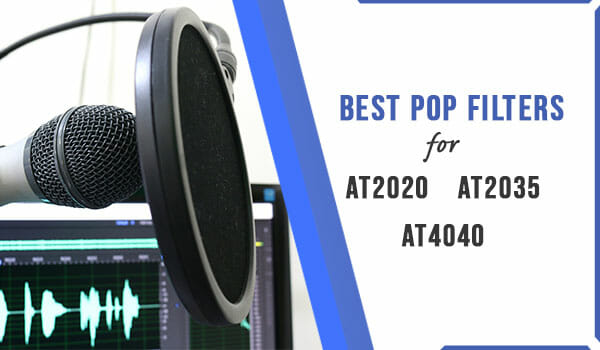 Why do you need a pop filter when you have already bought the Audio Technica microphones? Fair enough.
You see, whenever you use plosives, unpleasant popping or rumbling sounds add to your recording which result in your audio sounding a lot worse.
What are plosives now? These are the b, d, g, k, p and t sounds which cause an air burst from your mouth, which results in an ugly, distorted sound, which once recorded, is almost impossible to remove.
And that is precisely why, you NEED pop filters, as these disperse those air bursts resulting in a much clearer sound, devoid of any disruptions. Here's 6 best pop filters for your Audio Technica microphones, be it AT2020, AT2035, AT4040:
Table of Contents
Our Top Picks
Here's looking at the best bass headphones in each category:
Top Pop Filter Reviews For AT2020, AT2035 & AT4040 In 2023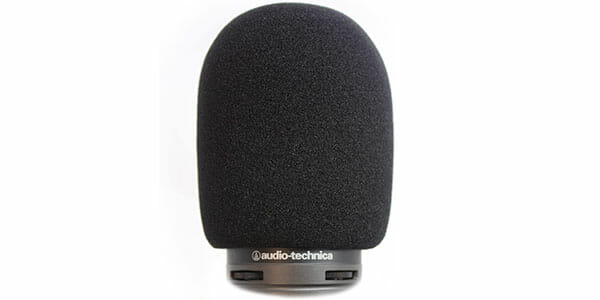 Specifications:
Item Weight: 45.3 grams
Package Dimensions: 3.8 x 2.9 x 2.2 inches
Color: Black
Size: Windscreen
When you have invested in a great microphone, it's necessary that you get the best sound quality while you record. This pop filter has been specifically designed for the Audio Technica microphones, that too for the AT2020 line, but can also be used for similar sized microphones.
It is really frustrating when after shooting a whole video, or after recording a whole podcast, you find out that the whole recording is filled with background noises of all sorts. And this pop filter makes sure you never have to worry again about the noises, be it the wind, or your breathing, or some plosives.
It is very easy to install and it fits the AT2020 series perfectly. It is made using acoustic foam material of high quality, so that you can use it for years to come! The premium quality foam ensures that you get great noise cancellation. And in case you aren't satisfied, you get a 36 month 100% money back guarantee.
It filters out all those plosives, like the harsh p and t sounds. Unlike other filters, it provides dense and thick protection. It protects your microphone from any kind of damage by saliva or dust.
So, whether you are a beginner or professional, a podcaster, or Youtuber, or a gamer, for great, clear audio recordings, this is a great pop filter you should use.
Pros
Fits perfectly
Acoustic foam material for great noise cancellation
Money back guarantee
Blocks out the plosives
A great filter for AT2020 and similar sized microphones, whether you are a beginner or a professional. It fits perfectly, and is made up of premium quality foam, which means good durability.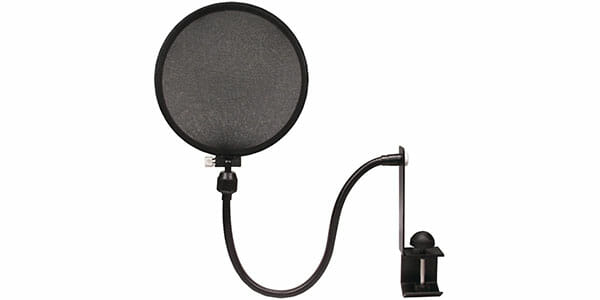 Specifications:
Item model number: MPF-6
Product Dimensions: 15.8 x 8.6 x 1.8 inches
Diameter: 6″
Item Weight: 431 grams
Color Name: Pop Filter having a Stabilizing Arm
Nady MPF-6 is one of the best selling and widely known filters out there. Why? Because it's so cheap. That's not the complete story though. There are other cheap pop filters too, but more often than not, their goosenecks aren't fixed, and they have low durability.
But MPF-6 delivers on all its promises and provides great value for its price, so that you get what you paid for. It is quite flexible and very easy to install. It can work with any microphone, including the Audio Technica models, in a range of ways, like for live sessions, podcasts, studio recordings, or other professional recordings, or for use with a desktop.
The filter protects the microphones against the popping noises which arise while recording, so that you get that premium sound. These popping sounds are because of the impact of fast moving air during recording a song or a speech. The filter also protects the microphones from any accumulated saliva.
The MPF-6 also contains a clamp for mic/boom stand, with a metal bracket that can expand to the reachable area. The clamp can fit any pole or stand which has a diameter of upto 1 inch. It also has a gooseneck holder which is quite flexible, as well as a swivel mount, to position easily.
The filter can be attached to a standard mic stand, a compact stand, or a desktop boom stand. The screen angle is adjustable, and can be rotated by 360 degrees, so that you can optimally position it in every situation. The thicker gooseneck makes sure that while using, it won't budge.
The filter has a mesh screen of double layered, so that you get a more effective pop filtering than the common mesh screens with single layer. For optimum performance, the windscreen is multi-positional.
Pros
All sides covered by the nylon material
Efficiently removes the popping sounds
Flexible screen angle
One of the best selling and popular pop filters because of the double mesh layer which efficiently filters all the noises, to give a premium sound. It can be used with almost any microphone because of its flexible nature.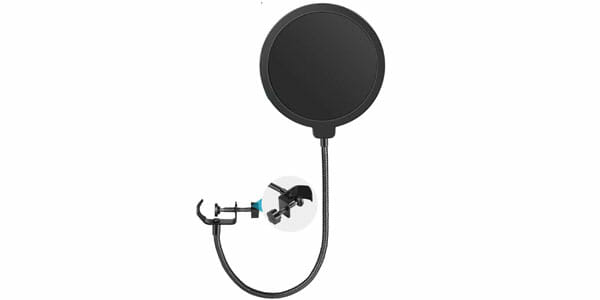 Specifications:
Item model number: B00ACFAULC
Weight of Item: 235.3 g
Color Name: Wind Screen Pop
Product Dimensions: 6.3 x 1.1 x 12 inches
Filter Size: Standard
Neewer is a leading brand when it comes to manufacturers of music equipment, and they have products of great quality. This pop filter is a great product, especially if you are a beginner in audio recording, an aspiring podcaster or Youtuber. It's double layered mesh makes sure there's no disturbances in your recording in the form of rumbling or popping sounds.
It is double layered as stated, and this means you get optimum filtering, as most of the air blasts are blocked by the first layer only. Then, the remaining pressure gets dispersed because of the gap between the two layers, so that by the time it reaches the second layer, most of it has been stopped. The remaining part is blocked by the second layer. Hence, you get high quality recordings.
In some positions, the gooseneck might be a little loose, and the clamp might be a bit weak. So, this means you might have to put some efforts into getting the pop filter in your desirable position. This also might affect the overall stability and durability.
During recordings, the microphone might get covered by spit, especially during performances by amateur singers. The pop filter protects your microphone from this, and subsequent damage it might cause. It also protects your mic from any saliva accumulation.
Depending on what and how you prefer, the distance and angle between the screen and microphone, can be easily adjusted. The adjustable clamp fixes ensure attachment with any mic stand, while you get to choose the position of the filter because of the flexible gooseneck.
Therefore, whichever situation you may be in, this is a great choice for almost every scenario. Whether you're in a radio station, or q personal studio or a broadcasting studio, you get a much better, clearer sound, because of these filters, as they block those ugly hissing or popping sounds which follow letters like 's', or 'b' or 'p'.
Pros
Mesh material is of great quality
Can be easily installed
Gooseneck is flexible
Two layers of mesh
It's just not the most affordable, but also gives a solid performance like a good pop filter. If you are new to this recording world and want to start with a good quality product before moving on to higher end products, the Neewer pop filter is a great choice!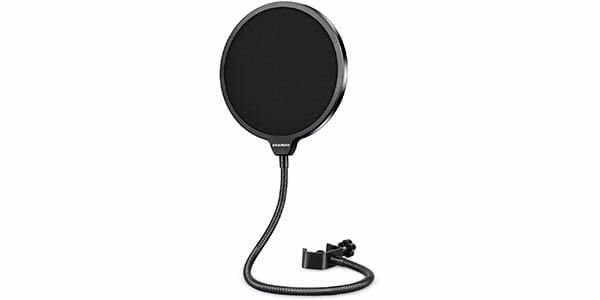 Specifications:
Item model number: 6269
Product Dimensions: 12 x 6.2 x 1.1 inches
Item Weight: 181.5 g
Color Name: Premium Pop Filter
One of the most well known brands, Aokeo is known for manufacturing specialized audio products, and all their products are well received. This product is no exception to that. It is great for use in every scenario, whether you work in your own personal studio, or in a broadcasting studio, or in some professional recording studio.
The excellent double layered design makes sure that any form of disturbance is removed by the time it reaches the second layer only. In case of single layers, usually some amount of noise enters the microphone, entirely defeating the purpose of using a pop filter. Therefore, two layers ensure you get a much better, cleaner sound in your recording.
While pronouncing particular alphabets like b, or p, or s, irritating sounds, like hissing, and lisping, and popping evolve. Using the pop filter makes sure that these sounds are eliminated. It is a necessary tool for streamers, singers, and actors alike, for everyone who wants their performance to be the best. It also makes sure that no saliva or dust deposition takes place on the microphone.
The gauze material which is used to manufacture the filters are quite flexible in nature, and are used in both the filters, meaning they are just not flexible, but also stable and durable. The gooseneck is made of carbon steel which gives ample space and because of it, you can position your filter in the best way you want. The angle range of the gooseneck is 360 degrees, meaning you can rotate it as you want.
The clamp is drawn tight using screws, and it is fitted using cushioning mats made of sponge and rubber fittings. This much padding implies that unlike many other filters, it won't leave a single scratch on your mic surface. And it can be attached to several stands, not just the Audio Technica series, so that's a bonus!
Designed by Aokeo, this is a great product, with a great build and made using materials of high quality. It's double layered, has a flexible gooseneck and is quite durable!
Pros
Gooseneck is flexible
Nicely padded
Good quality materials
Double layered
Cons
Suitable for indoor use only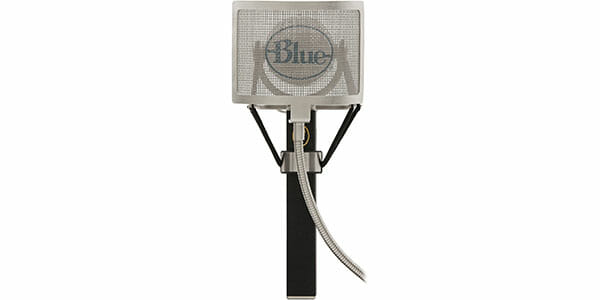 Specifications:
Item model number: 4531
Product Dimensions: 7 x 1.2 x 5.5 inches
Item Weight: 331.7 grams
Blue Microphones company is known for making products of amazing quality, from their budget mics to their pricey tube mics. And their unique pop filter, which they've named "The Pop", doesn't fail to meet any expectations.
Unlike the usual pop filters which are made with nylon fibres, this is made using high quality, fine metal mesh. This gives the whole thing a vintage look, while it also keeps the sound you're recording the same, while filtering out the noises. This means that your sound like "s" and "t" clearly pass through.
Also, unlike the usual circular shape you see in pop filters, this has a bent rectangular shape, which gives it a very stylish look. Using these pop filters with your microphones means they'll not only record better, but overall look better.
It's one of the most well-designed, great looking pop filters in the market. It has a clip and a gooseneck for attachment to your mic stand like any other pop filter. But, it's advantage is its metal frame, and wire mesh grill, which are quite strong and durable, alongwith the gooseneck which is quite sturdy. The frame and the wire frame is quite sturdily built too. This accounts for an unmatched durability.
As the term 'universal' in its name indicates, it can be used with any microphone. It has to be simply clamped with the mic stand, and then shifted to the position you desire. It helps in eliminating all the popping and hissing noises which arise when fast moving air hits your microphone.
Pros
Stylish look because of the bent rectangle shape
Vintage looks because of using metal wire
Solid construction
Good control over plosives
Cons
Filter might add weight because of the metal framework
Because of the metal wire framework instead of the usual nylon ones, it has a vintage look. Also, it is shaped like a bent rectangle unlike the common circular shape, which gives it a classy look. Overall, it works great and adds to your microphone's look.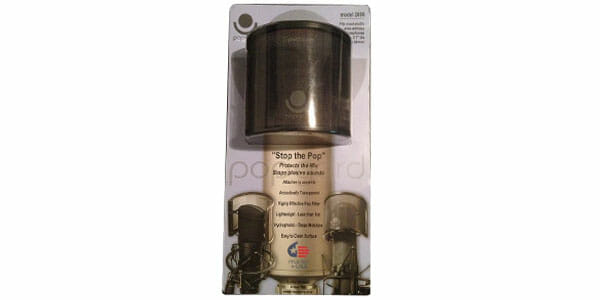 Specifications:
Product Dimensions: 12 x 3 x 8 inches
Design: Wrap-around
Item Weight: 1.6 ounces
The PS-1 had the wrap-around design, and this model takes that even further , so that it wraps tightly around your microphones, but instead of requiring an external gooseneck to keep it in its place, it mounts to the grill itself.
Therefore, this has the benefit of taking almost no extra space, because of this unique design. But it also means that the distance between the microphone and the screen can't be adjusted.
It offers great protection in blocking plosive sounds, which disturb your recordings and once they become a part of your recordings, they are almost impossible to remove. The filter effectively blocks these noises, so that you get a high quality, clean sound. So, whether it's a broadcasting studio you're a part of, or a home studio, record without any worries about any hissing or popping noises.
The PopGard is also hydrophobic, meaning it repels water. So, this helps in preventing any sort of moisture to reach the microphone parts. Also, it protects your microphone against any saliva accumulation as well as any form of dust deposition. It is also acoustically transparent.
The installation process is quite simple, and it is very easy to attach and remove. It weighs less than even one ounce, which means it is very easy to clean and operate with. No clamps or goosenecks are required for mounting, as the pop filter easily attaches itself using lightweight elastic bands, to the microphone body. It can fit any microphone from 4.6 to 6.8 cm.
Pros
Lightweight, easy to clean and remove
Hydrophobic, protects the microphone from water
Effective blocking of plosives
Hardly takes any space
No requirement of clamps or goosenecks
Cons
The distance between screen and microphone can't be changed
This PopGard doesn't require any external gooseneck or clamps, and can be mounted itself. It takes up no extra space, and is acoustically transparent. It is quite lightweight and hydrophobic.
Conclusion
Only buying a good microphone isn't enough. You need to make sure there are no disturbances, and using a pop filter is very necessary for that.
By now, I hope you have an idea about the perfect type of pop filters for your Audio Technica microphone. Best of luck!