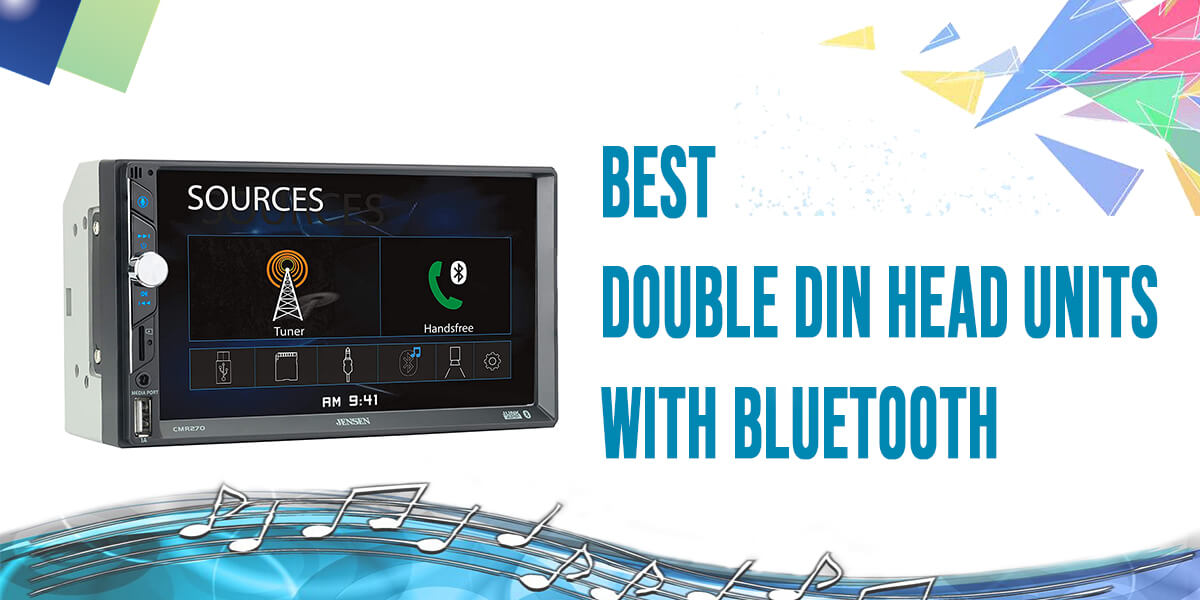 The most distinctive update you can give your car to make it look more stylish and also complement the interiors, is to fit in a double din head unit with Bluetooth. If you're not getting acquainted with the factory installed car stereo and have a space larger than the standard single din, you should definitely go for these latest versions.
These head units provide excellent sound quality and are loaded with the best technology. Bluetooth connectivity is really helpful for hands-free calling options, so you can keep your eyes on the road while driving. In addition, you can connect any android phone or iPhone or any other Bluetooth device with these stereos easily and enjoy audio/music efficiently. They complement any car and the sleek contemporary design would definitely add up value to your overall car look and performance.
Check out the best Double Din Head Units with Bluetooth below:
Table of Contents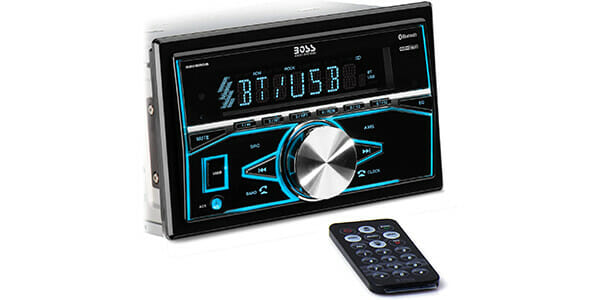 The BOSS Audio Systems 820BRGB is a multifunctional and operational car stereo which is built to deliver excellent sound quality and performance. It supports various connections and inputs such as USB port and auxiliary input which gives you a vast range of music options to choose from. You can also enjoy hands-free calling and music streaming with in-built Bluetooth and mic which lets you make/receive calls easily. It provides fully functional access and control over various functions with the display panel and added wireless remote control. You can set your car mood with over 16 million multi-colour combinations.
Pros
Hands-free calling/Bluetooth music streaming
Several Inputs/output
USB Charging
Wireless remote control
AM/FM radio
If you're not in favor of spending a lot of money on subwoofers, this system is the ultimate boon for you. You get decent sound quality and the bass never lets down.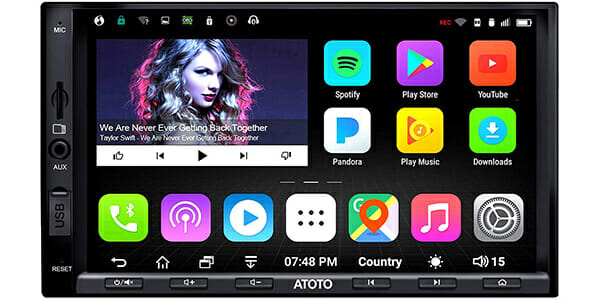 The ATOTO A6Y is built with an android Marshmallow OS which is especially installed for better performance. It has an amazing set of features for your vehicle, such as AUX/Backup camera input, Steering Wheel Control, FM/AM Radio, and much more. The in-built Bluetooth as well as microphone are super convenient for hands-free calling. It also has a pre-installed Google Maps feature which you can use to easily navigate through roads. It has a quick Booting system which makes your system get read to access within 2 seconds. It supports unlimited storage within the Micro USB Drive/Micro SD card for limitless songs.
Pros
Wi-Fi, Bluetooth and AUX connectivity
HD Touchscreen
Unlimited storage
Booting feature
Multifunctional for vehicle
Cons
Little Pricey
No CD Player
It has a pre-installed dual Bluetooth chip which allows more devices to easily connect and makes it a more convenient car stereo.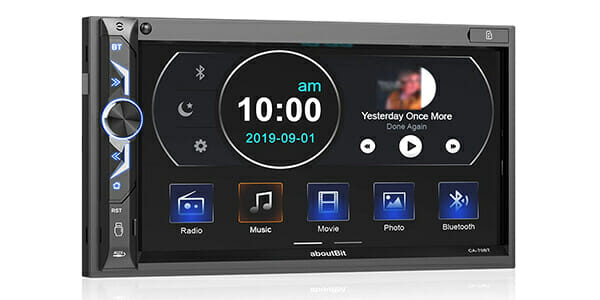 The AboutBit Double Din Stereo is a practical and multifunctional car stereo which makes your streaming experience more fun and easy. It supports USB port and AUX input which gives you multiple options to connect any device. The Bluetooth connectivity also lets you receive calls or make calls hands-free without difficulty. The 7" HD touchscreen with LCD display is bright, clear and gives dynamic access options at your fingertips. It also supports phone mirror link which is compatible with some android and iOS versions. The rear-view camera also gives more security and easier parking convenience.
Pros
7" colourful LCD display
Rear view camera
Various inputs
Bluetooth connectivity
Wireless remote control
High quality sound and bass
It has a built-in subwoofer output which provides powerful bass and dynamic sound performance.
The Podofo Android Car Stereo is a 7" HD capacitive touchscreen head unit with curved tempered glass and high sensitivity which makes it easy to operate. It features a rear view camera with 12 LEDs and IP67 waterproof technology which is conveniently useful while parking. It supports various music playing formats and connections with built-in FM/AM radio with preset EQs, mirror link and Bluetooth. The Bluetooth also helps you make/receive calls without your phone and enjoy hands-free calling. It has an in-built Wi-Fi and GPS navigation system which can also be used offline.
Pros
Rear view camera
7" HD display touchscreen
Built-in connectivity sorted
Wi-Fi GPS navigation
Steering wheel control
Cons
Some vehicles might need wiring or mounting kit for it to fit
It is a digitalized touchscreen car stereo which is designed with a high sensitivity touchscreen and several features for convenience.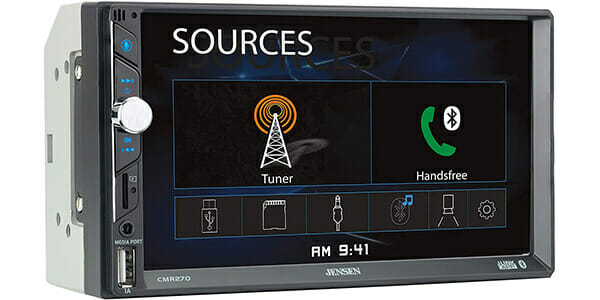 The Jensen CMR270 is another digital media double din car stereo with 7" LED/LCD high resolution touchscreen display which makes it more operational and easy to use. You can easily summon your favourite google assistant either by a simple touch or speaking into your car speakers. It features an updated Bluetooth version which can help you connect any external device with relative ease. It also supports a variety of music streaming options with AUX, USB and MP3/WMA player and AM/FM radio. It has a super slim 2.3 inch mount design which helps in easy installation across various vehicles.
Pros
7" HD touchscreen
Push-To-Talk function
Various Inputs
Supports USB charging
Bluetooth connectivity
Super slim mount depth
Cons
Sound quality could be better
It has an ultimate 7" HD touchscreen display and additional functions which makes it easy to operate.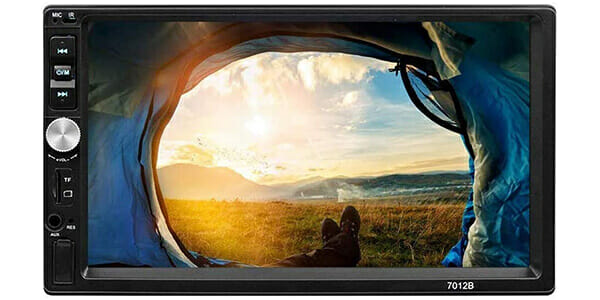 The Youyuekeji Double Din Stereo is also a 7" HD touchscreen radio which gives you an amazing response experience. It supports automatic channel sear mode built within the high-quality AM/FM radio. The Steering Wheel control and rear-view camera input function also make your vehicle easier and safer to operate. It also supports Android/IOS mirror link and you can also access GPS via this function. The added built-in Bluetooth and microphone are beneficial for hands-free calling and also streaming music effortlessly. The package includes every essential equipment – Main engine, power cord, radio wire, manual and remote control, for easy installation.
Pros
7" High resolution touchscreen
Android/IOS mirror link
SWC and Rear view camera input
Built-in Bluetooth and microphone
Includes every accessory
It supports various streaming options and provides decent sound performance and other practical features within an affordable price range.
Frequently Asked Questions
What does double DIN head unit mean?
A DIN head unit is a multimedia device fitted in your car which controls the infotainment system. It's placed in the dashboard of your car and also called a Car stereo. A double DIN head unit is twice the size of a single head unit, with 2 inches more height. It allows you more control options and extra input capacity for added entertainment. It holds the ability to provide you multiple features like Navigation, various Car controls, Audio/Visual output, better connectivity, hands-free calling, rear view camera input, and so on. 
Can I put a double DIN fit in my car?
Before deciding if a double DIN can fit into your car or not, you need to access the stereo space of your car. Usually, there are two sizes of head units available: Single Din and Double Din head units. Double dins are twice the size of a single din and require extra space to fit in, which every car doesn't provide. You can easily put a single din in a double din space with some extra brackets and adjustment, but it's a little difficult to fit a double din in a small area. It'll require you to cut out some portion of your dashboard and make other adjustments which will require professional help, extra efforts, time and investment. 
Which is better: single DIN or double DIN?
There's as such no definite protocol to understand which one amongst single din or double din is better. It narrows down to the quality, brand, features and price of a head unit to make a choice. However, it's also true that double din can provide you with more control options and extra spacing to access and improve other input capacity, simply because it can store more features and options in a large body. These are constructed with several in-built features which single dins might lack, such as bigger screen and touch response, added camera input, and so on. But irrespectively, there are certain single head units which also provide amazing sound quality without compromising on these additional features. You simply need to consider how much space you have and which one will suit your needs better than the other. 
Are all double DIN stereos the same size?
There are universally two most common Din sizes available in modern cars, which are single din and double din stereos. Typically, all double din stereos are the same in size and measure 7 inches in width with 4 inches height. A standard double din stereo measures this same measurement across vehicles and brands. However, the screen size and touch capacity might vary. 
Conclusion
There are a lot of Double Din Head Units with Bluetooth available in the market, but we've listed the top rated products for you. These have numerous pre-installed features which will make your car more efficient and accessible, such as rear view camera input, navigation function, etc. And of course, the Bluetooth connectivity gives the ultimate option for hands-free calling without any hassle which makes them more operational.
They are a very practical and functional equipment to install in your car for added entertainment and fun. Additionally, they're super-efficient and typically under a budget without compromising on the sound quality and performance.