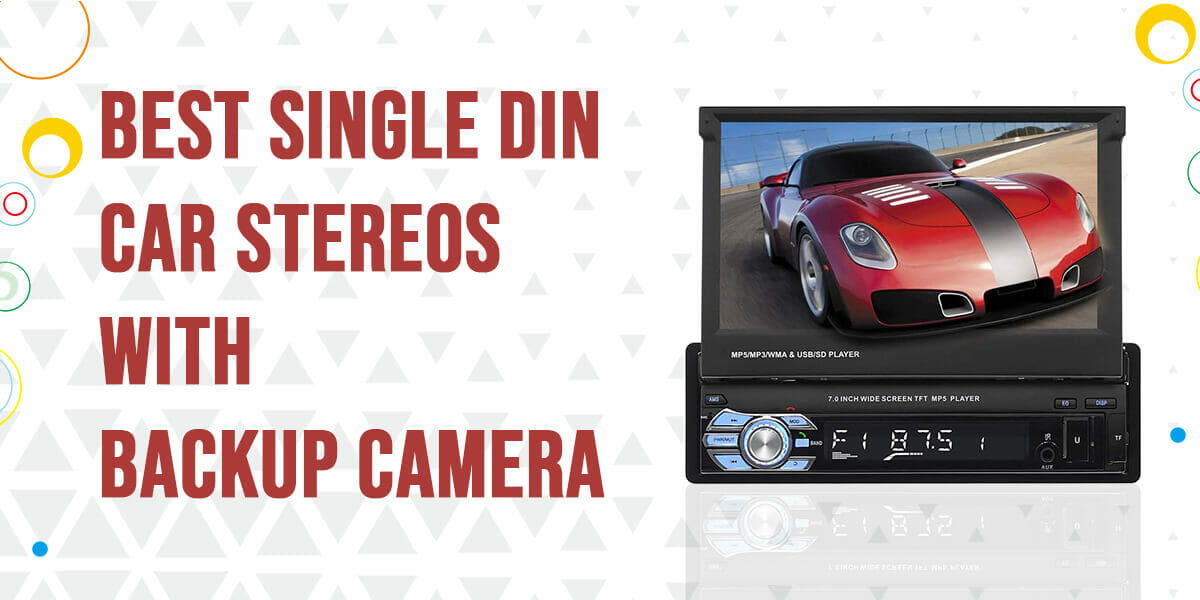 Many cars have standard single Din decks for their factory stereo. You can easily upgrade your old stereo to a new single Din stereo which will offer you more features and functions.
Backup cameras are a great help when it comes to reverse parking. You will get a clear display of what is going on behind you. Given below are the 6 best single Din car stereos with a backup camera.
Table of Contents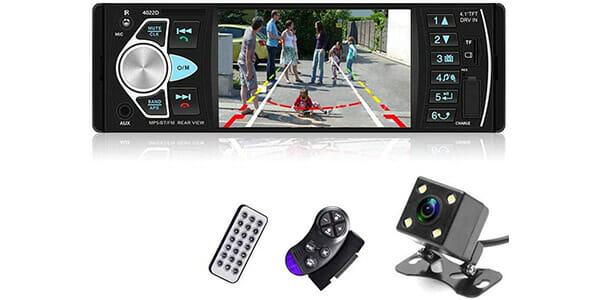 The Camecho Single DIN Car Stereo Radio 4.1'' TFT Screen is a functional and solid single Din car stereo which comes with a backup camera. It is lightweight and easy to mount because of its shallow depth. You can choose from multiple illumination options. The screen monitor has a good contrast and you can view videos in a 1080p resolution.
The stereo supports many audio and video formats. You can play your music and video files from a microSD card, USB flash drive or through Bluetooth from your phone. You get all the necessary accessories for installation including a wiring harness and other cables. You can also broadcast navigation instructions from your phone.
Pros
Affordable
Easy setup
Good backup camera
Wireless remote
Supports many audio and video formats
Cons
Inbuilt microphone does not work well
This is a good all rounder car stereo with a good complementary backup camera.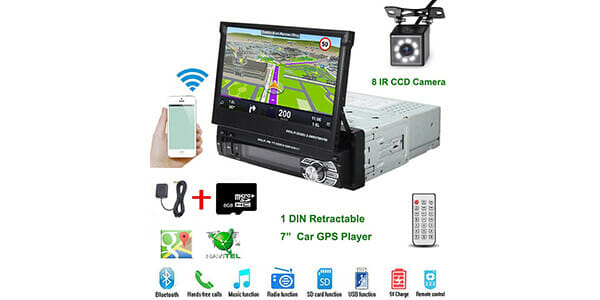 The UNITOPSCI Car Stereo In-Dash Single DIN Head unit is the perfect upgrade for your old factory stereo. It has a 7'' LCD touchscreen with an HD display. You can easily adjust the brightness and contrast of the screen. It has a user friendly interface and is easy to operate. The product page neatly displays all the installation instructions.
This stereo is available in many languages. The rear backup camera works well and has a good field of vision. It will auto switch when you put the car in reverse. This stereo also supports smartphone mirroring with the help of a USB cable. The wireless remote control helps in easy navigation through the controls.
Pros
Good display
Smartphone mirroring
Free 84GB map
Good sound output
Supports GPS
Cons
Little expensive
Setup can be a little tricky
This stereo comes with many useful functions and bonus features.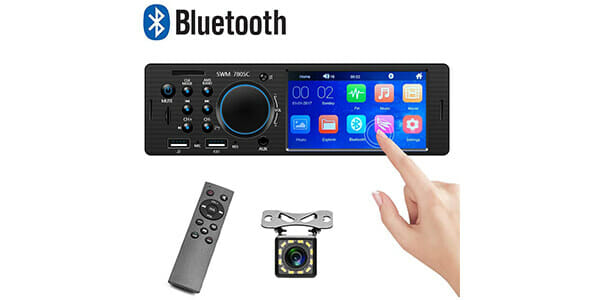 The MP5 Car Player AMprime 1 Din Car Stereo has a modern and sleek design. It comes with a touchscreen which is responsive and has good display quality. You can easily change the button highlight colours. The backup camera supports night vision and has a clear image quality. You can mount it on the back of your car.
This stereo has dual USB ports which can be used for charging your device and playing music. You can easily make volume adjustments with the help of the rotatory volume knob. The FM radio has a great reception and you can easily access all your favourite stations. You can make hands free calls with the help of the inbuilt microphone.
Pros
Affordable
User friendly interface
Responsive touchscreen
Good FM reception
Adjustable sound options
Cons
Bluetooth tends to disconnect
Backup camera is a little difficult to install
This is a budget friendly stereo which offers multiple connection options.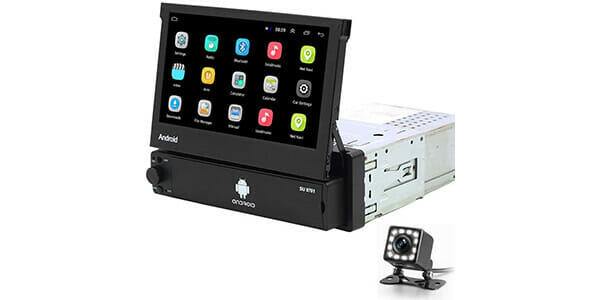 The Hikity Android 1 Din Car Stereo will easily compliment every car interior. It comes with a large touchscreen monitor with a clean and intuitive UI design. The screen tilt is easily adjustable. It includes a GPS antenna, mounting brackets and other necessary tools. It is also compatible with many audio and video formats. You get plenty of memory to install the apps of your choice.
This stereo is compatible with both Wifi and Bluetooth. It supports mirror link for Android devices. You can use the RCA outputs to connect to external speakers and amplifiers or the subwoofer output for a subwoofer connection. The EQ settings are adjustable and you get different preset options. The stereo has a crisp and clear sound output with sufficient loudness.
Pros
Good touchscreen display
Many connection options
Good sound adjustability
Compatible with Wifi and Bluetooth
Cons
Expensive
Setup is a little tricky
This stereo has a clear and vibrant touchscreen display which is easy to operate.
The Podofo Car Stereo Single Din Car Radio comes with a 7'' touchscreen which can be easily mounted with your stereo. It has a very straightforward setup procedure and comes with all the necessary accessories. It is equipped with all the features one would expect from a good quality stereo. It offers multiple language options.
You can connect external music players through the USB port or aux in. You get a waterproof backup camera which is very beneficial for parking and other safety issues. The Bluetooth pairing takes place very easily and Android phones can enjoy the mirror link feature.
Pros
Easy Bluetooth pairing
Android mirror link
Bright touchscreen display
Easy setup
Good backup camera
Cons
GPS reception isn't great
FM reception could be better
If you want a stereo which isn't overly complicated, this is the one for you.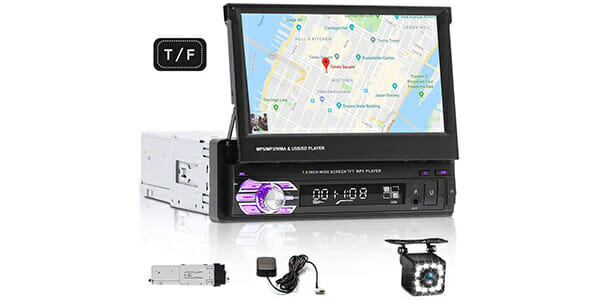 The EKAT Single Din Car Stereo System is a well built stereo which performs exactly as advertised. It has a simple layout and all the controls are easily accessible. You get connection options for external devices including a 3.5 mm jack for headphones. The colour illumination display is customizable.
The GPS navigation feature works very seamlessly with no issues. You get many options for sound adjustability. This includes manual bass and treble controls along with multiple EQ settings. If you want deeper and punchier bass levels you can make use of the subwoofer output to connect a subwoofer. You also get a handy and functional remote for easy access to controls.
Pros
Useful features
Mirror link
Easy GPS navigation
Adjustable sound settings
Responsive touchscreen
Cons
FM reception could be better.
This stereo has a great sound output and the backup camera has a crystal clear display.
Frequently Asked Questions
How much does it cost to install a radio and backup camera?
This will vary depending on the head unit. If a backup camera is included along with other devices like an external microphone, it can cost you a minimum of 100 dollars. The cost also depends on whether your radio comes with the necessary accessories for installation. Some radios come with extra parts like antenna adaptors and wire harnesses.
Do you need a dash kit for single DIN?
Yes, you will always need a dash kit for any kind of radio including single Din. The dash kit includes all the necessary components and accessories you need for proper installation. It usually comes with mounting brackets, wiring harness, antenna adaptors, cables and other necessary cables. It may also come with a steering wheel control kit.
Are all single DIN radios the same?
Single Din refers to the standard car stereo size. Majority of cars are equipped with single Din decks. A standard single Din is 2-1/8'' (50mm) height by 7-1/8'' (180mm) width. You can determine what stereo size your car will accommodate by simply measuring the height and width of the space.
Do all car stereos have the same connector?
Most aftermarket stereos tend to use the same model of wiring harness. Bu there is no guarantee that a standard wiring harness will work for a specific car stereo brand. You may find the same plug on different aftermarket units of the same brand but the configuration of pins in the connector may not be the same. To be on the safe side, you should always buy a vehicle specific radio installation harness.
Will any car stereo fit in my car?
The short answer is no. There are two standard car stereo sizes – single Din and double Din. Double Din stereos will not fit in a single Din stereo space. Once you understand whether you car has a single Din or double Din space, you can opt for your stereo accordingly. You can easily do this by measuring the stereo space. Single Din spaces measure approximately 2×7'' and double Din spaces measure 4×7''.
Conclusion
If you want to be safe while parking, it is always good to purchase a backup camera for your car. Fortunately there are many car stereos in the market which come with good quality backup cameras. We have compiled a list of the best single Din car stereos with backup cameras to make your search easier.