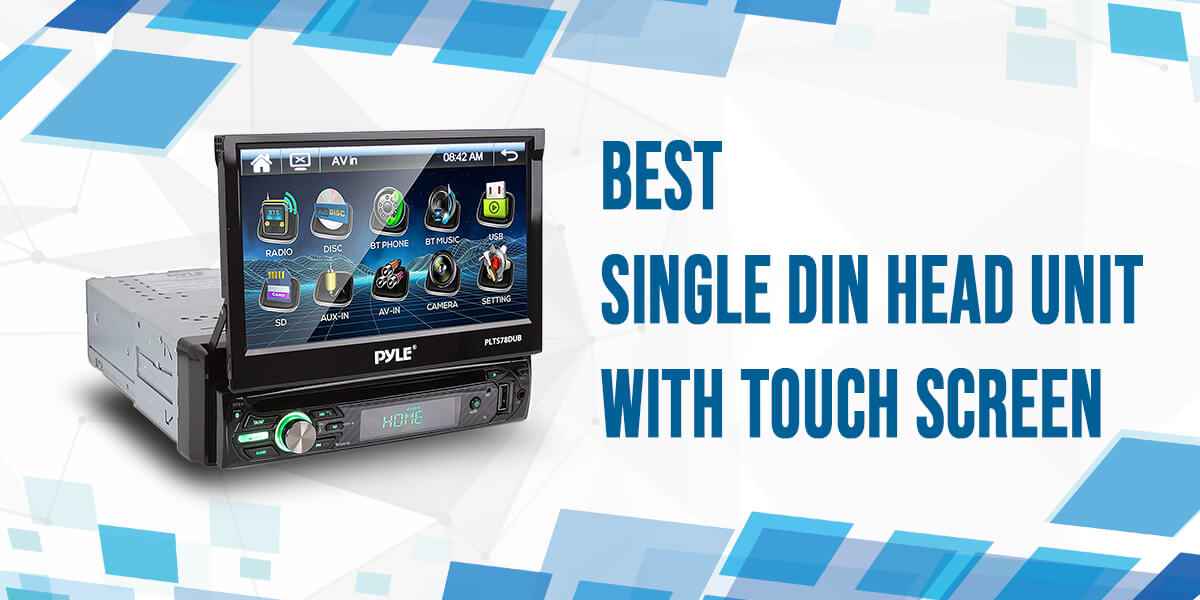 If you're a car owner and want to upgrade your car entertainment system or add value to your old car, the easiest upgrade is to install a single din head unit with a touch screen. These are perfect for upgrading your car audio system which will let you enjoy your favourite music more efficiently in high-quality.
Usually, a single din head unit is measured at 7 inches width and 2 inches length which can easily fit into any stereo space easily. The added touch screen feature is highly useful and beneficial for more accessibility and easy to operate technique. You can easily access every feature and effects which your stereo has to offer at your fingertips. These also come with other packed features and deliver more compatibility and connectivity with any external device.
Check out the best Single Din Head Units with Touch Screen below:
Table of Contents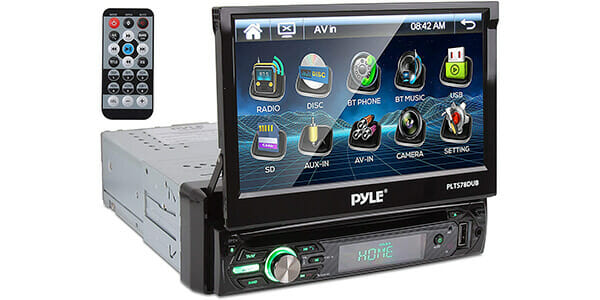 The Pyle PLTS78DUB is a single din in-dash car stereo which is built with a 7" touch screen with multi color LCD display. This is especially designed to make your entertainment and video watching more fun. It also has a pre-installed rear view camera for added safety and protection. It is a 320W stereo which delivers amazing sound performance for all your entertainment needs. It comes with every possible connectivity option and is compatible with any device such as Android, iPhone, tablet, MP3, MP4 and MP5. The Bluetooth connection and built-in microphone also lets you enjoy hands-free calling without any difficulty.
Pros
130 Watts Stereo
Built-in microphone
Bluetooth connectivity
Rear camera
CD/DVD Player
AUX input and RCA output
Include remote
It is a top-notch car stereo system with tons of features including an anti-shock mechanism and delivers high performance.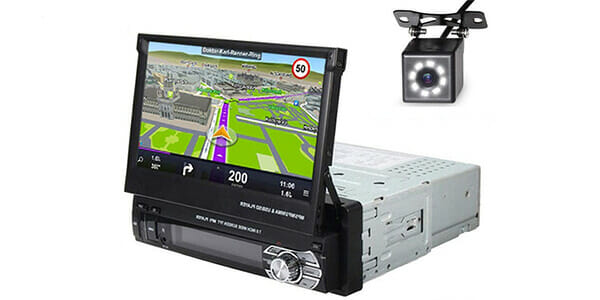 The UNITOPSCI Car Stereo is another 7" HD touchscreen single head unit receiver with dynamic functions and menu interface. It is packed with several technological functions which helps you control your car and entertainment simultaneously. It has GPS navigation function, supports rear view camera function, features a steering wheel control function and also supports mirror link feature for your smartphones. The built-in Bluetooth and microphone provide an excellent hands-free calling option so you can focus on the road. It has other connectivity sorted and maintains AUX audio input and USB/SB port.
Pros
8 IR CCD Camera
Remote Control
Multifunctional
High-quality stereo audio
8 GB micro SD card
6M Video Cable
Cons
Manual pull out/pull back screen
No CD/DVD Player
It is a thoughtfully built stereo with various dynamic functions which are useful for entertainment and safety alike.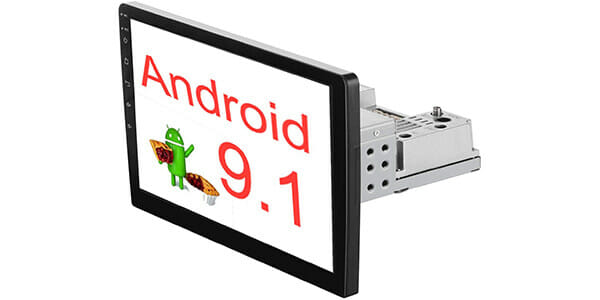 The Binize Android Car Stereo is built with a large 10.1" capacitive HD touchscreen which gives you a clearer visual experience. It supports the latest Android 9.1 operation system and quad core A7 processor with 2GB ram and 16GB/32GB flash memory. It features a built-in Wi-Fi module for easier connection and built-in Google play store for downloading every app easily. It also supports hands-free calling with the in-built microphone and Bluetooth connection and makes your calls clearer. Furthermore, it supports several high-tech features such as GPS receiver, rear view camera input, reverse trigger control, steering wheel control and hand brake control.
Pros
Versatile Dynamic control functions
Mirror link smartphones
10.1" huge HD touchscreen display
FM Radio
Bluetooth and microphone
Latest android OS
It is a multifunctional and versatile car stereo with several high-tech features which increases your audio and video experience.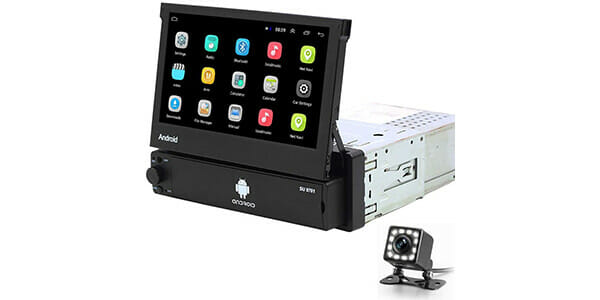 The Hikity Android Car Stereo is built with a 7" flip out screen which is highly convenient and easy to access. It features built-in Bluetooth and 18 stations preset FM radio which enhances your listening experience and promises hands-free calling. You can easily navigate through any roads with the added Wi-Fi and GPS navigation function. It has a mirror link for some android versions and supports automatic rear-view camera options for parking with waterproof night-vision as well. It is compatible with various audio and video recording formats and SD Card, USB, AUX-in and RCA output.
Pros
Subwoofer audio output
Mirror link
Automatic back-up rear camera
Steering wheel learning function
Multiple inputs
Bluetooth Wi-Fi connectivity
It is a reasonably crafted car stereo with multiple functions including an automatic back-up rear view camera compatible with night vision.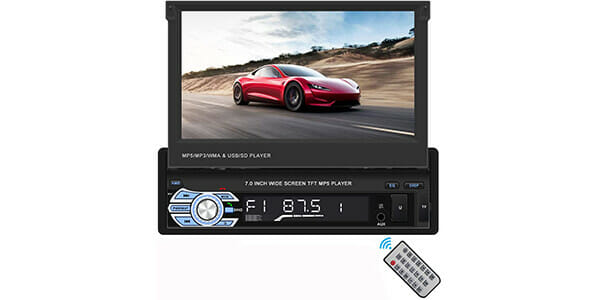 The JOVOKO Single Din Car Stereo is a multifaceted stereo with 7" retractable flip-out HD display touchscreen that supports 1080P video format for delivering enhanced video experience. It is equipped with built-in Bluetooth and microphone for convenient hands-free calling with clear sound output. It further supports rear view camera input and the screen will automatically show the visuals while reversing. It has a phone mirror link function and supports USB, TF Card and AUX input for convenient connectivity. You can easily adjust the sound by various adjusting options for bass, treble, Fad and BAL on remote control.
Pros
Multifunctional and versatile
Connectivity sorted
Wireless remote control
7" retractable flip-out touchscreen
Phone-link function
Calibration touch sensor system
It is built with amazing stereo sound production which delivers clear audio and the flip-out screen makes it easy to operate.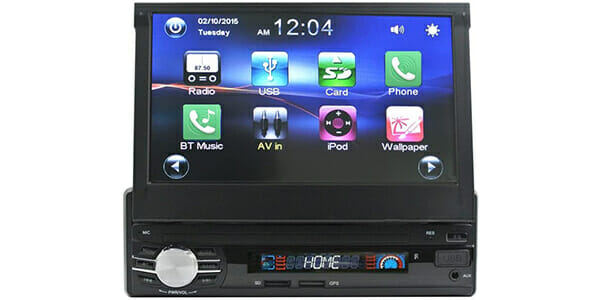 The LEXXSON Single Din Unit is a 7" TFT touchscreen car stereo which is built to deliver excellent sound quality. It supports several functions like wireless hands-free calling and music streaming with complete control. You can easily play audios with USB/SD/MP3, WMA, and AM/FM radio and from the digital media on your smartphone. The rear camera input function is highly practical and useful for ensuring safe parking and reversing. The front panel is also detachable which makes it more portable and convenient. It also comes with a wireless remote control and complete instructions to install and set up easily.
Pros
Excellent sound quality
Rear camera
Various inputs and outputs
Steering wheel control
Multi-functional wireless remote control
It is a multi-functional and easy to install and operate car stereo which delivers clear audio and enhanced visual/listening experience.
Frequently Asked Questions
Can you put a touch screen radio in an older car?
Yes, you can put a touch screen stereo system in an older car. But you need to keep in mind that usually older cars have small size space for car stereo to fit in. So you need to look for a single din size stereo which has a folding touchscreen that has around 7" display. You simply need to look for how much space is left after you remove your old stereo and what size of touch screen radio will fit into it. The folding screen is best because the whole screen can drop down and neatly go inside. But when it's on you'll have all kinds of features and options available to choose from. You can easily buy an aftermarket touchscreen radio and install it into the left-out space. 
What is the difference between a single din and a double DIN radio?
The most basic difference between a single din and double din radio is the size of the two. A single din head unit measures 7" width and 2" height. On the other hand, a double din measures 7" width with 4" height. Usually, a double din head unit has more features that its counterpart that are fitted into its bigger size and display. Double dins have a larger touchscreen which makes them easier to use but single din units are still very functional. Typically, both sizes of modern din units produced by any manufacturer are designed for modern cars with all necessary features such as adequate storage space, DVD player, HD video screen and advanced connectivity. But a double din head unit has some additional features like camera option or integration with smartphone which gives better user experience. However, a single din head unit still offers more practical and great assortment of features. 
Can you add a navigation system to any car?
Yes, you can definitely add a navigation system to any car either through DIYs or by taking help from a professional. However, if you're not sure about the technicalities then it's best to consult professionals. There are usually three kinds of GPS navigation system available for cars. You can either opt for a factory-installed system while buying a new car, or a dealer-installed system on a new or used car, or you also have an option of getting a portable digital device which requires little to no installation and can be easily installed. And all cars have an option to connect an aftermarket car stereo, some of which comes with an in-built navigation system, so you can try that as well. 
How much does it cost to install a screen in your car?
The cost of installing a screen firstly depends on the quality and brand of the screen you're considering to install in your car. Typically, a good-quality touchscreen ranges from $150-$200. Generally, the installation cost also depends on how complex the stereo system is, so the more complex the system the higher will be the cost to install. And additionally, if you're getting it installed by a professional then they can charge anything ranging from $150 to $450. So it's advised to install a screen by yourself which can save you hundreds of dollars. 
Can you put a single DIN in a double din?
Yes, you can install a single din in a double din space with little additional efforts and adjustments. Since different car manufacturers use different sizes of stereo space which depends on the model of the vehicle. A single din is smaller than the double din, so you'll need a mounting bracket to fill up the extra space which is left in your stereo console. Generally you can get these brackets for less than $10 at any car stereos store. 
Conclusion
There are a lot of Single Din Head Units with Touch Screen available in the market, but we've listed the top rated products for you. These are very practical and functional stereo units for any car owner with several features like GPS, wheel control, rear-view camera, remote control and so on. These highly operational and accessible features at the fingertips makes the stereos more useful.
You can easily replace your older factory stereo system with these sleek contemporary designed head units for upgrading your car. Additionally, these are priced within any budget without compromising on the sound quality and performance.