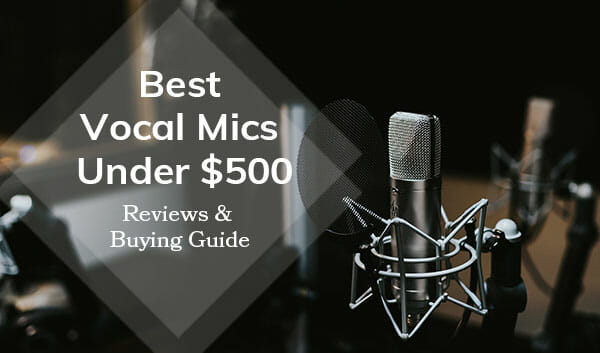 A microphone is the life of the musical, be it a studio recording or a live performance. Artists often seek professional quality microphones that suit their style and stand up to the technical standards.
Many brands of professional sound gears and equipment are rapidly evolving their product portfolio with more affordable versions. With world-class features and design, here is a list of the most desirable professional vocal mics under $500 in 2020.
Top Reviews of Vocal Mics Under $500 in 2020
---
---
---
---
---
---
---
---
---
Buying Guide: Vocal Mics Under $500
Microphones come with many technicalities and specifications. It is advisable to understand the basics of sound gears and make an informed choice at the time of buying a vocal microphone. Here are our top factors to consider while selecting the best vocal microphone in your budget.
Polar Pattern
The polar pattern of a microphone suggests the directions from which it captures and ignores sound. The cardioid pattern captures sounds from front and sides in a heart pattern and is the most preferred polar pattern.
Frequency Range
The frequency response range of a microphone determines the range of sound levels that the microphone picks up. Ideally, a vocal microphone should be able to capture sound within frequency levels 50 Hz to 15 kHz.
Noise
A condenser microphone must always be checked for its self-noise or noise floor, which suggests the noise the microphone produces itself without any sound source. Low self-noise level means less noise.
Dynamic Range
The dynamic range of a microphone yields a reliable response at various sound level, and determines its versatility.
Sensitivity and SPL
Sensitivity and sound pressure levels of the microphone determine the proximity effect which yields more robust bass frequencies. Dynamic microphones are not suitable for bringing out such effects.
Application
Dynamic microphones are sturdy and durable and recommended for on-stage and live performances. Condenser microphones are not that rugged and suited for studio and podcasts.
Accessories
The performance of a microphone depends highly on the filters, shock-mounts and pre-amplifiers taken together. Some of the microphones in the affordable category come with compatible accessories to make complete functional studio set-up, and are worth the extra money.
Top Brands: Vocal Mics Under $500
Here are some of the best brands that manufacture premium quality vocal mics for professionals.
Lauten Audio
Lauten Audio is a trusted brand for high-end professional studio microphones. The brand is well known for passionately designed and high-quality products.
Warm Audio
Warm Audio is a relatively young enterprise with a mission of delivering high quality professional sound gears at affordable prices. The company has successfully revealed several renditions of classic style audio instruments over the past years.
AKG
AKG by Harman is one of the world's leading manufacturers of top-quality microphones, and sound equipment. It has made its mark in the world of professional audio instruments by consistently delivering innovation and quality.
Shure
Shure is a brand driven by the zeal for impressive and immersive sound experience. Since 1925, the company has consistently rendered outstanding sound gears and gained global fame.
Rode Microphones
Rode Microphones entered the market in 1990 and has progressively achieved world-class quality standards. It is a trusted brand for high precision gears at affordable prices.
Sennheiser
Sennheiser is regarded as one of the oldest and best brands for high-end microphones. The company offers a 10-year warranty on the high-end products.
FAQs About Best Vocal Mics under $500
1. How to select the best microphone for lead vocals?
The best microphone for lead vocals is the one which yields the most natural sound with least distortions, and suits the singer's personal style.
2. Which vocal microphone under $500 is suitable for stage or live performances?
Sennheiser e965 and Shure 181/C are the best vocal microphones under $500 suitable for stage and live performances.
3. What is the main purpose of a condenser microphone?
Condenser microphones capture natural and clear sound along with the room ambiance. They are suitable for recording from a distance.
4. What is the main purpose of a dynamic microphone?
Dynamic microphones capture clear sound at high volume levels, and are mostly used for recording pop and rock music vocals, voice over and loud instruments.
5. What is the main purpose of a ribbon microphone?
Ribbon microphones are classic style microphones which lend a rolling-smooth retro effect to vocals.
6. Which microphone is suitable or close-miking?
A microphone with a cardioid polar pattern will be suitable for close-miking.
7. Which microphone is suitable for proximity effect in recordings?
A microphone with a cardioid polar pattern is suitable for the proximity effect and deep vocal tone.
8. Which microphone is suitable for loud sound recordings?
Dynamic microphones are suitable for loud sound recordings because of their high maximum sound pressure level.
9. Which type of diaphragm is suitable for studio recording?
Large diaphragm is more accurate and considered suitable for studio recordings.
10. What is the power supply required for vocal microphones?
Condenser microphones require a 48-volt phantom power supply. Dynamic and ribbon microphones do not require external power supply.
11. What does maximum SPL mean?
Maximum sound pressure level means the loudest sound that a microphone can handle.
---
Conclusion
Our list of best vocal microphones under $500 recommends the most affordable options suitable for studio recording as well as live performances. Most of these are technologically advanced, versatile and durable.
A wise choice may help you skip an upgrade for the next few years and save a good lot of money.