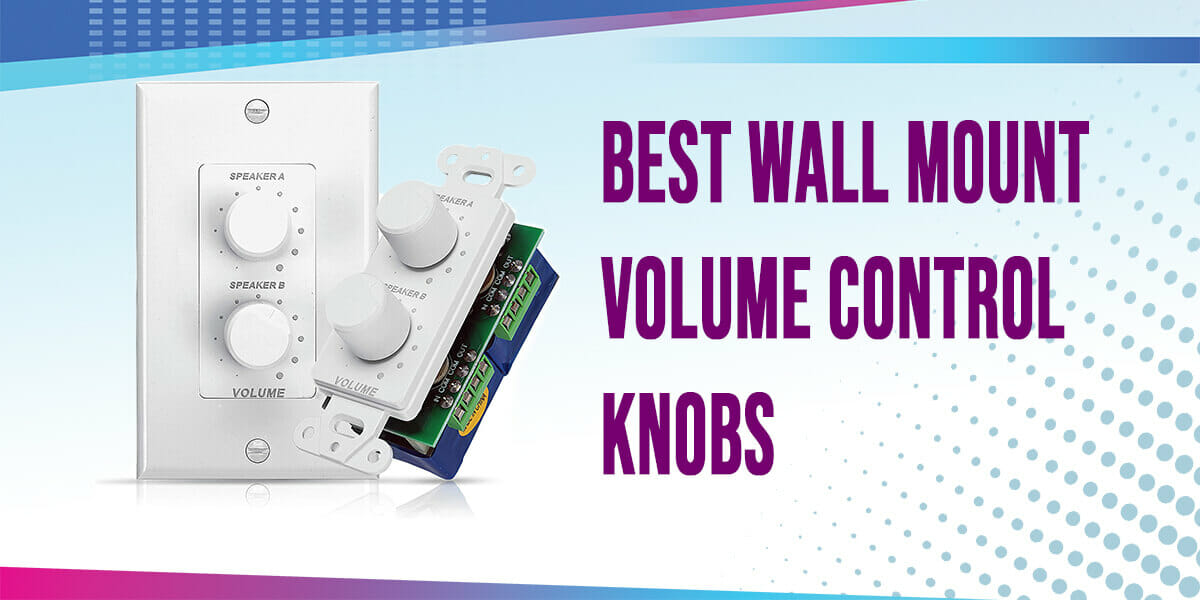 Everyone loves listening to music or podcasts through any audio system and being able to enjoy it throughout our living spaces. And if you have a centralised home theatre or sound system, then you'll know the struggles of adjusting the volume. The perfect solution for this issue of constantly increasing or decreasing volume is to get the best wall mount volume control knobs.
This volume control system is especially designed to keep the hassle of constant adjustment at bay and allow for easier access through a knob. These are very easy to put together and install by connecting to any indoor/outdoor speakers. You can comfortably adjust the volume of the entire home's audio system without the need for your speakers by a simple turn of your fingers. They're built with durable material and proper buttons/knob on the rear for effortless use.
Check out the best Wall Mount Volume Control Knobs below:
Table of Contents
The OSD Audio SVC100 is a 12-step linear rotary style knob for the whole house and a wide range of listening experience. It is available in 2 powered sizes of 100W and 300W with included adjustable jumpers to pair up to eight pairs of 8ohm speakers simultaneously. It features an impedance protection function which allows stabilized load to your amplifier or receiver without any damage. It can be easily installed into a 14 gauge wiring and fit into a standard 2.9" depth box. These are available in almost 5 colour options to choose from which can complement any room décor.
Pros
High power
Independent volume control
Impedance protection
Full rich sound performance
Colour options
Easy to install
Cons
Initial pods adjustment issues
It is a well-designed volume control knob to mount on varying locations for high or soft volume.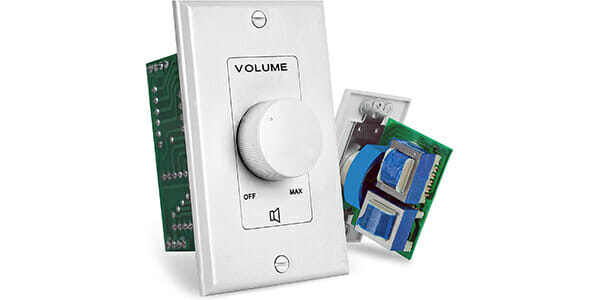 The Pyle PVC1 is also a multi-position and rotary style volume control knob which can be mounted on any wall to control the entire house volume. It can be easily paired with 4 pairs of speakers and maintains hi-fi audio frequency response without any roll-off. It includes mounting rings and other installation wire nuts for easier set-up. It allows connection for up to 100W power audio or video systems and provides a rich sound experience. You can easily connect it to your home theatre, Office or business applications and enjoy hassle-free volume adjustment.
Pros
100W power handling
Connect 4 pair of speakers
Rotary knob adjustment
20Hz-20K Hz frequency response
Convenient audio source volume setting
It is an easy to install volume control knob for home/professional purposes and set-up conveniently.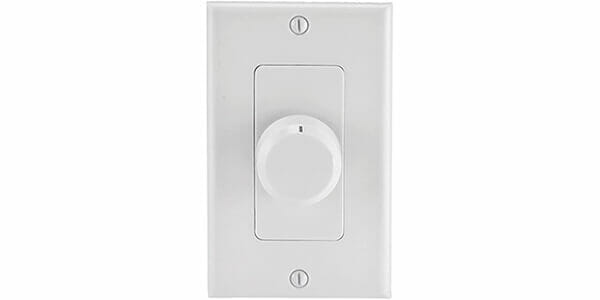 The Moonrise Monoprice 108243 is a rotary style volume control knob which can work for 100W power ratings speakers per channel and 16 ohms impedance ratings. It can be mounted into a standard single-gang low voltage bracket and provides inputs/outputs for one pair of speaker wires. It can work with 14" 16 gauge size speakers and delivers a frequency response of 20Hz at full power rating. It is easy to install since it has removable connectors. It comes in a subtle white colour which can blend into any room décor effortlessly.
Pros
100W power ratings
16 ohm impedance ratings
White colour
Easy to install
Decent frequency response
This volume control knob can be easily installed or mounted into any space with ease and provide good sound control performance.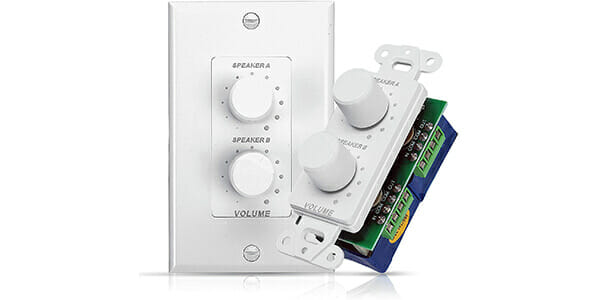 The Pyle PVCD15 is another wall mount speaker volume control knob from Pyle which comes with a rotary knob control. It can be paired with 2 sets of speakers and you can control the volumes of both of them simultaneously with two independent rotary faders. It features up to 120W load of power handling without any distortion and is compatible with any audio/video systems. It is built in a standard wall plate size which easily fits into any junction box. The white colour and decora-style frame gives it a clean look on any wall.
Pros
2 pair of speakers connection
120W power handling
Decora style frame
Standard installation size
Dual independent volume controls
Rotary style knob
Cons
Little issue on sound quality in low frequencies
It is a dual-knob wall plate mounting volume control knob which can hold up to 120W power handling and is built with an attractive standard size.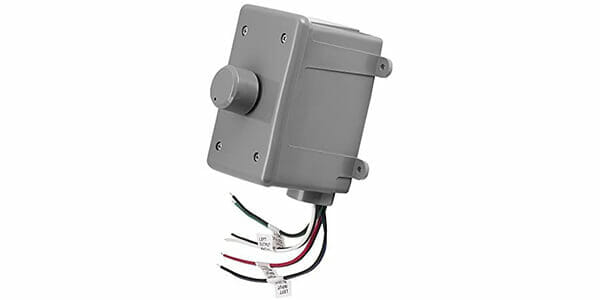 The OSD Audio OVC100 is another excellent waterproof volume control knob which makes it suitable for any weather and temperature. It can control up to 100W or 300W power ratings based on your buying choice. And it can be attached to control up to 8 pairs of stereo speakers simultaneously around the house. The impedance matching switch is installed to provide stabilization over ohm load and avoid overheating or damage. The included speaker wire inserts are detachable and use lock slips which makes it easy to connect and operate.
Pros
Waterproof technology
Impedance protection feature
100W-300W power handling
Control 8 pair of speakers
Easy to install
2 colour options
Cons
Little larger volume control circuit board (little room for wires/wire nuts)
It is a unique designed volume control knob with waterproof technology which is suitable for any weather and can be easily placed outside.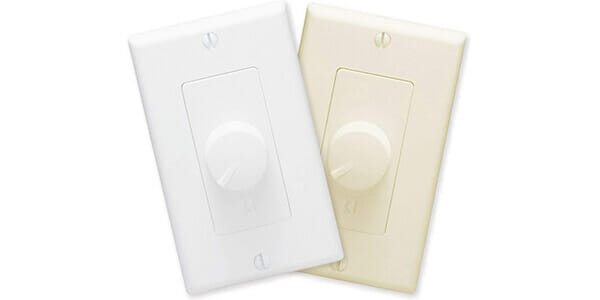 The Russound ALT126R is another decora volume control knob which can connect up to 8 pairs of speakers with 8 ohm rated single amplifier. But you'll need different volume control with each pair separately. It has a 120W peak power handling with 42W RMS per channel. It also has adjustable impedance magnification with the front mounted selection switch for easier use. It has a detachable knob and 12 steps of volume adjustment for every sound need. The white and almond plates and knobs can complement any room or wall décor.
Pros
Connect up to 8 pairs of speakers
White/Almond colour options
12 steps volume adjustment
12 gauge max wire size
Decora style
It is a well-built and sturdy volume control plate and knob which is easy to install and use.
Frequently Asked Questions
How do you wire up wall speakers?
You can wire up wall speakers by considering the following tips and method for installation: 
1. First, make sure you choose the right wires for your home. You need to look for a wire with CL2 or CL3 ratings, or CM/CMR written on it. And your speaker wire should be 16 gauge with 2 conductors (one red and one black wire). 
2. Now decide the location to put in your speakers and decide how you could get a wire back to the main receiver. You should also make sure there's no doors or any other area with no crawl space or attic space, these can limit your wiring options. (If you don't have an attic or basement, you can try hiding these wires under the baseboard) 
3. Next step is to start drilling the holes to fix your speakers, subwoofer and receiver. And then start drilling small holes straight up your attic or basement, put these as close to the walls as possible. 
4. Once you're satisfied with the hole width, start putting wires into it. Now move your hand to the hole cut-out below/above and pull out the wire and repeat this process throughout the wiring.
5. Now set up your stereo and put the red and black wires carefully. Check the sound system by playing any music through your speakers. 
How do I connect speaker wire to volume control?
You can easily connect speaker wires to volume control through these steps:
1. Choose an appropriate area on your wall where you want to mount the volume control. 
2. Then use a drywall or utility knife to cut out a basic hole on the wall, keep it a little larger than the two-gang receptacle you'll need to mount the volume control box.
3. Now position the two-gang receptacle box against the sides and secure them with the stud using nails. 
4. Use the cable fist tool to run the speaker wire through the amplifier to the hole and receptacle box. Then run this wire to the loudspeaker you want to connect to the volume control. 
5. Start loosening the "Amplifier/Receiver" and "Speaker" terminals screws on the volume control with a screwdriver. Push back the extra speaker wire through the openings of the two-gang receptacle box and insert the volume control assembly. Make sure the screw holes on the volume control and receptacle box align with each other. Insert retaining screws on the face of the volume control and tighten them up. 
6. Connect wires from the amplifier to the terminals marked as "Amplifier/Receiver" or anything similar. You need to connect the solid colour speaker wire to the negative terminal and thin stripe to the positive terminal. And connect the wires of the speakers using the same. (Match all wires to ensure the negatives are connected together and positives are connected together). 
7. Now power your amplifier to play audio and adjust the volume by turning the volume control knobs. 
How do I control external speaker volume with a remote?
You can easily control the volume of external speakers through a remote by following these steps:
1. First, press the Home button and select "Settings". 
2. Now select "Sound", then "Headphone/Audio Out" – "Fixed or Variable". 
3. You should select "Fixed" to adjust the volume using the connected external speaker's remote control. Or select the "Variable" to adjust the volume with TV's remote control for an external speaker. 
How can I make my TV volume constant?
To make your TV volume constant, first make sure the firmware is up-to-date. Then go to the "Settings" and check the Sound or Audio section from the menu. Now look for advanced settings and check if you see options such as "Auto Volume", "Volume Stabilization", "Auto Volume Leveling" or "Auto Leveling". Enable any of these features to automatically adjust your TV to keep the decibel levels consistent. 
Can volume be controlled through optical?
Typically no, you cannot control volume through optical cables. Since optical cables are designed to transmit pulses of lights digitally, and to maximise the signal to noise ratio the light pulse is usually set to maximum intensity. And if you use this light intensity to control the volume of any audio system, then you'll actually reduce the volume down by 5% and the signal will start becoming noisy and distorted. The only way to control volume through optical cable is to make sure you have digitally intelligent devices at both ends of the cable. This means that the transmitter and the receiver should be aptly able to receive and decode the signal to adjust the amplified volume. 
Conclusion
There are a lot of Wall Mount Volume Control Knobs available in the market, but we've listed the top-rated products for you. You can easily add these to one or multiple pairs of speakers throughout your house. The knobs give you the option to comfortably adjust the volume and provide a wide range of listening experience.
These knobs easily blend into any room decor with their sleek design and colour options. Additionally, these are typically under budget without compromising on the built design, power handling and performance.