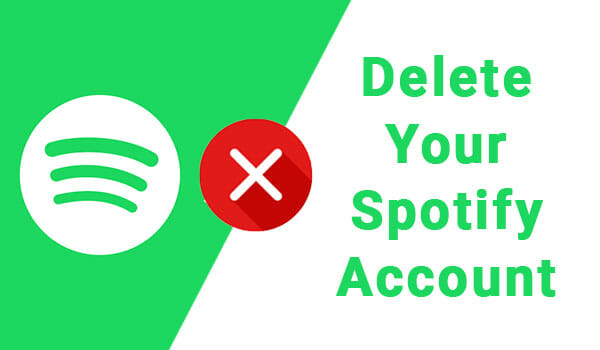 Spotify, with a whopping 50 million songs library, is a widely preferred music streaming service due to its availability on multiple devices and themed (customized, to be precise) playlist for each user.
The premium subscription is also loved for its excellent bit rate. If all of these don't sound good enough for you to hang on to Spotify or if you want to switch to another service, this article will tell you everything needed to delete your Spotify account permanently.
Table of Contents
Canceling Your Subscription
If you don't have any subscription, you can skip this section and go directly to the deleting guide.
Open the Spotify website on your browser.
Click on 'Log In' on the top-right corner of the webpage.
Enter your login credentials. If you don't remember your username, you can enter your email address and it works fine.
If you don't remember your password, you can choose 'Forgot Password' and you will receive the procedure to reset your password in your inbox. Proceed to log in with your newly set password.
Go to the 'Your Plan' section.
Click 'Change Plan'.
Go to 'Spotify Free' and click 'Cancel Premium'.
Your subscription is canceled and you are now a 'Spotify Free' user.
Deleting Your Spotify Account
As a user of Spotify Free, follow these steps to delete your account.
1. Open Spotify Contact Form on your browser.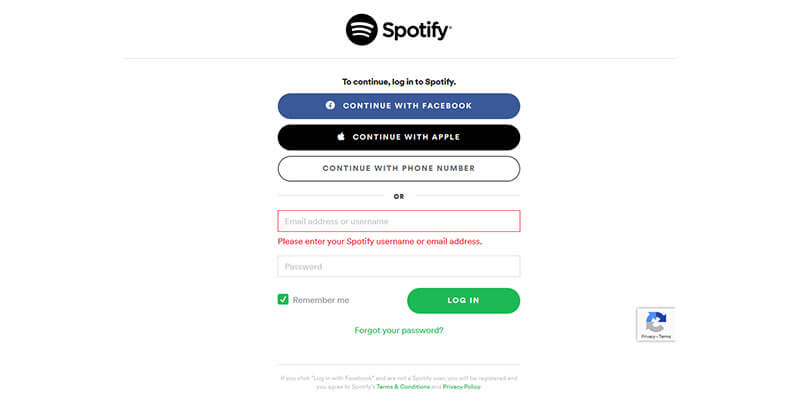 2. You will be asked to Log In. Enter your credentials and log into your Spotify account.
3. In the contact form, choose the second option 'Account'.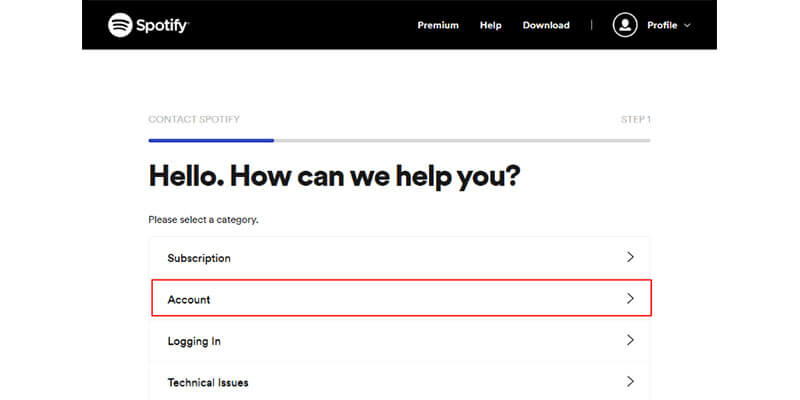 4. In the displayed list, choose 'I want to close my account'.
5. Click 'Close Account' on the left side of the page.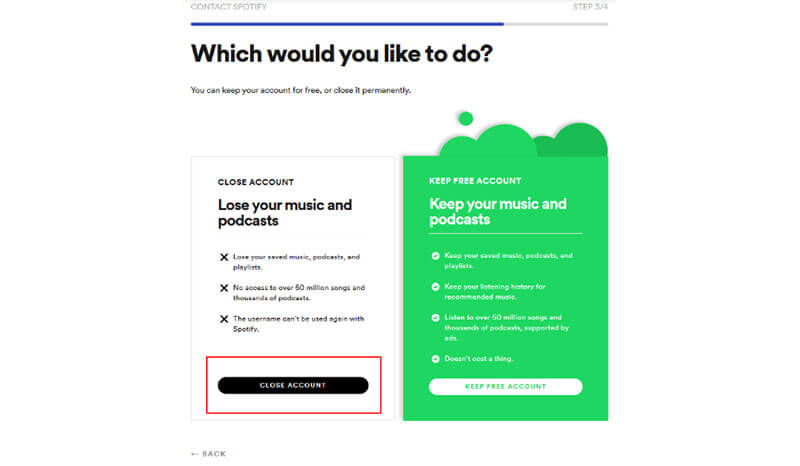 6. You will be directed to the confirmation page asking you if you are sure. Click 'Close Account'.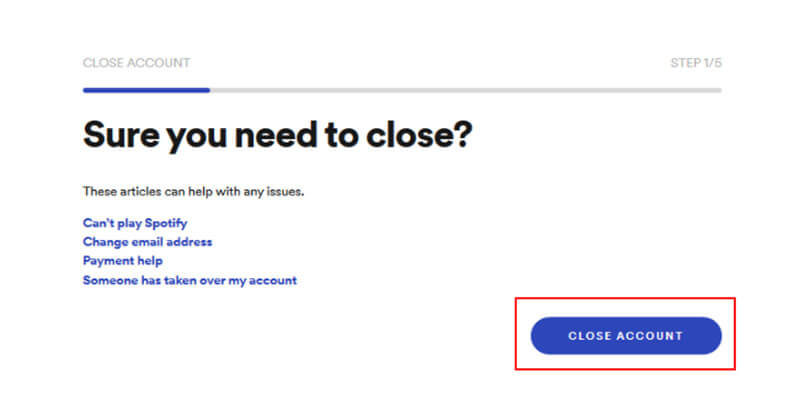 7. Your account's details are displayed for you to check back. If this is not the account you want to delete, log out and restart with the account you'd like to delete.
8. Click 'Continue' after the check.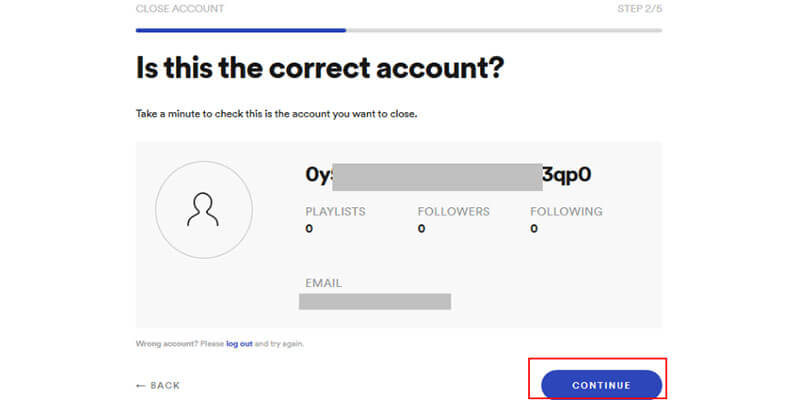 9. Tick the box 'I understand' and click 'Continue'.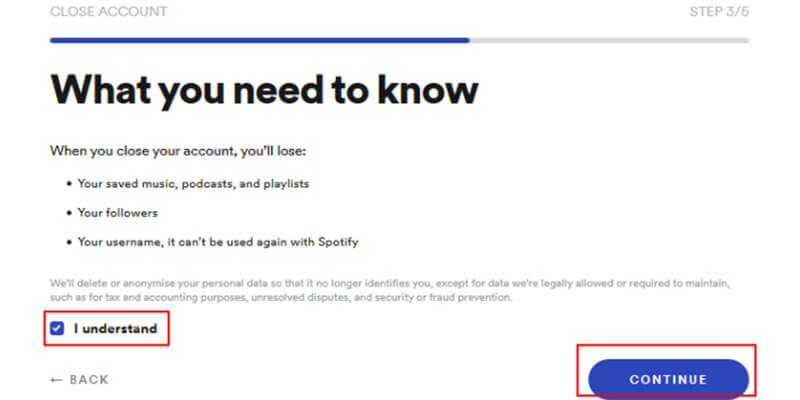 10. You will receive an email with a link to delete your account. Open your mail in another tab and click on the link to finish the last step of your account's deletion.The link will expire after 24 hours. So, make sure you can click the link within that time. In case you've missed, re-do from step 1 and you will receive a fresh link in your inbox. Failure in clicking the link will abort your account's deletion.
11. On clicking that link, your account is deleted and you are automatically logged out. In case you're curious, you cannot log in to your Spotify account again.
Frequently Asked Questions
Why is it important to cancel my subscription before I delete my Spotify account?
Deletion does not automatically cancel your subscription. That means, your billing may continue. Therefore, if you have a premium subscription, cancel it before you delete your account.
I don't want to pay for Spotify. Should I delete my account?
You can cancel your subscription and continue to use Spotify Free if billing is your only concern.
What about the student's discount?
If you have a student's discount, you cannot transfer it to another account until the end of the 12 months.
What happens to my account after deletion?
Deleting your Spotify account will permanently erase all your data. This includes your playlists, followers and downloaded music. Better note down your favorite songs before you miss them.
Can I create a new account on Spotify using the same email address?
After deleting your Spotify account, you can create another account on the platform using the same email id. But you need to wait for 14 days post deletion of the old account.
Can I use the same username on my new Spotify account?
Nope. Though you can create a new account with the same email id, getting the same username is not possible on Spotify.
How to delete my Spotify account through the mobile app?
You cannot delete your Spotify account through the mobile app or desktop app. You can do this only by opening the Spotify website on a browser like Chrome or Firefox.
Can I cancel my Premium subscription through the mobile app?
You can go Premium through the mobile app but it is not possible the other way around. To cancel your subscription, you must log in to your Spotify account on a browser.
I've changed my mind. Can I retrieve my deleted account?
As Spotify states, you will receive a re-activation link in your inbox after deletion. This link is valid only for 7 days. In case you change your mind, this link gives you a second chance for a week.
However, not everyone is successful in re-activating their account as the delivery of the link is delayed at times. So, it is ideal to go for deletion only when you are sure that you do not think about re-activation anymore.
Let us know in the comments section if this guide is helpful and tell us about your choice of music streaming platform.