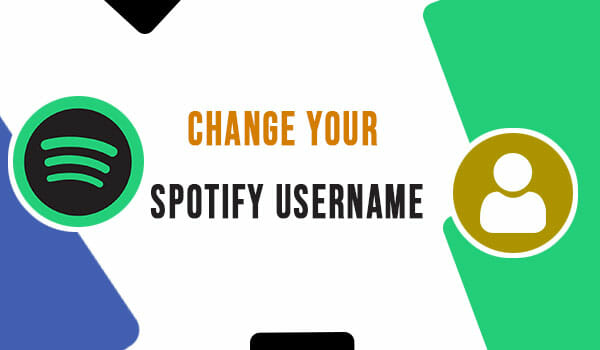 Back in the day, you could enter a username of your choice when signing up for Spotify. But things changed and the username is now a combination of alphabets and numerals generated without your intervention.
Though I wouldn't say it's too bad, it is not as good as the name of your choice. Spotify has announced no plans to give you control over your username yet. But don't stress.
This post gives you alternative methods to get the job done.
Table of Contents
Start It All Over
An automated username is assigned to you only when you sign up with your email address.
If you observe the sign-up page of Spotify, you would know that Spotify allows you to sign up either with your email address or via Facebook.
Signing up with Facebook will import your Facebook name as your Spotify username and you don't have to worry about connecting to Facebook.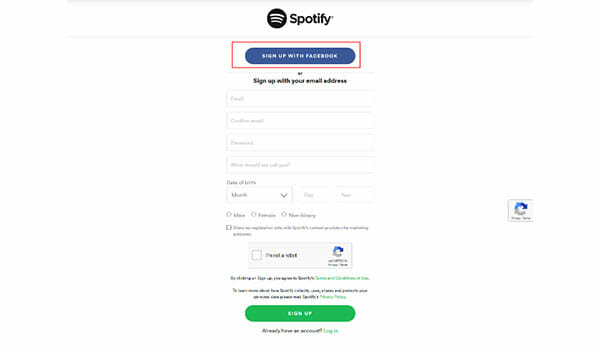 If you have already signed up with your email, you can delete your current account and create a new one by signing up with your Facebook account.
You can request Spotify's customer support to transfer the playlists of your old account to the new one. This may take some time.
Connect Your Spotify Account To Facebook
Well, starting it all over is not as fun as it sounds. A simpler alternative is to connect your account to Facebook.
You must have the Spotify Desktop app (get it here) to connect your account to Facebook. This feature is not available in the mobile app and on the website.
1. Click on the downward arrowhead (beside your display name) in the top right corner as shown in the image below.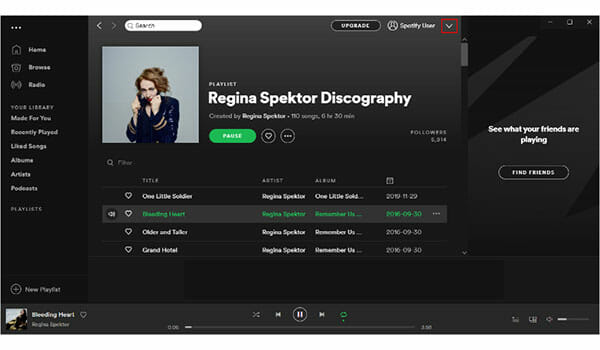 2. In the drop-down menu, select Settings.
3. Scroll down to Social which has two sections, Spotify and Facebook.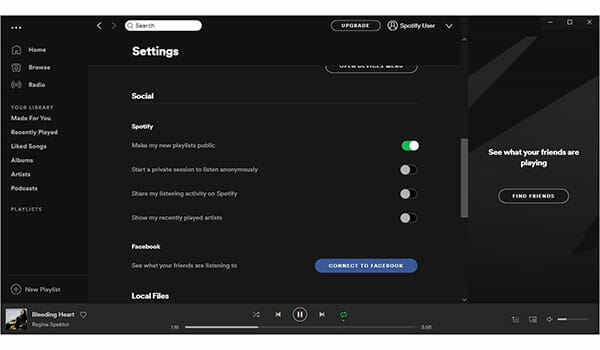 4. In the Facebook section, click the blue 'CONNECT TO FACEBOOK' tab.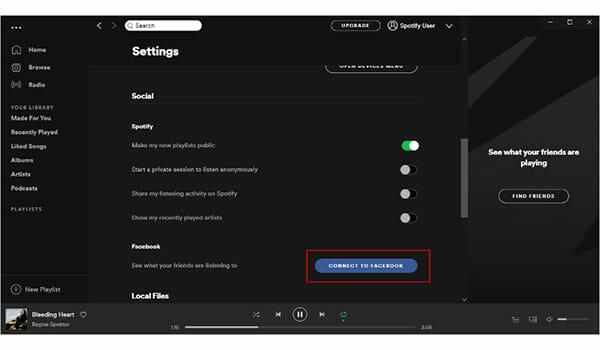 5. Enter your Facebook credentials and log in to finish connecting.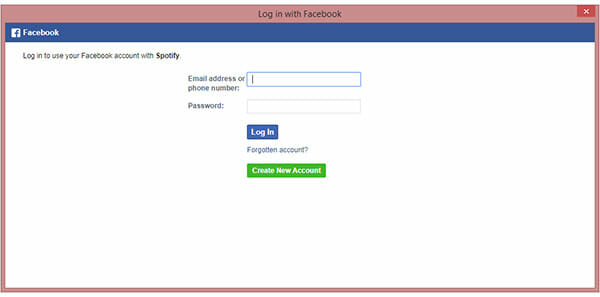 Keep in mind that after following these steps, your Facebook name will become your Spotify username. If your Facebook name was a mistake, change it and get back to this guide.
If you've connected the wrong account by mistake, repeat steps 1 to 3 and click 'DISCONNECT FROM FACEBOOK'.
Change The Display Name
Did you know that your username and display name are two different things on Spotify? Yes, you heard it right.
The username's main purpose is to give you identification in Spotify's database while the display name is that which is shown on your profile and activity.
You can choose a display name while signing up and it will show on your profile. If you've missed it then, it's not too late. You can also change it in a few steps.
1. Open the Spotify app on your mobile or tablet.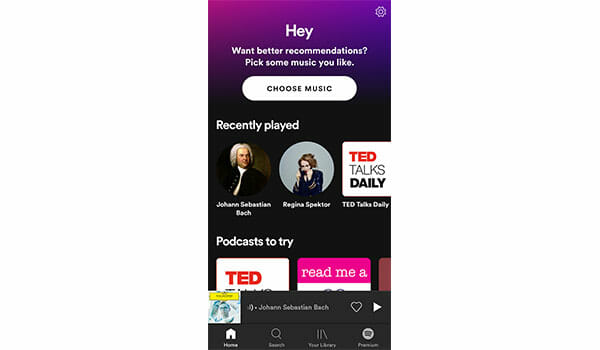 2. Click the settings icon on the top-right corner.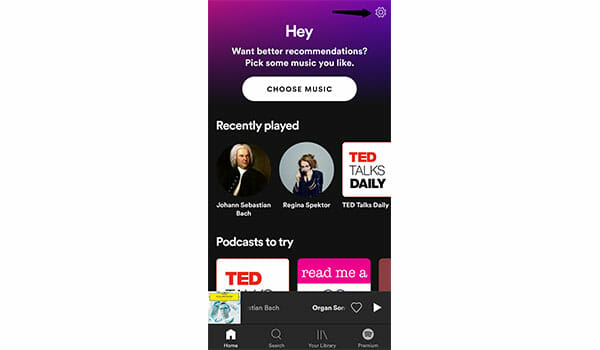 3. Click 'View Profile'.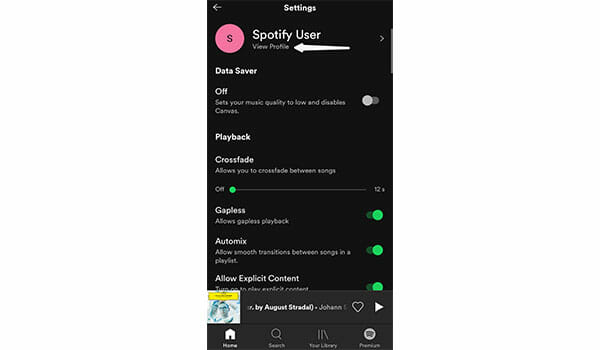 4. Click the tab 'EDIT PROFILE' right under your current display name.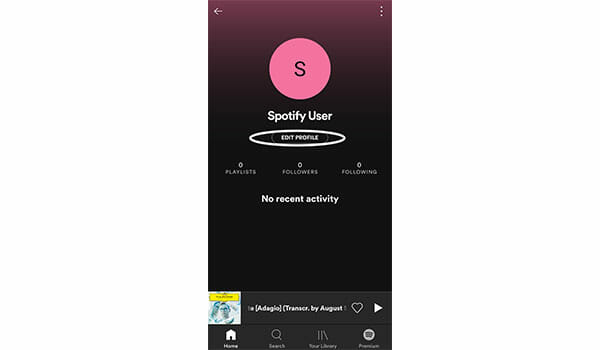 5. Type in the name you want to show on your profile. You can get creative here.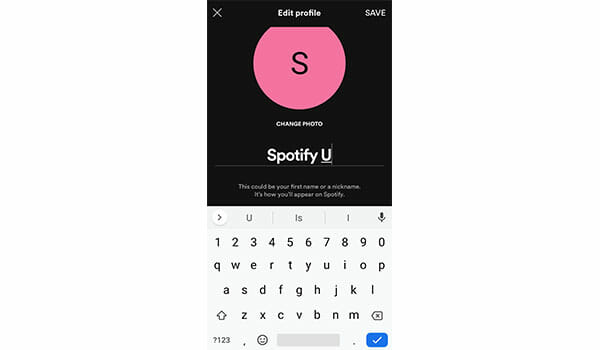 6. After you're sure, click SAVE on the top-right corner and your new display name is now seen everywhere.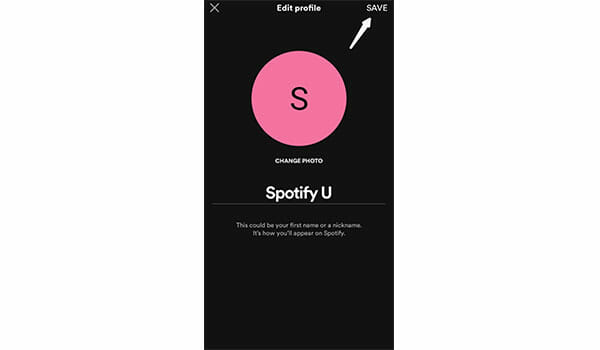 FAQs
What happens after connecting my Spotify account to Facebook?
Your Facebook name becomes your username on Spotify. Your profile picture on Facebook will be imported for the same to Spotify. Your friends on Facebook can find you on Spotify and vice versa.
Can I disconnect my Spotify account from Facebook?
Yes. If you no longer want to keep your Spotify account connected to Facebook, you can disconnect it. However, you cannot do so if you've signed up to Spotify via Facebook.
I don't want my followers on Spotify to see my Facebook name. I don't want to change my Facebook name either. What should I do?
You can change your display name. But your username will remain the same wherever it is displayed.
Can I log in to Spotify with my display name?
Nope. Two people can have the same display name. So, it may not be unique and hence not a login credential.
How can I connect my Spotify account to Facebook through the mobile app?
Formerly, the Social section in the mobile app would let you do this. But it is now unavailable on mobiles (and tablets). You can connect your Spotify account to Facebook only through the desktop app.
Can I change my display name on the Spotify desktop app?
Changing your display name on Spotify is currently supported only on the mobile app.
Can I get access to my Spotify account even if I deactivate my Facebook account?
Yes. Go to Spotify's password reset page and enter the registered email address of your Facebook account. You can create a password and log in to your Spotify account using that email id and the password.
I forgot my username. How can I log in to Spotify?
That combination of letters and numbers is tough to remember. You can log in through your mail id or Facebook credentials (whichever you signed up with).
Changing your Spotify username is an easy task, after all.