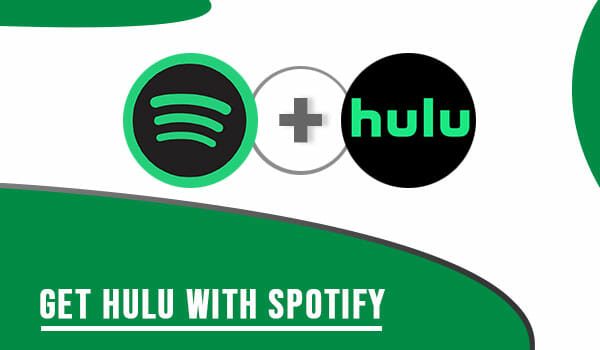 Spotify is well-known for its promotional deals.
So what now? You can now get Hulu and Spotify for less than $5. You get to binge-watch your favorite shows and listen to music when offline.
How cool is that?
This post will tell you everything about availing this benefit and much more.
Table of Contents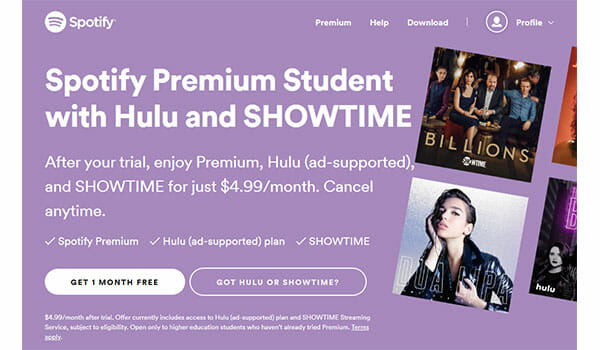 Connect Your Spotify Account to Hulu
This method works only for Spotify Student Premium accounts.
1. Open the Spotify login page.
2. Enter your login credentials.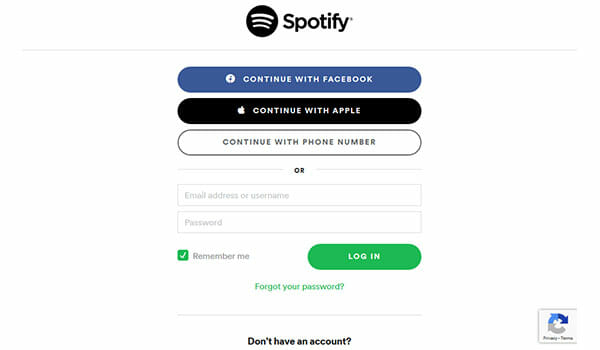 3. Click on Profile on the top-right of the page.
4. Choose 'Account' in the drop-down menu.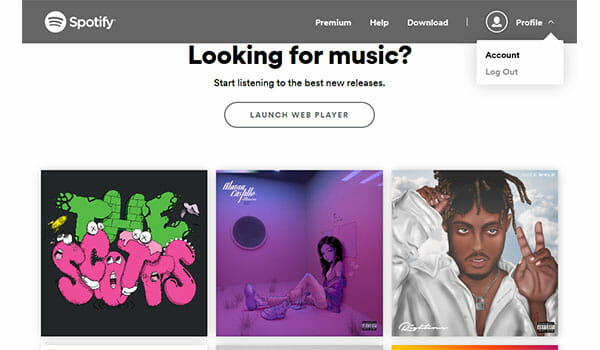 5. In the Account Overview, choose 'Activate Hulu'.
6. Do the confirmations and enjoy your Hulu and Spotify together at just $4.99 each month.
Eligibility
To be eligible for Spotify with Hulu:
You must be a Spotify Premium user.
You must be a current student verified by SheerID (that's the third party service used by Spotify to verify if you're a student) on Spotify. If you're not registered as a student on Spotify, read this article till the end as we got it covered too.
If you already use Hulu, it must be an ad-supported version. An ad-free Hulu subscription is not available for the discount.
You should not have Hulu add-ons like HBO.
Your Hulu billing transactions should be direct with Hulu and not through services like Amazon or Roku or Apple.
How To Get a Spotify Student Premium Account?
1. Open the Spotify student login page and scroll down to the shown section.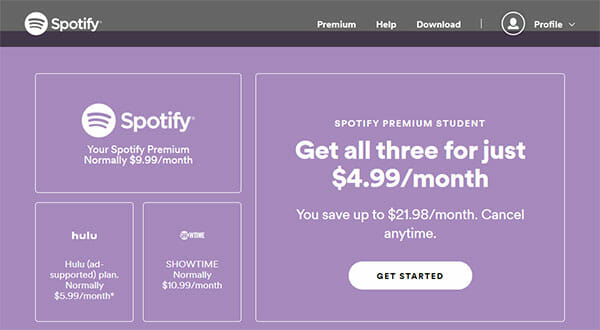 2. Click the tab 'GET STARTED'.
3. Click the NEXT tab to get started with the confirmation.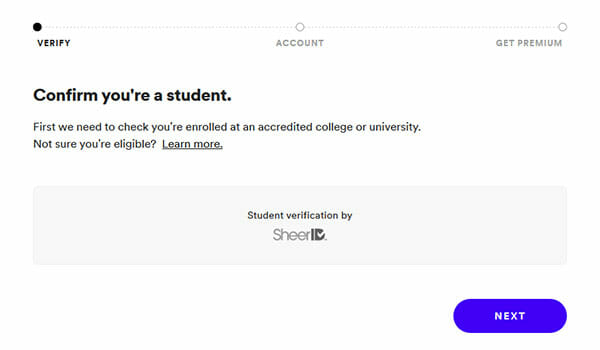 SheerID is a third-party service used by Spotify to verify your student membership.
4. Enter your details in the fields and click 'NEXT'.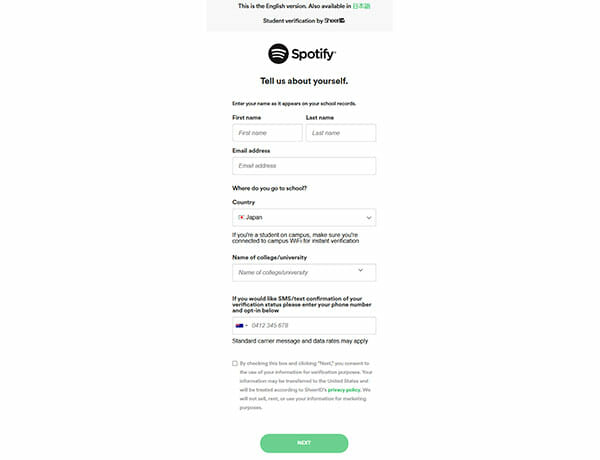 5. Upload your student ID document and you are done.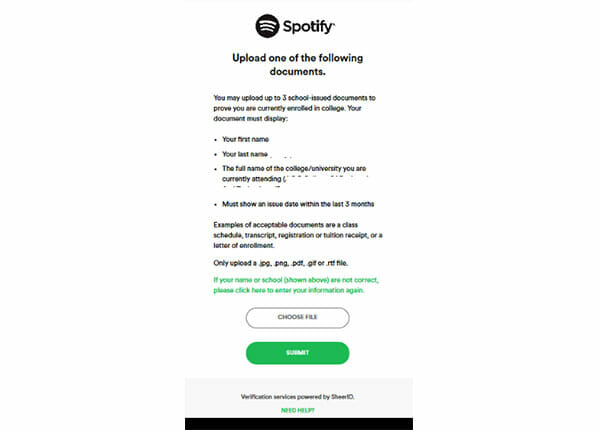 6. You will receive the result of your verification in your inbox. On clicking the link received, you will get access to the Student Premium account.
You can follow the guidelines given at the beginning of the article to connect Spotify to Hulu.
Note:
Make sure you enter your first and last names correctly. They should match the name in your documents.
In case you cannot find your college/university name in the drop-down list, you can try entering your institute's AISHE code.
If the AISHE code doesn't work, you can contact Spotify through their school request form.
The uploaded document should have your first and last names, institute name, and the issue date. This can be your current class schedule or tuition registration receipt.
Your student documents should have an issue date within the last 3 months.
The documents must prove your enrollment in the institute. Therefore, a mere acceptance letter from the university is not valid for verification. However, your enrollment letter is accepted.
The link sent to your inbox on successful verification is valid for 21 days. If you're on it after 21 days, you will have to restart the process.
Connect Hulu and Spotify via Hulu
If you like to start by creating a new account on Hulu or by logging in to your existing Hulu account, you can do that as well. After logging in, it will direct you to Spotify, and the process that follows is the same as the above steps.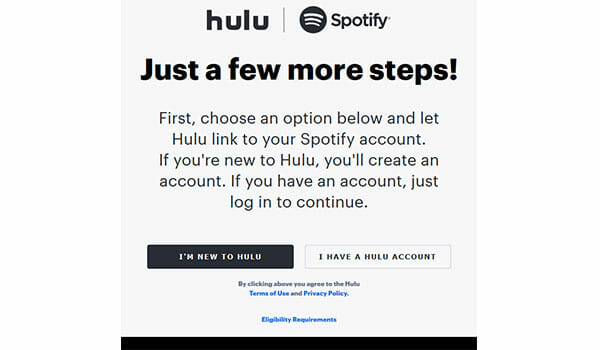 Frequently Asked Question About Get Hulu With Spotify
I have Hulu but I am a Spotify Free user. Doesn't that work?
Sadly, there is no way to access this bonus through a Free account. Upgrading to Spotify Premium is the only way to connect your account to Hulu.
Can I get an ad-free Hulu plan along with Spotify?
Spotify and Hulu can work together only when your Hulu is ad-supportive. Getting any other Hulu plan like Live TV is not possible when connected to Spotify.
What add-ons are available when my Hulu and Spotify are connected?
According to the current promotional deal, Showtime is available in this pack. However, other add-ons are unavailable.
Can I use Showtime when using Hulu connected to Spotify?
Yes, you can. The discount pack includes Spotify Premium, Hulu (ad-supported plan), and Showtime. No additional services can be used.
How old should I be to get my student ID verified by SheerID?
You must be at least 18 years old and you should be attending an accredited university in the United States.
Are there any billing rules to connect my Hulu account to Spotify?
As stated earlier, you should be paying the billing of your Spotify Premium and Hulu directly to connect them. If you have an existing Showtime subscription, wait till it ends, as this offer includes Showtime too.
I don't want to remove the add-ons in my Hulu. How do I go about it?
You can create a new basic (ad-supportive) account on Hulu and connect it to Spotify and use your ad-free Hulu account separately.
Why didn't I receive the result of my SheerID verification yet?
You will receive the confirmation result in your inbox within 48 hours. If not, it implies the failure of verification. This is likely to happen due to unclear or wrong ID documents. Redo this step making sure you upload the right documents this time. Refer to the note in this article to choose the apt document for successful verification.
I have Spotify Premium, but I am not a student. Can I avail this offer too?
No. This offer works only for student users of Spotify Premium.
But, isn't Hulu available at zero cost with Spotify?
Spotify offered Hulu at no cost as a promotional deal for Spotify Premium users in 2019. It is no longer available and a new offer with Spotify Student Premium and ad-supporting version of Hulu at $4.99 has been announced.
How can I redeem gift cards on Spotify when connected to Hulu?
Hulu and Spotify, when connected, become a third party service to each other, and therefore, you cannot redeem gift cards on your Spotify Premium as long as it is connected to Hulu.
We hope this post gave you what you're looking for. Hurry up and make hay while the sun shines.