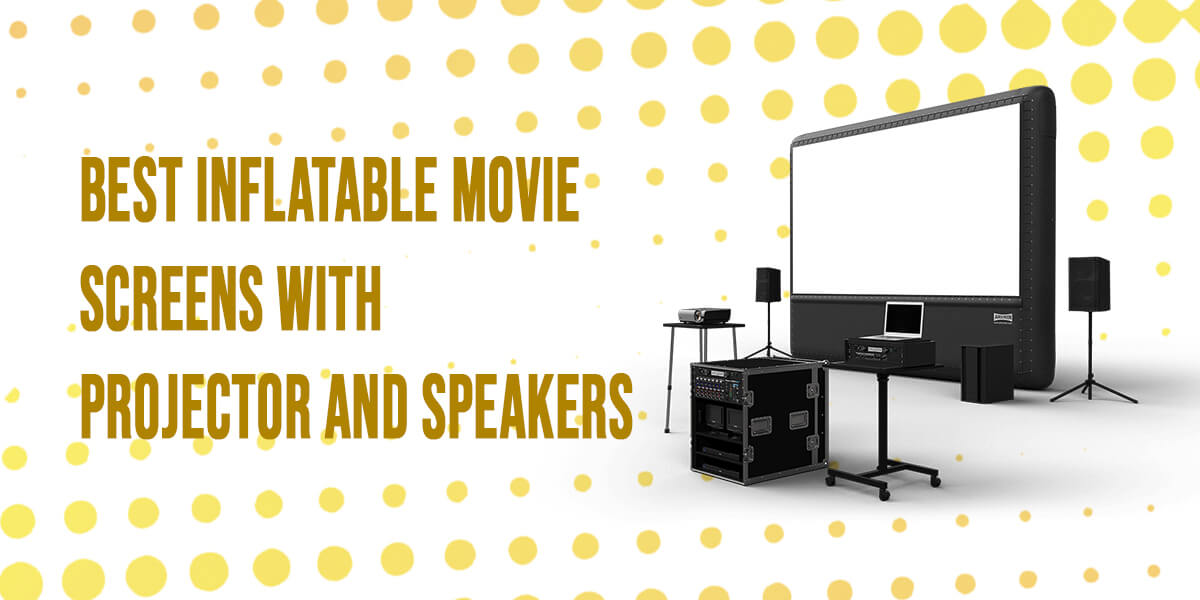 Inflatable movie screens are becoming very popular because of the numerous benefits they have. You can not only use them inside but also outside because they are very portable.
They are also very easy to set up. Inflatable movie screens are not complete without a projector and speakers. Given below are the best inflatable movie screens with projector and speakers.
Table of Contents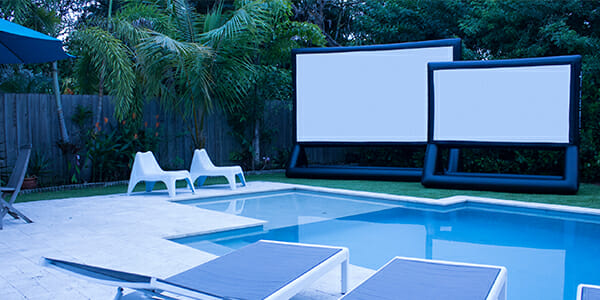 The EPIC Patio 200 Complete System is a complete at – home movie system designed specially for the outdoors. This system is very beneficial for families who want to transform their backyard or patio into an outdoor movie theatre. This kit comes with all the necessary components you need to set up your inflatable movie screen including a 1080p projector and a compact soundbar with dual bass ports.
The movie screen is inflated with the help of an air pump and secured with the help of an anchoring kit which includes stakes, tethers, weights and a hammer. You do not need to constantly inflate the screen as it stays inflated for many days without losing its shape. The projection quality is incredible and the speakers have a crisp and clear sound output.
Pros
Good projection quality
All necessary accessories included
Good sound quality
Stays inflated for days
Easy setup
This screen kit is the perfect way to watch movies in your outdoor family gatherings.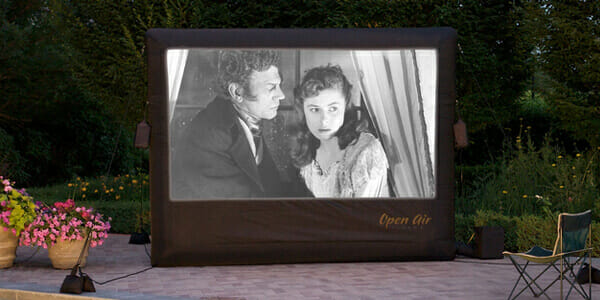 The Open Air Cinema Outdoor Movie Screen Kit is designed for a quality viewing experience. You can choose from various movie screen sizes – 9', 12', 16' and 20' depending on the size of your backyard or the number of people you want to entertain. It has an easy installation process which can be easily accomplished even by a single individual.
To enhance your audio visual experience, you also get a CineBox media console along with this. It has many features ranging from a DVD player and an audio mixer to Bluetooth and MP3 options. The dual speaker system delivers great sound with good bass levels. This kit comes with a blackout backdrop which prevents unnecessary light interference from other sources.
Pros
Suitable for any number of people
Different movie screen sizes
Light interference feature
Media console
Wireless streaming services.
With this kit you get multiple audio and video source options.
The Outdoor Movies Complete AIRSCREEN Package helps in conducting movie nights and outdoor events in an innovative manner. Every component included in this package is well constructed and manufactured from good quality materials. The inflatable movie screen is made from thick and durable materials and does not feel cheap or flimsy. It is available in various sizes.
The blower is not excessively noise and it inflates the screen pretty quickly. The screen also comes with a rear projection surface. The projector projects a very bright and vibrant display with good colour reproduction. The dual speakers are compact and portable and come with stands for proper setup. The HP console comes with multiple inputs and controls which are neatly organized.
Pros
Good projection display
Good sound output
Durable movie screen
Customizable package
This is a completely customizable package which is very convenient.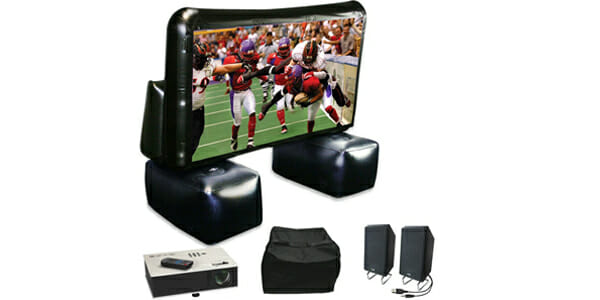 The Instant Theatre 6' Inflatable Projection Kit is a budget friendly instant theatre kit which can be used both outdoors and indoors. The inflatable screen is 6' so you do not require a large space to set it up. It is very easy to assemble and take down. It can also be conveniently stored in the spacious storage bag which comes with the kit.
The LED projector has multiple audio and video inputs so you can play from any desired source. It also supports all the well known audio and video formats. You get HDMI and SD card inputs along with a USB port and a 3.5 mm audio jack. With this kit you can transform any small space into a mini movie theatre.
Pros
Affordable
Spacious storage bag
Does not require a lot of space
Easy setup
Cons
Projection quality could be better
This is an affordable option to spice up your movie nights.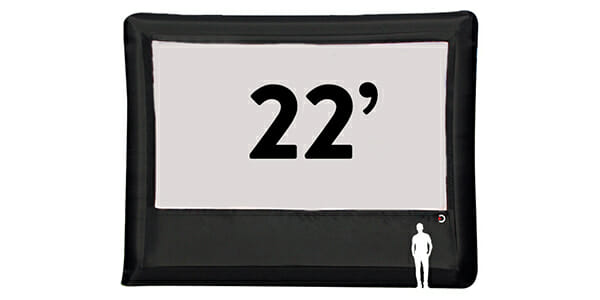 The Elite Outdoor Movies Platinum Outdoor Inflatable Projector Screen System is a high end and premium movie system specially designed for larger crowds. The inflatable movie screens come in big sizes ranging from 22' to 42'. The movie screen is manufactured from good quality PVC which is known for its abrasion resistance, mechanical strength and water resistant properties. It is also lightweight which makes it easy to set up.
The kits come with all the necessary accessories and cables required to set up the screen. It also comes with storage cases for the projector and speakers. There are 2 blower motors in which the extra one is included for backup or in cases of failure. The audio visual console is very useful and handy for determining audio and video sources.
Pros
High definition projection
Good sound output
Durable screen
Designed for large crowds
Cons
Expensive
Takes 2-3 people to set up
This movie kit is perfect for entertaining large scale outdoor events.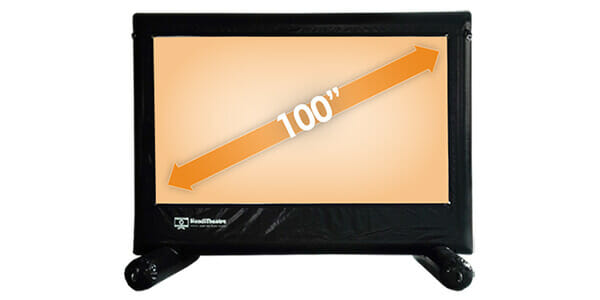 The Smart Digital Handitheatre Explorer Portable Cinema is a portable cinema package which has a very easy assembling process. It is suitable for compact spaces both indoors and outdoors. The inflatable movie screen has supportive legs for stability. It is very lightweight and can be set up by a single person.
It comes with an ASUS S2 720p projector and a Bluetooth speaker. The speaker is compatible with all Bluetooth enabled devices and is also portable. You get manual bass and treble adjustment options. The projector supports wireless smartphone mirroring and can also be hooked up with a DVD or Blue-ray player.
Pros
Affordable
Sound adjustment options
Includes a wired microphone
Lightweight and compact screen
Smartphone mirroring
Cons
Projection quality could be better
If you want a compact and portable movie system, this is the one for you.
Frequently Asked Questions
How much does an inflatable movie screen cost?
It depends on the brand and the size of the movie screen. Some factors which affect the price of movie screens are given below,
1. Durability – Durable and log lasting inflatable movie screens tend to be more expensive.
2. Included components – If the movie screen comes with other components like projectors and speakers the movie screen package will cost a lot more.
3. Size – The bigger the screen the more expensive it is.
In short, inflatable movie screens can cost anywhere between 120 dollars and 10,000 dollars depending on the included accessories.
Can I use a bed sheet as a projector screen?
Yes, you can use a bed sheet as a budget friendly projection screen. You must make sure to keep the following factors in mind,
1. Make sure the bedsheet is a plain white colour. Try not to go for flimsy bed sheets as they do not remain stationery easily.
2. Cut it neatly into the desired size.
3. You can also add any other frame or pipe for stability.
4. Make sure to remove all the wrinkles and creases. Also make sure your sheet is still as possible without any movements. 
How many lumens do I need for an outdoor projector?
You need at least 500 lumens for visible projection during the day time. Anything lower than this will work in dark environments where there is not much ambient light. Otherwise the ambient light will interfere with the projection quality and it will lack contrast and brightness. Ideally 2500 lumens ensure a good quality projection with sufficient clarity.
What kind of projector do I need for outdoor movies?
An outdoor movie projector typically needs 500 lumens produce sufficient projection quality. If you are watching movies outdoors during the daytime you might need more lumens to drown out the ambient light. Given below are some of the best outdoor projectors,
1. EPSON EB – EO1 Portable projector
2. Goodee Upgraded Video Projector
3. Vankyo Leisure 3 Projector
4. BENQ TK850 Projector
How do I project an image on the wall without a projector?
There are two ways you can project an image on the wall without a projector. In the first way you can use a flashlight and a magnifying lens. Point your flashlight at the wall or projection sheet and place the lens in front. Turn on the flashlight. You can adjust the position until you get a clear focused image. Another way is to create a projector with your smartphone. You can do this by taking a cardboard box cut out in the form of a projector and fixing a mirror and lend inside along with a smartphone on top.
Conclusion
Inflatable movie screens with projector and speakers are the perfect way to enjoy the theatre experience from the comfort of your own home. We have compiled a list of the best inflatable movie screens with projector and speakers.