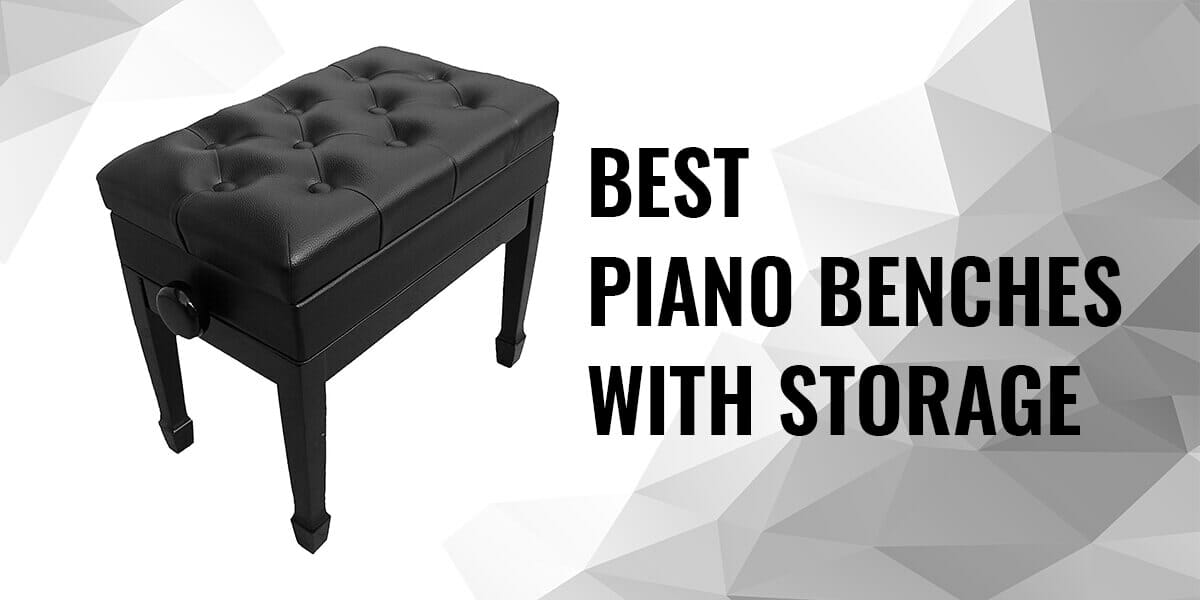 If you are a serious piano player, it is very important to get a good quality and well built piano bench. Piano benches with storage are very useful and sought after nowadays. You can store piano sheets or any other accessories which you might have in your bench.
The bench must have ample storage space and a well built opening and closing seat. Given below are the 6 best piano benches with storage.
Table of Contents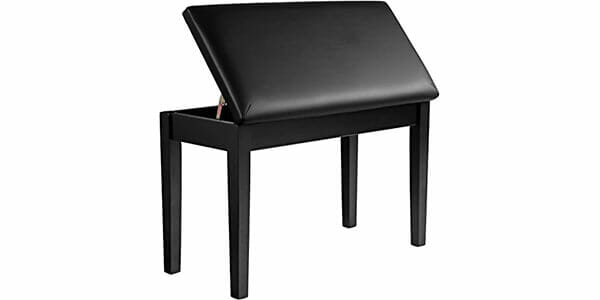 The SONGMICS Wooden Duet Piano Bench is a duet piano bench which serves its purpose very well. It looks very classy and elegant with a black satin finish and a faux leather cushion. The legs are made from birchwood and they are very sturdy and not rickety. There are rubber pads on the ends of the legs to prevent scraping of the floor.
The bench has a very good size and height. You have enough space to slide around making it very comfortable. It has a folding lid which is supported very well. There is ample storage space beneath the lid which is very useful. The piano bench is very easy to assemble. It even comes with the necessary tools like a wrench and hardware like nuts and flat washers.
Pros
Sturdy and comfortable
Elegant design
Ample storage space
Good size
It is a very classic piano bench which will compliment every piano. It is durable, sturdy and comfortable.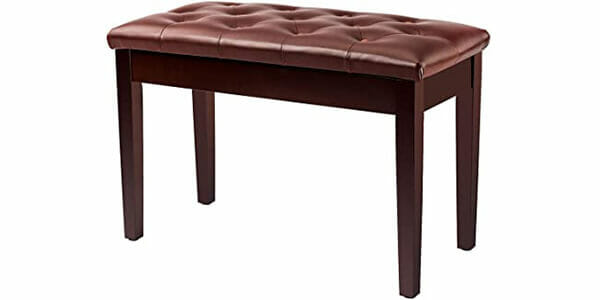 The Bonnlo Duet Piano Bench is a very serviceable and functional piano bench. It is well built and constructed from good quality P2MDF wood. It has a beautiful mahogany brown colour which makes it look very premium. The legs are strong and are fitted with protective rubber pads at the bottom. It has a waterproof and well padded cushion decorated with buttons for an aesthetic look.
The opening and closing lid has locking hinges to support the lid when it is open. It has noise reduction pads on the inner periphery which is a very cool feature. It is super easy to assemble and comes with all the required tools and hardware. There is also sufficient storage space.
Pros
Durable
Good frame
Well built
Sufficient storage space
This duet piano bench is big enough to accommodate two people. It has enough space to store music sheets and other accessories.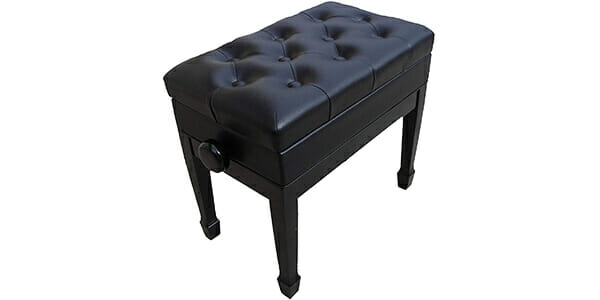 The CPS Imports Adjustable Artist Piano Bench is a very durable and well constructed piano bench. It weighs about 25 pounds and has storage space. The craftsmanship of this bench is really great. It has a leather cushion and the foam inside the leather is very firm. The bench is constructed from durable hardwood and has a beautiful glossy ebony finish.
One of the best features of this bench is that it is adjustable. You can adjust its height according to the height of the person or height of the piano. The adjusting mechanism works very well and the adjusting knobs are easy to turn. The opening seat has locking hinges for support.
Pros
Adjustable
Durable
Comfortable
Easy to assemble
Good craftsmanship
Cons
Not a lot of storage space
Expensive
This bench is a very good investment. It is worth the price for its quality and the features it provides.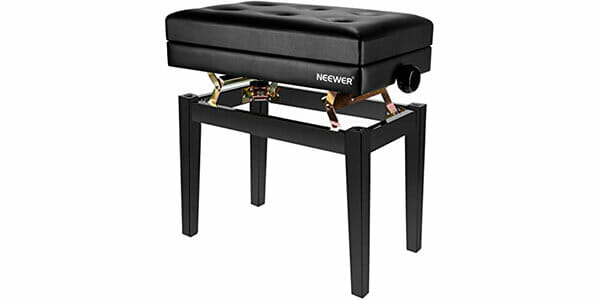 The Neewer Adjustable Wooden Piano Bench is a premium quality and sturdy piano bench. It has a solid wooden frame which is constructed from hard rubber wood. It has a padded leather seat with anti slip rubber pads on the bottom of the legs. It has a very aesthetic look with a beautiful black glossy finish.
This bench is adjustable with two adjusting knobs on the sides of the bench. The strong petal parts involved in the adjustment procedure hold the seat up very well when it is raised. It is surprisingly easy to assemble and takes about 5 – 10 minutes. The product page even has visual instructions to ensure a hassle free assembling process.
Pros
Adjustable
Durable
Elegant look
Sturdy
Easy to assemble
Cons
Small storage space
A little expensive
This piano bench is suitable for people of all heights and weights. It is very flexible.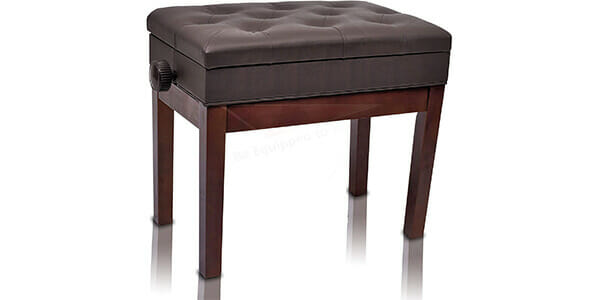 The Griffin Adjustable PU Leather Piano Bench is a vintage looking and adjustable piano bench with storage space. It is available in brown and black colours. It is heavy duty, durable and well constructed. It has a padding of synthetic leather with buttons. The inner storage space is padded with velvet for a luxurious look.
This piano bench has a good range of adjustability and can be adjusted from 19 inches to 23.5 inches. Adjustments are done with the help of two side knobs. It is equipped with bracket locks to support the open seat securely. It even has a 1 year warranty which gives credibility to its craftsmanship.
Pros
Adjustable
Durable
Vintage look
Easy to assemble
Sturdy
Cons
Expensive
Buttons can be a little uncomfortable
This piano bench is a good all rounder. It is suitable for both kids and adults.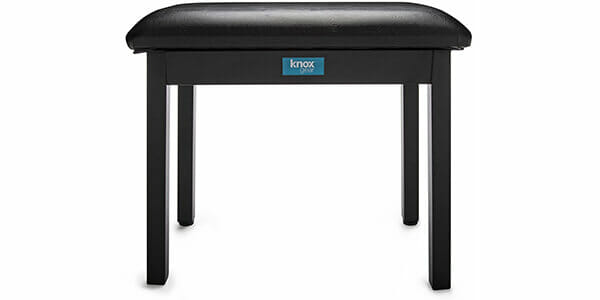 The Knox Gear Furniture Style Flip – Top Piano Bench is one of the most simple and affordable piano benches out there. It has a very simple design with a comfortable padded seat and a solid frame constructed from metal. It has protective rubber pads on the bottom of the feet which keep the bench sturdy and prevents slipping and sliding.
The height of the legs is adjustable with the help of the rubber pads which function as levelers. They screw up and down easily. As a result, it is suitable for people of all heights. It has a good weight capacity and can hold up to 250 pounds. It has sufficient storage space which is a good bonus.
Pros
Good storage space
Affordable
Adjustable legs
Comfortable padding
Sturdy
Cons
Does not come with assembly instructions
This is a very simple and well built piano bench which is very affordable. It is perfect for people looking for a budget piano bench.
Frequently Asked Questions
How tall should a piano bench be?
The height of a standard piano bench is 18 to 23 inches. However this height can vary depending on the height of the person and the height of the piano. When you sit on a piano bench make sure that your arms are parallel to the ground. If you are still confused about the height you can always get an adjustable piano bench.
How much weight can a piano bench hold?
It depends on the brand, construction quality and the material used for the bench. Ideally a piano bench should be able to hold 250 – 400 pounds. It also depends on the quality of wood or metal the bench is constructed from. Piano benches made from solid and durable hardwood materials have a much higher weight capacity.
Is a piano bench necessary?
Here are a few reasons why a piano bench is beneficial and necessary,
1. Many piano benches are duet, meaning they can seat two people. This is very useful when a teacher is giving a student piano lessons.
2. The height of the piano bench is very important. Piano benches have the ideal height for playing the piano. A lot of them are also adjustable for better posture and comfort.
3. Most of the piano benches are padded which enables you to play the piano comfortably for long hours.
4. Some of them have storage space underneath the seat in case you want to store your music sheets or other accessories.
How do you raise a piano bench?
The height of the piano bench is usually adjusted using the adjusting knobs on the sides of the bench. There are usually two knobs – one on either side. You must make sure you turn the knobs by the same measure in the same direction so the seat remains straight and not tilted. Some piano benches use side levers to raise its height. Some benches have adjustable legs where you can raise the legs up using screws.
Why do piano stools have no back?
While playing the piano, you have to slide around and change your posture very often in order to access all the keys properly. A back support forces you to maintain your back is a single stiff position which can curb free and comfortable playing. Unless you have special back problems that require you to buy a bench with back support, it is highly recommended you get a stool or bench without a back support.
How deep is a piano bench?
The depth of the piano bench usually depends on its size. It also depends on whether the bench offers storage space or whether it is adjustable. A simple piano bench without storage space or adjusting features are usually only a few inches deep. When coupled with storage space and adjustability it can be 5 – 10 inches deep.
How do I choose a piano bench?
Here are a few factors you should keep in mind while choosing a piano bench,
1. Height – Make sure that the piano bench is a good height for playing the piano. Adjustable piano benches are always a good idea.
2. Padding – Padded piano benches allow you to play for long hours comfortably.
3. Material – Make sure that the piano bench is built from good quality materials. 
4. Storage space – It is an added bonus if you choose a piano bench with offers storage space.
What are piano benches made of?
Good quality piano benches are usually made from dried hardwoods like mahogany, walnut, oak or maple. They are also from birchwood and rubber wood. The padding is usually leather but it can be made from other materials too. There are also piano benches which are constructed from rugged metal.
Conclusion
Piano benches with storage space are gaining a lot of popularity nowadays. Since there are many options out there, we have compiled a list of the best ones which are available in the market.