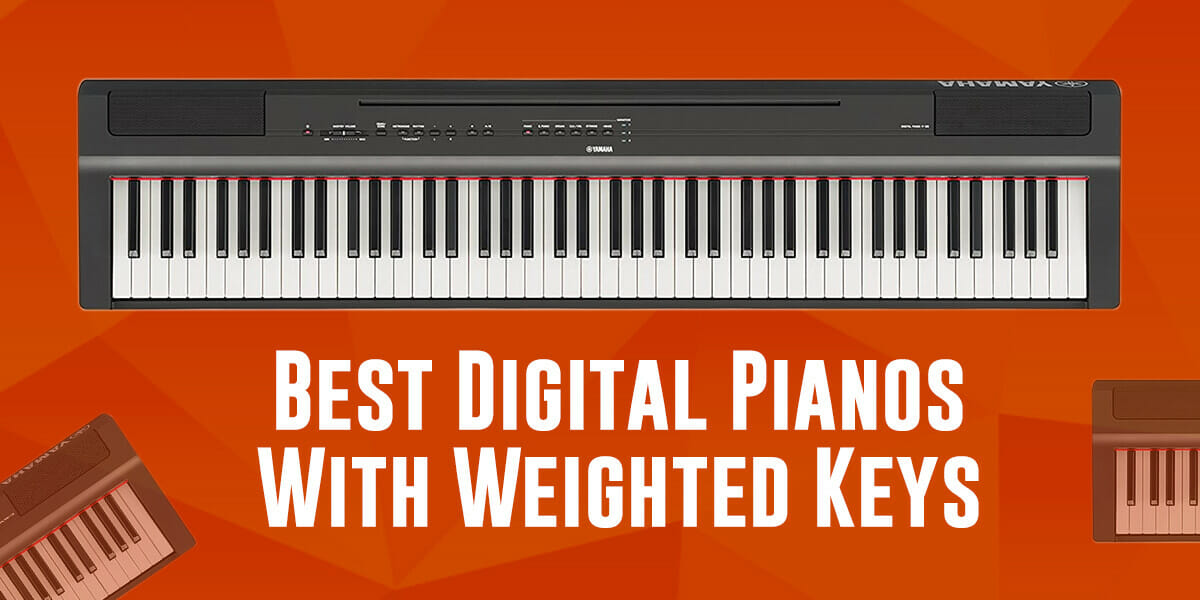 As a beginner piano enthusiast, you can get quite overwhelmed with a wide range of pianos available to choose from. But if you're looking for a piano with long-term use and a good investment to make, then getting a digital piano with weighted keys are your best bet.
These digital pianos give the resistance and feel of a typical traditional acoustic piano. They're designed for more precise playing and developing your finger strengths for mastering any playing technique. These are also widely preferred by professionals for live performances and recordings. They're an affordable option than a traditional piano with weighted keys which are very highly priced.
Check out these pianos below:
Table of Contents
Our Top Picks
Best Digital Pianos For Recording: Donner DEP-20 Beginner Digital Piano
It is equipped with recording mode with MIDI, MP3 player outputs and additional 25W amplifier for rich sound. 
Best Digital Piano For Professionals: Yamaha P71 Digital Piano
All additional features like power adaptor, sustain pedal dual mode, 10 creative voices combined with Yamaha's GHS keys are best for any performance. 
Best Compact Digital Piano: Roland FP-30 Portable Digital Piano
It has a compact and light-weight body for easier mobility to any place.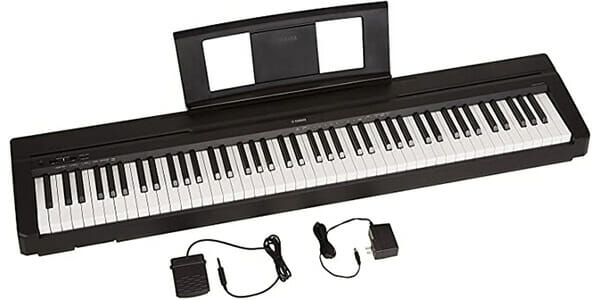 The Yamaha P71 is a fully weighted keyboard with 88 keys that also comes with a power adaptor and sustain pedal. It is a perfect home digital piano that gives proper acoustic piano feel for more realistic sound experience. It's amazingly built for rehearsing, learning and creating your own music. Yamaha's GHS (Graded Hammer Standard) provides heavier touch on the low end and lighter touch on the high end which is best for building proper finger technique. It contains 10 different voices and also has dual mode which lets you combine 2 voices for an inspiring new playing experience.
Pros
Slim and stylish design 
88 fully weighted keys 
Includes power adaptor and sustain pedal 
Dual mode 
10 different voices
Cons
Only USB support, no MIDI
It is a versatile and compact keyboard which consumes less set-up space and is built with numerous additional features to help it sound like an acoustic piano.
The Alesis Recital Pro is a superior featured digital piano. It is incorporated with 88 full-sized hammer action keys that come with adjustable touch response for a highly natural playing feel. It is also equipped with 12 expertly crafted voices, a powerful 20W built-in speaker and an immense 128-note maximum note polyphony for loud and clear practice sessions. It has ¼" stereo headphone output, MIDI output for easy connectivity to PC or Mac and ¼" sustain pedal input for private sessions as well as for connecting additional amplifiers or mixers.
Pros
88 hammer action keys 
Universal responsive feel
Powerful educational features 
Full connectivity 
12 voices
Cons
Doesn't include sustain pedal
It is a fully-featured digital piano with 88 hammer action key for amazing touch response and other features for educational learning and playing.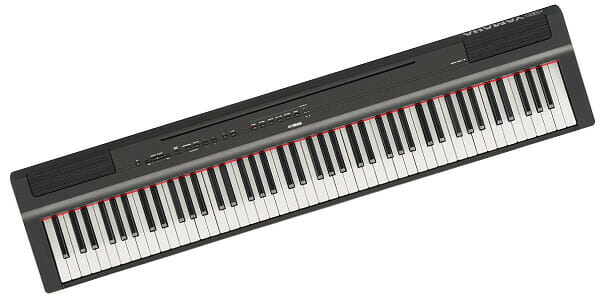 The Yamaha P125 is another amazingly built digital piano by Yamaha which features 88 fully weighted keys. This one also has GHS weighted action for proper acoustic piano experience. It is made with a compact and user-friendly minimalist design with incredible piano performance. It features a pure CF sound system which reproduces the tone of a Yamaha concert grand piano. The split mode component also helps you play two different voices with each hand. It has USB cord for connectivity with MIDI and audio transfer for easy connection to your music making software.
Pros
Incredible piano performance 
Sophisticated design 
Authentic piano sound 
User-friendly and compact 
Include power supply and sustain pedal
This digital piano features Yamaha's additional features for a compact and user-friendly and authentic acoustic piano sound experience.
The Donner DEP-20 is constructed with 88-full sized hammer action keys with amazing touch response which can be adjusted according to your playing style. It is equipped with 238 different tones and 128-note max polyphony for arousing your learning interest and allowing for distinguishing tones clearly while playing anywhere. It also supports dual mode for creating your own unique music by combining any two voices. The panel also includes sustain pedal, triangle pedal and is equipped with various audio inputs and outputs. It has a backlit LCD display which clearly shows chord names, notations and adjusting needed for tuning.
Pros
Recording mode 
MIDI, MP3 player and two 25W amplifier 
238 tones 
200 rhythms 
Double tone setting 
Automatic chord and multifunction setting
Cons
No graded keys, equally scaled
It is an excellently crafted digital piano with additional features to make it an acoustic feel and also comes with proper inputs and outputs for better connectivity.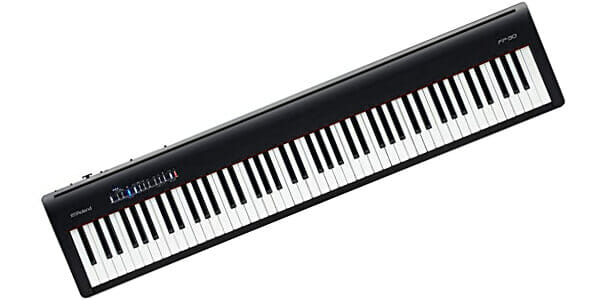 The Roland FP-30 is constructed with Roland's renowned supernatural sound engine which provides a rich and responsive tone. It also features a powerful amplifier and stereo speakers for impressive sound delivery. The 88-note weighted keys give authentic piano touch more maximum expression. It has additional sounds with built-in practice and recording function which can be connected to any music app with its Bluetooth support. The twin piano mode is suitable for side by side playing with the same octave range. It has a sleek design and is highly compact lightweight for easier mobility.
Pros
Highly portable 
Wireless connectivity 
Twin mode 
Supernatural sound engine 
Powerful amplifier and speakers
It is built with a highly rich and responsive tone generated with a supernatural sound engine for delivering true acoustic touch.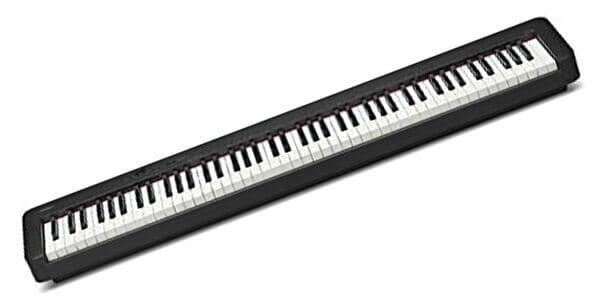 The Casio CDP-S150 is built with full-sized 88 properly scaled hammer action keys which are best for richer and responsive sound. It also comes with 64 notes polyphony which lets the player identify between different chords easily. The in-built 10 creative tones with adjustable reverb and chorus are the best option for creating your own music and fun playing experience. It includes power supply, sustain pedal and music rest. It provides a built-in metronome and stereo speaker system for enhancing the sound quality in every practice session.
Pros
USB cable and headphone jack 
88 scaled hammer keys 
10 tones 
Easy controls 
Compact and portable design
Cons
Headphone amp might be problematic
It is built with superior quality 88 fully weighted keys which are touch sensitive and also features in-built metronome and stereo speakers for enhanced sound.
Frequently Asked Questions
What is the best digital piano with weighted keys?
Some of the best digital pianos include: 
1. Casio Privia PX-160 
2. Medeli SP4200 
3. Yamaha Arius YDP-163 
4. Roland FP-30 
5. Kawai ES110 
6. Lagrima LG-8830 
7. Korg B1 
What are weighted keys on a digital piano?
Most digital pianos are equipped with weighted keys which is a specially designed mechanism that weighs down the keys while playing. This feature resembles the sound and feel of an acoustic piano and is great for learning. When you press any key on this piano, it leads to a hammer striking the piano strings. It then creates a vibration which forms the piano note that you hear. This in-built hammer is connected to the keys by a lever-type system which generates the sound whenever the keys are pressed down. 
How do I know if my keyboard has weighted keys?
Weighted keys can be identified by the actual resistance as you press down the piano keys. Most weighted keys have extra metal attached to the inside of the key, and when you press the keys it comes back with a push and force which lets you identify if it's weighted or not. And these keys are relatively harder to press down, but give a loud piano-like sound. You'd have to notice how the keys feel when you play, if they're high in resistance when you play your keyboard then these are weighted keys.  
Do Yamaha keyboards have weighted keys?
Yes, Yamaha produces a wide range of digital pianos or keyboards which have weighted keys. For example, the Yamaha DGX-600 Portable grand and Yamaha ARIUS YDP-103. These instruments offer many qualities of an acoustic piano with a full 88-note weighted keyboard which doesn't require additional upkeep. They're super easy to play and produce rich, clear and loud sound and also ensure higher portability for any performance. 
What are semi weighted keys?
Semi weighted keys are referred to a spring type system which tries to replicate the feel of weighted keys. It involves a spring action key with a combination of some light-weights which offers a little bit of resistance than an unweighted keyboard. These are designed to result in a light to moderate uniform resistance and depress quickly when pressed. But they can also often feel a little sluggish as they rise back up. Irrespectively, they're a definite improvement from keyboards that don't have any weights at all. 
What is the difference between a weighted and unweighted key?
Each keyboard with weighted or unweighted keys has its own advantages and disadvantages. Keyboards with weighted keys tend to use a hammer action technique which strikes one, two or three strings at a time based on how hard you're pressing. It then leads to vibration of keys and that's when a sound is produced. While on the other hand, unweighted keys don't have this mechanism. In weighted keyboards, the weight is distributed across the keyboard for more resistance and acoustic piano like feel. These keys are good for building up finger strengths which might enhance your playing technique. And unweighted keys are generally preferred by beginners. Because they are good for encouraging very precise playing which are essential for rhythmic or contemporary styles of music. 
Do synthesizers have weighted keys?
A synthesizer is typically used to create new unique sounds and are used as a controller or additional equipment. Most of the vintage synthesizers have unweighted or semi-weighted keys. But there are also synthesizers which are built with 88-key fully weighted hammer action keys like the Yamaha MX88 88-key Weighted Action Synthesizer. 
Does Yamaha p45 have weighted keys?
Yes, the Yamaha P45 features 88 fully weighted keys which are called the Graded Hammer Standard (GHS). The resistance, action and feel of Yamaha P45 are very similar to that of an acoustic piano. It is one of the most affordable hammer action keyboards by Yamaha. 
Does touch sensitive mean weighted keys?
Touch sensitive are velocity sensitive keys which means that they'll sound louder when they're hit harder and vice versa. And weighted keys are ones which have an additional weight attached to each key which is distributed equally across the keyboard. They feel more like playing a real acoustic piano. So technically, touch sensitive doesn't mean weighted keys. But most companies that feature weighted keys also ensure they're highly touch sensitive as well. 
Conclusion
There are a lot of Digital Pianos with weighted keys available in the market, but we've listed the top-rated products for you. All these pianos feature 88 premium fully weighted keys which are touch sensitive and best for a real piano playing experience. 
They're also equipped with features like dual mode and split mode which lets you combine two different voices simultaneously for creating your own unique music. The higher portability and playability that comes with each of these compact pianos is a definite plus for learning and creating music.