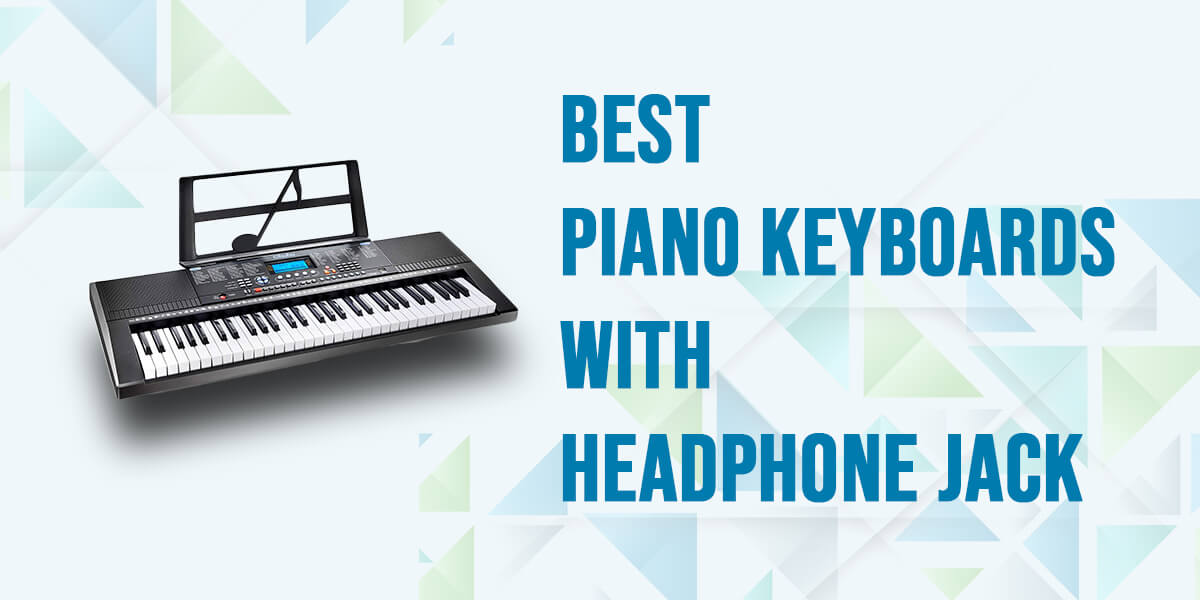 Singing and playing a musical instrument are the most interesting pastimes today. We can perform these hobbies literally anywhere and everywhere. They soothe our hearts and make us feel happy amidst the busy life we are into.
The one instrument which has found its place in almost every home for decades is a keyboard. You can play a variety of tunes using it and master songs which you love. If you're on the lookout for the perfect keyboard for yourself, keep reading this article which lists down the best piano keyboards with headphone jacks.
Table of Contents
Our Top Picks
Best Piano Keyboard for beginners: Ohuhu Electric Keyboard Piano
You will never need to hire a tutor as it has enough material to get you started. Its rich variety of rhythms and multiple user connectivity makes us recommend it.
Best Piano Keyboard for Professionals: Casio Privia PX-870
The way the keys have been integrated and shaped along with the 4-speaker system, recording and plush colors will suit any background and you.
Best Value Piano Keyboard: Hamzer Electronic Keyboard
It makes sure you get your money's worth with its sound effects of Vibrato, Sustain and Ensemble. It also gets you 255 types of rhythms and 24-pre installed songs along with a fixture to attach iPad, tablet, etc. All this at possibly the lowest price makes it a deal hard to ignore.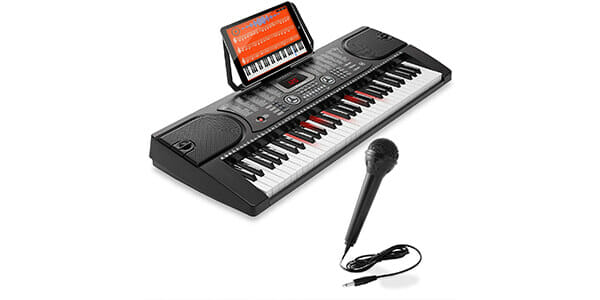 Looking for something that perfectly suits a rookie and want it for a cracker deal? This electronic keyboard from Hamzer fits the bill right with 255 types of rhythms and 24 pre-installed songs to start with. An innovative feature is that the keyboard comes with transparent markings on its surface above every key to memorise the sound easily or to perceive the sound of a particular key. It also gives you the option to change the chord timbre and the rhythm of the sound to suit your taste and create your own music.
Pros
Several sound effects-Vibrato, Sustain and Ensemble.
Ability to record your song and plugging in headphones.
Adjustable stand for conveniently playing the keyboard anywhere.
Fixture to attach tablet, iPad, etc.
It pampers you by providing all the features you will need to start playing your favorite song tune at a very low price making it a tempting proposition against its rivals.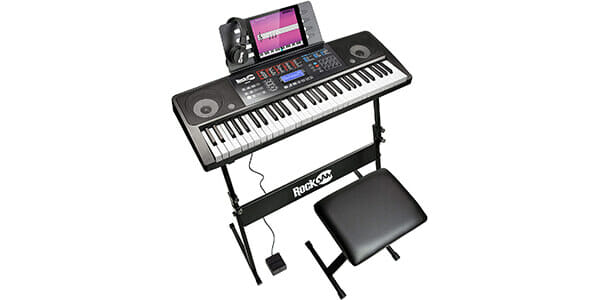 This keyboard from RockJam is feature-rich with 200 rhythms, 200 tones, 30 in-built songs to begin with and a very unique 'Teaching' function where the trainers give you professional guidance in learning the instrument through the 'Simply Piano' app. It also allows recording of music to better yourself with each use.
Pros
Padded chair for sitting comfortably for longer duration
Easy setup for every location owing to the stand
Simply Piano App
Tons of pre-built rhythms, tones and songs
This keyboard is the ideal solution for everyone including beginners. The 'Simply Piano' app comes in handy to learn different soundtracks and songs. The padded chair comes as a blessing during long hours which makes it desirable.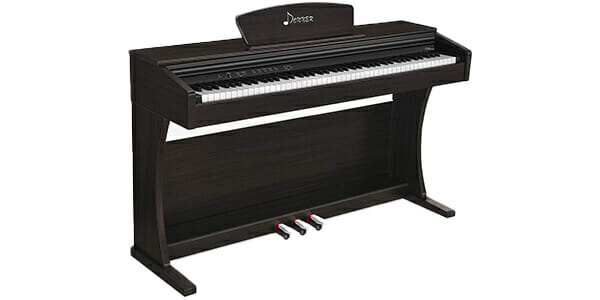 Have you ever had the wish of buying a piano the style and size of those shown in Hollywood movies? Then this is the one for you. The Donner DDP-300 is a full-weighted keyboard which is one of its kind as it sports a 'Double Keyboard' setting which lets you divide it in two segments of pitch and tone. This means that you and your instructor can both use the keyboard at the same time. To not disturb others, headphones connectivity is also available. 10 types of timbres are available to extract the right tone for you.
Pros
High-quality speakers
Great bass
Mahogany coating looking rich and premium
'Double Keyboard' feature
10 types of Timbre
Cons
Maintenance might be an issue
Requires a lot of space
This keyboard can be highly recommended for those houses where gatherings are frequently organised or if you need a highly professional instrument. Its features and appearance are other reasons to help it build a solid case for itself.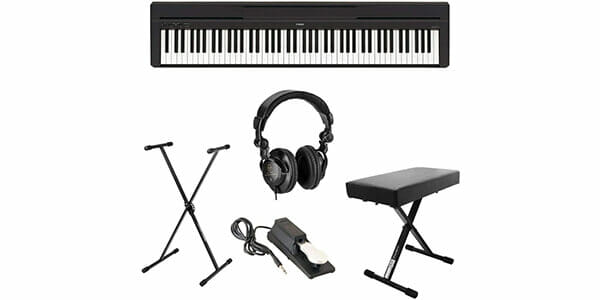 If you're in the market looking for a purely professional keyboard with amenities such as a stand, a leather stool and a fantastic 3-year warranty, then this keyboard from Yamaha might impress you. To ensure user-friendliness, it gets keys with a weighty feel in the low-end and a lighter feel for the keys towards the end. This will provide the perfect way to practice before graduating to an acoustic piano. Another creative feature is the matte-black keys to ensure firm hold on the keys.
Pros
'Advanced Wave Memory' for a deeper and melodious sound.
Graded Hammer Standard for the tactility of a professional piano.
Light-weight to facilitate easy movement
Grand Piano Function to change voices and play the pre-installed songs.
There are plenty of reasons to recommend this package. Its small size is a boon for tight spaces. Secondly, it comes with a 3-year warranty and the brand value of Yamaha. Thirdly, its 'Advanced Wave Memory' technology can be used to your advantage to hear the best sound. Light keys and the Grand Piano Function make it easy for grasping the keys and sounds in a short span of time.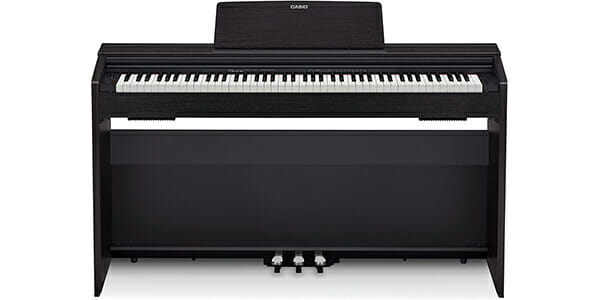 Time to bring out the brand conscious buyer in you! Say hello to the Casio Privia PX-870 which is one of the best high-end products in the market. Its key features are a book and CD for tutoring, ebony and ivory color options, 18 tone options for playing the music of your choice and the ability to record your rehearsal to make you adept at playing the piano.
Pros
Unique color options to suit your home or hotel furniture
Powerful 4-speaker system
Tutoring through CD for better adaptability to the instrument
Recording music 
Online Teaching option also available
Cons
Expensive compared to similar options
Lack of screen is a glaring omission
It is meant for those looking for a high degree of professionalism right from the start. It offers a perfect beginner's guide with online teaching and CD. The enhanced sound quality and the ability to record makes it a perfect buy.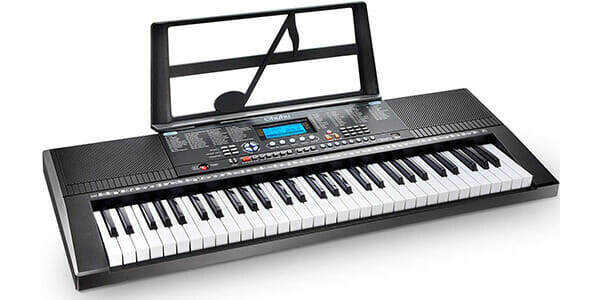 Enjoy the lively atmosphere created by you playing a tune on the keyboard and one of your family members or friends singing using the mic that's available as part of the standard equipment. Make sure to be free while exploring this keyboard as it brings to the platter 300 tones, 300 rhythms and 30 songs to commence singing. A standout feature here is that the USB ports can be used to download many songs and learn to play those.
Pros
3 teaching modes for learning
Multitude of choices for tones, rhythms and songs
Can use either 6AA batteries or an AC adapter
USB ports
Cons
Ambient lighting would have made it perfect.
It ticks all the right boxes well by hitting hard on the value for money quotient, is feature-packed, teaches you to learn more tones and songs and is highly usable for several purposes making it an all-rounder.
Frequently Asked Questions
Can you plug headphones into a Piano?
Piano keyboards with the presence of a headphone jack can be made compatible with headphones. On the extreme left of such pianos, you will notice the "Phone" or "Phone Output" section where many other cables are also connected. You'll have to search for the circular pin of the headphone and the circular socket in the piano through which you can pair your headphones with it.
Which is better, Keyboard or Piano?
Keyboards are better in contrast to Pianos as they can produce different notes and a scattered variety of sounds. Pianos on the other hand, do have some variation but the general perception is one particular sound. In that sense, Keyboards are more elastic and hence, better than pianos.
Is a headphone jack the same as an AUX jack?
Many use these terms interchangeably and plug-in headphone devices in AUX-In and vice-versa. While the basic framework is the same and one can be used in place of the other, they aren't exactly the same. The Auxiliary jack is used to connect all types of devices such as smartphones, headphones, tablets, etc. while the headphone jack is best suited for headphones.
What are the big headphone jacks called?
The big headphone jacks are referred to as TRS as these consist of three main parts, tip-the conical and bottom most point of the jack, followed by a circular portion encapsulating the wires called Ring and finally ending with the sleeve which acts as shield for the internal components.
What is the standard jack size for headphones?
3.5 mm or ¼-inches is the standard jack size for plugs of household and professional headphones. However, the size also depends on the type of headphones. To illustrate, 3.5mm plugs are common in most parts of the world for similar equipment while 2.5mm plugs are used for devices such as cordless phones and mobile phones.
Piano keyboards have been universally popular for ages and this is only set to increase as a greater number of people start inclining towards music and cutting-edge technologies provide efficient and easy-to-use solutions. Before making your choice, it would be advisable to be mindful of your purpose and for whom you are buying it. This list seeks to provide the best options for varied people and their differing needs.