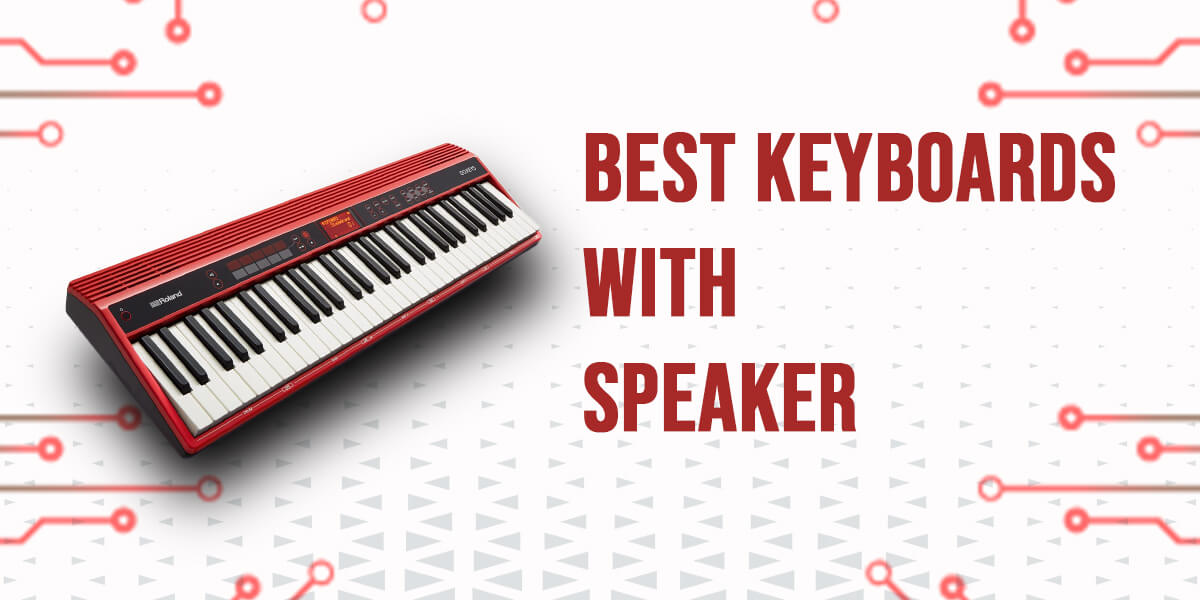 You might be a good keyboard artist but if your musical instrument isn't complemented with great quality speakers, you won't get the type of experience you are looking for.
To help you find quality keyboards with speakers, here are our top picks.
Table of Contents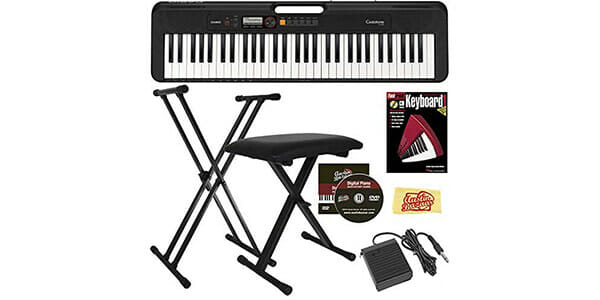 A great brand value, rich sounding speakers, 400 pre-installed tones, a DVD to begin trying your hands on the keyboard, you name anything, it has everything. This keyboard from Casio is the perfect digital keyboard for you as it offers unparalleled levels of usability along with additional kit including a chair, adjustable stand and also a polishing cloth to make it appear new even after considerable amount of use.
Pros
400 pre-installed songs
Great quality speakers
Black, red and white color options
77 rhythms to learn various tunes
The variety of songs along with its speaker quality and taut keys makes it a great deal. Add to it, the DVD for learning from Austin Bazaar and it becomes a deal that is hard to ignore.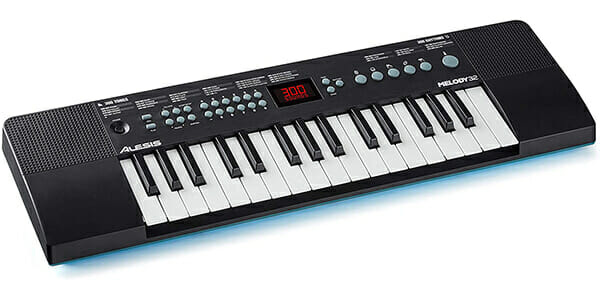 This keyboard brings you style with functionality. Its snazzy appearance thanks to the blue illumination at the bottom is sure to attract you besides the low sticker price and 300 pre-fitted voices to find the best one for each song. It is light enough to be carried anywhere and also comes with a USB source to charge anywhere.
Pros
Blue ambient lighting
Value for money
40 built-in songs and 300 rhythms
Can be used by beginners as well as professionals.
There are multiple reasons making the Alesis Melody 32 a stellar product such as the low price, user-friendly nature for all ages, 300 rhythms and portability to carry and operate anywhere filling the dullest of the places with melodious tunes.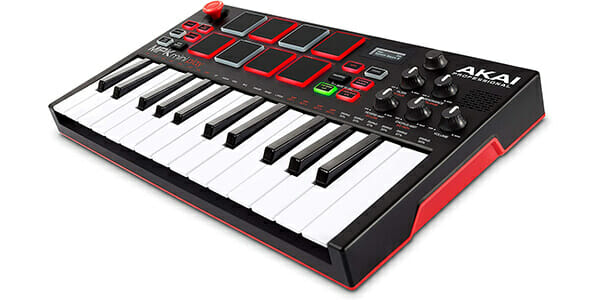 Professionals, take a hawk-eyed look at this keyboard as this is one of the finest options in the market if you want a desirable and reliable option to play during events and one that is available with a bevy of sound effects options. It gets 128 sound options and 10 drum tunes to blend with your song. Its standout feature is that it also offers 8 drum pads for a high-toned sound.
Pros
Best-suited for professionals
Compact size with an alluring look
Drum pads for sound to fill in the area
MPC Beats software providing professional tools
Joystick control
Cons
More sound options could be provided
Expensive
This is the right option to consider if you wish to gain mastery in creating tunes or playing your own songs. It has enough soundtracks, high-quality built-in speakers and the drum pads that provide a stimulating experience.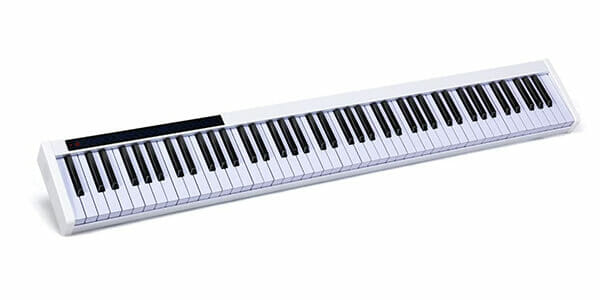 If attention to detail and materials used are at the top on your watchlist, then look no further as this MIDI keyboard from Costzon offers touch sensitive keys that are built to last in an aluminium covered body. Other unique features include connectivity with a computer and smartphone. It also gets 128 tones and 20 demo songs. The uniquely crafted keys in a 1:1 ratio adjust volume based on how hard you knock these. These keys have been made from a material which ensures that your hands do not slip while you're playing the piano with full concentration.
Pros
Capacity to mix external sound with internal to produce loud sound
Silicon panels to prevent damage
American Society for Testing and Materials (ASTM) certification
12-hours battery life
Can be conveniently carried anywhere
Cons
White appearance a bit dull
No screen
The biggest reason to recommend this keyboard is the type of materials that have been used keeping user's ease and less wear and tear in mind. The mixing of external sound with internal sound and volume changes based on the knocking of the fingers are outstanding features making it a worthy buy.

This keyboard from Yamaha gives you a chance to taste premiumness along with the comfort of different weights for different regions of the keys in the keyboard for better striking. It also gets 10 completely unique voices from Yamaha's Grand Pianos. Most keyboards allow one person at a time but the P45B lets you mix 2 voices together for a nice fusion of sounds of different pitches.
Pros
10 different voices
A couple can play at the same time
Light to heavy variation of keys for better touch response.
Brand value of Yamaha and dependability
Cons
Very costly
Decorative elements expected at this price point
The reasons to recommend this keyboard are the brand recognition of Yamaha and the comfort those keys provide while playing the keyboard. It is a good option if you and your partner want to jointly perform.

From the company Roland comes a keyboard which lets you record songs through its 'Loop Mix' function. Through this feature you can repeatedly assess your keyboard skills and master it before you perform at a concert. It serves you 500 varying sounds to choose from for your favorite track. The 2-way stereo speakers will provide high-quality sound to make for a lively atmosphere.
Pros
Bluetooth connectivity to connect with smartphone or tablet
Light touch for the keys to produce good sound
500 varying sound tracks
Great for beginners
Cons
Reviews suggest the plastic feel of the body isn't reassuring
Pricey
Its unique recording ability makes a strong case for itself. In addition to this, the 500 varying sounds along with bluetooth connectivity to play anywhere and a good brand value are attributes which let us recommend it.
Frequently Asked Questions
How do I connect my speakers to my keyboard?
Modern day keyboards have stereo output jacks. To connect your speaker, you just have to plug-in its wire to these output jacks. Always rotate the volume knob of the speaker to the mid position so that you don't hear a loud and jarring sound all of a sudden when connected and gradually rotate the knob to get the exact level of volume you require.
Do MIDI keyboards have speakers?
An MIDI keyboard does not produce any sound by itself and so doesn't come with speakers attached to it. This kind of keyboard sends MIDI (Musical Instrument Digital Interface) signals when paired with other devices where sound will be emitted. So make sure to have an external speaker with you while playing an MIDI keyboard which is likely to be coupled with your PC.
How do I get sound on my MIDI keyboard?
As an MIDI keyboard doesn't emit any sound from within, you will have to connect it with your computer through a USB port. Once this is done, you will first have to download certain applications using the internet to make pairing of the keyboard with the computer possible. This is similar to downloading drives when connecting a printer with the PC. You will also have to download DAW (Digital Audio Workstation) and an LMMS software using which you can produce and record music. Once both these softwares are configured, you're done with the process and can start playing the tunes you like.
How do you connect a speaker to a synth?
A synth enhances the sound quality of the speaker. It produces many sounds by generating and combining signals of different frequencies. To get the base sound, you must have two external speakers and a woofer. Following this setup, you can connect a synthesizer by plugging its cable to the jack of the keyboard and try turning the volume up and down to reach the sound that you desire.
There are some keyboards which have built-in speakers and some that don't. Even after buying a great piano keyboard from the market, it may happen that the sound quality is inferior to your expectations. This article offers you the best options suited for your needs to ensure you have a great time enjoying your prized possession while learning those song tunes that you had always wanted to. It also answers some questions regarding pairing with other devices.