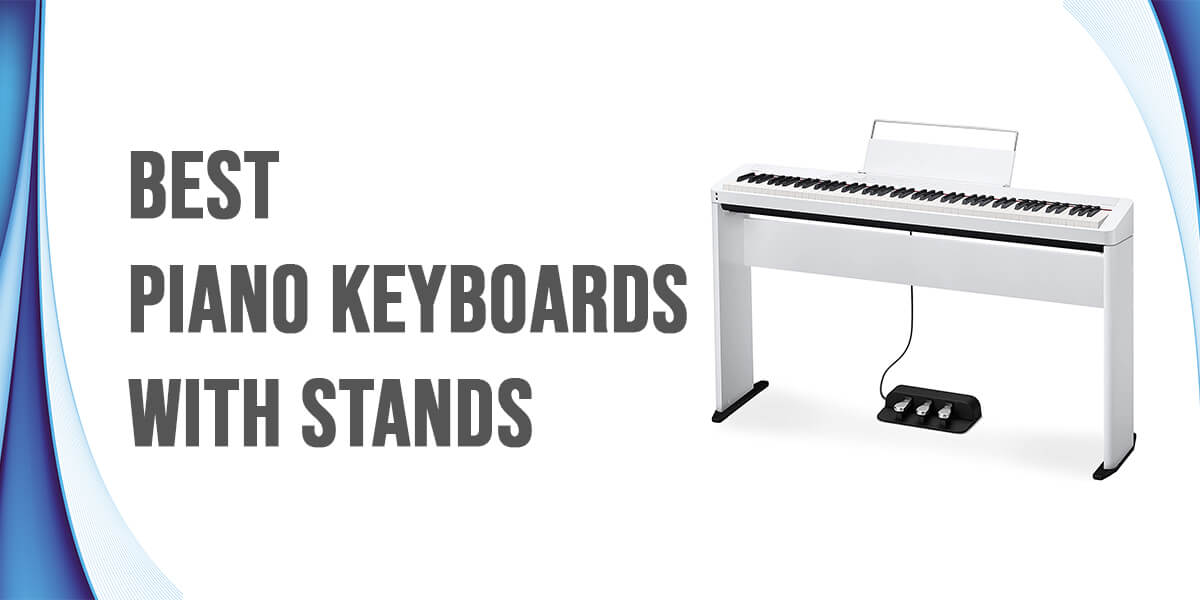 Centre stage spotlights, intriguing stage lights, cymbals, drums, guitars and ready to roll? No, you aren't! Bring any instrument to that musical concert or leave out any but do not ditch a piano keyboard for any reason.
The piano is a whole world of melody, harmony and sensation wrapped up in musical black and white keys. Piano keyboards are exciting to play. Some come with factory packed stands and even stools! The stands are convenient, and you might care to know that you would definitely end up needing one.
Quality factory packed stands? That's the way to go. Having a total package is essential so here is another review for you. Best pianos you would find on today's market with good stands. I bet your pick is in here so let's begin right away.
Table of Contents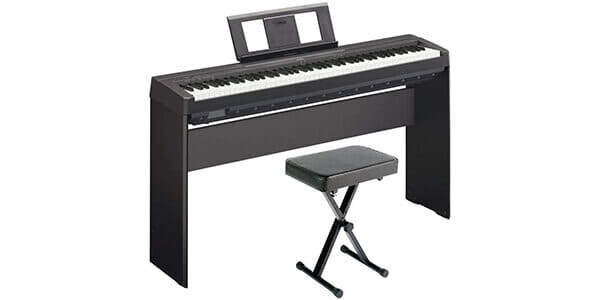 First on the list is the Yamaha P71 deluxe, a full-sized digital piano with 88-weighted keys with graded hammer standard action. For so much power in a minimalistic design to recreate natural and realistic sounds, it definitely deserves to be recommended.
It features a touch-sensitive keyboard, two built-in 12cm speakers and 10 different piano voices heavy on crisp treble and rich bass. It uses a USB to host port connectivity, a sustain jack and a headphone jack.
Talking accessories, your keyboard comes with a matching stand and an adjustable padded x-style bench. You could either play in dual-mode or duo-mode. It's really a total bundle to fully grace your musical sessions.
Pros
Easy connectivity options
Fully weighted Keys
Compact size for easy usage
Though the features might limit a professional pianist, it's ideal for beginners.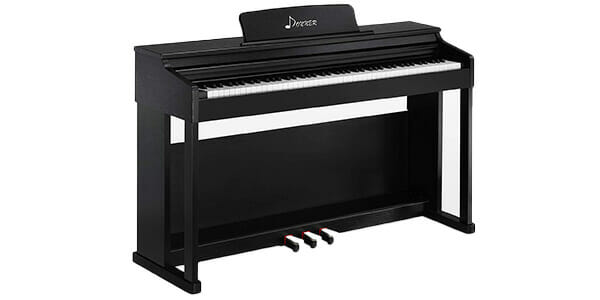 It's a 100 percent pure tone piano. It's a genius. This Donner DDP-100 model uses a 3-pedal function. From the left they are the soft pedal, sostenuto pedal and the sustaining pedal.
This dynamic model has a weight of 45kg and a Medium Density Fiberboard. You are most probably interested in its stand as well. With that, it has been factory designed with wood material and has a sliding lid to make sure your keyboard remains dust-free and damage-free when not in use.
As an 88-key fully weighted piano, it uses AWM sampling and has an excellent-sounding in-built amplifier. You have multiple port connections at your disposal and oh, if you wish you could have some private practice sessions, you have two headphone jacks!
Pros
Sturdy MDF frame and great exterior feel
Easy set-up
Easily accessible controls
Cons
Its weighted keys are not graded
With its stand design, it is home friendly.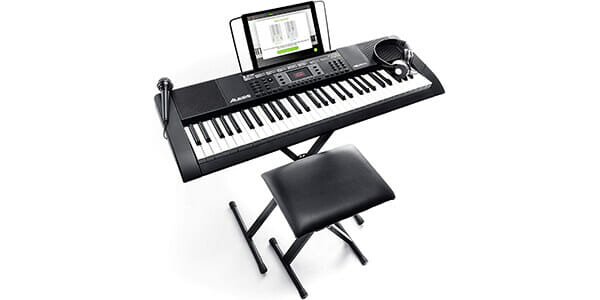 Layer multiple sounds perfectly in dual Mode using the Alesis Melody 61. With 61 piano-style keys and 300 in-built sounds covering a wide range of instruments, it's nothing short of being stylistic.
The harmony 61 MKII has built-in speakers, play along 40 demo songs and 1/8-inch headphone jack mute speakers. In its package you'll be sure to find your stand first of all, along with a bench, power adapter, music rest, microphones and headphones.
But there is something extraordinary and exciting about this keyboard set. It includes Three months of skoove premium and two months of TakeLessons. You'll definitely love this. We all love that little extra something.
Pros
Dual keyboard mode
Record Function
Free premium online lessons
Cons
No USB or digital connectivity
It is a perfect pick for teens with a passion for playing the piano.
Hammer action keys, three foot-operated levers, full dynamic controls and an Apple MFi-certified program for Apple lovers. The list goes on and on.
This model in question features 88-weighted keys, MDI output, a recording feature and a classic wooden body second to none. What actually makes it highly interactive and practice-friendly is the fact that it enables the usage of a free app on IOS and Android devices.
It comes with a top-padded 19.5'' bench and its keys are steered by LED lights. It's one of the top-rated pianos on the market with great reviews. You might want to join in on the fun somewhere along the line.
Pros
Professional stereo sound
Integrated video lessons and games
Cons
Tutorials favor younger age groups
It's a beginner friendly instrument.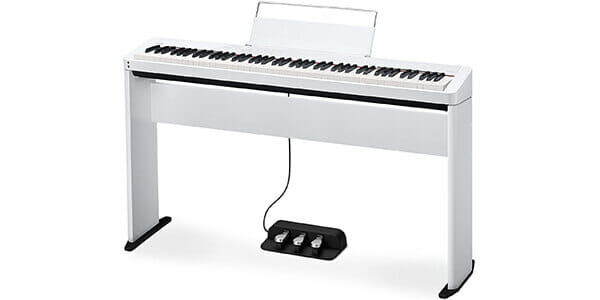 Now let's talk about the crafting of this sleek Casio Privia model! As part of Casio's compact construction technologies, the Privia PX -S1000 is streamlined in nature with full hammer-action.
It includes a music rest, a damper pedal, an AC power adapter as well as integrated digital effects, 18 tones (stereo grand-piano inclusive) and an integrated Bluetooth audio.
By now, you should know that Privia pianos are designed to replicate the sounds of grand pianos. They are exotic, they deliver and they are worth every penny!
Pros
Compact and relatively light in weight
Can run on 6xAA Batteries
Solid and unique design
Cons
No Bluetooth MIDI support
It's a high-grade piano for potential buyers who want to invest good money into a good craft.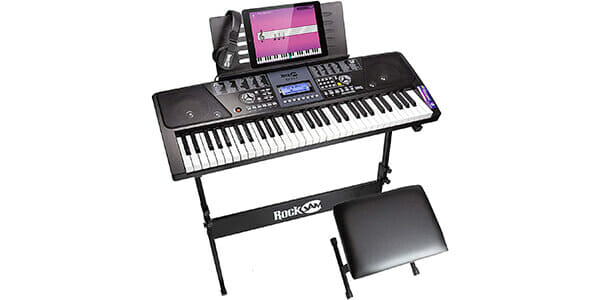 With sixty and one neatly tucked in keys, a whooping in-built sound of 100 and a collection of 40+ songs, the RockJam 61 piano might be just perfect for you.
It features exceptional LED lights and is accompanied by an adjustable Z shaped keyboard stand, a sheet music stand, a padded keyboard bench, keynote stickers, and over ear headphones.
If you're seeking to get a long-lasting and easy-to-navigate keyboard, then you've found the one. This RockJam gives you the best musical experience and truly, it gives you the heavenly gift of utter comfortability.
Pros
High quality Keyboard
Varied library of in-built songs
Affordable
It is a great pick for an on-budget purchase.
Frequently Asked Questions
How much does a keyboard stand cost?
Keyboard stands are quite affordable. You'll get one for as low as $25 dollars and ranging all the way up to about $ 70 dollars. The price range of ones with inferior qualities would be generally cheaper, of course, but you could also get one from a good brand at a decent or budget price.
Are all keyboard stands the same?
Apart from the shared purpose of serving as a seat for your keyboard, all keyboard stands are not the same. You will find differences in dimensions, stability, design and style as well as material quality and durability.
On the market, you'll come across the table-styles, single and double tier X-styles, Y-styles, column styles and Z styles. Some keyboard stands are suitable for both seating and standing positions. There are a whole lot out there. Be sure of what you are looking for before you make a purchase.
How much weight can a keyboard stand hold?
This is largely based on the style of the stand in question and how heavy your keyboard is. Single-braced keyboard stands would be able to handle the weight of smaller and lighter keyboards but for heavy-duty keyboards, we would recommend double-braced keyboard stands.
If your focus is on getting a keyboard stand that would hold some great weight, specifically, get a heavy-duty stand. Their designs are more reliable.
How do you put the keyboard on the stand?
This shouldn't take up all of your time. It's really not much of a hustle. But before anything else, you must be self-guaranteed that you have set-up the stand rightly and ensuring that it is locked using the lock mechanism if need be.
The next thing you do is to lift your keyboard carefully and sit it on the stand and make sure it sits well. The center of your keyboard should be sitting at the center of your stand to ensure stability. If you have any locking straps, use them to have a secured grip. That's a wrap.
How do I stop my keyboard from sliding off the stand?
This has been a problem for many pianists. However, if your stand is inferior and unstable, it might contribute a great deal to this problem. First things first. Get a decent stand. Preferably, use securing stand straps to hold your keyboard firmly onto the stand.
If the problem persists, you could wrap a grippy material around your stand at the ends where it meets your keyboard. You could also try using a high adhesive-backed material that would make a firm grip on your keyboard.
But here is a simple hack you would want to have a look at. Should give you a good idea on making your keyboard stay right where it is supposed to be.
How do I lower my keyboard stand?
Different kinds of keyboard stands would have different kinds of locking and adjustment mechanisms though they all primarily perform the same task. 
Steps to Lower A Keyboard Stand.
1. Locate your safety lock pins or screws beneath your stand.
2. Turn the screws in countermotion till they are just loose enough (Make sure you do not unscrew the knobs completely).
3. Extend the legs further apart to lower your stand. They should be evenly extended to ensure that the stand does not collapse.
4. Re-tighten the knobs properly. 
Its way easier if your stand uses a slide-button adjustment mechanism. Just use the button to lower the height of your keyboard stand. If it clicks in the position you want, that's it! 
Either way, your keyboard stand should come with a manual. This should help you out with the basics.
How can I make my keyboard stand more stable?
Generally, high-grade keyboard stands are more stable and reliable. If you have an unstable keyboard stand, there are three very likely causes of this. It could be a question of inferiority. Again, it could be due to the fact that you did not ensemble it properly or it is carrying a weight above what it is designed and estimated to handle (you would want to confirm this).
To save yourself the trouble, you always have the option of going in for a pricier and studier stand. Otherwise try to replace the shorter non-slip end caps (both upper and lower non-slip caps) with longer and stable ones.
How tall is a keyboard stand?
All keyboard stands do not have the same fully-extended dimensions. A traditional piano stand measures about 28 inches from the floor. Adjustable stands are versatile and have become quite widespread. With one, you could adjust your stand to the height that suits you and your playing position.
Also, check the exact dimensions of any keyboard stand in its item description. This would give you an accurate measurement in terms of height.
How do you use keyboard stand straps? 
Keyboard straps are designed to keep your keyboard in place by holding it unto the stand.
Underneath your keyboard, you will find your screw holes. Now, you'll realize that your keyboard stand strap has a screw inserted in one of its pin holes. If you are wondering why your strap has more than one pin hole, here is the answer. The pin holes allow you to move the screw to a suitable position for adjustment purposes.
All you have to do is screw the stand strap into the holes beneath your keyboard. It's that simple. Watch this if you need a visual representation.
Conclusion
Pianos are like good wrecking balls with excellent, exact and spotless tunes. If you need an A-game concert, you need a good piano with high-grade accessories. If you would love a perfect concerto, get them. And really, get one for your home and thank us later. You are definitely welcome!