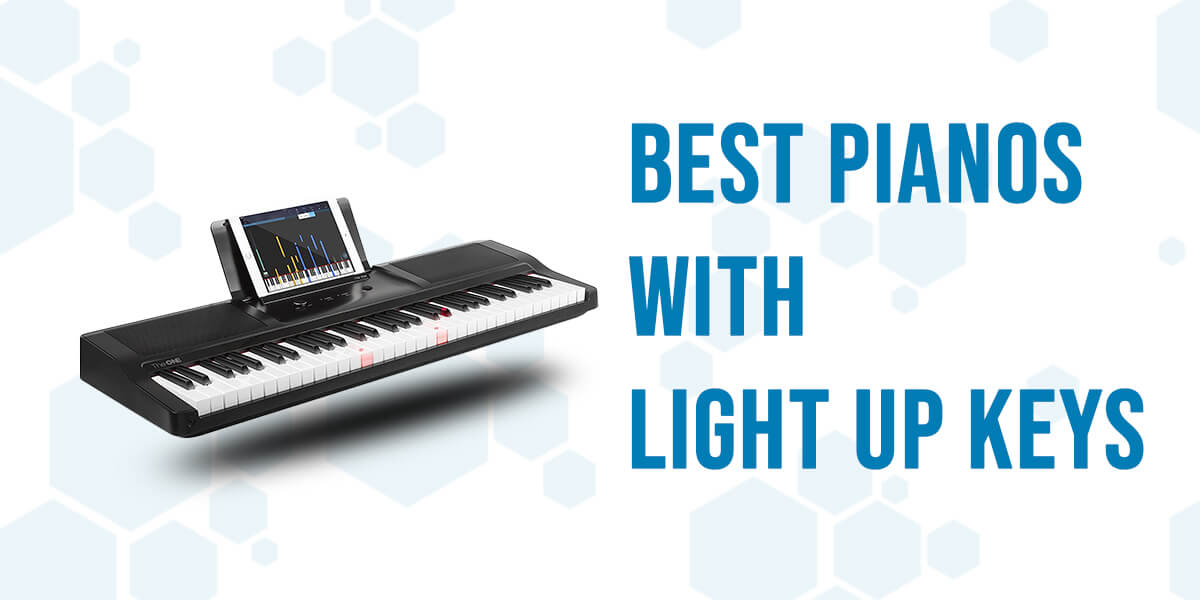 If you're an absolute beginner in learning to play a guitar, all the complex notes and chords can become slightly overwhelming at first. But getting a piano with light up keys can become the easiest way for you to start your piano lessons.
They're super affordable and easy to use which makes them ideal as a first instrument to learn to play piano. These help in learning quicker, or at your own pace and pick the tune faster since they light up the next keys or chords you need to press. You can easily try your hands on them for additional features. Pianos with light up keys offer exceptional sound, smooth action, and even provide recorded songs that come pre-installed which you can choose to learn from.
Check out the best Pianos with light up keys below:
Table of Contents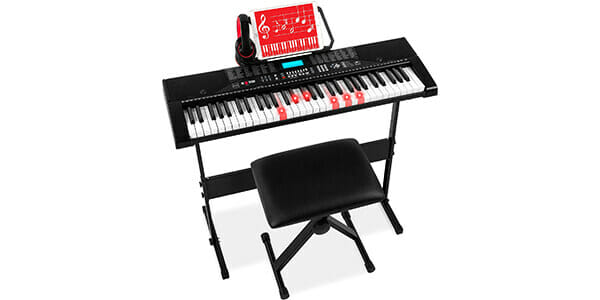 The Best Choice Products Piano Set comes with a standard size keyboard with lighted keys, LCD screen, headphones, stand, bench and built-in speakers. It has 61 complete keys, 255 rhythms, 255 timbres, 32 types of keyboard percussion, 50 demo songs and an initial tempo of 120 BPM. The additional features of three teaching modes: One-key, follow and ensemble modes are perfect for lessons to an aspiring musician. Light-up keys, LCD display, recorder with playback and piano note stickers helps you read music faster and easier. You can also plug in a USB cable and let out your inner musician and play the tones of your favourite songs.
Pros
Built-in speakers 
LCD display 
Lighted keys 
Complete beginner kit 
Padded stool 
Keyboard stand
Cons
Additional songs doesn't light up the keys
It is a standard size portable keyboard that is built with full-sized 61 keys which are lighted and tells you the exact key you need to press.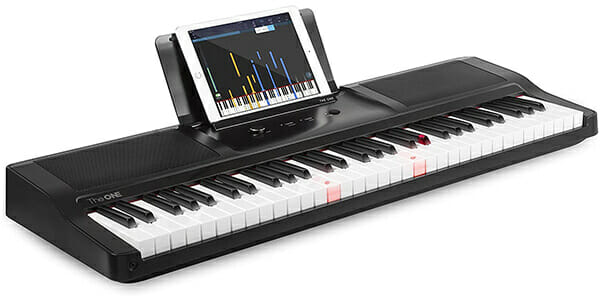 The ONE Music Group TOK1B is a smart piano with LED lighted 61 keys which you can follow and play the piano within minutes. It features powerful built-in speakers and 128-note maximum note polyphony for enhancing your sound and playing experience. It provides an option for MIDI output and recording, you can easily connect it with any external device and play the music of your choice. The educational feature which you get from the free "The ONE" app is absolutely excellent for getting additional music content and unlimited playing possibilities. The keyboard is built with a compact design and only weighs 11lbs so you can easily fit this onto any desk and the built-in headphone socket also allows you to play anywhere without disturbing others.
Pros
61 Lighted keys 
128-note polyphony 
Educational features 
Easy connectivity 
Compact sleek design 
Cables included
It is a compact smart piano which provides some great educational features to make your learning easy and hassle free.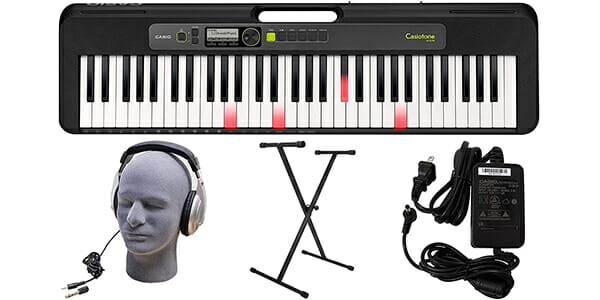 The Casio CAS LK-S250 PPK is constructed with 61 full sensitive touch responsive keys which makes your learning easy. It features 60 built-in songs and a voice-guided step up lesson system which is best to learn and read music. It also lets you explore 400 amazing sound tones and 77 rhythms which enhances your playing experience and the 10 types of reverb can easily add depth to your music. The additional dance music mode easily allows you to create and remix EDM tracks and you can also use the keys to trigger drum loops, effects and transitions. It also comes with a built-in speaker for excellent sound output and headphone jack input for private playing sessions.
Pros
Connectivity to Chordana Play app 
USB, MIDI, AC Adaptor included 
Dance Music Mode 
400 tones 
77 rhythms 
Stand, headphones and power supply
Cons
Initial connectivity and set-up issues
It is a quality built keyboard which comes with a sturdy stand and comfortable headphones for excellent learning and playing experience.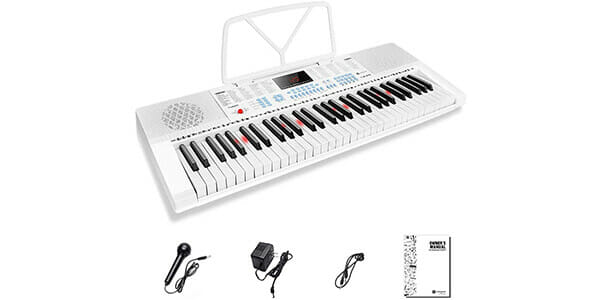 The Vangoa VGK611 is an excellently designed electronic keyboard piano which is built with 61 LED lighted mini keys for easy learning and practicing. It also comes in another variant of full size keys which are suitable for anyone. However, the mini size unweighted keys are best for kids and gives pain-free playing experience. It is equipped with 350 timbres and rhythms, 30 demo songs, microphone, recording and playback, and 8 keyboard percussion for composing new tracks and rehearsing better. You can easily use it either on batteries or simply charging it by the cable provided. It is constructed with fine workmanship and soft-edges design for additional safety.
Pros
61 mini/full lighted keys 
350 timbres and rhythms 
30 demo songs 
8 percussion 
Two power options 
Microphone, power adaptor and audio cable included
This excellently built piano provides clear sound and additional features to make your learning experience easy, fun and smooth.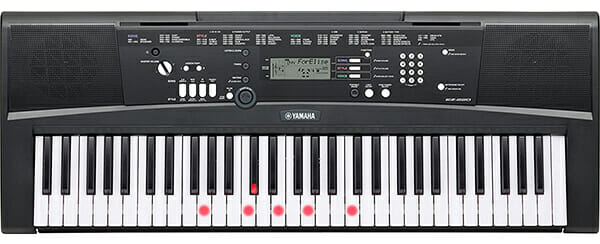 The Yamaha EZ220MM is the best portable keyboard with 61 touch sensitive and lighted keys that enrich your learning and playing experience. It has 392 built-in voices which not only help you learn to play piano, but also incorporate guitars, drums, synthesizers, and much more. The preinstalled 100 styles also let you jam to some of the best songs on the go. It also offers easy USB connectivity to connect the keyboard with an external device easily. Other additional and unique features by Yamaha, such as the compatibility with Page Turner app, NoteStar app, Piano Diary and Visual Performer are definitely a fun way to learn and play the instrument. You can also improve your skills with the Yamaha Education Suite.
Pros
61 touch-responsive organ style keys 
Easy connectivity and compatibility 
Multi-fingering 
100 styles 
392 voices 
LCD display
This keyboard is especially designed to make your learning, playing and rehearsing experience 'EZ' (easy) and fast with numerous features.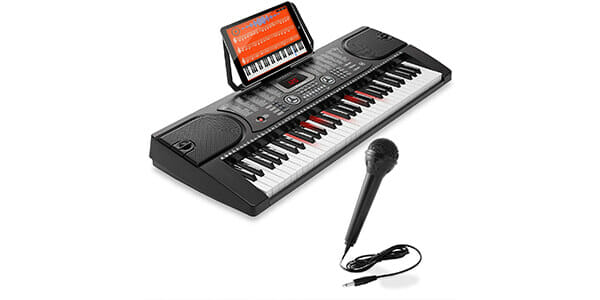 The Hamzer Digital Music Piano is designed with flawless features which enhances your piano playing experience and gives an acoustic piano feel. It is a 61-key electronic keyboard that comes with a built-in speaker for tremendous sound output. Other features including 255 rhythms and timbres, 61 keyboard percussion and 21 demonstration songs makes it more ideal for learning. You can easily master finger control with effects such as vibrato, sustain and ensemble. The master volume control, tempo adjustment, rhythm sync and fill-in makes it easy to use. The included microphone and headphone jack are best for playback and recording your music.
Pros
Authentic sound performance 
Additional effects and features 
Portable and easy to use 
Easy recording and playback 
Affordable
It is a thoughtfully designed piano with various effects and features for enhancing your playing and sound production.
Frequently Asked Questions
Are lighted keyboards good for learning?
Yes, if you're a complete beginner then lighted keyboards can be the best way to start learning. These can help you learn on your own, with the help of a music sheet, since while playing the piano will light up the next correct key you have to press. These lights can easily teach you to look at your fingers and follow suit while actually playing the songs you like. And these keyboards also come with some in-built and already recorded songs which you can choose from and learn to play. 
Is it OK to learn piano on a keyboard?
Yes, it's absolutely ok to start learning piano on a keyboard. The key layout of a keyboard is very similar to that of a piano. And the songs that you learn on a keyboard can be directly transferred on a piano with minimal adjustments, like the difference in width of keys or amount of pressure applied while playing. However, you need to keep in mind some key features while getting a keyboard to learn piano. First, the keys should be either weighted or at least semi-weighted which can give you some feel of an acoustic piano and real playing experience. Second, get a keyboard that's somewhat larger and at least has 61 keys or best 88 keys like a piano. 
What's the best piano keyboard for a beginner?
Some of the best piano keyboards for complete beginners include:
1. Yamaha PSR-E263 
2. Yamaha Piaggero NP-32 
3. Korg B2N 
4. Yamaha PSS-F30 
5. Yamaha Piaggero NP-12 
6. Casio Casiotone CT-S300 Portable Digital Piano
7. Roland GO:Keys GO-61k 
8. Alesis Harmony 61 MKII 
9. Casio WK-6600 
Do digital pianos feel like real pianos?
For most of the parts, yes. Some digital pianos do sound and feel like a real piano. However, this highly depends on the quality and specifications of the digital piano. If you're looking for the ones which sound and feel similar to an acoustic piano then you should go for a weighted or semi-weighted digital piano. These have an in-built hammer action technique, which means that these have extra weight on keys distributed across the keyboard. And when these keys are pressed, it leads to the hammer striking these strings which create vibrations and the sound that we hear. Digital pianos with weighted keys made with hammer action mechanism are the best ones which give a feel of a real acoustic piano. 
Should I buy a keyboard or piano?
This depends on your needs and style of playing that you want to incorporate. If you're planning to learn to play piano for a longer time, then you should definitely invest in a piano. Since keyboards mostly are smaller in size and incorporate unweighted keys, these might only be ideal for initial learning and not for the long run. While on the other hand, getting a digital piano might be your best bet. These have 88 full size weighted keys which come with a hammer action mechanism which gives the feel of an acoustic piano. 
Conclusion
There are a lot of Pianos with light up keys available in the market, but we've listed the top-rated products for you. These keyboards come with standard 61 full size and touch sensitive keys which lights up the next chord that you're supposed to press. They provide an easy, fun and smooth way to learn and practice piano playing at your own pace. 
The compact size and considerable design is best for kids as well as adults. The additional incorporated features of in-built songs and voices are the best guide to start your playing journey. Additionally, these provide excellent sound within an affordable price range.