Many car stereos have built-in amps which are necessary to power speakers and deliver an audible output. They help in boosting the signal and ensuring accurate sound reproduction.
Usually car stereos also have options to connect an external amplifier. If you don't want the hassle of connecting an external amp, stereos with built-in amps should be your choice.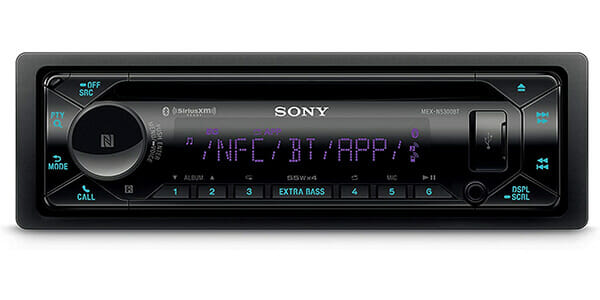 The Sony MEX – N3500BT Car Stereo Receiver is a very versatile and functional stereo receiver. It has an old school look but is equipped with modern features. This stereo has an LED colour panel which is customizable. It has a very simple layout with easily accessible controls. You can fine tune the sound according to your preferences with the help of equalization settings and low pass and high pass filtering options.
It has a wireless dual Bluetooth feature which can be very useful if you want to carry out multiple tasks at once. The installation process is very easy and the instructions are clear and concise. You don't need an external amplifier as the integrated amplifier does its job well by delivering powerful and good quality sound.
Pros
Customizable display
Dual Bluetooth
Easy setup
Good sound output
Affordable
Cons
Radio reception could be better
This car stereo will exceed all your expectations when it comes to sound quality and output.
The Sony DSX- GS80 Digital media Receiver is another amazing stereo receiver by Sony. It has a very straightforward installation process and has loads of features. There are a variety of illumination presets you can choose from. It comes with dual Bluetooth ports, a microphone and an inbuilt XM tuner for SiriusXM. You can use smartphone integrated voice control with this stereo.
The built – in 4 class amp works better than most inbuilt amplifiers. If you want to connect another external amp for added power, there are 5 RCA preamp outputs. You can stream Spotify from your Iphone/Ipod. The Bluetooth pairing takes place very easily without lagging. You can control equalization and subwoofer controls through the Sony Music Centre app.
Pros
Good amplifier output
Easy setup
Many adjustable settings
Built – in XM tuner
Many modern features
Cons
Controls can be confusing
This is a very powerful head unit with crystal clear sound and decent bass levels.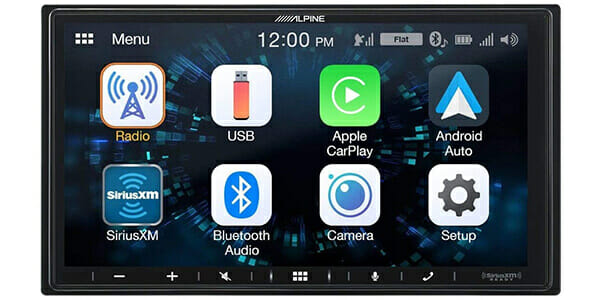 The Alpine iLX – W650 7'' Mech – Less Receiver is a stereo receiver which comes with a 7'' touch screen. The touch screen is very responsive, easy to control and has a user friendly interface. You can adjust the brightness according to your preference. The shallowness of the stereo makes it very easy to install. It is compatible with Android and Apple CarPlay along with SiriusXM. You can also give voice commands using the Google assistant.
It has a built – in 4 channel amplifier along with preamp outputs for external amplifier connections. The stereo has many advanced audio features which have custom presets. You also get equalizer and crossover controls. The stereo has other controls like wireless Bluetooth, navigation and hands free calling.
Pros
Responsive touch screen
Easy installation
Bright display
Advanced audio features
This car stereo is very user friendly and has seamless pairing capabilities.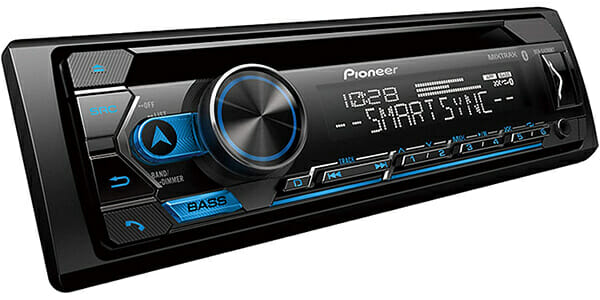 The Pioneer DEH – S4200BT Stereo Receiver is an affordable and well built stereo receiver which is compatible with almost every car. It has several illumination options and the graphics are adjustable. It comes with a pair of free Alphasonic earbuds. The faceplate is removable for separate storage. It has a 3.5 mm aux input along with two USB ports.
This stereo has great HD radio reception. There is a very cool feature called MIXTRAX where you can mix your own music and play it on the stereo. It has good sound quality and power output with independent subwoofer volume and crossover controls. You also get bass boost, loudness and graphic equalizer options.
Pros
Affordable
Free ear buds
Easy setup
Cool audio features
Easy Bluetooth pairing
This stereo has many useful and adjustable features for its price.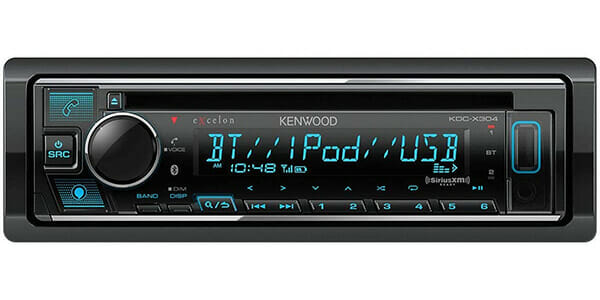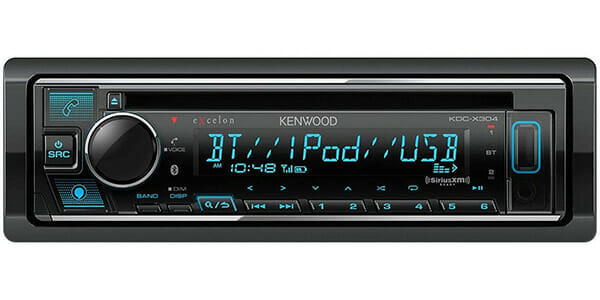 The Kenwood KDC × 304 Excelon Stereo Receiver is a very budget friendly car stereo which fits any standard single DIN opening. Setup is very easy with little to no tweaks required. The display menu is very easy to navigate and the layout is nice and simple. It has 5 RCA preamp outputs which can be very useful if you want a more powerful sound output.
This stereo is capable of integrating with steering wheel controls with the help of a separate integration module. This stereo is compatible with SiriusXM, Alexa, Pandora and Spotify. It has many fine tuning options for sound and you get treble, bass and mid controls.
Pros
Affordable
Fine tuning options
Easy to navigate
Easy setup
Compatible with many apps
Cons
Sound can distort in some settings
You will not expect to get so many features with this budget friendly car stereo.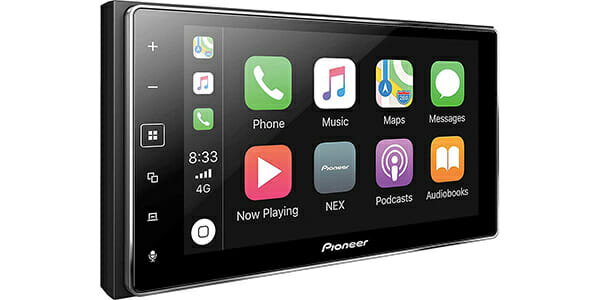 The Pioneer MVH1400NEX 6.2 Inches Car Stereo is a good quality double DIN car stereo receiver. It has a 6.2 inch touch screen which has a clear and vibrant colour display. The stereo has a good build with a modern and sleek design. It has a user friendly interface and multiple inputs and outputs for external connections.
It has multiple language options. This stereo is easy to set up and comes with a wired harness. It is compatible with Pandora, Spotify and has the Apple CarPlay feature which is very useful. The Mistral feature can be useful for mixing and playing your own music. It has good sound adjustment settings and the navigation feature is easy to use.
Pros
Good display
Apple CarPlay feature
Easy setup
Easy to navigate
Good sound quality
Cons
Expensive
Bluetooth tends to disconnect
It is a very modern car stereo with many modern capabilities.
Frequently Asked Questions
Conclusion
There are many car stereos with built – in amps in the market which offer many features and compatibility with all the popular apps. Considering affordability, compatibility and the essential features in mind we have compiled a list of the 6 best car stereos with built – in amps.