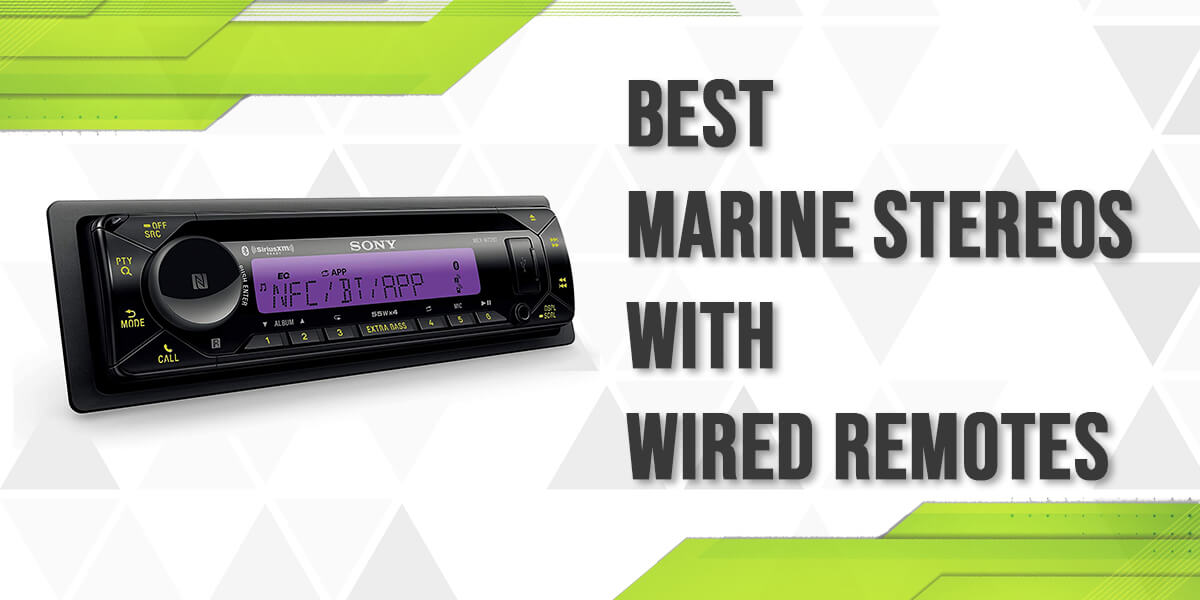 Marine stereos are made to withstand marine environments. They are usually constructed from non-corrosive materials and are designed to endure rough conditions. They can also come with a protective covering for added safety.
Wired remotes help in navigating through the controls easily. There is also less interference and traffic in a wired system. Given below are the best marine stereos with wired remotes.
Table of Contents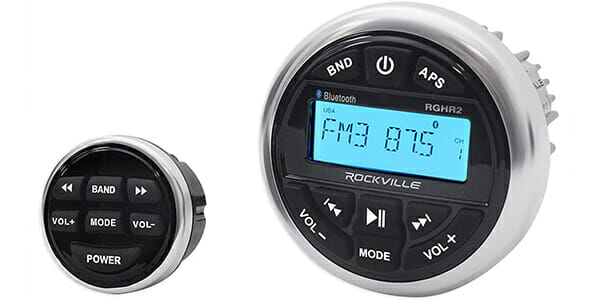 The Rockwille RGHR2 Marine Gauge Hole Receiver is a lightweight and well built receiver which fits any standard gauge hole. It has waterproof certification which ensures that it has been tested in a marine environment. It has a straightforward installation process. It has a bright and clear LED display with easily accessible buttons. It has a built – in amplifier with a good sound output along with two RCA preamp outputs.
It has inbuilt Bluetooth and is compatible with all Bluetooth enabled devices. It comes with a wired remote and a long wire which is sufficient enough for long distances. The stereo has adjustable EQ and bass settings. The radio reception is good and you get USB and AUX inputs in the stereo. It also comes with mounting brackets and other accessories for installation.
Pros
Affordable
Easy controls
Easy setup
Good sound output
Good radio reception
Cons
This receiver needs a large hole for installation
This stereo meets all the requirements for a well built marine stereo receiver.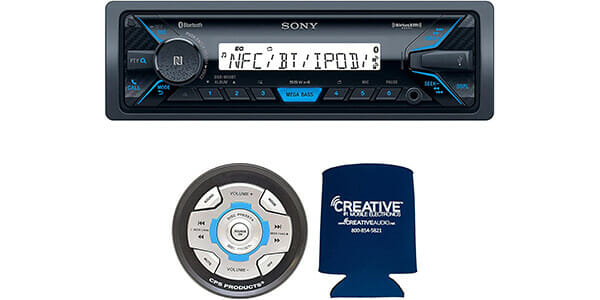 The Sony DSX – M55BT Marine Media Receiver is a well designed marine stereo system. It has a simple and legible display with a good user friendly interface. It has a simple setup procedure and is very easy to operate. It is waterproof and is specially designed for a boat stereo system. You can also charge your devices with the USB port.
You don't need any big or expensive subs or amps with this receiver because it has a pretty great sound output. You can connect up to 2 devices using the wireless Bluetooth feature for multiple tasks at once. It comes with AM/FM radio and an external microphone for hands free calling. You also get many adjustable settings for the audio.
Pros
Many features
User friendly
Simple layout
Well built
Waterproof
It is a well built and well constructed stereo with multiple functions.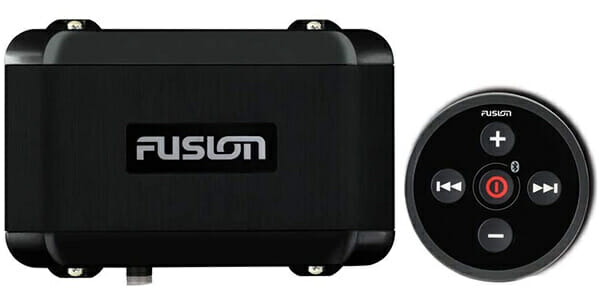 The Fusion MS – BB100 Marine Black Box Entertainment System is a compact entertainment box which does not take up a lot of space. You can easily set it up in your boat's stereo space without any hassle. This unit comes with a wired remote which makes it easy to access and control the stereo. The remote has an LED display and is also protected by a cover.
One of the best features of this stereo is its multi – zone technology which allows you to hear from 2 different zones at the same time using the common network. This can be useful when multiple people are present in different places. The Bluetooth pairing takes place seamlessly. It is compatible with all Bluetooth enabled devices including Apple and Android.
Pros
Multi – zone technology
3 year warranty
Protective cover
User friendly
Good sound output
This marine stereo has protective features and meets all your entertainment needs.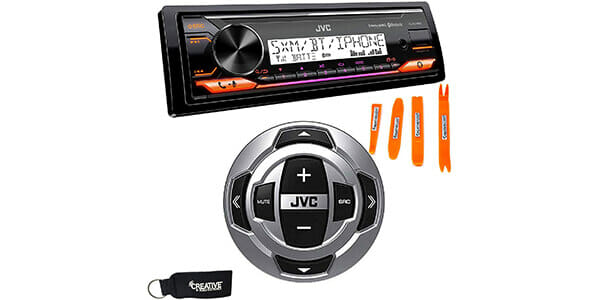 The JVC KD – X37MBS Marine Digital Receiver is a budget friendly marine stereo with many features and functions. It has an old school look with a clear and bright LED display. You can choose from various illumination options. It is compatible with Pandora, Alexa, Spotify and SiriusXM. It also comes with an external wired microphone for calling purposes.
This stereo supports many music formats like MP3, WMA, WAV and AAC. You can play music files through the USB port which can also be used for charging purposes. You get various enhancement options for volume, bass and equalization settings along with high pass and low pass filtering options. The stereo along with the wired remote is waterproof certified.
Pros
Affordable
Many features
Adjustable sound options
Waterproof
Compatible with many apps
Cons
Bluetooth tends to disconnect
This is a multi function and feature rich stereo at an affordable price.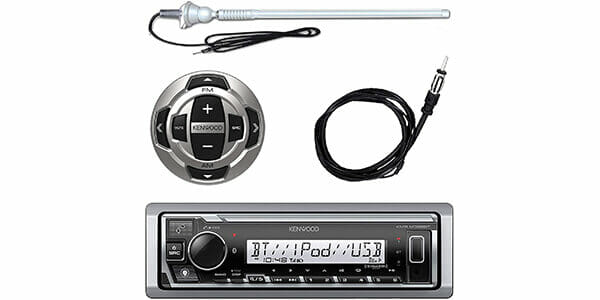 The Kenwood Marine Boat Yacht Stereo Receiver Player Bundle is a single DIN stereo receiver with a very easy setup procedure. It has multiple colour customization options for the display. It has a conformal coating which prevents moisture damage and damage from harsh temperatures. It also comes with FM/AM radio antenna designed to withstand rough conditions.
You get a wired and weatherproof remote for easy navigation. This stereo is compatible with all the popular apps like Spotify, Pandora, Alexa and SiriusXM. If you want a more powerful sound output, you can connect external amplifiers with the help of 5 RCA preamp outputs.
Pros
Affordable
Many display options
Good compatibility
Well built
Comes with AM/FM antenna
This combo player bundle has everything you need for a good entertaining experience.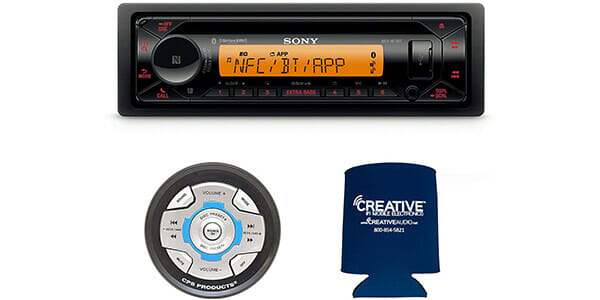 The Sony MEX – M72BT Marine CD Receiver is another good marine stereo receiver by Sony. You get different illumination options for your display and it is easy to read. It has a non corrosive and UV resistant coating to prevent damage due to rough weather conditions. It fits any standard single DIN slot. It has a built – in 4 channel amplifier along with RCA preamp outputs for external connections.
You can use smartphone integrated voice control with this receiver. There are many sound enhancement features along with bass and treble controls. You can make individual frequency adjustments along with custom EQ presets. The Bluetooth reception is really great. Overall this is a well built unit and has a pretty good sound output. It also comes with a wired remote which is very convenient.
Pros
Good sound output
Good Bluetooth reception
Many sound settings
Protective coating
Cons
Menu selections can be confusing
It is a well performing marine stereo unit with an incredible sound output.
Frequently Asked Questions
What is the difference between a marine radio and a car radio?
Marine radios tend to have a protective coating to prevent corrosion and UV damage. They tend to have a conformal coating which prevents damage due to extra moisture. They can also have other features like splash proof buttons, protective face panel and other extra sealing. Car stereos usually do not comes with these protective measures.
Does a boat need a marine stereo?
You should get a marine stereo for your boat if the following conditions apply,
1. If your boat is constantly splashed by water or is wet all the time, you should get a marine stereo with a proper water resistant coating.
2. If you are boating in harsh and unpleasant temperatures, it is always recommended to get a marine stereo which has a UV protection feature. Normal stereos tend to corrode easily under these conditions.
You can also use normal stereos in your boat if they are not exposed to harsh conditions.
Who makes the best marine stereos?
Given below are some of the best marine stereos,
1. Pyle Marine Bluetooth Stereo Radio – This stereo is designed to function in high humidity environments. They come with many features and are compatible with popular apps.
2. Boss Audio Systems MR632UAB Marine Receiver – This stereo is constructed from water resistant materials and has corrosion resistance and UV protection.
3. Kenwood KMR – D378BT Marine Boat Stereo – This stereo is very functional and easy to use
4. JVC KD – X37MBS Marine Digital Receiver – This receiver has a waterproof design and has good sound output.
Can you put a car stereo in a boat?
You can definitely install a car stereo in a boat. But standard car stereos do not come with the extra coatings or protective features needed to survive in a very humid or wet environment. This can cause them to corrode and get damaged faster. To protect your car stereo, you can use a waterproof cover or splash guards.
How do you install marine speakers?
Here are some important factors to consider while installing marine speakers,
1. Make sure you install your speakers on flat surfaces.
2. They should be installed in a place where they are least likely to get damaged or wet.
3. You must install the speakers facing opposite to each other with the longest possible distance between them.
4. Use speaker wires which have good resistance to sunlight and water and make sure they are made of materials that don't corrode easily.
Conclusion
While choosing marine stereos, it is important to make sure they are specially designed to withstand marine environments. We have compiled a list of the best marine stereos with wired remotes.