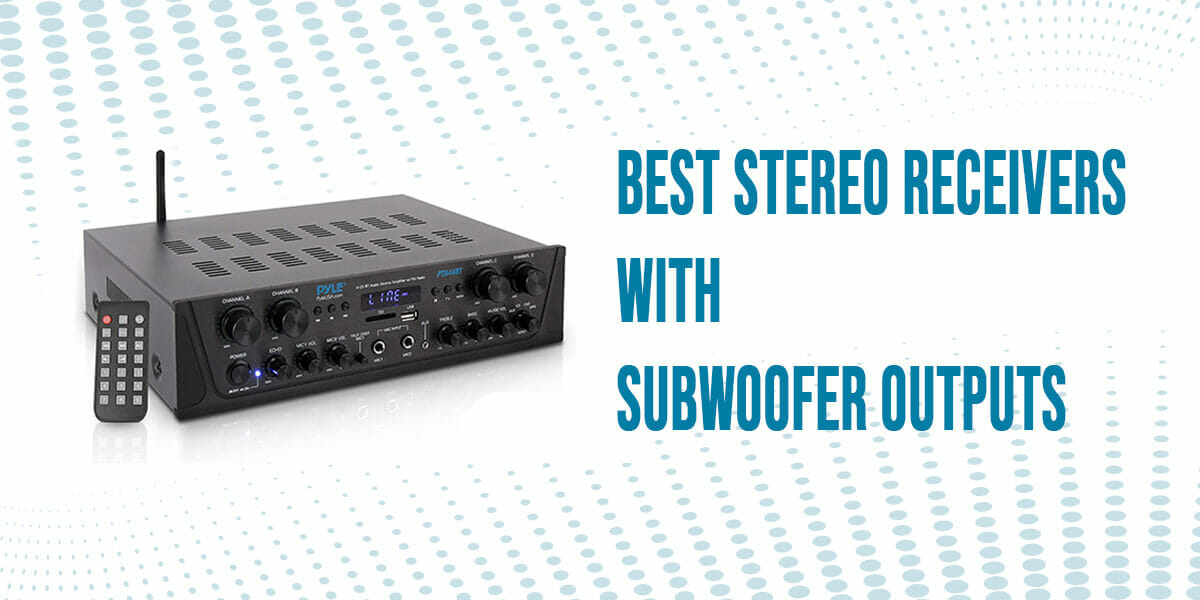 Technically, not every stereo receiver in the market has a subwoofer output. Subwoofer outputs are generally used to connect to subwoofers for punchier and deeper bass levels.
There are many stereo receivers which offer speaker level outputs or high level outputs as alternatives for subwoofer outputs. But there are also receivers with dedicated subwoofer outputs. Given below are the best stereo receivers with subwoofer outputs.
Table of Contents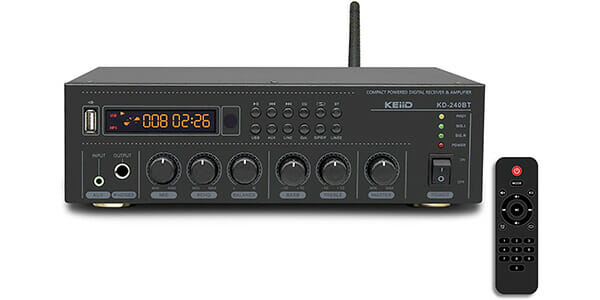 The KEiiD Bluetooth Stereo Digital Amplifier Receiver is a very budget friendly and functional stereo receiver which also functions as a good amplifier. It has a very neat and organized layout with user friendly knobs and buttons. It has a compact size and can easily fit on your TV stand or in any small space.
This receiver has a clear and loud sound output with no distortion and reproduces the music with great fidelity. You get a variety of adjustment options for your sound including equalization settings and bass controls. It has a dedicated 3.5 mm subwoofer output for a subwoofer connection.
Pros
Neat layout
User friendly buttons
Clear sound output
Affordable
Many adjustment options
This stereo receiver has an amazing and broad range of connections which everyone should take advantage of.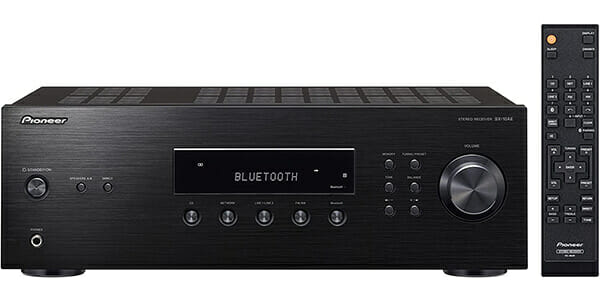 The Pioneer SX – 10AE Home Audio Stereo Receiver is a solid stereo receiver which is very easy to operate. It has a sleek and modern design with a good quality configuration. It has a very easy setup procedure and does not have any complicated features which are hard to understand. It comes with a fully functional remote which allows you to navigate through the controls and makes adjustments easily.
You can hook up external CD players and even turntables to play your old vinyl records. You can mix two independent systems together with this receiver. It has a subwoofer pre out and other outputs for speakers. The loud is sufficiently loud enough for medium sized rooms.
Pros
Affordable
Simple to use
Modern look
Easy setup
Good sound output
Cons
Not many inputs and outputs
If you are looking for a simple receiver which is easy to operate, this is the one for you.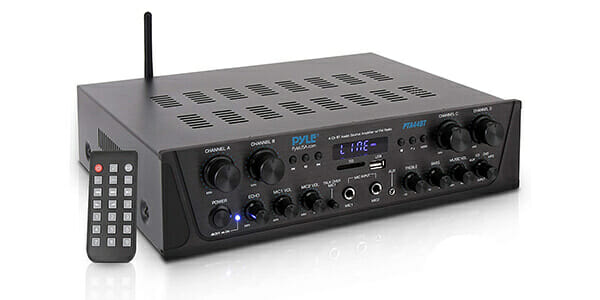 The Pyle 4 Channel Stereo Audio Home Theater Receiver is an affordable amplifier and receiver combo. It has a 4 channel amplifier system which produces a very good sound output. It has multiple inputs and you can hook up a DVD player or a turntable to this receiver. You have connection options for 4 speakers along with a subwoofer output. 
This stereo receiver has advanced sound settings including knobs for EQ adjustments and 4 zone volume controls. All the buttons and knobs are user friendly which help the user to understand the functions easily. The Bluetooth range is pretty great and it also connects easily.
Pros
Affordable
Neat layout
User friendly
Many adjustment options
1 year warranty
This is a very good budget friendly option to upgrade your sound system.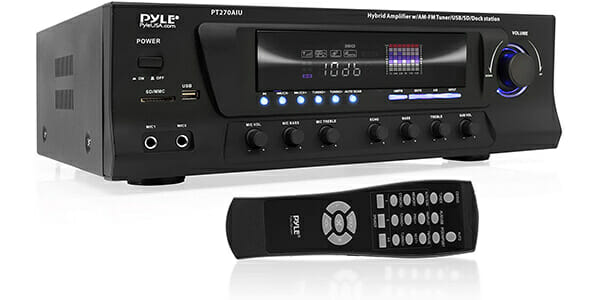 The Pyle Digital Stereo Receiver System is a good stereo receiver for a mini home theatre or a home stereo system. It has a digital fluorescent display which displays the different modes and settings. It has a built – in preamp and comes with USB and SD card slots to play your MP3 music files. You can also play your MP3 music files through your Ipod.
The sound has many customization options like echo effect, bass and treble adjustments along with other enhancement options. The overheat protection feature is a good bonus. Overall it is a functional stereo receiver which serves its purpose very well.
Pros
Adjustment options
Overheat protection
Decent sound output
Affordable
This stereo receiver has a good range of sound adjustability.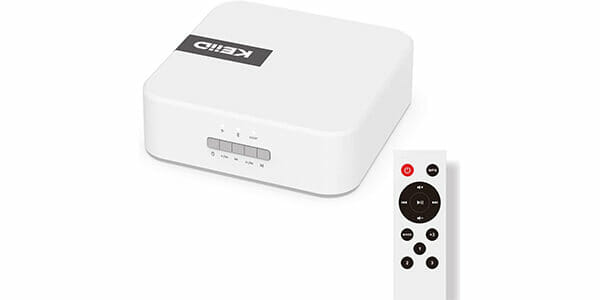 The KEiiD Stereo Receiver is a well crafted mini receiver with very straightforward functions. It has a sleek and compact design and is perfect for people who don't want something big or bulky which takes up a lot of space. It has a good combination of essential features and a good selection of inputs. It can handle multiple devices and can be played in multiple rooms at once.
It includes accessories like banana clips and RCA cables. All the controls can be managed using the Muze app which handles input switching, volume controls and other controls. It powers bookshelf speakers very well and has a 3.5 mm subwoofer output. The sound is surprisingly powerful and clear with no distortion.
Pros
Affordable
Compact size
Clean design
Powerful sound
Multi – zone control
This mini powerhouse can give your system the power it needs.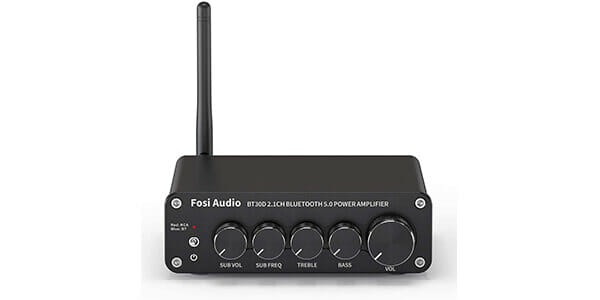 The Fosi Audio BT30D Bluetooth 5.0 Stereo Audio Receiver is a very functional and well built stereo receiver plus amplifier. This is very capable of improving your overall audio system whether it is in your home or workplace. It has a good range of features and is very easy to set up. It is compatible with all Bluetooth enabled devices and the Bluetooth has a sufficiently good range along with seamless connectivity. 
You get to adjust many subwoofer parameters like frequency, bass, treble and volume with the help of user friendly knobs. You have options for connecting both powered and passive subwoofers. This receiver does not get overheated when it is put under heavy load. You don't need to be an audiophile to operate this receiver.
Pros
Compact design
User friendly
Easy subwoofer output
Easy setup
Good Bluetooth range
Cons
Slight background noise at high volumes
This receiver is a good inexpensive substitute for high end stereo receivers.
Frequently Asked Questions
How do I connect my subwoofer to my stereo receiver ?
There are stereo receivers with and without subwoofer outputs. For receivers with subwoofer outputs follow the steps given below,
1. Check for the subwoofer  output on your receiver. It can usually be labelled as Sub-Pre-Out, Sub-Out or just subwoofer.
2. Connect the cable from the subwoofer output on the receiver to the Line in input  jack on the subwoofer.
3. Now we need to power the subwoofer by connecting the subwoofer cable to a power outlet on the wall.
For receivers without subwoofer outputs follow the steps given below,
1. Locate the speaker outputs on your receiver. These will work as well.
2. Connect the cables from the left and right audio inputs on the subwoofer to the corresponding speaker outputs on the receiver.
3. Connect the subwoofer to a power outlet.
Can you connect a powered subwoofer to a speaker line output?
Yes, you can connect your subwoofer to a receiver if it has speaker line inputs or RCA input jacks. If your subwoofer has speaker line inputs, you can connect it to the speaker outputs on your receiver while other speakers are connected at the same time. If your subwoofer has RCA input jacks, you can make use of a line level concert or to connect it to your receiver
Can I connect a subwoofer to line out? 
Yes, you can connect a subwoofer to the line out output on your receiver or amplifier. The line out jack generally allows headphones, external speakers and other devices to be connected to the receiver. Subwoofers like other speakers have all the crossovers and level controls. So you can use the line output generally used to connect other speakers for subwoofers too. 
Can I connect a passive subwoofer to a receiver? 
Yes, passive subwoofers can be connected to a receiver. This is achieved with the help of a low pass crossover connected between them. You have to use 1 or 2 crossovers depending on the type of voice coil your subwoofer uses – dual voice coil or single voice coil. However this setup is only possible when other speakers are not connected to the receiver. 
What volume should a subwoofer be set at? 
You can follow the steps given below to get an idea, 
1. Start out by playing a reference song or any other song you know well. 
2. Your subwoofer will most probably come with a manual or guide. Find out your main speaker's low frequency cut off and set your subwoofer point 10 Hz higher. 
3. Play the track again. Adjust the volume of the subwoofer until it reaches a level you are comfortable with. 
Why do subwoofers have two inputs? 
Usually 2 inputs are provided to adjust or increase subwoofer sensitivity. Normal subwoofers only use a single mono LFE signal from its processor. Processors with very low outputs use Y splitters. Using dual inputs with the same mono signal doubles the sensitivity. They also tend to create a significantly more refined audio experience for low frequency tones. 
Can you run a subwoofer without an amp? 
It is possible to use subwoofers without any amp but you will not be able to bring out it's full potential. It will not produce the deep bass levels in the desired ranges. Amplifiers help in boosting the signal which allows for a more powerful sound output. However there are many ways you can install a subwoofer without an amp. 
Conclusion
Stereo receivers with dedicated subwoofer outputs make it easy to connect subwoofers to the receiver without any extra steps. We have made a list of the best stereo receivers with subwoofer outputs.