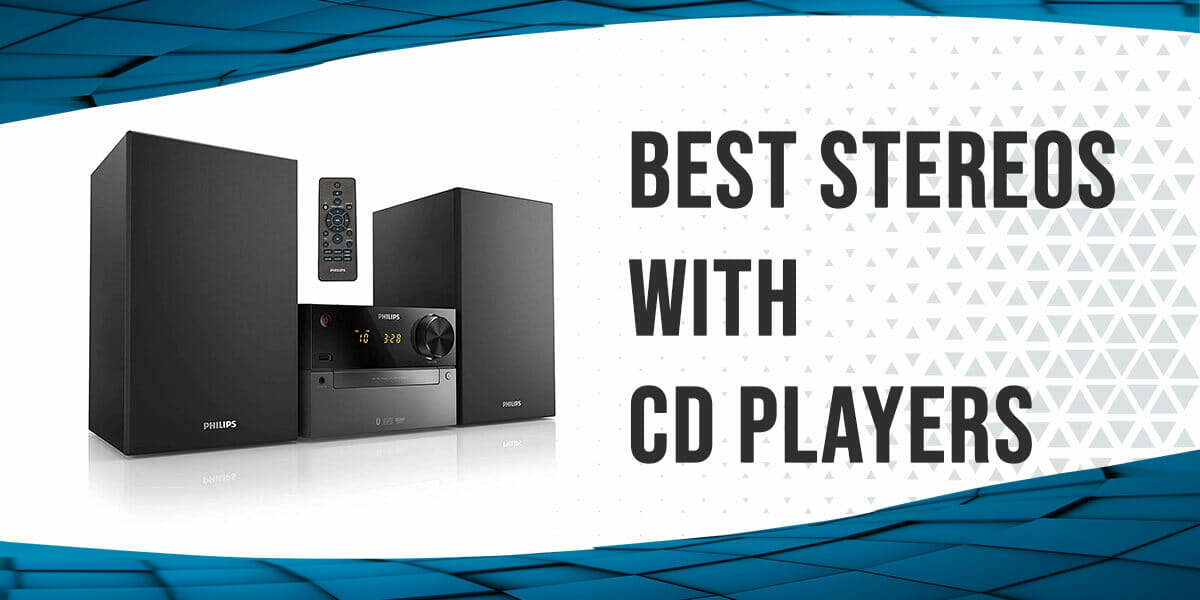 If you're a Music lover, you'd understand that sometimes listening to music on your smartphone gets boring. If you truly want to enjoy the old school warm sounding feel and experience, then getting the best Stereos with CD Players should top your buying list. These provide you that antique vintage ambience so that you can enjoy your favourite music on CDs.
You can also easily use them for your home theatre as well, and rejuvenate the ambience of HD audio. The sound quality, performance and design of all these are up to the mark and you'd definitely enjoy listening to your favourite music on these. And if you're someone who still prefers and finds delight in listening to archaic CDs and cassettes that're no longer transformed into MP3s or digital songs, then the added feature of CD players is a definite perk. Besides you can mix-match your own musical recordings and create unique tunes and listen to them through this feature.
Check out the best Stereos with CD Players below:
Table of Contents

The GPX HC221B is a 2 channel stereo sound home music system with detachable speakers to customize your listening experience. It is especially built to play music in all formats, ranging from CDs, MP3s, iPod and your favourite AM/FM radio station. The high sound quality with dynamic bass boost system is extremely effective to enhance your music sessions. It features in-built 3.5mm audio video input which lets you connect external devices easily. The included remote control gives you full advantage to operate the system from a distance and adjust volume or change music effortlessly.
Pros
Dynamic Bass Boost System 
Top-load CD Player 
Remote Control 
Built-in Antennas and Alarm sound 
Compact design
Cons
Remote batteries not included
It is a high quality sounding CD and radio music player which is easy to operate and assemble and requires little space to fit in.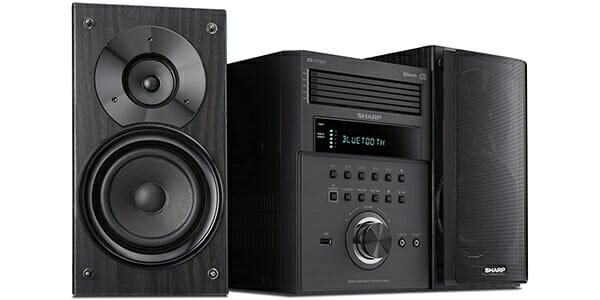 The Sharp XL-BH250 is a micro shelf speaker system which is built with 5 discs or CD changer for various playing options. It is compatible with CD-R, CD-RW, WMA and MP3 formats. The Bluetooth connectivity makes it highly portable and easy to connect with any android or Apple device within seconds. Additional remote control and easy to access controls on the front body makes it more convenient and operational. Its digital AM/FM tuner comes with 40 presets which lets you stream your favourite channels. The USB and line-in audio input and headphone output is featured for additional connectivity and personal listening experience.
Pros
Bluetooth Streaming 
Audio line-in and USB 
Digital FM/AM 
5 CD/Discs hold-up ability 
Remote control
Cons
Radom repeat Disc function might not work properly
It is a floor standing speaker with amazing sound quality and several features for music streaming and entertainment.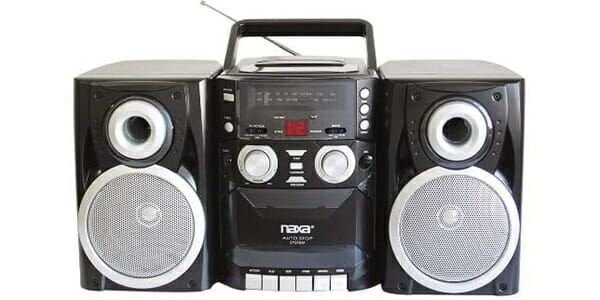 The NAXA Electronics NPB-426 is another portable stereo speaker with in-built AM/FM radio and CD/cassette player and recorder. It has an LCD display which is easy-to-access and comes with an auto-stop cassette mechanism. The speakers are designed with a detachable feature and bass boost system with 110/220V dual voltage operation for power backup and enhanced sound with more clarity. You can easily operate the stereo with two power options either through DC battery or AC power. The sleek and retro design built with various inputs and outputs gives an aesthetic look with better connectivity.
Pros
2 way Power 
LCD Display 
Stereo Radio Cassette Player/Recorder 
Twin Detachable Speakers 
Bass Boost System
Cons
No Bluetooth Connectivity
It is a high-quality stereo with built-in radio and top loading CD player which lets you enjoy your favourite music anywhere.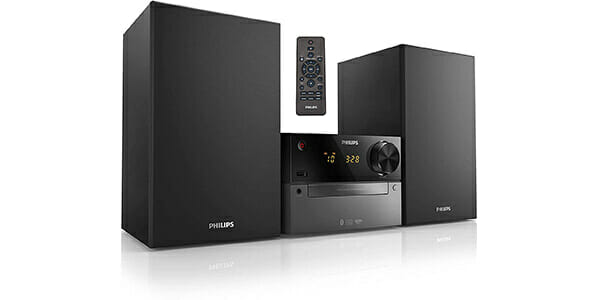 The Philips Bluetooth Stereo System is an elegant and sleek design stereo which enhances and complements any room décor. The built-in dual amplifier enhances the sound quality and provides a deep powerful bass without much distortion. The active crossover design and twin speakers ensures more controlled and precise frequency response for excellent listening experience. And the MAX sound boost technology delivers an instant bass boost with maximum volume performance. You can easily stream music through Bluetooth connectivity which is highly convenient.
Pros
Remote Control 
Enhanced Powerful Sound Performance 
15W RMS Output 
Wireless streaming 
Pre-set FM Radio  
Dual amplifier and MAX sound boost
Cons
Initial Operational Issues
It is a micro shelf stereo system which has numerous additional features to enhance the sound quality which lets you enjoy and connect to your favourite music efficiently.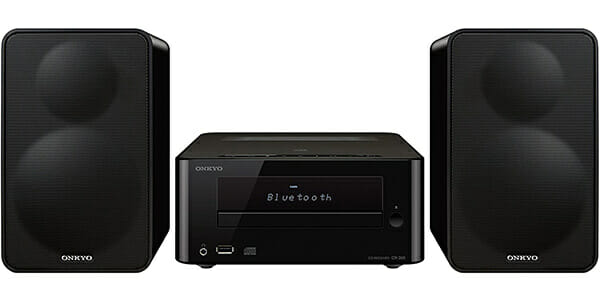 The Onkyo CS-265 is a 120 volts Hi-fi mini home audio stereo system which is super powerful within a small body. It is constructed with 2 mode Super Bass function, full digital audio processing and efficient digital amplifier for clearer and balanced stereo sound. The 3 playback modes for CD, Normal, random and repeat are highly useful for versatile listening experience. It is also highly convenient, portable and compact and can be placed in any room. The easier connectivity options ranging from Bluetooth connectivity, audio playing CD, CD-R, CD-RW and MPs streaming gives a vibrant playing feel. And the 30-station preset FM/AM audio tuner is also battery free memory backed-up so you don't have to reprogram again.
Pros
3 playback CD modes 
Bluetooth connectivity 
Compact sleek design 
Balanced stereo sound
Super Bass and digital amplifier
Cons
Little distortion on USB/Bluetooth
It is a compact designed stereo system with super bass function and efficient digital amplifier for more clear enhanced sound performance.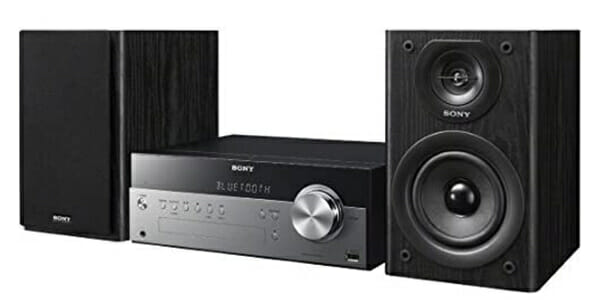 The Sony All-in-one Bookshelf Stereo is a multi-functional Hi-fi system which includes every possible connectivity and streaming options. This comes with Remote control and batteries, AM/FM antennas, Speaker cable, Speaker pads, Auxiliary cable, a cleaning cloth and operational instructions. It delivers a highly powerful and dynamic sound with selectable bass boost and adjustable treble. The compact contemporary design can easily fit into any space and complement any décor. You can easily stream music with easy-to-access controls and Bluetooth streaming that it offers. Additionally, it is compatible with CD/CD-R/CD-RW discs and MP3/WMA/AAC audio files as well.
Pros
Compatibility
Compact contemporary sleek design 
Bluetooth streaming
Bass boost 
Includes all necessary accessories
It is a beautifully designed compact Hi-fi stereo system which provides several streaming options and enhanced sound quality.
Frequently Asked Questions
Are CD players outdated?
Over a decade ago, CD players used to be an essential component in most car stereo systems just like cassettes. But as the technology is progressing, CD players have started to become outdated. With these new innovations smartphones have been introduced which can hold up to thousands of songs which can be played on the go. Now CDs have lost their usage and audio cassettes and 8-tracks have all become obsolete. But irrespectively, there's still updates that CDs have not become obsolete and they will be in trend and playable in the future. And there are still individuals who enjoy the feel and audio experience of CD players. 
Are old CD players better?
This highly depends on which CD players you're comparing. For many individuals some of the old CD players would sound much better than the new advanced versions. Some would find old CD players to not hold up the bar which can't compete with current generations CD players or DACs. However, most old CD players don't have the latest technology and don't work with high resolution files, only have one filter and are primarily primitive brick wall types. But if you do find one old CD player that matches your taste then it's definitely worth the try. 
Should I buy a CD or vinyl?
This narrows down to personal preference and the style of listening experience for your favourite songs. If you prefer the warm analog sound with little crackling and other imperfections, then you should go for vinyl. But CDs might be the better sounding physical audio device when compared to vinyl. Irrespectively, some individuals prefer the visceral experience of actually dropping the needle on a spinning record which gives a more antique and vintage sounding feel. However, CDs do sound better, pure, clean and bright with no distortion and most albums sound incredibly good with original sounds on CDs. It also depends on what production quality and rendering techniques had been implemented, how the songs had been recorded, what mixing console and tape machine had been used to put any recorded songs on CDs or Vinyl. Once all these technicalities are considered, it's hard to say which one is better, CDs or Vinyl, because the bottom line is what kind of music and mix sound is captured on it. 
What is the best radio CD player to buy?
Some of the best Radio CD Players available to buy now includes: 
1. Supersonic SC253FM Personal Mp3/CD Player with FM Radio 
2. Docooler Wall Mounted CD Player Bluetooth Speakers 
3. Naxa NPC330 Slim Personal Mp3/CD Player with FM Radio 
4. Toshiba TY-CRU20 CD Player/Radio 
5. Toshiba TY-CRU12 Portable CD/USB/AM/FM Radio 
6. Sony Portable Bluetooth Digital Tuner Am/FM CD Player 
7. JENSEN CD-490 Portable Stereo CD Player With AM/FM Radio 
8. Bose Wave SoundTouch Music System IV Tabletop Radio CD Player 
9. MAGNAVOX MD6972 Portable Radio CD Player 
10. SINGING WOOD Radio with CD Player 
11. LONPOO Stereo CD Radio Player 
12. Roberts CD9959 Radio CD Player 
What is the best small stereo system?
Some of the best small Stereo System include: 
1. Sharp XL-BH250 
2. Edifier USA e25 HD Luna Eclipse 
3. Bose Wave SoundTouch Music System IV 
4. Denon D-M41 HiFi System 
5. Yamaha MCR-B020BL Micro Component System 
6. Bose SoundLink Revolve+ 
7. Bose Home Speaker 500 
8. Sonos Play 5 
9. Klipsch The One II 
10. Edifier R1700BT Bluetooth Bookshelf Speakers 
Conclusion
There are a lot of Stereos with CD Players available in the market, but we've listed the top rated products for you. These are built with superior quality controlled and balanced stereo sound which provide you the best performance. They look aesthetically pleasing and don't compromise on the sound quality. 
You can easily connect these with additional devices like PCs, Smartphones, TV, and home theatre with the help of AUX and USB inputs. The most excellent feature is the in-built CD player which helps you enjoy the archaic essence of your favourite old-school songs.