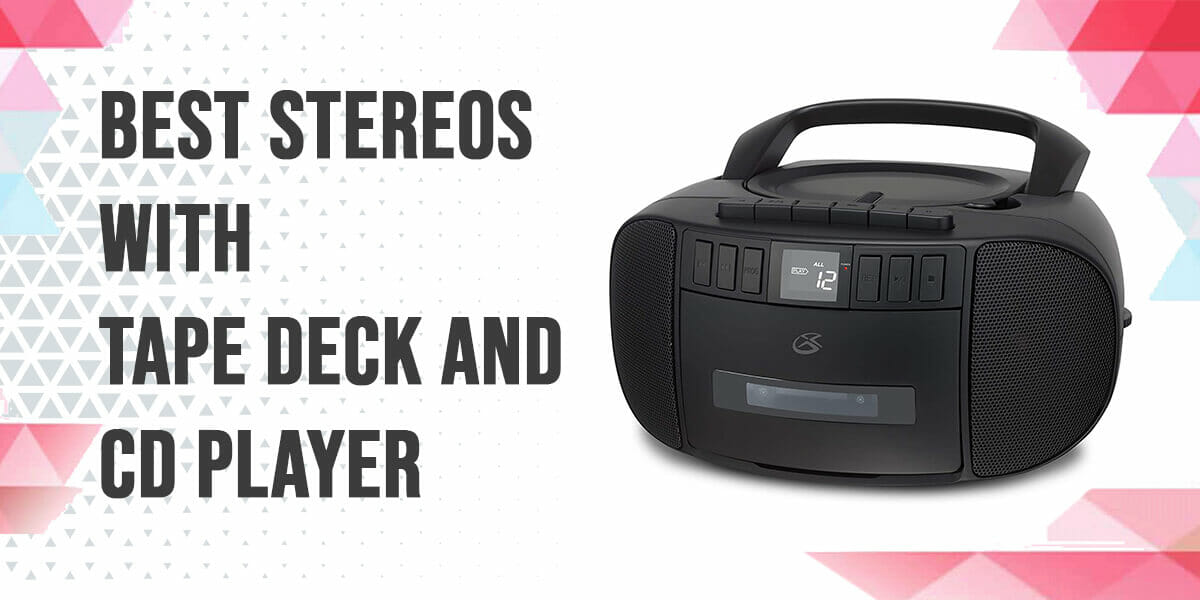 There are many versatile stereo systems which have both CD players and tape decks in one unit. These systems are great for people who have big CD and tape collections.
These stereos must reproduce sound with good fidelity in order to do justice to CD's and tapes. Given below are the 6 best stereos with tape decks and CD players.
Table of Contents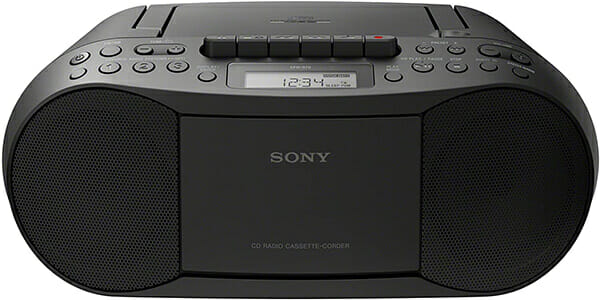 The Sony Stereo CD/Cassette Boombox Home Audio Radio is a sturdy stereo boombox which has a simple and sleek design. It is super lightweight and you can easily carry it from place to place with no difficulties. It is very easy to operate because of its simple and functional button layout. The boombox has an inbuilt CD player and cassette deck. This is perfect for people who want to play their old CD's and cassettes.
The cassette deck reproduces the tapes with great fidelity. You can also convert your cassette tapes to digital music files. The inbuilt antenna has great FM reception and easily picks up your favourite radio stations. You can change the radio frequency manually using the buttons.
Pros
Affordable
Easy controls
Portable
Good FM reception
Lightweight
Cons
Sound is not very loud
Not suitable for big rooms
This stereo system excels in simplicity and functionality.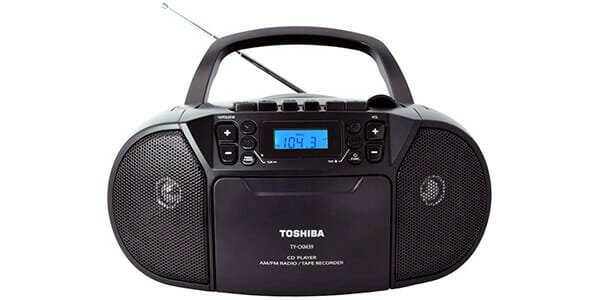 The Toshiba TY – CKM39 Portable MP3 CD Boombox Stereo is a very budget friendly and functional stereo. It is available in 4 colours – black, blue, green and red. It has an old school look and resembles a 90's style boombox. All the controls are functional and labelled properly. It comes with very straightforward instructions which are available in 3 languages.
You can easily program many different radio stations. You get 'Random' and 'Repeat' modes which allows you to shuffle the tracks or repeat the same track over and over again. You can listen to music through your headphones using the 3.5 mm audio jack. You can also connect to other digital music players using the aux input. This stereo comes with a small remote which is very useful.
Pros
Affordable
Portable
Good radio reception
Comes with a remote
Functional
Cons
Small buttons
Bass could be better
This is one of the most affordable stereo boomboxes available in the market.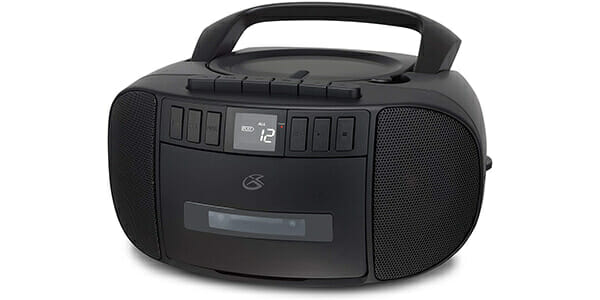 The GPX BCA209B Portable AM/FM Boombox With CD And Cassette Player combines modern and classical features in one. You can choose between 4 different colours. It has a very minimalistic design with a matte black finish. The LCD display is clear and legible. It is a versatile stereo boombox with a CD player, cassette deck and radio.
You can use your headphones or earphones with this stereo. It has a compact size which enables it to be easily transported. All the buttons and functions are simple and easy to understand. You get a rotatory FM tuning dial with a frequency indicator. The speakers do a good job at delivering an audible sound output.
Pros
Affordable
Good FM reception
Easy functions
Lightweight and sturdy
Portable
Cons
Button labels are hard to read
Not many inputs
You don't need to be tech savvy to operate this stereo boombox.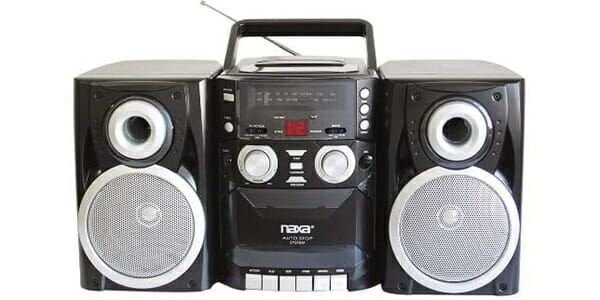 The NAXA Electronics NPB – 426 Portable CD Player With Cassette Deck is a midsize stereo system which is fairly easy to operate. It comes with detachable speakers which you can place in any convenient position. It has the look and style of old stereo systems which might appeal to some people. The speakers are fairly decent and have a clean and clear sound output.
You get a dedicated aux input which you can use to connect MP3 players, phones or headphones. This stereo unit has a built-in microphone which allows you to record cassettes. You also get a bass enhancement option for more pronounced bass levels. The CD player works well and has a replay feature. It doesn't have any complicated features and the setup procedure is pretty straightforward.
Pros
Affordable
Bass boost option
Good FM reception
Simple features
Does not take up too much room
This is the perfect mini entertainment system for your home or workplace.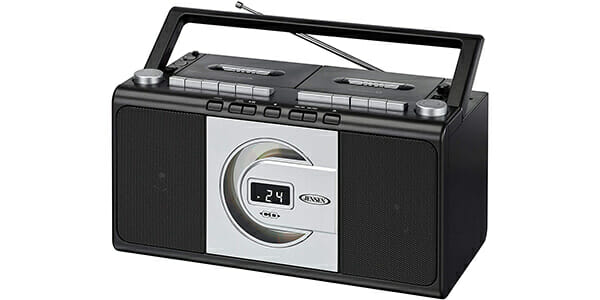 The Jensen MCR – 1000SB Modern retro Music System has a very vintage and old fashioned design. It has a very sturdy and solid build with a good carry handle. It has a vertical CD player and dual cassette decks which are perfect for your CD and cassette collections.
You get many connection options for your external devices like headphones, digital MP3 players and even an external microphone jack. The CD player has multiple play options which are very useful. The FM reception is great and you can get all your local channels. The sound quality is great for the price.
Pros
Portable
Dual cassette decks
Many connection options
Solid and sturdy
This is a well built stereo boombox with a sufficiently loud and clear sound output.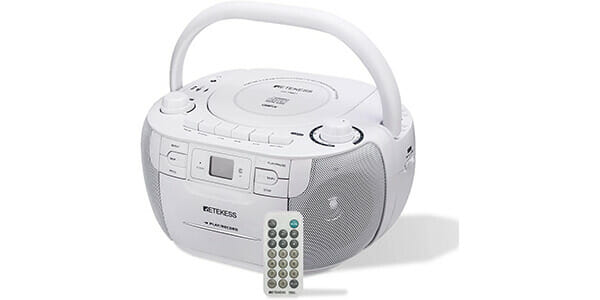 The Retekess TR621 CD Cassette Player is a good all rounder stereo boombox which serves its main purpose very well. It has a simple design with a very convenient carry handle. All the controls work perfectly and are easily accessible. You can listen to your MP3 music files with the help of the USB port.
You can record CD's, radio and voice to cassette tapes. You get a very handy and functional remote with this stereo. It has number keys which you can use to type in and play your desired track number. The inbuilt speakers have a crisp and clear sound output.
Pros
Affordable
Easy controls
Functional
Portable
Good connection options
This is a simple and functional stereo boombox which delivers great sound.
Frequently Asked Questions
Can you still buy tape decks?
Yes, there are still many tape decks available in the market. People still love the vintage and old school sound of cassette tapes. There are many brands and types of cassette decks including portable and stationary. Many stereo systems and boomboxes offer inbuilt cassette tape decks. You can play your cassette tapes in these systems also.
Are cassettes mono or stereo?
Majority of the cassette tapes are stereo. However you can have both mono and stereo recordings. Some stereo cassette versions tend to have mono versions also. Some countries like England have mono titles issued on their cassettes. You can play cassettes in mono players which uses the old 3.5 mm mono jack.
What is the best cassette deck ever made?
Nakamichi makes the best cassette decks in the market. 'Dragon' is a very famous tape deck manufactured by Nakamichi. Tandberg also has an amazing tape deck called the 'Dragon Slayer'. Given below are some other good cassette tape decks,
1. Phyle Cassette Deck
2. Marantz Dual Cassette Deck
3. ION Tape 2 PC USB Cassette Deck
4. Pioneer CT-S740S
Do they still make Walkman cassette decks?
No, they don't make Walkman cassette decks anymore. Walkman cassette players stopped production in 2010. Walkman is a brand of portable media players which belong to Sony. The first portable music player manufactured by Sony was a Walkman. However Sony did release a new retro Walkman on its 40'th anniversary.
What replaced the Walkman?
MP3 players replaced the Walkman music players. The Walkman will not be popular in today's modernized world. It is bulky and requires constant replacement of batteries. There are very few controls and practically no storage space. As a result they started becoming less popular and paved the way for other modern players.
How do I convert cassette tapes to CD's?
There are two ways you can convert cassette tapes to CD's,
1. You can buy a tape convertor. Crosby has many devices designed for this. They digitalize and convert cassettes.
2. Take audio out from the cassette player and connect it to the line out of your computer. You can use the audio program Audacity to record what is coming out of the cassette player. You can then edit the audio and burn it to a disc.
How do you digitalize cassette tapes?
There are two ways you can do this,
1. You can convert cassette tapes to digital music files. Simply plug a tape convertor into your computer and the accompanying software will do the job.
2. You can connect your cassette player to the line out of your computer or your computer's sound card. Then record the audio is WAV or MP3 format.
Conclusion
You don't need to buy a separate tape deck and CD player if you can easily get them both in a single unit. We have made a list of the best stereos with a tape deck and CD player to make your search easier.