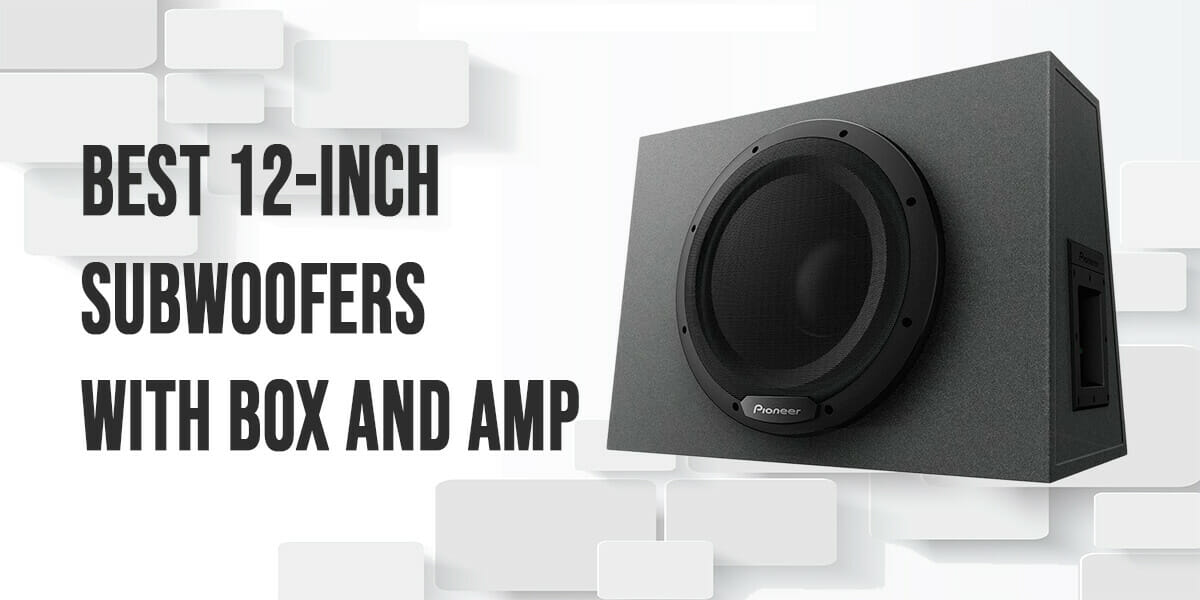 There comes a time when we are bored of our pre-installed car audio systems. Well, enter subwoofers and amps.
There's not a quicker way to make your drives more enjoyable than installing subs in your car and there are several ways to do it.
Subwoofers are designed for delivering that perfect audio and bass performance in compact, closed spaces like that of vehicles. However, there are things you may want to consider before you go on and buy one for your car, such as the peak power, driver size, cabinet and finish, etc.
Don't worry though. We've listed six best options below with box and amp to make your shopping easier.
Table of Contents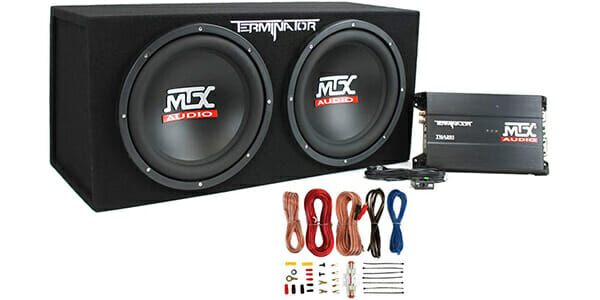 First in our list is this subwoofer package with a complete amplifier kit and a mono amplifier. With 2 subwoofers coming with an enclosure and 1500W mono amp, this one is sure to impress the bass enthusiasts with its thumping deep bass and amazing sound quality. The maximum power that can be handled would be 1500W and 563/1125 RMS. You have virtually everything you need to install a great car audio system yourself right at your fingertips.
Pros
Power protection LEDs
Low levels inputs/outputs
Variable low cross Passover
Comes with complete amp wiring kit, ring terminal, ground cables, etc.
Cons
Average wiring kit
No speaker grills/bars included
If you're not in favor of spending a lot of money on subwoofers, this system is the ultimate boon for you. You get decent sound quality and the bass never lets down.
With a maximum power handling of 300W and 150W RMS, this 4-ohm subwoofer sounds amazing after being installed in your car. The complete kit comes with a 1100W mono amp including a remote bass control, MDF construction enclosure box with QPower for a custom port design, and a 4 gauge wiring kit. The bass is remote controlled to literally turn your vehicle into a sound machine.
Pros
Sound quality is just great considering the size
Extra convenient installation with the wiring kit
Sturdy construction
Great value for money
Cons
Doesn't come with screws for the subwoofers
Rockford is a popular name in the subwoofer community for the quality sound and bass it offers in the affordable mid-range section. Convenient, inexpensive and great-sounding, this product had to make an appearance in our list.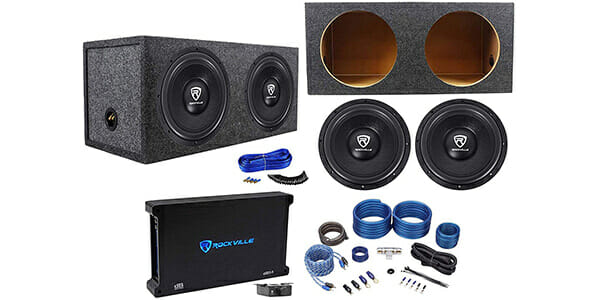 These Rockville subwoofers come with a car sub enclosure box and a Class D 2-ohm mono amplifier along with copper wiring installation kit. The peak power handling is 4000W and 1000W RMS which is CEA rated. The thick foam surrounding the non-pressed cones ensure good sound quality with little distortion. The chrome-plated terminals are designed to connect with any gauge wire with a heat-dissipation enabled design.
Pros
Red stitching cone for a longer life
Black-sanded finish cast aluminum basket
Suited for handling higher temperatures
Equalizer, phase, mute and dashwood controls for convenience
Cons
The box might not hold up sometimes
These subwoofers are designed to compete with some of the best rated subwoofers such as the Rockford. You get distortion free playback at multiple levels with good sound quality and multiple features.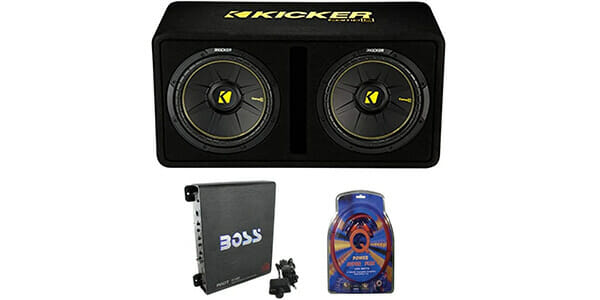 These loaded 2-ohm subwoofers boast a maximum power handling of 1200W and 600W RMS. The 1100W mono car amplifier comes with a remote bass control for powerful sound performance. There is custom port design in the box enclosure which has MDF construction for extended durability. The complete package also has a 4 gauge wiring kit to make the installation process hassle free.
Pros
Distortion free loud sound with the amp
Installs in minutes
Powerful bass
Value for money
Cons
Amp could sound weak if not wired with the bass knob, not otherwise
If some deep bass performance is what you're looking for the Kicker 44DCWC122 is the one for you. The sound is quite clear and overwhelming.
This 12-inch single subwoofer with a max power handling of 1300W and 350W RMS comes with a powerful Class D built-in amplifier to get rid of any addition mono car audio amplifier, which is great. The bass boost remote knob is included and the cellulose fiber cone with a sound frequency response of 20-125dB and sensitivity 114dB ensures crisp clear sound even in closed spaces like that of vehicles. The sub looks amazing with a carpet matt finish.
Pros
Good sound quality optimized for closed space playback
LPF, Phase, variable boost adjustable controls
Input gain control using knob
Innovative scratch-resistant design
Cons
Doesn't come with wiring kit for installation
In the price section this Pioneer is being offered, the performance is truly unbeatable. The bass gives other subs a run for their money and there are multiple user-friendly control options. A decent sub.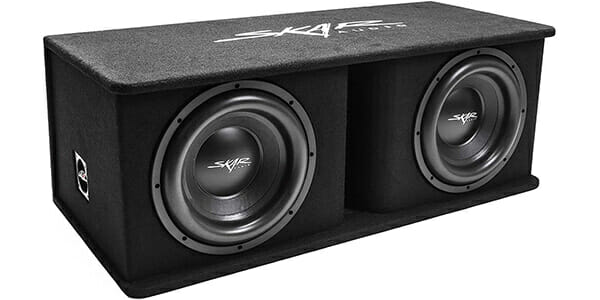 This loaded SDR series has a peak power of 2400W and 1200W RMS. The subwoofers come enclosed in a vented box featuring split chamber designing and kerf middle port for maximum bass output along with a Class D 1200W mono block amplifier to mount the sound. The sound quality is reliable and clear with good performance on low end frequencies owing to the high flux ferrite motor for a low spectrum sound. The 4 gauge OFC amp wiring kit is easy to install for anyone.
Pros
Thick black carpet and MDF construction
Installs in minutes
Flex and distortion elimination
Impressive eye-catching design
Cons
The price could've been less in its section
Your ears might hurt listening to these subs. They are powerful and distortion free, the sound quality compares to reliable brands. The design is quite impressive with yellow branding. We couldn't find any significant drawback on this one.
Frequently Asked Questions
Is it OK to put AMP on sub box?
It is generally not recommended because all the shaking and vibrations could cause the dislocation of the inner components of the amp. It's better to find a different spot somewhere around the back seats to mount the amp.
What is the best amp for 2 12 subs?
The RIOT 1100 Watts, Mosfet is generally considered one of the best amps from 2 12-inch subs. Designed to specifically feed your subs, it's equipped with bass boost control and is easy to install. Moreover, it's from the BOSS team which makes some of the best-selling audio products.
How big of a box do I need for a 12 sub?
For a 12-inch sub box you need the dimensions 23.62" x 13.78" x 16.86". These are the ideal measurements. You will also have to keep in mind that there is sufficient room along the clearances of the sub.
How many amps does a subwoofer use?
If we use ohm's law and take 120V as the standard electricity board rated single phase voltage for domestic switchboards, the amp rating of a typical 1000W power subwoofer would be 11 Amps RMS or peak 15 Amps.
What hits harder 2ohm or 4ohm?
Low resistance subwoofers produce louder sounds than high resistance subwoofers. So, 2-ohm subwoofers are louder than 4-ohm subwoofers. However, the 2-ohm subwoofer most likely will have poorer sound quality owing to the power consumption.
Does a bigger box make subs louder?
A bigger enclosure box will make a sub sound higher than the tuning frequency but the other notes will not be much louder. Also, enclosing a sub in a larger box puts pressure on it that might exceed its mechanical capability and therefore, there can be damage. It's not recommended.
Conclusion
It is important that you select a subwoofer and amp package that suits your taste of sound and bass. Electronics such as subs have a tendency to go faulty, always look for warranty. Pay attention to the physical size of the subs and the quality of the amp wiring, they're crucial in extracting the best performance. Make sure you're investing the right amount of money as per your needs.