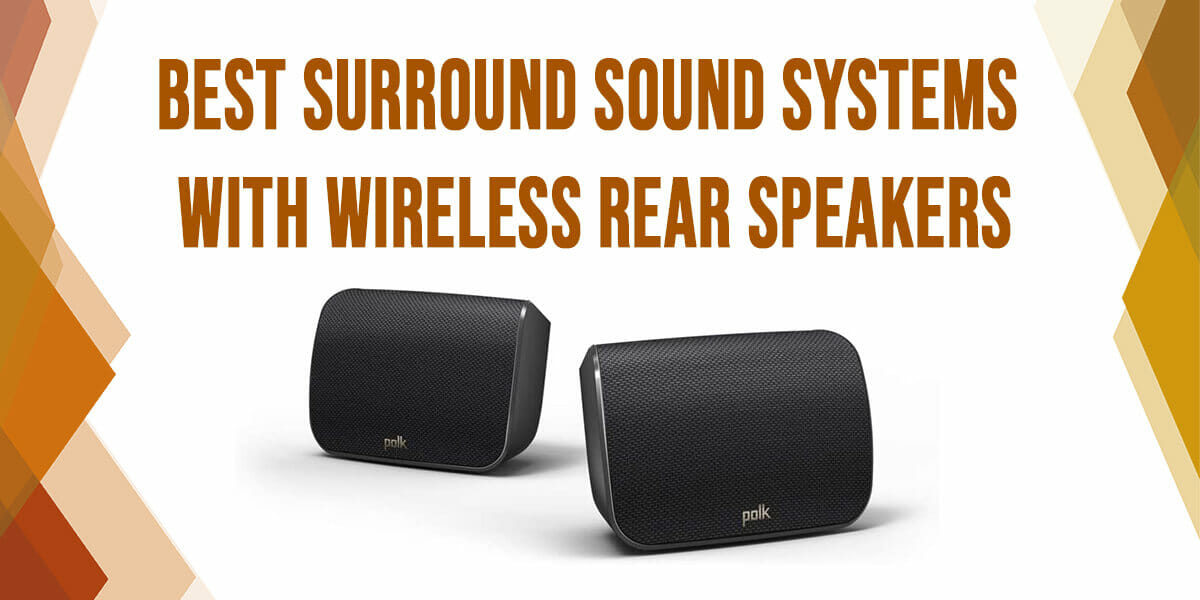 Surround sound systems are the best way to bring theatre experience to your home. Everyone prefers a sound system which does not have a complicated installation process. Wireless surround systems have the easiest setup procedures.
Wireless rear speakers allow for great flexibility in their placement since they are not limited by speaker wires. Given below are 6 best surround sound systems with wireless rear speakers.
Table of Contents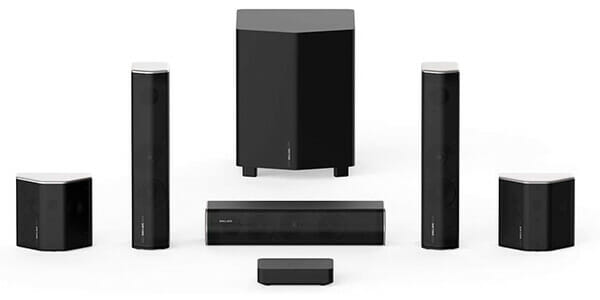 The Enclave CineHome II Wireless 5.1 Home Theater Surround Sound is a sound system designed for a home theatre experience. This sound system comes with a CineHub wireless transmitter and 5 speakers including a subwoofer and 2 rear speakers. All the speakers connect wirelessly to the hub which allows great flexibility in their placement.The setup is very easy and eliminates the hassle that comes with too many wires.
You can control independent speaker sound levels with the Enclave CineHub Remote app. You even get a 3.5 mm analog sound input with this system which can be useful for playing turntables. The sound quality is top notch and the sound is transmitted evenly around the room.
Pros
Wireless Bluetooth
Easy setup
Flexible placement
Good sound quality
Input for turntables
This is a very impressive surround sound system and delivers the theater experience very accurately.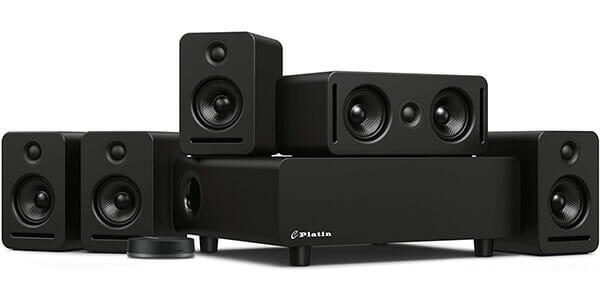 The Platin Monaco 5.1 With WiSA SounSend is a very reliable and impressive surround sound system. They have a hassle free installation process due to modern wireless technology. This system consists of 5 speakers including satellite speakers which can be used as rear speakers. This sound system is expandable up to 8 speakers and you can add or remove them according to your preference.
The sound quality is surprisingly great. The movie dialogues are crisp and clear and there is no lip synch lag. This can even be used as a gaming theatre for a great gaming experience. You can control the volume and other advanced settings like signal frequency amplitudes and EQ settings with the SoundSend app.
Pros
Impressive sound
Expandable
Easy setup
Affordable
Advanced settings
Cons
Not compatible with all televisions
This is a very flexible sound system which has an easy setup procedure.
The Polk Audio SR1 Wireless Rear Surround Speakers add more depth to your sound system. They are designed to connect wirelessly to the MagniFi MaxSoundbar system. They are lightweight and have a good compact size. They can be mounted on the wall with the help of the wall mounting kit which comes along with it.
This is a self powered system and does not need a separate receiver. They come with HDMI, optical and 3.5 mm cables. These speakers are compatible with Google home and can be controlled using smartphone integrated voice control. Using the MagniFi Max remote you can control the volume and bass levels.
Pros
Affordable
Voice control
Good sound quality
Wall mounting option
Easy setup
These speakers complement almost every television. They are most suitable for medium sized rooms.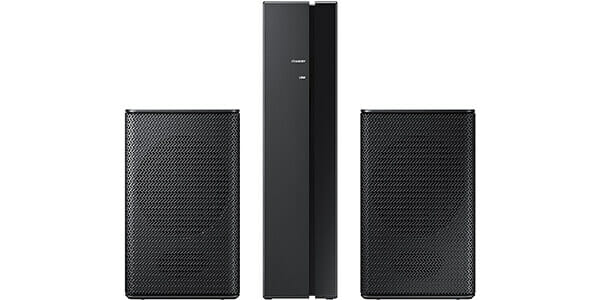 The Samsung SWA – 8500S 2.0 Speaker System consists of two wireless rear speakers which are designed to complement your surround sound system. They are compatible with many Samsung soundbar models and the model names are listed on the product page. They are small and well built speakers which do not take up a lot of space. They enhance your overall listening and viewing experience.
These speakers must be wired to the rear amplifier but the rear amplifier connects wirelessly to the soundbar. The physical setup is simple if you know the basics. You can adjust the settings using the Samsung remote including bass and treble controls. You can also use this sound system for video games.
Pros
Affordable
Easy setup
Compact size
Enhances ambient sound
Cons
Issues with volume
Limited instructions
Overall these are good and inexpensive speakers which do their job really well.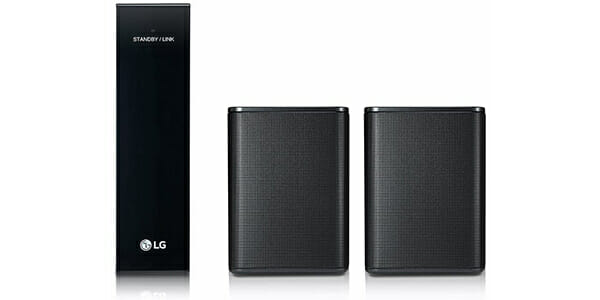 The LG Electronics SPK8 – S 2.0 Channel Sound Bar Wireless Rear Speaker Kit is a great addition to your sound system. They add the additional depth required for a more theater like experience. They have great flexibility in their placement – they can be mounted on the wall or placed on any appropriate stand. They come with a receiver which connects wirelessly to the TV and soundbar.
The speakers pair seamlessly with the soundbar. They are pretty lightweight and have a good sleek design. They have good bass levels and the vocals are crisp and clear. They are a good budget friendly option to upgrade your existing LG sound system. They also work great for movies and gaming.
Pros
Affordable
Easy setup
Decent sound quality
Flexible placement
Good build
This rear speaker kit has a very seamless setup process and delivers clear and crisp audio.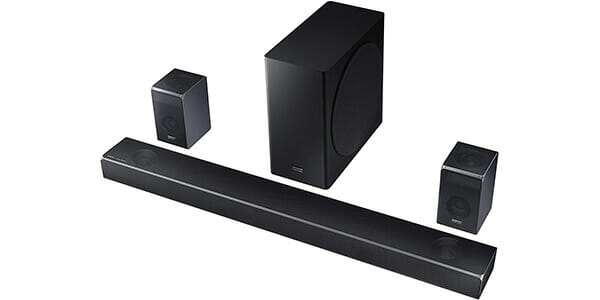 The Samsung Harman kardon 7.1.4 Dolby Atmos Soundbar With Wireless Subwoofer And Rear Speaker Kit is one of the best and versatile sound systems. This unit comes with 17 built in speakers and you can change the number according to your preference. They have both wired and wireless options. The speakers have a very premium build quality with a simple and elegant design.
They have various sound modes like the Game Mode Pro, Adaptive Sound Mode and the Surround Mode. The wireless Bluetooth works and connects seamlessly. The soundbar is compatible with Alexa and can be controlled via voice command. All the buttons for volume and inputs are neatly arranged on the soundbar. You can also change and adjust the setting using the Samsung OneRemote.
Pros
Easy setup
Wireless Bluetooth
Good build quality
Incredible sound
Many features
Cons
Heavy soundbar and subwoofer
Features can be a little confusing
This feature rich surround sound system is very convenient and reliable.
Frequently Asked Questions
How do I make my rear surround speakers wireless?
The best way is to get a wireless speaker kit. These kits usually come with a transmitter and two receivers. You use the transmitter to power your speakers. You connect the speakers to the transmitter using the stereo connectors. The transmitter sends the signal to the receivers which have power adaptors. The receivers also have stereo inputs for the speakers. You also need to get a proper amplifier along with this kit. 
Do you need rear speakers for surround sound?
If you want the full theater experience in your home, it is generally recommended you get good rear speakers. Since these speakers are secondary speakers, they are not absolutely necessary for your sound system. Rear speakers are not the main sources of sound but they add depth to the sound for a more immersive experience.
Are wireless speakers better than wired?
Following are the pros and cons of wired speakers,
Pros
1. They generally offer better sound quality
2. Easy to control
3. Easy to replace components
Cons
1. Can be a little tricky to set up
2. Many wires are involved
3. Following are the pros and cons of wireless speakers,
Pros
1. No wires
2. Easy setup
3. You can add and remove speakers easily
4. Bluetooth and wifi connectivity
Cons
1. Harder to control
2. They generally offer lesser sound quality
3. Difficult to make connections to external components
How do I convert my wired surround speakers to wireless?
There are a few options you can consider. You can opt for a good wireless speaker kit which will provide you all the necessary components you need to make your speakers wireless. These include a transmitter and two receivers. You will also need to get a separate amplifier. Another option is to get a Bluetooth adaptor.
Is a soundbar better than a home theatre system?
If you want the actual immersive experience of a theatre, home theatre systems are the away to go. Home theatre systems come with numerous speakers – each one contributing to the experience in a specific way. Home Theater systems come with subwoofers which contribute to better and deeper bass levels. Soundbars tend to produce more localized sound.
How do wireless speakers get power?
Most wireless speakers still have to be plugged into the power outlet to receive power. With wireless speakers you eliminate the need of a separate speaker wire which connects to the audio hub. Some wireless speakers use rechargeable batteries for power. However most of them use AC power adaptors to plug into power outlets.
Conclusion
Wireless surround systems are a great and convenient way to improve your sound system without involving too many wires. We have made a list of the best surround sound systems with wireless rear speakers.