Latin Percussion Patato Model Fiberglass Tumbadora is made of a 30-inch fiber glass shell with a steel ring forming the circumference of the upper surface. The skin of the upper side of the drum is made of hand selected natural rawhide head. It is reinforced with heart side plates with tuning lugs of diameter 5/16 inch. Latin Percussion also gives ProCare Shell protectors with the package.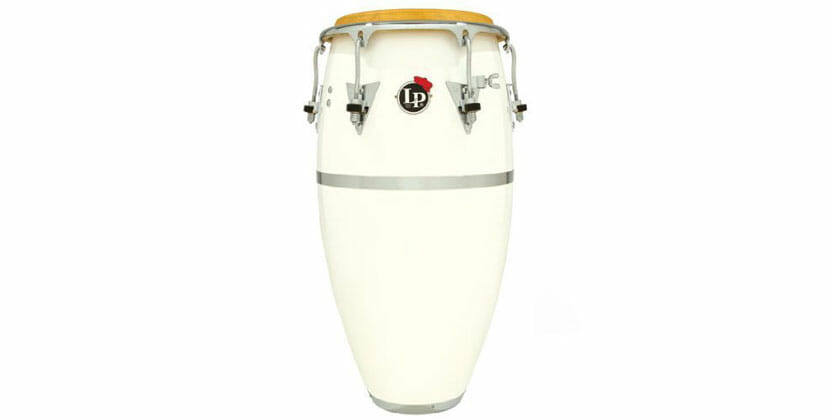 Table of Contents
Basic Construction
Material Used: Kepler fiber glass (twice as strong as steel)
Length: 18 inches
Breadth: 13.2 inches
Height: 32 inches
Weight: 34.8 pounds
Attractive features
It is made of Kepler fibers which are stronger than steel and hence it has great durability.
The hand selected natural skin head permits deep and resonant tones.
The steel ring at the bearing edge provides added strength and stability.
The wide belly and narrow bottom offer the options of deep bass tones without giving up the high, crisp sound.
It greatly enhances the volume.
It has a good potential for vibrant slaps.
It can be easily tuned to different notes.
The original drums had adjusting knots on top for tuning. The modern tumbadoras have an advanced screw and lug tension head system for easy and hassle-free tuning.
It has the amazing ability to make the slap pierce through the musical mix.
The bass tone resonates and the open tone rings loud while playing the drum.
How Does It Fare?
The Latin Percussion fiber glass tumbadora is widely used nowadays by professionals who are spellbound by the unique bass tones and vibrant highs it gives out. The conga is usually tuned using the open tone but in presence of other harmonic instruments it is specifically tuned using other tones. Thus, it is more suited to a professional. The size and model of the drum determine when and to which tone it should be tuned. But overall, the performance is appreciable as it sounds good alone as well as with other harmonic instruments.
Value For Money
Latin Percussion Patato Model Fiberglass Tumbadora is available for a reasonable price on Amazon and is shipped for free across the US. The price is even more appealing as a ProCare Shell Protector kit is included in the package. This adds to the longevity of the product. The ratings on Amazon are equally satisfying. The customers, who mostly include professional drummers or regulars, at least are fully satisfied with all of them praising the crisp highs and resonant bass tones. In fact, it is quite satisfying and enriching to see the cornerstone of Latin Rhythm coming out as a star player in the modern era of drums.