Tycoon Percussion Master Classic Series Tumbadora is here to fulfill every drummer's musical dream. It has a stunning design along with spellbinding sound quality. It is beautifully crafted from Siam Oak Wood and features a state of the art water buffalo skin head. Once you start playing your rhythms on this Natural Tumba, you are bound to be addicted to it. You can use it in the comfort of your home or at the music studio. You can use it practice a few tunes here and there for recreational purposes or use it professionally to play melodies for a live performance, it works perfectly both ways. This is one instrument that shall not let you down.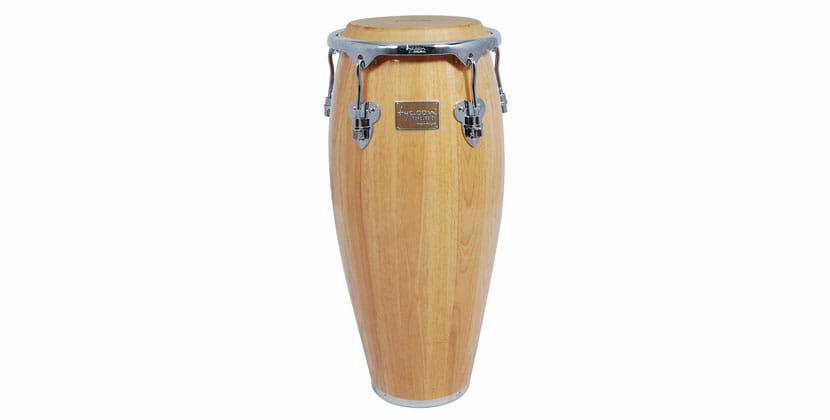 Table of Contents
Basic Construction
Tycoon Percussion 12 1/2 Inch Master Classic Series Natural Tumba weighs about 40 pounds. The product dimensions are 18 x 18 x 31 inches. It is cautiously constructed of premium aged Siam Oak with a large belly for deeper sound tones. It has multiple layers of high gloss lacquer that give it a mirrored look that makes it stand out on stage. It has a wide tuning range with buffalo skin heads that help in producing the best of sounds. The die-cast handle is strong and basket stands are included with it.
With such an ideal shape, size, construction, and design, this Tumba shall not disappoint you.
Attractive Features
The Tycoon Percussion 12 1/2 Inch Master Classic Series Natural Tumba With Single Stand, is known for its durable and fascinating features.
Its oak wood finish makes it an authentic product, that not only looks good on the outside but also produces vibrant music.
It is 30 inches tall, and its wide belly helps in projecting full bass tones without forgoing crisp slap tones.
Only premium quality, hand selected material is used to construct this masterpiece.
You do not have to be a professional to play some funky tunes with an instrument, it is ideal for training purposes as well.
You can use to perform live or even use to play some melodies from the comfort of your home.
It is also available in various other sizes. Its height ranges from 10 inches to 12.50 inches.
How Does It Fare?
The Tycoon Percussion 12 1/2 Inch Master Classic Series Natural Tumba, is every musician's first choice. It is the number one product in terms quality, productivity, usability, durability and what have you. With its sleek design and trendy out-look, it is a feast for the eyes.
This grand invention is bound to wake the musician within you. With its powerful beats and rejuvenating music, you are bound to take strides in your music career.Customers love this, and professional drummers recommend it. It gives other drums in this category a tough competition. With little to know and maintenance along with a very reasonable price, the Tycoon Percussion 12 1/2 Inch Master Classic Series Natural Tumba is sure to brighten your day.