Toca Percussion is unique in one major way-they care too much about Mother Earth. They are by far the most eco-friendly percussion company. The wood they use for their tumbas, drums, djembes and other varied percussion instruments is harvested from plantations from Thailand. Then they are lathed and handcrafted by local musicians. The Toca 4612-1/2BW Tumbadora is made of high quality Asian oak taken from plantations in Thailand. It has a high gloss finish and a matched top grade natural bison head!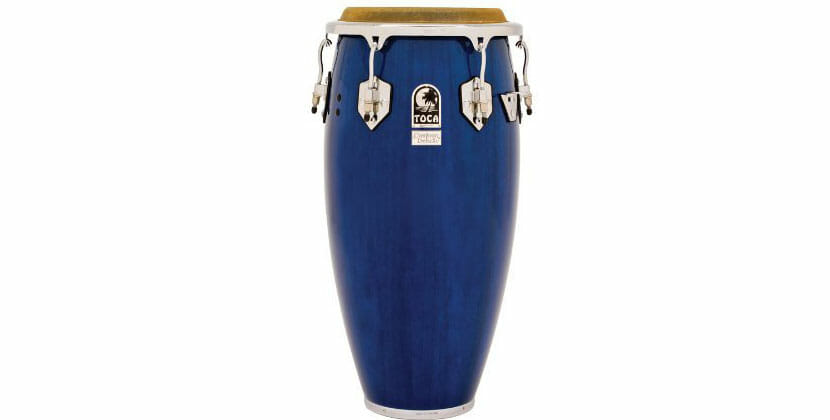 Table of Contents
Basic Construction
Material Used: Asian Oak
Colour: Blue Wood Finish
Length: 18.4 inches
Breadth: 17.1 inches
Height: 32 inches
Weight: 38.2 pounds
Shipped for free across the US
Attractive Features
An Easy Play hoop is present.
The palms produce great bass and resonance.
The slaps are crisp and hard.
The rims are rounded and even if you strike hard you will not hurt your hands.
The craftsmanship is meticulate and much detail and effort has been put into construction of the drum.
The handle on the side makes lugging the tumba around a piece of cake.
It is very easy to set up and tune.
There is a bracket on the side giving you the option of attaching a conga stand.
There is another set of holes plugged with rubber caps which can be helpful for mounting a mic.
The sound quality is superior and good enough for studio use or live performances.
The brilliant blue paint finish is strategic. It seems midnight blue in low lighting and royal blue in bright areas.
How Does It Fare?
Toca 4612-1/2BW Tumbadora is very user friendly and has rounded rims so your hands do not hurt on striking repeatedly. These safety measures create a win win condition for the users. It is of medium height and thus can be used by children also. It gives pleasure to both beginners and professionals. Those who perform live or in studios are in for a pleasant surprise: the sound quality is good enough for live performances and studio recordings! Professional drummers who have made this far-sighted purchase are now urging their peers to do the same- this way they are also doing their bit for the environment and supporting a project that does not harm forests and ecosystems.
The fact that it is made of high quality oak and natural bison head is proof enough of its authenticity. Those who have heard it being played were floored at once. The package is so lucrative that no one has managed to find anything to say against it as of now. Even if you're a professional all you need to do is attach a conga stand at the stand and carry it up to the stage and you are all set!
Professional or beginner- go ahead and buy this fearlessly, you will not complain!