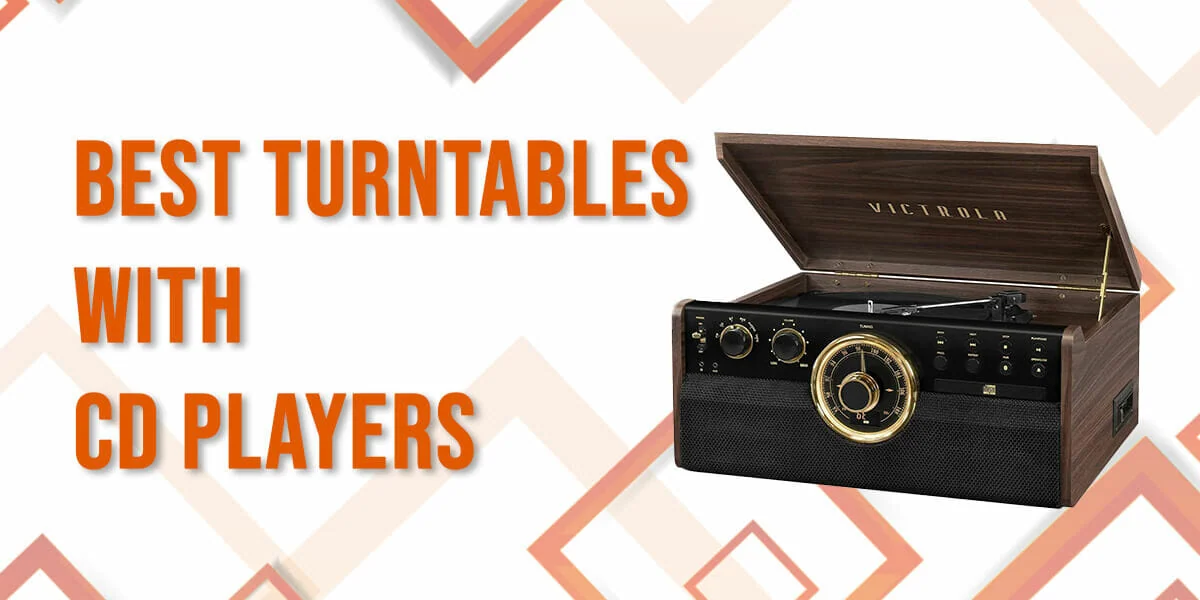 Turntables are typically used to listen to vinyl records. People who have a taste in old school music generally tend to invest in turntables to listen to classic vinyl records. Turntables can also have other features like Bluetooth, USB and even a CD player.
A turntable with a CD player can be used for playing both CD's and vinyl records. Given below are the best turntables with CD players.
Table of Contents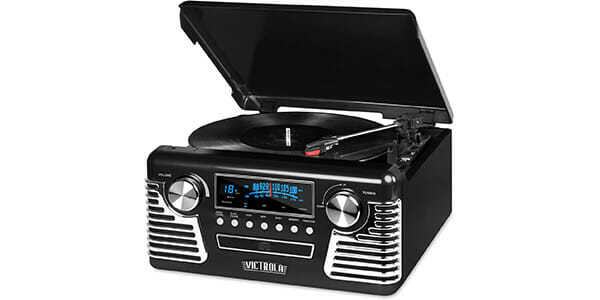 The Victrola 50's Retro Bluetooth Record Player And Multimedia Centre is a retro style turntable with modern features. It has an old school look and comes in 2 colours – red and black. It is lightweight and compact so it does not take up much space. It has easily accessible controls and the buttons have a nice layout. You can play your CD's in the inbuilt CD player.
It comes with AM/FM, Bluetooth, AUX input, USB and even has a feature which converts the vinyl records to MP3 files. The inbuilt stereo speakers have a pretty good sound output which is clean and clear. It is a 3 speed turntable which can even be used as a decorative piece because of its trendy look.
Pros
Affordable
Trendy look
Compact size
User friendly
Good sound output
Cons
Issues with Bluetooth connection
People who love old school styles will love this turntable.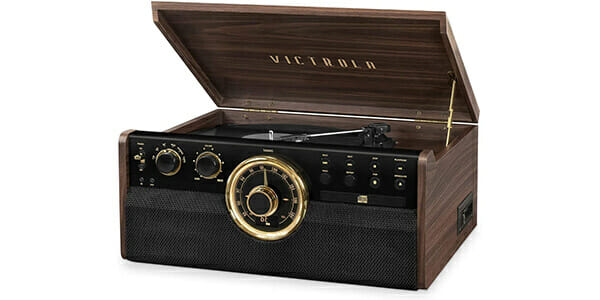 The Victrola 6 in 1 Bluetooth Mid century Modern Record Player is a well built record player with a very antique and vintage look. The gold accents add a luxurious and premium touch to the turntable. You can play your music from multiple sources. You can play your old cassettes in the cassette player, your CD's in the CD player and also stream your music wirelessly through Bluetooth.
It has RCA outputs which you can use to connect receivers, amplifiers or external speakers. You can also listen to music through your headphones using the headphone jack. The radio dial lights up and is easily adjustable. You can even use this turntable as a centerpiece as it compliments almost every room.
Pros
Affordable
Vintage look
Inbuilt cassette player
Functional 
Use friendly
Cons
Does not have advanced sound features
This is a very budget friendly entertainment unit.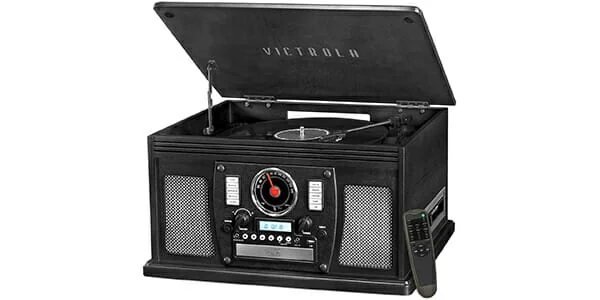 The Victrola Navigator 8 in 1 Classic Bluetooth Record Player is a very versatile and functional turntable which has a very mid century modern look. It has an elegant and rustic design with a solid wood construction. It has every possible audio source option and you can play your old CD's and cassettes. It can play heavy weight vinyl records without any trouble.
It comes with multiple options for auxiliary units and even includes 3 extra replacement needles and an RCA cable. The built in preamp has a sufficiently loud sound output and you also have an option to connect an external amp. You can control everything through the remote including changing between radio, phono and CD modes along with volume and mute controls.
Pros
Functional remote
Easy Bluetooth pairing
Good FM/AM reception
Sufficient loudness
Visually appealing
Cons
Not many adjustable features
This is a very good turntable for those who want the extra benefits of playing cassettes and CD's.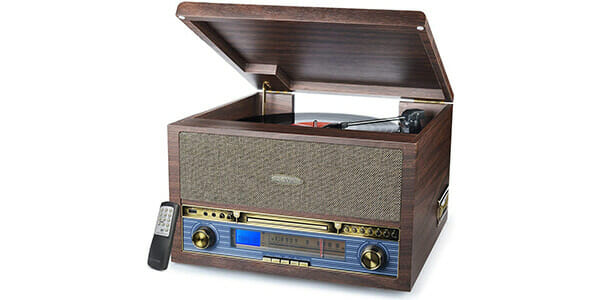 The SeeYing 3 – Speed Turntable is a high quality turntable with a unique 90's look. It is lightweight and easily portable. The tonal arm has a ruby stylus and it automatically returns to the rest position with the auto stop feature. It comes with plenty of wired and wireless audio source options. It also has a shock absorption feature to minimize vibrations. This ensures accurate sound reproduction of the vinyl records.
The inbuilt speakers have a good dynamic range and the sound is rich and warm. The Bluetooth has a sufficient range of 33 feet and connects seamlessly. You have a vinyl to MP3 option to convert your vinyl sounds to digital MP3 files. It is also super easy to use for beginners who are just getting into exploring turntables.
Pros
Good sound output
Auto stop
Good construction
Affordable package
Multiple audio options
Cons
Button controls could be better
This turntable has impressive sound quality and features for the price.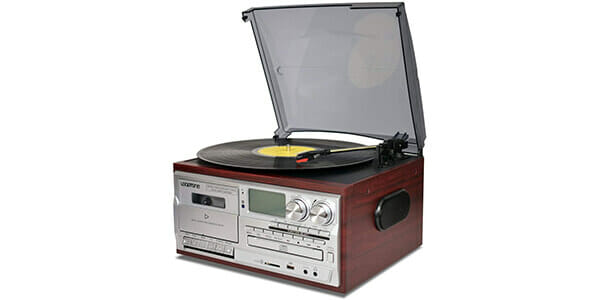 The LoopTone Vinyl Record Player is an all in one music system in which you can play almost everything. It has a neat and modern layout with many handy buttons. It offers both wired and wireless options and is compatible with most devices. It comes with a dust cover which prevents dust from settling on your turntable. 
The AUX in and line out options are very useful for extra external connections like receivers, amps or speakers. You get options for vinyl to MP3, cassette to MP3 and CD to MP3. This turntable fits in small and compact places. It is suitable for small rooms where you don't want to play overly loud music.
Pros
Affordable
Compact size
Multiple audio options
Good layout
Cons
Inbuilt speakers are not the best
If you want a multipurpose turntable with the option of making external connections, this is the one for you.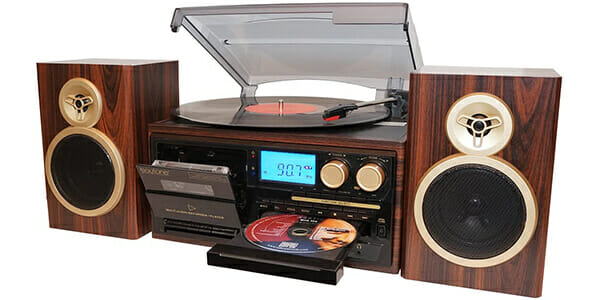 The Boytone BT – 28SPM Classic Style Record Player is a very user friendly belt driven turntable with a fusion of classical and modern styles. It offers multiple inbuilt features in one so you don't have to pay for separate components. It comes with separate external stereo speakers which offer a clean and clear sound output. You connect these speakers to the turntable using the phono line out jacks.
The golden accents add a very nice touch and give the turntable an expensive look. It has good AM/FM reception and comes with SD/USB ports. It plays 45, 78 and 33 RPM speeds and you can change the speeds using the selector switch. You can easily adjust the volume with the help of the volume knob on the turntable. It is compatible with all devices including Iphone and Android.
Pros
User friendly
Multiple functions
Separate external speakers
Compact size
Visually appealing
Cons
No volume control in remote
This is a very impressive record player with many modern capabilities.
Frequently Asked Questions
Do expensive turntables sound better? 
Yes, expensive turntables generally tend to sound better than cheap turntables. This is due to the following reasons,
1. They usually have an anti – skating feature and an adjustable counterweight in order to make proper adjustments and to prevent skipping.
2. They have better tonearm quality with a good quality cartridge and stylus.
3. They may have shock absorption to minimise vibrations and resonance.
4. Less buzzing noises and other unnecessary sounds.
5. Better quality of individual parts like platter and plinth.
What is the difference between a record player and a turntable?
Record players are usually all in one entertainment systems which usually come with amplifiers and speakers along with a turntable. All record players have turntables built into them. Turntables are usually standalone items designed to play vinyl records. It usually comes with only the rotating platter. You can connect other external speakers or amplifiers to them.
Does vinyl sound better than CD?
Some people prefer the old school sound of vinyl records when compared to CD's. However this is purely subjective and does not make the vinyl sound quality better than the CD sound quality. Although vinyl records have a rich, warm and unfiltered sound, they also have their limitations. Any slight damage to the record can make them sound distorted or staticky. Digital recordings tend to be more accurate. In short, both vinyl records and CD's have their pros and cons.
Will CD's make a comeback?
CD's don't have a very good probability of making a comeback. Most people today prefer convenient and wireless streaming options like Spotify or Apple. Artists still release their albums with included CD's so they won't completely disappear any time soon. There will always be people who love old school ways of listening to music and thus will keep on using and storing CD's.
Does black vinyl sound better?
Generally black vinyl records tend to sound better than coloured vinyl records. All vinyl records are usually colourless because it is made from PVC. Black vinyl records are obtained by adding black carbon to PVC and this strengthens the PVC mix. Coloured vinyl records are produced by adding other additives to the PVC which do not necessarily strengthen the mix. As a result, black vinyl records tend to sound better than coloured ones.
Conclusion
If you want to conveniently play your CD's and vinyl records in the same entertainment unit, there are plenty of options in the market. We have compiled a list of the best turntables with CD players to make your search easier.