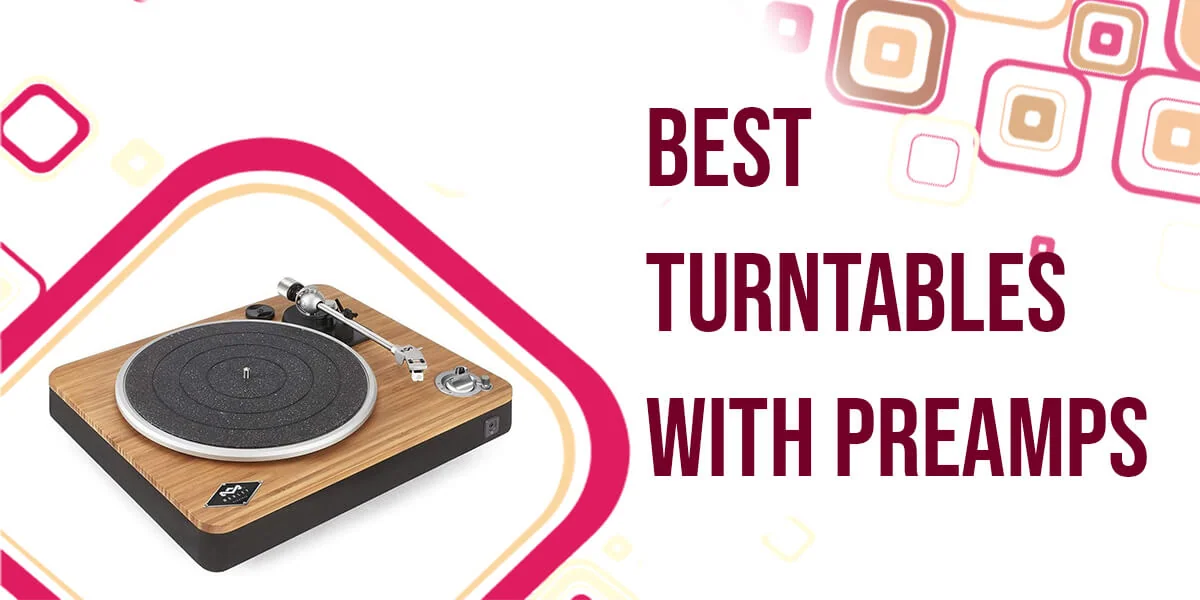 All turntables need preamps in order to deliver audible and clear sound. Turntables produce a phono output signal which needs to be amplified and equalized before it is fed through a sound output.
Turntables with built in preamps eliminate extra cables and the need of buying a separate external preamp. They are also very affordable options as a separate external preamp can be expensive. Given below are the 6 best turntables with preamps.
Table of Contents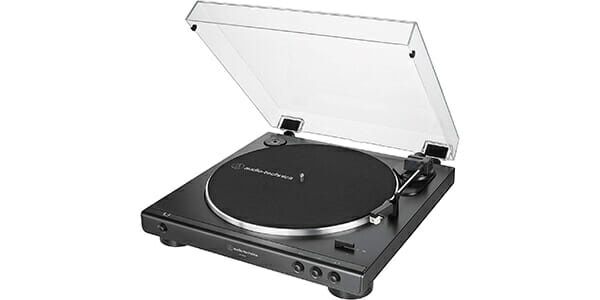 The Audio – Technica AT – LP60X – BK Stereo Turntable is an affordable and functional turntable which is very easy to use. The setup is easy and straightforward. It is a very good beginner turntable for those who want to start playing vinyl records. You can connect this turntable to the sound output of your choice including stereo receivers and speakers.
It is a fully automatic turntable but you can also operate it manually. The phono cartridge is of good quality and the needle is replaceable. It delivers crystal clear sound which is very pleasant. When the record finishes playing the tonearm will stop on its own. It plays records at two speeds – 33s and 45 s.
Pros
Lightweight
Affordable
Good and clear sound
Anti resonance
Automatic
Cons
Tonearm does not have a latch
This is a good entry level turntable with a seamless, easy setup and a clean, warm sound.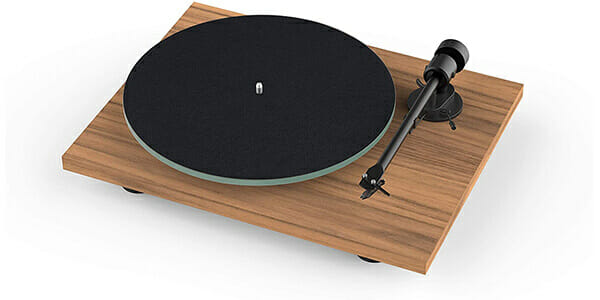 The Pro – Ject T 1 BT Turntable is a premium and well crafted turntable. It has a sleek and elegant design which is aesthetically pleasing. This turntable comes in 6 finishes for the base. The cartridge and stylus are replaceable. It comes with a RCA style audio cable for connection purposes. The setup is easy without any overly complicated procedures. You can switch the speeds between 33s and 45s.
The tonearm has bass bearings and is without any resistance. This turntable comes with an inbuilt wireless Bluetooth feature which is not very common in turntables. It can be connected to almost every Bluetooth receiver. It has a solid and well balanced sound without any whistles. Vinyl records of all genres sound amazing on this turntable. The acrylic glass cover adds a very nice touch and prevents dust from settling on the turntable.
Pros
2 year warranty
Upgradable cartridge
Well balanced sound
Wireless Bluetooth
Aesthetic design
Cons
Completely manual
Does not have anti skate control
This turntable is built with quality components and has a great finish. It makes every genre sound good.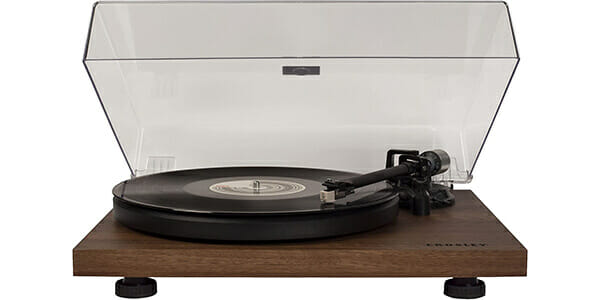 The Crosby C6 2 – Speed Turntable is a very impressive and capable turntable with a built in preamp. It is constructed from strong and solid materials. The plinth is heavy and solid and the steel platter is strong. Both the cartridge and stylus are upgradable. You can easily adjust the counterweight on the tonearm. You can also dial in your desired tracking force using the marked dial.
You can either use the built in preamp or switch it off and connect it to an external preamp. The sound reproduction is very good with no distortion. Even though it does not have anti skate control, the tonearm does not skate. It is quite affordable and has an easy setup. Overall it is a well built and budget turntable which is suitable for beginners.
Pros
Affordable
Simple design
Many upgradable features
Good quality components
Good sound
This is a well constructed turntable with adjustable and upgradable features.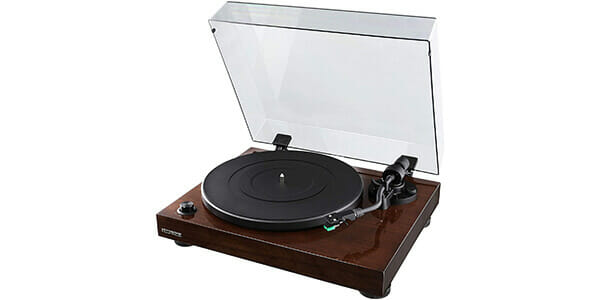 The Fluance RT81 Elite High Fidelity Vinyl Turntable is a stunning turntable with impeccable sound. It is an example of beautiful craftsmanship. All the components are high quality and the glossy walnut finish gives it a very premium look. The stylus and cartridge comes pre-assembled which makes it easy to set up. The elliptical stylus is upgradable and the turntable comes with sound isolation feet which cancel out vibrations and humming.
It has an auto stop feature and an anti skating feature which are very good additions. The sound dynamics are incredible and every detail is crisp and clear. It makes every vinyl record shine in its own special way. This turntable comes with a lever which helps in setting the tonearm up and down.
Pros
Gorgeous design
Well crafted
Incredible sound
Anti skating
Auto stop
Cons
Few issues with speed
Expensive
This turntable excels in both aesthetics and sound quality. It feels like a very high end turntable and is well worth the price.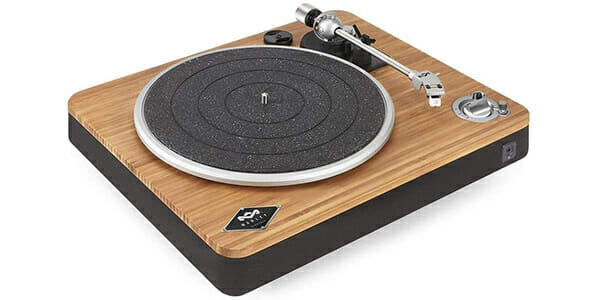 The House Of Marley Stir It Up Wireless Bluetooth Turntable is a unique turntable with a modern and minimalistic design. It has way more features than the standard turntable. It has a wireless Bluetooth feature, a USB audio output and a headphone jack. It comes with multiple audio outputs so you can hear your records from the audio source of your choice.
It is constructed from eco friendly and sustainable materials which contribute to a good cause. This player has large silicone feet to cancel out vibrations and other unnecessary sounds. It has anti skating control which works really well. It also comes with an auto start/stop feature. You can easily connect your vinyl music to the speaker of your choice including wireless speakers.
Pros
Wireless Bluetooth
Anti skating control
Auto features
Eco friendly
Cons
No proper cover
Setup is a little tricky
This turntable is a fusion between a modern and classical style. It has many audio source options which are always a good bonus.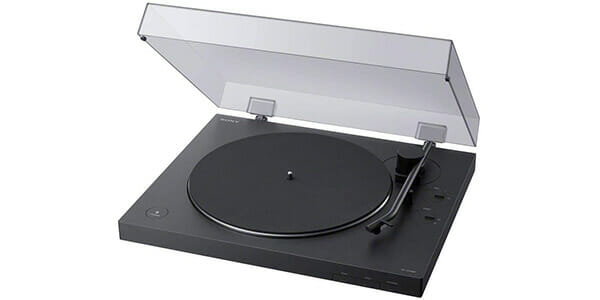 The Sony PS – LX310BT Belt Drive Turntable has a modern design and features modern technology. It is lightweight and requires minimal setup effort. It is constructed from basic materials but they are pretty solid. It comes with a thick removable dust cover which is very functional. The tonearm has a prebuilt cartridge and an upgradable stylus. The buttons and knobs are easy to use and the analog connections work well.
The wireless Bluetooth feature works well and the pairing takes place easily. You can connect the turntable to wired or wireless speakers according to your preference. It also comes with a USB ripping feature which is unique and useful. With this feature you can convert your vinyl music into digital music files and store them in your computer or any other device. This turntable has an automatic playback feature along with auto stop.
Pros
Minimalistic design
Easy setup
Good sound quality
Functional Bluetooth
Affordable
Cons
Tends to hum
Cartridge is not upgradable
This turntable is simple to use and easy to operate. It also performs very well for the price.
Frequently Asked Questions
Do I need a preamp for my turntable?
Yes, if your turntable does not have a built in preamp you will need to get a separate external one. If your turntable is not connected to a preamp you will barely hear the vinyl record because the unamplified signal is very weak. The preamp amplifies and equalizes the signal so that it can be connected to standard aux inputs.
Will a preamp make my turntable sound better?
Yes a preamp will make your turntable sound better. Without a preamp, your turntable will sound very weak and low. Choosing the right preamp for your turntable will help in properly reproducing the musical content of the vinyl record. Since a preamp amplifies and equalizes the signal, the sound will be louder and clearer. External preamps are expensive but they sound better than inbuilt ones.
What is a built in preamp on a turntable?
A built in preamp is an audio component that is built into your turntable. This component amplifies and equalizes the sound signal in order to make it compatible for your sound system which may include stereo receivers or speakers. With a built in preamp you eliminate the need of connecting a separate external preamp to your turntable.
What is the difference between a preamp and an amp?
A preamp amplifies weak signals to line level which is the conventional level of most sound systems. Its main job is to boost the signal which makes it audible and clear.
An amp has more functions. Besides boosting the signal it can modify the signal, add filters to the signal, remove distortion and even mute the signal. An amp boosts the signal even more than a preamp and can be way over the line level.
Conclusion
If you are someone who likes to save money and eliminate the hassle of making extra connections, then a turntable with a built in preamp is the one for you. We have compiled a list of the best turntables with preamps which are available in the market.