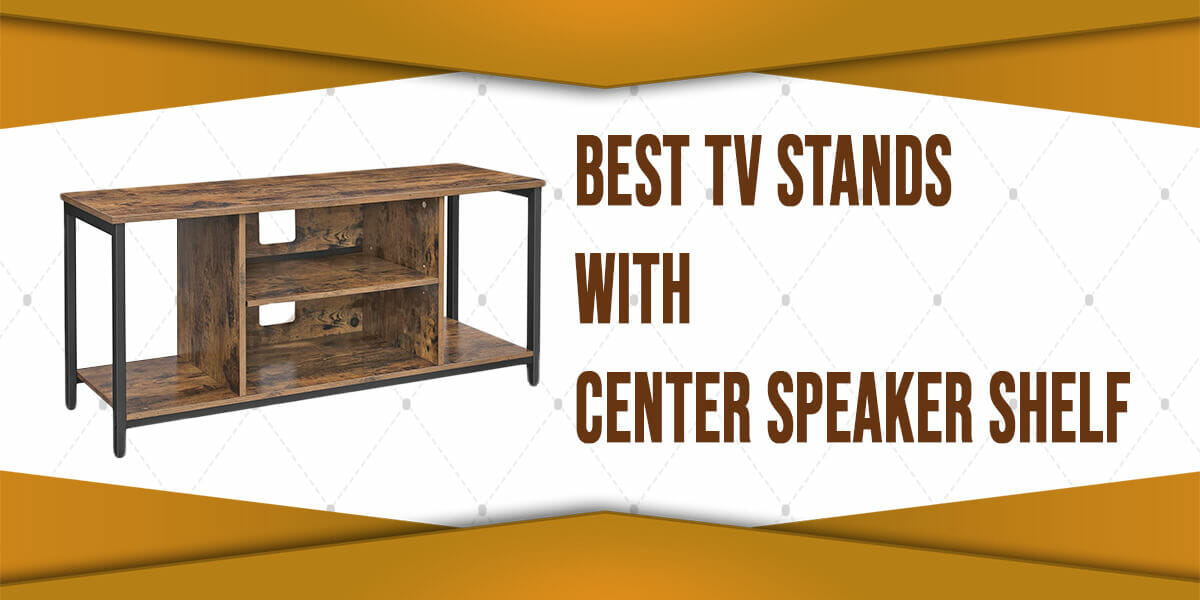 TV stands are more functional and useful when they come with storage space in the form of shelves or cabinets. This is necessary for storing your electronics or other TV related equipment.
The center speaker should typically be placed in a shelf below the TV. Thus TV stands with center speaker shelves can be used to accommodate such speakers. Given below are the best TV stands with a center speaker shelf.
Table of Contents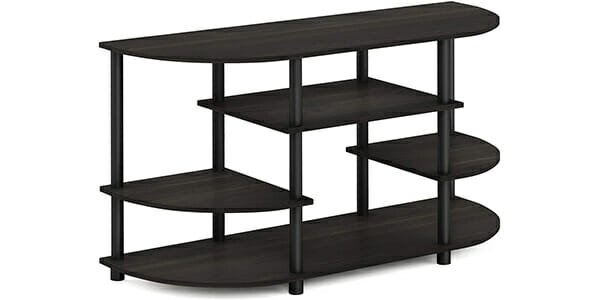 The Furinno JAYA Simple Design Corner TV Stand is a very budget friendly yet functional TV stand. It has a very basic structure which is very easy to assemble. You don't need a lot of technical knowledge to set up this stand since it does not require any tools. The wooden shelves are held together with the help of PVC tubes which are lightweight but have good mechanical strength.
You get plenty of space for a TV along with electronic equipment like speakers and receivers. You can also arrange books or other decorative pieces in the shelves. It comes with instructions which are clear and easy to follow for inexperienced people.
Pros
Affordable
Functional
Sturdy
Easy assembly
Can hold a decent amount of weight
Cons
Finish is easy to scratch
This is for people who want a basic and functional TV stand which does its main job well.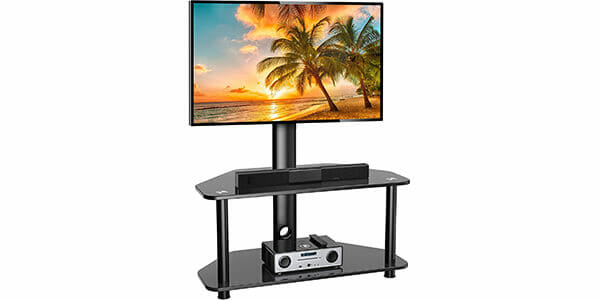 The PERLESMITH Swivel Floor TV Stand has a very minimalistic and modern design. The height and viewing angle is easily adjustable using the swivelling mechanism. It has two tempered glass shelves with ample storage space for your TV related equipment. They also form a large center cabinet which can be used to accommodate a center channel speaker. 
The TV is easily mountable and you get wire support in the back as an added assurance of safety. The stand has a very quick setup procedure. The stand legs have non-slip pads to prevent damage to the floor. It is also designed to minimise the appearance of wires which can be passed through the wire ports.
Pros
Sturdy and durable
Easy setup
Adjustable height
Safety features
Minimalistic design
This is a very sturdy and durable stand which can handle a sufficient amount of weight.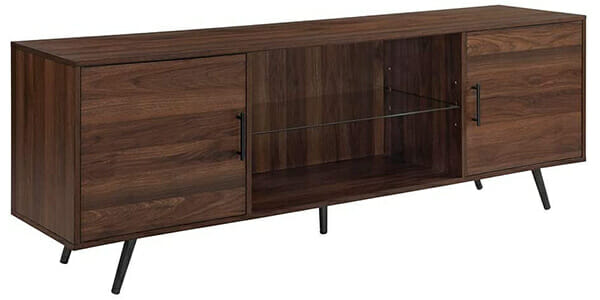 The Walker Edison Englewood Glass Shelf TV Stand is a well constructed and sturdy TV stand with a rich and dark walnut finish. It has a mid century modern look with a contemporary design. It has two closed storage compartments along with two tempered glass shelves which can be used to hold center channel speakers or soundbars.
All the wooden parts and brackets are neatly labelled with instructions. Although the setup is a little time consuming, it is quite simple to assemble the parts together. There are holes in the back panel for the TV wiring to pass through. It can easily hold TV's which are up to 80'' long.
Pros
Ample storage space
Sturdy
Aesthetic design
Suitable for big TV's
Cons
Expensive
Time consuming assembly
This is a solid TV stand which has a very premium and high end look.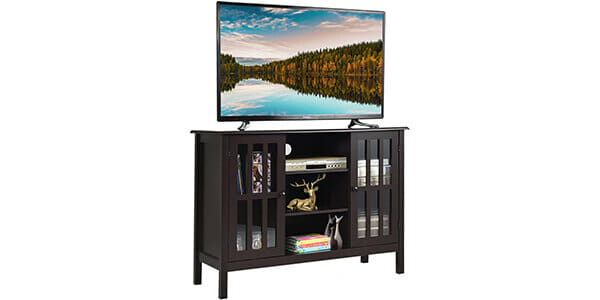 The Tangkula Wood TV Stand is a very versatile TV stand which can even be used for other multiple purposes. You can choose between 2 colours – brown or white according to your preference and room style. It has a very clean and neat layout with a very polished look. The two storage compartment doors are decorated with tempered glass. You also get three open centre shelves for your speakers or other media.
This stand has a good height and does not take up too much space. It comes securely packaged with each part protected by Styrofoam. The assembly instructions are clear and precise and the parts are clearly marked. You also get extra hardware parts in case of loss or damage. The pinewood legs are strong and sturdy.
Pros
Durable
Well constructed
Ample storage space
Versatile use
Well packaged
Cons
No holes for wires
Assembly is a little time consuming
This is a very versatile TV stand with plenty of open shelves for speakers.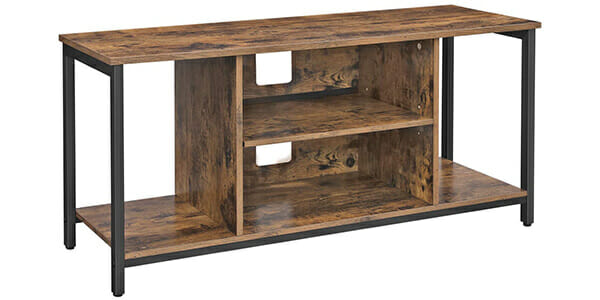 The VASAGLE TV Console Stand With Storage is an open TV stand which has a very rustic and minimalistic design. It is supported by solid and strong steel pillars which makes the stand very sturdy. It has a small and compact size which makes it suitable for small rooms which do not have a lot of space.
The wood has a very nice textured and industrial finish. The middle shelf is adjustable and removable. The open shelves can be utilized for your media equipment including speakers. It has a great weight capacity and is also easy to move around. It comes with all the necessary tools and the assembly is quick and simple.
Pros
Affordable
Visually appealing
Good storage space
Sturdy
Easy and quick assembly
This TV stand has a compact design and is suitable for small rooms.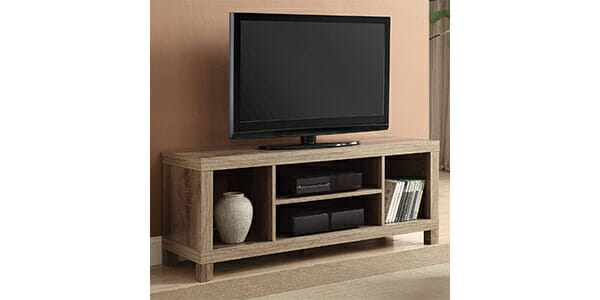 The Generic – Cross Mill TV Stand is a heavy and sturdy TV stand which serves its main purpose very well. It has a neutral greyish brown finish which compliments almost every space. It is constructed from MDF which has a very smooth finish and particle board. This stand is suitable for medium sized TV's and has shelves for other equipment.
This has an open back to allow wires and cables to pass through easily. It is a solid unit with a sufficient weight capacity. All the separate parts are neatly packaged and they are super easy to put together. It is also very reasonably priced.
Pros
Affordable
Sturdy
Good weight capacity
Easy assembly
Compact design
Cons
Finish is easy to scratch
Not very high
This is a very budget friendly stand for your TV and other entertainment media.
Frequently Asked Questions
Should the center speaker be above or below TV?
The best place to position your center speaker is below the TV because it is positioned roughly at your ear level. If there is no space below you can also place it above your TV. Make sure it is not far away from the TV. Whether it is above or below, make sure it is close to the TV otherwise you won't feel the sound is coming from the TV.
Can I put center speaker behind TV?
Your center speaker will not be able to function at its best if you put it behind the TV. The main purpose of the center speaker is to deliver a clear and seamless sound output. You will be impeding the audio and there will be a reduction in sound clarity and volume.
Can a 65 inch TV fit on a 55 inch stand?
It is highly recommended you do not get a stand which is less than 57 inches for a 65 inch TV. Your TV needs to be properly centred on the stand with a couple of inches to spare on each side. 55 inches is too short and there is a risk of your TV toppling over. Make sure you get a stand which is at least 61 inches long.
What is the correct height for a TV?
This can be variable. There is no specific or accurate height at which your TV must be mounted. You can always follow some common guidelines and decide what is comfortable through trial and error. It is generally recommended the base of your TV be about 25 inches away from the floor. Another common guideline which people follow is making sure the center of the TV is 42 inches from the floor.
Can I use just a center speaker?
Yes you can just use the center speaker if your main goal is to have a basic and sufficiently loud sound output. The center speaker is mainly dedicated to dialogue so there won't be any issues with the clarity of TV dialogue. If you want a true theatre experience with enhanced bass levels you will need other surround speakers.
Is the center channel speaker important?
Yes, the center channel speaker is important for a few reasons,
1. It is the main speaker of a home theatre system
2. It delivers 70% of the dialogue.
3. You don't have to sit in a specific spot. You can switch your listening spot and you will still get a clear sound output.
Where should I put the height of my speakers?
You should position your height channel speakers on the upper left and right corners of your TV. It should be on either side of the TV. This can be about 8 feet or 96 inches from the floor. You can also enhance the mid and high frequency response if you slightly tilt your speakers downward.
Conclusion
There are many solid and good quality TV stands in the market with center speaker shelves. We have compiled a list of the best TV stands with center speaker shelves to make your search easier.