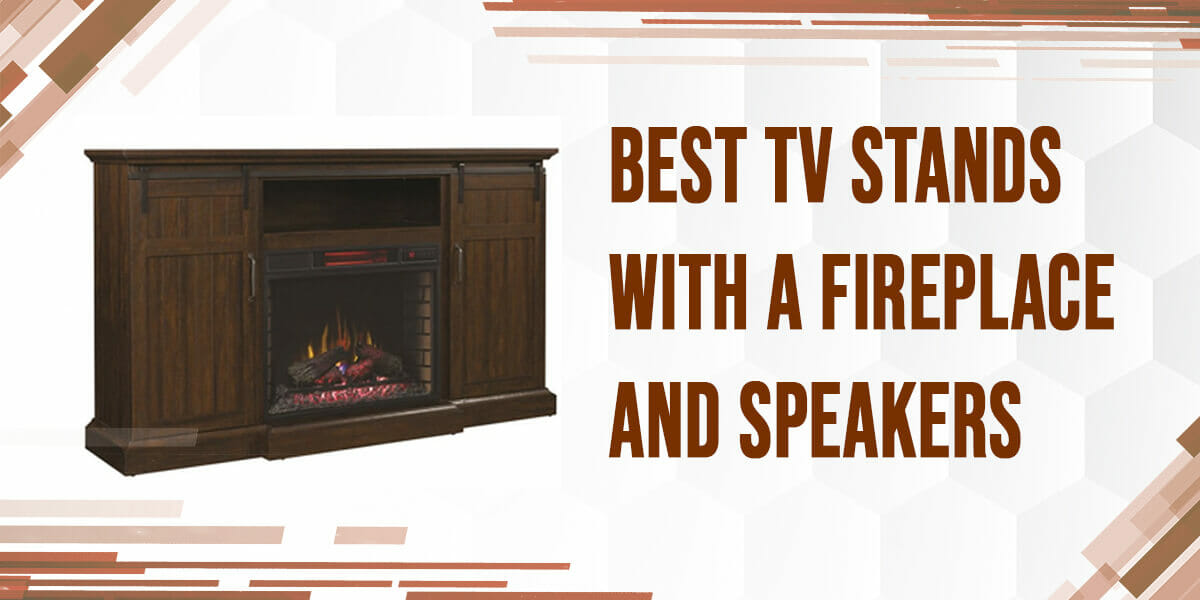 TV stands with fireplaces are a great way to bring warmth and coziness to your ambience. These fireplaces are virtual and you can adjust their look according to your preference. They also come with inbuilt heaters.
TV stands with inbuilt speakers help you to listen to music without the need of any other additional components. Given below are the best TV stands with a fireplace and speakers.
Table of Contents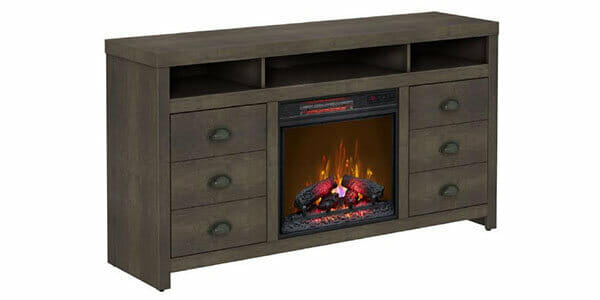 The Wilder Canyon Lake Pine Infrared TV Stand has a very antique and rustic look which compliments almost every room. It has a dark grey wood finish with six spacious storage compartments and 3 open cabinets. You can customize this TV stand by adding Bluetooth speakers and piers. You can opt for one or more piers in case you want more storage space.
You can wirelessly stream music from your phone or any other device through the Bluetooth speakers. The main attraction of this TV stand is the virtual fireplace with real heating options. You can adjust the colour and brightness of the fireplace according to your preference. This stand also comes with overheat protection and automatically shuts off in cases of overheating.
Pros
Affordable
Well built
Optional piers
Customizable fireplace
Overheat protection
Cons
Speaker volume is a little low
This TV stand has a vast range of customization options.
The 56'' new Enterprise Black Infrared Media Electric Fireplace With Bluetooth Speakers has a very modern and elegant look with a matte black finish. It is easily suitable for all modern televisions. This stand has a very easy setup procedure which requires only 1 or 2 tools. It has two big storage compartments with ample amount of space for your books, electronic appliances or other TV accessories.
The 2 inbuilt Bluetooth speakers work very well and have decent sound output. You get multiple fireplace display options along with adjustable flame colours, flame intensity, flame speed, flame size, and many others. You can adjust with the help of a functional remote or with the control panel which comes with the stand.
Pros
Affordable
Multiple flame display options
Good sound output
Functional remote
Modern look
Cons
Settings can be a little confusing
This is a very modern TV stand which features innovative modern technology.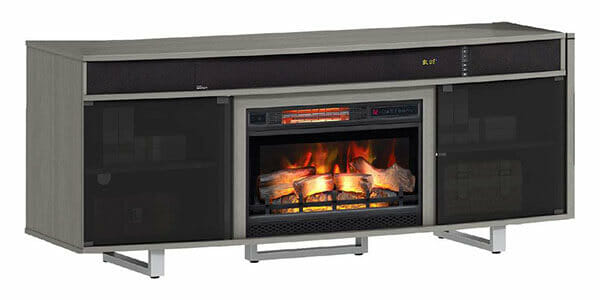 The ENTERPRISE TV Console With Fireplace is the perfect accessory to bring your living room together. It has beautiful grey wood and glossy black finishes. This TV stand can hold up to 80'' TV's. It comes with 4 well ventilated storage compartments along with an open cabinet for your setup box or receiver.
This stand comes with a 6 speaker soundbar which is compatible with all Bluetooth enabled devices. You get a screen display which is clear and legible. The stand has an amazing electric fireplace with multiple flame customization options. The inbuilt heater can heat a sufficiently large area and make the room toasty and warm.
Pros
Good ventilation
Plenty of storage space
Good speaker quality
Modern design
Good Bluetooth range
Cons
Controls can be a little tricky
This is a very functional and well built TV stand with many useful features.
The Manning TV Stand With Speakers And Fireplace Insert is a solid wooden stand which is durable and well constructed. It has a chestnut brown finish and has a very vintage and old school look. The two storage compartments come with adjustable shelves which are very useful. The open cabinet can be used for your TV related equipment.
This stand is very suitable for big TV's which are up to 80''. The built-in Bluetooth speakers have sufficient loudness and good bass levels. The connection also takes place really fast. The remote control aids in easy navigation through the settings. The fireplace is eco-friendly and utilizes minimum energy to help in energy conservation.
Pros
Eco-friendly
Durable
Holds large TV's
Good Bluetooth speakers
Vintage look
This TV stand is a very good investment considering its incredible quality.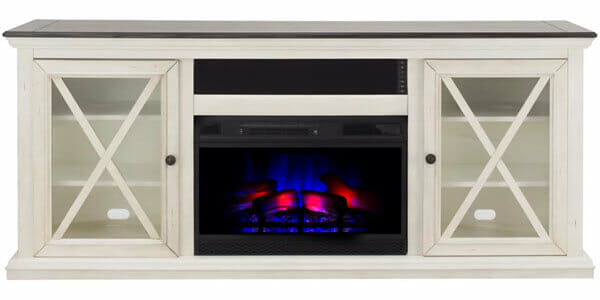 The Hadley 72'' Media Console With Speakers is a well crafted media console which also serves as a TV stand. It has a beautiful creamy white colour with tempered glass doors which adds to its elegance. It is constructed from poplar wood and good quality oak veneers which have warping and moisture resistant properties.
The console is about 6 feet long and can accommodate very long TV's. It has a beautiful fireplace as its centrepiece along with a real heater. The heater provides optimum and comfortable heat which does not remove the natural humidity of the room. The inbuilt Bluetooth speakers fulfil all your music and entertainment needs.
Pros
Sufficient storage space
Good quality speakers
Custom fireplace
Durable
Elegant design
This media console serves as a beautiful and useful accent piece for your living room.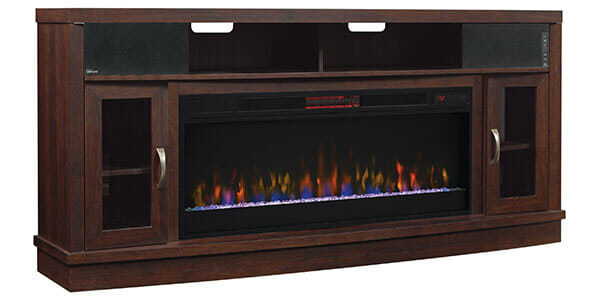 The Deerfield Media mantel With 42'' Electric Fireplace And Speakers also serves as a very good TV stand. It has a very long electric fireplace compared to standard fireplaces in TV stands. Thus it is suitable for people who are willing to compromise storage space for a longer fireplace. It has a dark chestnut brown wood finish.
The inbuilt stereo is well equipped with 2 main speakers, 2 tweeters and dual bass ports. This helps in maintaining good bass and treble levels. The fireplace has a timer feature with which you can set the length of time you want your fireplace to be active. The remote control makes it easy to access the controls.
Pros
Adjustable shelves
Long fireplace
Good stereo system
Good sound output
Solid frame
This is a well crafted TV stand with a good stereo system.
Frequently Asked Questions
Are TV stands with fireplaces safe?
Yes TV stands with fireplaces are safe. You don't have to worry about the heat affecting the TV. Electric fireplaces blow heat out the front or bottom of the unit so no damage will be done to anything which is placed above the fireplace. There is no actual flame so there is no risk of burning anything or catching on fire. There is also no emission of smoke or chemicals.
What size do I need for a 55 inch TV?
Whenever you choose a TV stand for your TV you always want to make sure your stand is always a few inches longer than your TV. You want your TV stand to be at least 8 inches longer than your TV so it can be nice and centred with a couple of inches to spare on each side. For a 55'' TV you should go for stands which are 63'' to 69'' long.
Are electric fireplaces tacky?
Modern electric fireplaces which are well built do not feel or look tacky. They can bring a sense of warmth and brightness to your ambience and can also serve as an attractive centrepiece for your living room. They also have multiple customization options with which you can customize your fireplace.
How big should my TV stand be for a 65 inch TV?
Your TV stand should be always bigger than your TV no matter how big your TV is. For a 65'' TV you might need a bigger stand compared to normal stands. Make sure you have at least 8 inches to spare after positioning your TV on the stand. For a 65'' stand it is recommended you go for stands which are 73'' to 79'' long.
Is it ok for a TV to be wider than the stand?
It is highly recommended you do not get a stand which is smaller than your TV. Your TV stand should always be a few inches longer than your TV for proper positioning and to minimise the risk of your TV toppling over. Make sure your TV has a few inches of extra space on either side.
How big of a TV will fit in my space?
It depends on the size of your space. You can measure the length and breadth of your room and decide accordingly. You also need to make sure your TV stand fits in your room with an appropriate amount of space to spare. You TV should be smaller than your stand. You can also determine the size of your TV according to your viewing distance.
How much will an electric fireplace raise my electric bill?
The standard electric fireplace consumes an average of 1500 watts of electricity. It also depends on other factors like heating capacity and whether you use only the flame mode or both the flame and heating mode. It will approximately cost you 8 to 23 cents per hour. They are definitely a cost efficient way to heat your room and don't raise your electric bill by a lot.
Conclusion
A TV stand can be much more useful and entertaining with speakers and a fireplace insert. We have compiled a list of the best TV stands with fireplace and speakers to make your search easier.