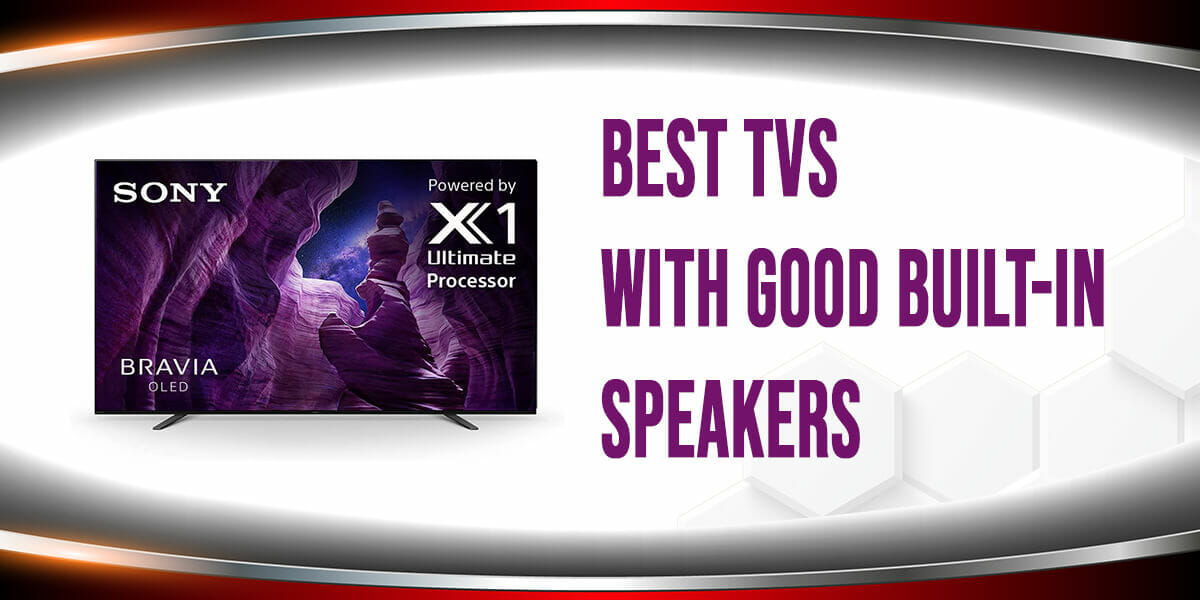 There are many TV's available in the market having good quality built-in speakers. These built-in speakers eliminate the need of purchasing a separate soundbar or other external speakers.
Many modern TV's have improved inbuilt sound with enhanced dialogue clarity and bass levels. You also get many adjustable sound settings along with this. Given below are the best TVs with good built-in speakers.
Table of Contents
The LG OLED55BXPUA 55'' 4K Smart OLED TV has one of the best picture qualities. It has a very thin and sleek design and is not big or bulky. This TV is available in 55'' and 65'' versions. It has a bright and vibrant display with crisp details and amazing contrast. You get a good range of customization settings built-in to finetune the picture and sound quality.
The sound quality of the built-in speakers is so good that you don't need a separate soundbar or speaker. It is both Wifi and Bluetooth enabled and the connection takes place very fast. This TV is great for gaming and has different modes and settings to optimize the gaming experience.
Pros
Amazing picture quality
Many customization settings
Many gaming modes
Good sound quality
Thin and sleek
Cons
Remote is confusing
UI could be better
With this TV you can enjoy the theatre experience from the comfort of your own home.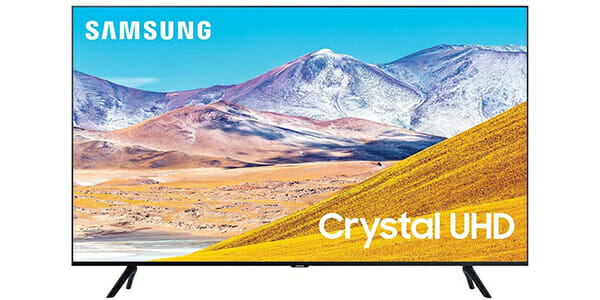 The Samsung Class Crystal UHD TU-8000 Series Smart TV is an affordable option for a good quality smart TV. It is lightweight and has a slim profile. It comes with a Samsung wall mounting kit and is easy to set up. You have options for wired and wireless internet connections. The packaging is safe and protective and the separate parts are neatly labelled.
You get plenty of display customization settings including 'Dynamic Mode' for a more colourful display. You can easily adjust the default settings to match your preferences. The TV menus are easy to browse and navigate through. This model has built-in woofers which enhance lower frequencies. It has an auto adjusting system which automatically adjusts the brightness according to the ambience.
Pros
Affordable
Colourful display
Adjustable settings
Lightweight
Mounting kit
Cons
Software is a little laggy
Remote is a little confusing
This is a budget friendly TV with plenty of customization options.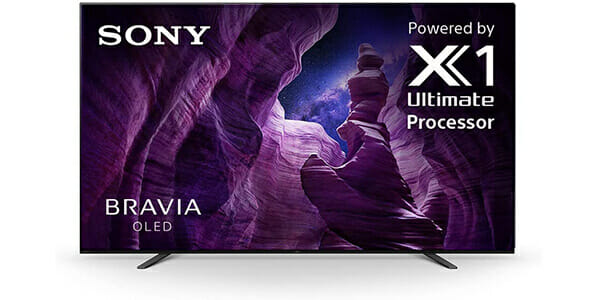 The Sony A8H 55'' Inch TV is a premium and high end TV which is well worth your money. It has a slim design and compliments almost every space. It is compatible with both Alexa and Google Assistant and you get a dedicated button for voice control in the remote. It has a built-in Chromecast screensaver and supports both eARC and Dolby Atmos.
This TV comes with amazing features like Dynamic Tone Mapping, Super Bit mapping and triluminos colour display. You get a good range of picture calibration options with many fine tuning settings. You can make quick audio or picture adjustments with the help of the remote. This TV will exceed all your sound expectations with its great inbuilt speakers.
Pros
Crisp details
Many calibration settings
Functional remote
Incredible sound
Slim design
Cons
Expensive
Software needs work
This TV is a very good investment for the amazing features it offers.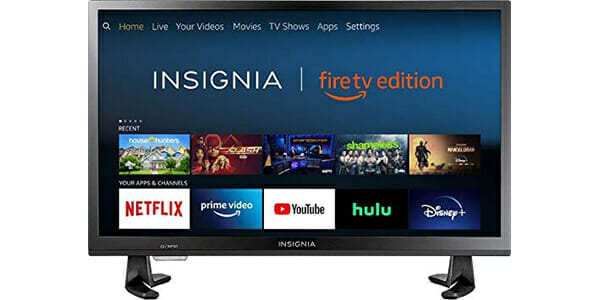 The Insignia NS-32DF310NA19 32 Inch Smart HD TV is a budget friendly TV with plenty of content. It has multiple inputs and outputs for connection to external devices. It has a smartphone integrated voice control feature which is very useful. You can arrange a wired internet connection using the Ethernet port or use Wifi. It has a very responsive and functional remote which makes it easy to navigate through the different settings.
This TV has a very easy and straightforward setup procedure. It is preloaded with many useful and interesting apps. It has cool features like edge enhancement and noise reduction. The TV has a surprisingly loud sound output and you get adjustable EQ settings. Even though you only get a resolution of 720p, the picture quality is pretty great.
Pros
Affordable
Compact size
Many preinstalled apps
Functional remote
Vibrant picture quality
Cons
Configuration can be confusing
This is perfect if you want a TV which is compact and has a good sound quality.
The Hisense 40 Inch Class H4 Series LED Roku Smart TV is the perfect choice if you are looking to upgrade your old TV. It comes with a stand and has an easy setup process. You can control this TV using your smartphone, Roku remote app or the actual remote. This TV has all the popular channels and apps for free. You don't even need a separate cable package.
The home screen is entirely customizable. It has a user friendly interface which is easy to operate. The motion is smooth and seamless without lagging. It has excellent picture and sound quality which is even comparable to other high end TV's. It has a compact design and is suitable for small rooms.
Pros
Good picture quality
Good sound output
User friendly interface
Many free channels
Cons
Remote needs better control buttons
No Bluetooth
This TV has sufficient channels and apps which are free.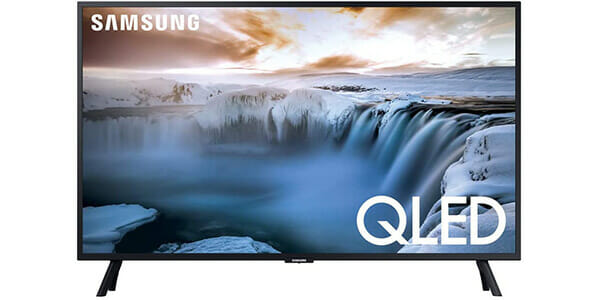 The Samsung QN32Q50RAFXZA Flat 32'' QLED 4K 32Q50 Series Smart TV is one of the few 32'' TV's which comes with a 4K resolution. You can mount it on the wall or stand easily. It has many ports for additional streaming services. You can even pair it with wireless headphones, speakers and soundbars.
The picture quality is incredible with stunning colours and sharp details. This TV has a 'smooth motion' feature for a seamless viewing experience. The sound output has good treble and bass levels. You also get a lot of sound customization options. This TV is also great for gaming and is compatible with Xbox and PS4.
Pros
Good sound output
Amazing picture quality
Wireless streaming services
Compact size
Many inputs and outputs
Cons
UI is a little confusing
Remote could be better
If you are looking for a small TV with stunning picture quality, this is the one for you.
Frequently Asked Questions
Which TV has the best built-in speakers?
Given below are some TV's with the best built-in speakers,
1. Panasonic HZ2000 4K OLED
2. Sony A8H 55 Inch TV
3. LG OLED55BXPUA 4K Smart OLED TV
4. Samsung Q90T QLED TV
5. LG CX OLED TV
6. Vizio P Series Quantum X 2020
7. TCL 6 Series/R635 2020 QLED 
Do smart TV's come with speakers?
Yes, smart TV's come with inbuilt speakers. Generally all TV's tend to have two speakers built into them. They are usually mounted facing sideways or sometimes on the bottom. Some smart TV's have good built-in speakers which deliver decent sound output. However some TV's need to be connected to speakers or soundbars to get a sufficiently loud sound output.  
How do I get the best sound from my TV?
There are many ways you can get a better sound output from your TV,
1. You can get a centre channel speaker for improved dialogue clarity.
2. If you are on a budget, you can get desktop speakers for your TV.
3. If you don't have much space, you can opt for a good quality soundbar.
4. You can get a mini home theatre system with good surround speakers.
Why is my TV louder than my soundbar?
There can be many reasons why your TV might be louder than your soundbar,
1. The volume may not be turned all the way up
2. The connection might not have been made properly or you might have plugged your soundbar into the wrong output.
3. Your soundbar might have a manufacturing defect.
4. Sometimes the TV might be the problem. It might not be compatible with your soundbar.
Do you need a soundbar with a smart TV?
You don't necessarily need a soundbar for your smart TV. Many smart TV's come with decent inbuilt speakers which deliver a sufficiently loud sound output. But getting a sound bar for your smart TV can be beneficial for a lot of reasons,
1. You can get a much better sound output from your TV.
2. Will reproduce the sound with better fidelity.
3. The sound will have deeper and punchier bass levels.
Conclusion
It is always good to do a little research before you invest in a TV. Sound quality is very important and the quality of inbuilt speakers can vary in each TV. We have compiled a list of the best TV's with good quality inbuilt speakers to give you a rough idea of the best ones in the market.