X8 Udu-H Udu Drum is a type of Udu Drum made and sold by X8 Drums and Percussion. The outline feature of this drum is the soothing sound effects generated by it, which are great even by the standards of an African drum. It also derives a lot of specialty from its uniqueness is design. It's also unique in the wat it provides unique bass sounds along with excellent depths.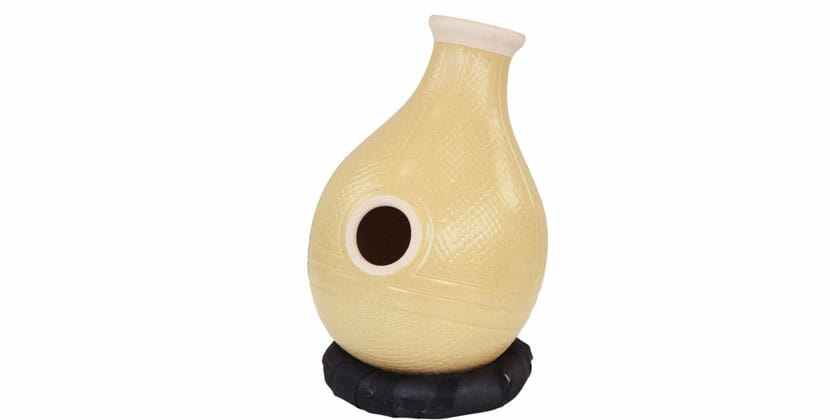 Table of Contents
Basic Construction
X8 Udu-H Udu Drum is characterised by a solid ceramic body which is what facilitates it's clear and defined tone. It boasts of having a height of 14 inches and is also well-spaced with a diameter of 11 inches and weighs around 3.6 kg. The model is question, which is the honey model has its own unique feature of having a light golden finish. Since, the drum is placed sitting-down almost all the time, it comes with a padded drum holder base which increases its convenience points.
Attractive Features
The most interesting feature is that since these drums are hand-crafted, no two drums will have the same look or sound. Also, each drum has its own characteristic tonal values.
It also has a solid ceramic body which provides it with clear and expounded sound.
The unique and rare bass sound of the Udu presents new depth of sound and this drum produces them to an extreme perfection.
The silver lining is the light golden finish along with the padded drum base holder.
The drum offers fair projection but can be amplified by the sounds by the use of a microphone.
Even after modernization, this Udu retains its authenticity towards the tradition African construction.
How Does It Fare?
When compared with other drums of its kind, X8 Udu-H Udu Drum clearly comes out on top with its superior design and bass levels. It's good for both amateurs and professionals as any part of the drum can be played using one's hand and fingers and rubbing the textured surface allows one to generate tonal variation, thus is preferred by professionals who can use it judiciously. It is very reasonable in price given the variations it offers.