Yamaha Stage Custom Birch 5pc Drum Shell Pack is a perfect product for those who are looking for a high-quality acoustic drum set. It is a dependable drum shell pack that is very sturdy in structure and attractive in appearance.
It's configured to produce rich and deep sound, the likes of which you can't find in other drum shell packs. It works well for both people just starting to learn how to play the drums as well professional drummers. Made out of birch wood, it has a beautiful look that sets in stone the high aesthetic value of your drums. It also serves a practical function – the birch wood is adept at carrying the vibrations and preserving sound quality.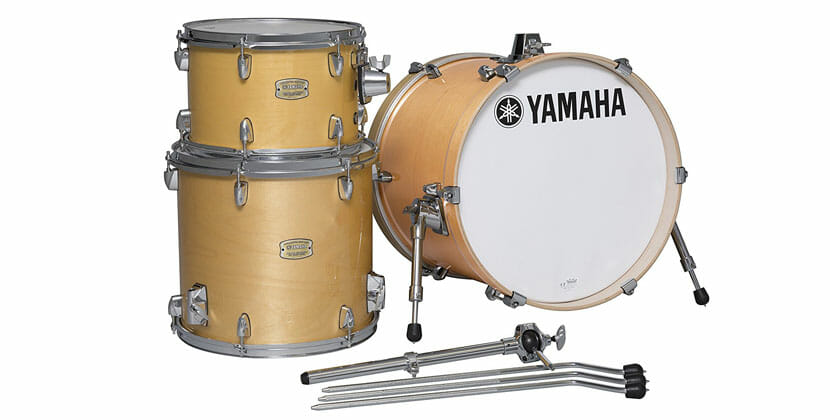 Table of Contents
Basic Construction

Yamaha Stage Custom Birch 5pc Drum Shell Pack weighs about 72.3 pounds. The sizes of the drums included are 22×17 kick, 10×7 rack tom, 12×8 rack tom, 16×15 floor tom, 14×5.5 snare (size in inches). It comes in a variety of colors. Considering that the drum shell pack will determine the look of your set up – Yamaha offers five rich colors for you to choose from – natural wood (light brown), cranberry red, raven black, honey amber, and pure white. All styles have a beautiful glossy finish that adds a certain elegance to the drum shell pack. Aside from drums, there is also other hardware that is included: TH-945B 3-hole receiver with two tom mounts and three floor tom legs. The drum shells are made from real and natural birch with an air seal system, which is a high-quality wood perfect for a fun drumming experience. The bass drum legs have the added feature of built in stoppers, to facilitate setting up the drum shell kit with ease.
Attractive Features
Modern and sleek design – this birch drum shell kit looks powerful and will be sure to draw the attention of everyone in the room.
Made of real birch wood: birch is not only beautiful but adds sturdiness to the shells and aids in the carrying of sound.
Easy to set up and use: it's a very user-friendly product that doesn't take a lot of effort to set up. It's also super easy to tune.
Easy to dismantle: The built-in stoppers make it convenient for you to move the drum kit from place to place.
It produces top quality sound – the drum shells are configured to carry sound well and using this drum kit will guarantee you undistorted sound that flows well.
Made with perfection: all the drum shells and associated hardware have been engineered to the point of perfection for the best drumming experience possible.
This drum shell pack uses the technology of Yamaha Enhanced Sustain System that improves sound and adds resonance. Other components included in the hardware are die-cast claw hooks, ball mounts, and resin-buffered clamps that help to reduce rattling.
How Does It Fare?
These flawless drums are made specially to ensure the best possible drumming experience. Yamaha uses the latest technology to provide maximum durability. This is a drum kit that you can always count on to perform its best so you can be at your best. The color makes for a pretty look; it retains its shine and doesn't wear off. It also provides you with a great drumming experience, as it's easy to set up and the high-quality hardware produces smooth and deep music.
Value For Money
Yamaha Stage Custom Birch 5pc Drum Shell Pack can be purchased at reasonable price, although there also might be some second-hand options for those on a tighter budget. Considering it is the very foundation of your drum kit, it's a fair price for a product made with such perfection and care. It'll be suited to your needs no matter which level of drummer you are. This custom kit, made from the finest quality birch, is a must have for drummers. It's not only a solid product with great sound and drum shells, but also is immensely good looking.
Checkout The Following Acoustic Drum Sets As Well: