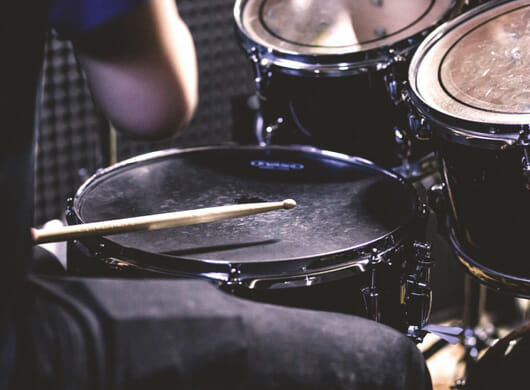 Acoustic drum sets typically come with a set of five drums and they can be with or without additional hardware. Before buying acoustic drum sets, look for the cost, player's age and durability. These are the only three things you need to look out for while choosing a drum set.
There are many manufacturers who are producing acoustic drum sets but we bring you the best nine of 2023.
Table of Contents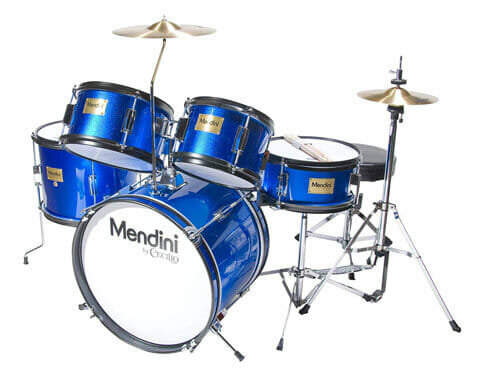 Mendini by Cecilio is a complete drum set for beginners and has everything a young drummer will need. This drum set has a small size and therefore is only meant for young drummers. It has a sixteen inch bass drum, a matching snare drum, toms, pedal & drum sticks, adjustable throne for the drum and even a manual to set up the whole thing. The cymbals that come with this product are of two types – Hi-Hat and crash. The eye popping metallic blue color is another plus.
Pros
It is easy to assemble.
This product has everything a drum set requires.
A strong built.
Cons
This drum set will cost you more than others
If you want the best of everything and are willing to spend a few extra bucks over the same then go for this one. The quality of the model is great and you won't have to buy any extra hardware. For beginners (kids), this is one of the best models available in the market.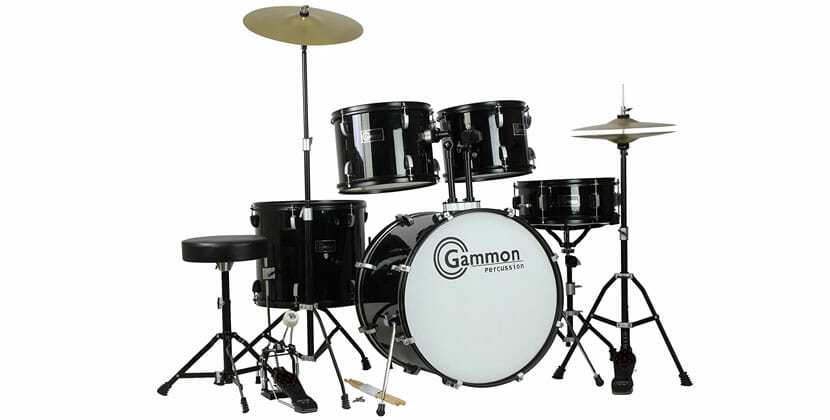 This drum set by Gammon Percussion has everything a drummer will want and rates highly on quality. This is meant for adults (not kids according to its size). When you buy this, you will get a set of five drums that also include a floor and two mounted side toms, a bass drum and a snare drum. All the additional accessories to play this sweet piece like pedals, drum key, sticks and even a stool is also included.
Pros
This drum set has a good value for money.
It fares well on both quality and performance.
Cons
Assembly might be time consuming.
If you are looking a drum set for mainly practice then go for this one. You will get all the hardware you need for a good price and this drum set will make your practice sessions so much better.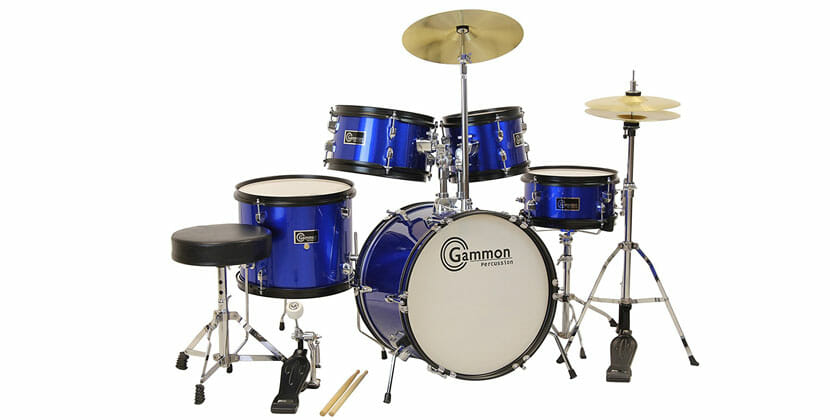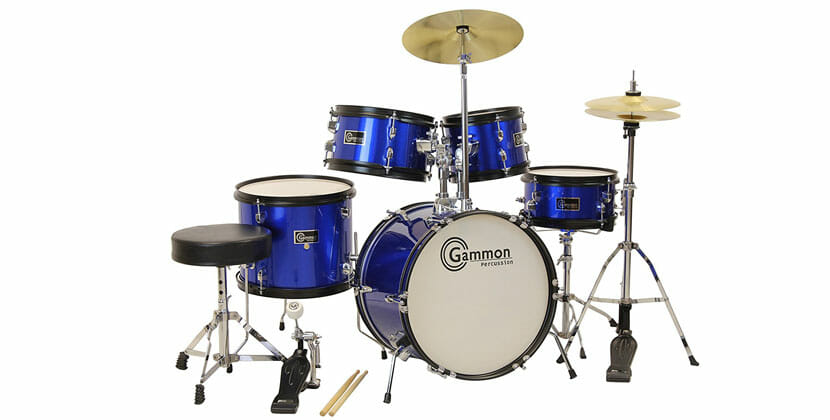 Gammon also has got the beginner drummers covered. This drum set is complete and has a reasonable size for a beginner. All five drums are included along with a cymbals stand, pedals, cymbals, drumsticks and a stool. The drum set has a shiny black finish and is made of superior quality hardware.
Pros
This product is from a trusted manufacturer—Gammon Percussion.
It is perfect for kids under the age of 10 who are just learning to play.
Cons
Some of the parts like the pedals and cymbals can be a little more durable.
The compact size is perfect for little kids and therefore this drum set is a great way to kickstart your kid's interest in drumming. Some parts may be a little more durable but they do work out fine at the price it is available. Moreover, the upsides outweigh the downsides in this drum set.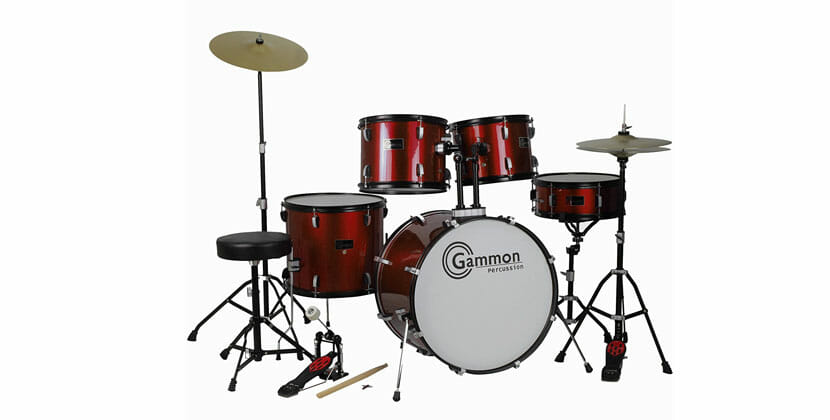 Gammon Percussion always has your best interests in mind and therefore they have come up with a new improvised version of a junior drum set. This too comes with everything a drummer might need and the best part is that you will get this product at a much reasonable price as compared to the manufacturer's other products.
Pros
This comes with all the necessary hardware so that you don't have to buy anything else separately.
A glossy finish makes it perfect for stage shows.
The cost is also reasonable.
Cons
Cymbals are not great performance wise.
At the price it is available; this drum set from Gammon does manage to deliver. This is the cheapest drum set available in the market and therefore if you want something inexpensive when you are still experimenting with drumming, it is better to go with this product.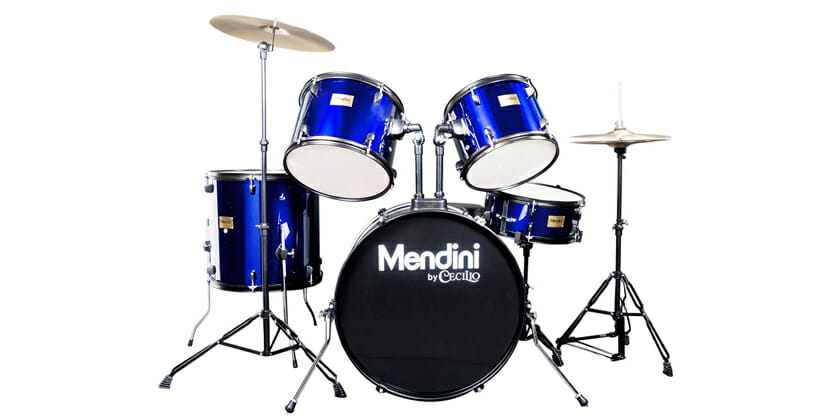 We have covered junior and we have also covered adults but what about all those rebellious teenagers? Mendini by Cecilio has the perfect solution for all aspiring teen drummers. This drum set is designed for their needs and therefore is perfect for them size wise. It has everything a drum set should have and therefore you won't have to spend any extra bucks to buy anything additional.
Pros
A one year warranty is given to safeguard your product from any defects.
This drum set comes with all the hardware required.
This is also suitable for kids.
Cons
The snare stand needs to be readjusted at times.
This drum set is designed for teens but kids as young as five can also use this one with ease. The performance is justified by the price and you will be very happy with the overall quality this drum set offers.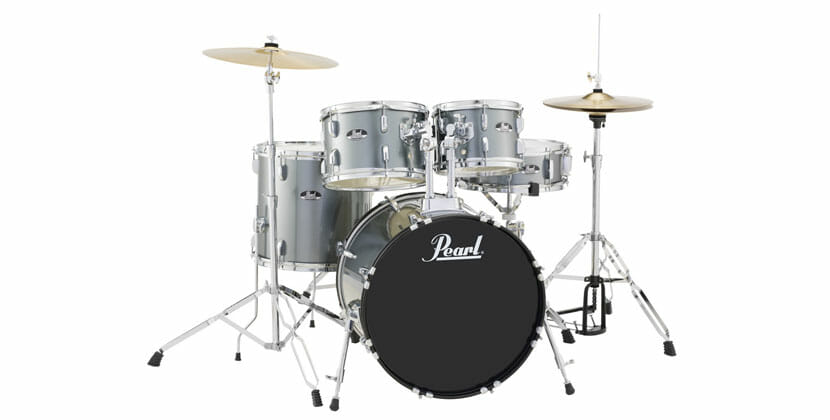 If you are a fan of style and jazz then give this acoustic drum set by Pearl Roadshow a chance. All the drums in this set are made from a 9-ply Poplar shell to give it a more powerful attack, focus and play. All the necessary hardware is included in this set along with the five drums. These drums are designed according to your preferred music genre. You can choose between Fusion, New Fusion, Jazz and Rock.
Pros
It comes with everything a drum set needs.
The drum shells are highly durable as they are made of 9-ply wood poplar for a powerful sound tone.
High quality is maintained in every drum set piece.
Cons
This might be a little expensive as compared to other acoustic drum sets.
This drum set delivers good results in both performance and quality. It might be a little expensive but its superior sound quality justifies the cost. This is meant for beginners or kids mostly and will last long. Therefore, this drum set will be a good value for money in the long term.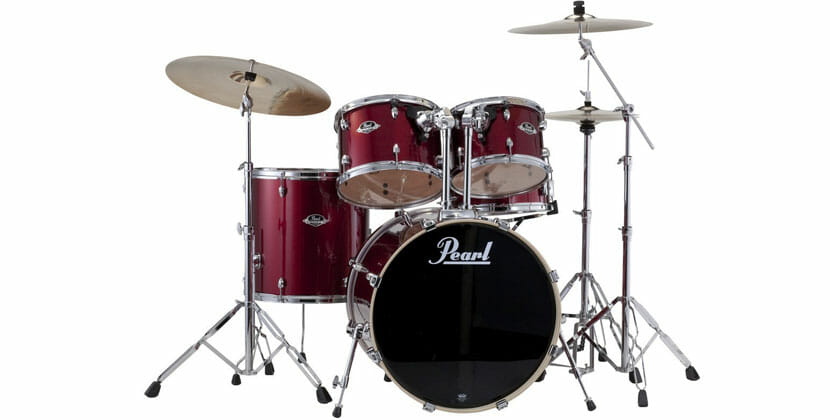 This five piece drum set from pearl comes in two set of configuration—with and without cymbals. You can have your pick according to your preference or choice.
Pros
The drum shells are a blend of Poplar and Mahogany wood for strong sound tone and a low resonance.
There is a locking system on the stand to keep your drums in a tight position.
This drum set comes with a lifetime warranty.
Cons
The cost might be expensive for some.
Overall, this drum set gives excellent performance in almost all the departments that count. This will last long and all the drums are high on quality overall. Even the drumheads are from REMO, one of the leading manufacturers in this case. If you are a serious drummer who knows what he wants then go for this one!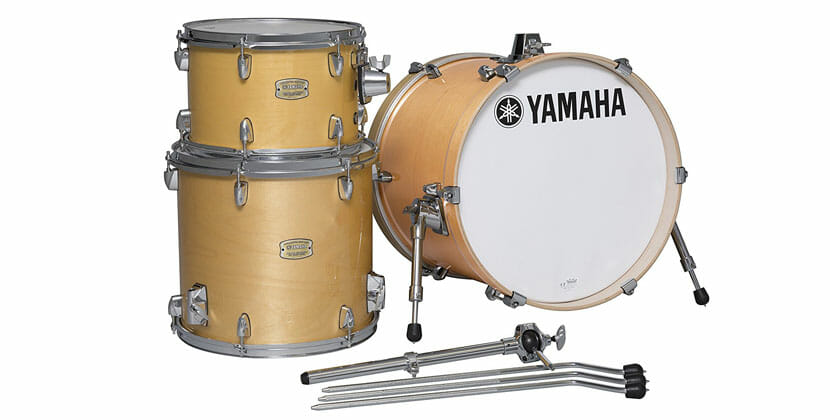 Yamaha brings you an acoustic drum set with two options – one is without any drum hardware and the other is with drum shell hardware. The basic version will give you 5 drums of the standard sizes made of birch drum shells. In addition, the drum shells are also sealed with an air system. Another amazing option this drum set has is that all the drum edges have a forty five degree angle bearing.
Pros
The high quality of drums guarantees a good performance.
You will get more resonance and sustenance.
All the drum shells are made from hundred percent birch shells.
The bass drum legs will give the ultimate support to your 16 inch drum.
Cons
If you buy the basic version, you need to buy the drum throne, cymbals and all the additional hardware separately.
Overall, this drum set is an awesome product that does not fail to impress the users. The superior quality of the drum shells and the high performance of the drum heads is something you can't easily find anywhere else. In addition, Yamaha is one of the most popular manufacturing brands when it comes to musical percussion instruments.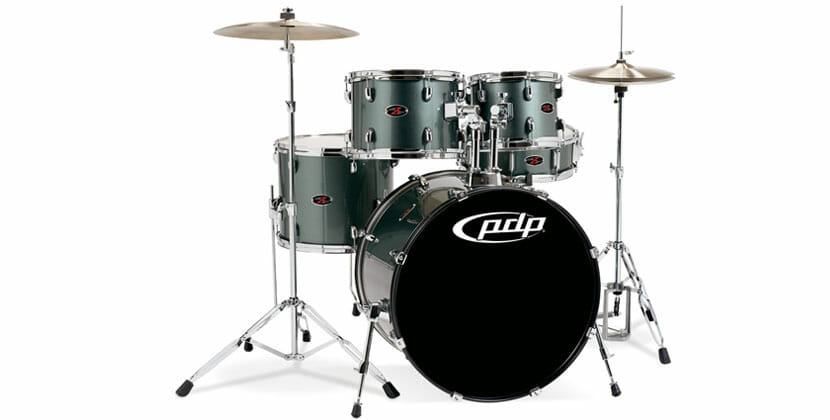 This drum set by Pacific comes in a variety of colors to choose from – Black cherry, aqua blue, carbon black and emerald. You will get 5 drum piece—bass, snare, 2 mounted toms and a floor toms. No additional accessories or hardware like cymbals or drumsticks are included and have to be bought separately.
Pros
A solid construction of the drums
Inexpensive cost
Cons
Additional hardware needs to be bought separately.
Overall, this is a good drum set for beginners who are looking for something cheap but durable. You might have to shop for additional hardware if you need them but for people looking for something simple, inexpensive and durable, this is a great drum set!
Frequently Asked Questions About Acoustic Drum
What does a standard drum set consist of?
A standard drum set has five set of drums – one bass drum, one snare drum, two mounted toms and one floor tom. Additional hardware that commonly comes with most drum sets are cymbals mounted on a stand, a drum throne, drum sticks and bass drum mounting stand. There might be more or less additions but ones stated above are most common.
What are some common configurations in which a drum set is available in?
Drum sets can come in multiple configurations and this mainly depends on the manufacturers. All of them are based on the number of drums in a set:
Five Piece Drum set
This is the most common type sold mainly for beginners. It has a total of three toms, a bass drum and a snare drum of standard size each. Almost all five piece drum sets for beginners will contain all the necessary additional hardware like drum sticks, cymbal pack, a stool etc.
Four Piece Drum Set
This one has a bass drum, a snare drum and two toms. The tom can be either one floor or one mounted or two mounted toms. You need to add additional hardware like cymbals according to your use with four piece.
Three Piece Drum Set
A simple configuration, three piece drum set has three components—a bass drum, a snare drum and one hanging tom. You can add hi-hats, cymbals etc with three piece drum sets too. This configuration is commonly made for very small children who are just learning to drum.
What are some secondary musical instruments that go with drum sets?
There are many secondary musical instruments that go well with drum sets. Some of them are:
1. Cowbells: They are commonly used in many music genres and by many musical artists on their drum sets. They are a U shaped bell which can be hand rung or hit by drum sticks to ring.
2. Bar Chimes
3. Tambourines
4. Timbales and many more
What is the difference between electronic and acoustic drum sets?
Acoustic drum sets are traditionally made with wooden shells and metal cymbals. Electronic drum sets on the other hand are made of rubber, plastic shells, pads and the sound produced is amplified by a sound box. The main difference is the amplification of sound in electronic drum sets. Acoustic drum sets don't have the same amplification feature.
Glossary
Bass Drum
The largest drum (22 inch) played mainly by a foot pedal.
Crash Cymbal
A cymbal that is used to attack with high speed.
Drum Key
A key for tuning or adjusting the pitch of drum-heads.
Hi-Hat cymbals
They are a pair of cymbals that are mounted on a stand.
Mounted Toms
They are usually six to fourteen inches in diameter and are used to provide deeper sound tones.
Snare drum
They have a buzzing tone and have to be played with drum sticks.
Tom
They are drums that can be mounted on the bass drum with the help of a holder. Toms larger than 16 inches are called floor toms.
Conclusion
Acoustic drum sets are mainly divided into two groups—for adults and for kids. If you are buying them for kids then check the durability and size of the drum set. Some good options are Mendini by Cecilio and Gammon 5-Piece Junior Starter Drum Kit. If you are a serious drummer and are looking for something high quality then go for Yamaha Stage Custom Birch 5pc Drum Shell Pack or Gammon Percussion Full Size Complete Adult 5 Piece Drum Set.