Meinl Percussion HE-3012 Doumbek is a 'musical dream' come true for many musicians looking for an exclusive, hand-crafted doumbek. It is a beautifully finished, hand-engraved doumbek that is preferred equally by professionals and beginners alike. The synthetic head is comfortably stretchy, durable and can be easily replaced or changed if the need be. The sound projection is loud, strong and powerful, making it an absolute delight to play. Yes, the sound is loud enough to let your neighbours know about your drumming skills­ and make sure they don't complain. So, you can hone your skills on this one as it has a wide range of tones.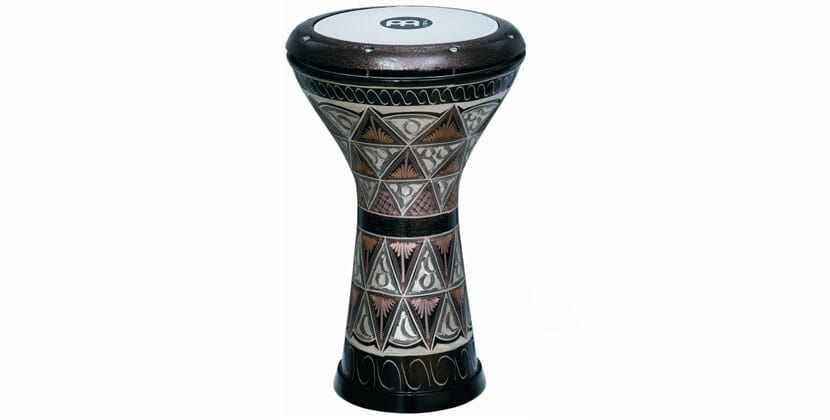 Table of Contents
Basic Construction
This originally 2.5 pounds percussion instrument is made of high-quality, well-stretched replaceable synthetic head that is a worthy investment. It is light-weight and can be conveniently carried or transported. Its shipping weight is about 7.6 pounds. The product dimensions range at 29.5 x 29 x 46 inches. The Meinl traditional-style darbuka percussion also comes with a well-built hand-engraved copper shell.
This darbuka percussion drum comes with a spare head which makes it easy for you to replace the head in case of wear and tear. The synthetic head is tunable and comes with a tuning key to make it a little easier. This not only enables one to tune the instrument as per needs but also makes a statement about the diversity of the product. The powerful sound projection has a wide range between the resonating highs and lows.  The Copper body measures 8 ½ inches x 17 1/8 inches.
Attractive Features
The Meinl Percussion HE-3012 Hand Engraved Copper Doumbek is a professional percussion drum that is beautiful to look at and well, play. But hey, let's give you other reasons:
The copper shell is engraved like no other and makes it standout when compared to its market counterparts.
The synthetic head is replaceable and tunable. The doumbek also comes with a spare head for the extra careful ones. So, you can change the original one upon wear and tear.
The carrying bag that comes along with the product is made to fit the Meinl Percussion HE-3012 Hand Engraved Copper Doumbek and protect it from dust or injury.
A tuning key is provided for tuning the doumbek professionally.
How Does It Fare?
Meinl Percussion HE-3012 Doumbek is a professional doumbek drum that you can use for shows or play conveniently in acoustic sessions. The highs and lows are well defined with a clear distinction between the both. The sound is clear, loud, powerful and has depth and clarity. It has eight bolts which gives it an edge along with its copper made hang engraved shell. The tuning range is therefore needless to say flawless and diverse.
It is perfect for both professional musicians as well as beginners, just like it is well suited for both shows and acoustic sessions. If you are one to value tradition and want a modern instrument with the looks and sounds of a traditional one, opt for the HE-3012 Hand Engraved Copper Doumbek without hesitation.