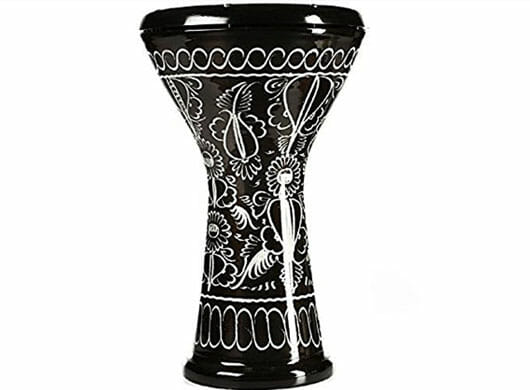 Doumbeks originated in the Middle East and are a kind of drum. This goblet shaped drum has a single head and has deep lows and ringing high sound tones. Doumbek is an important part of Arabic music and there is a generous use of this kind of drum in the same. Belly dance for example has music that involves a heavy use of doumbeks. If you are looking for a percussion drum that has rich and diverse sound tones then doumbeks is a good option.
Table of Contents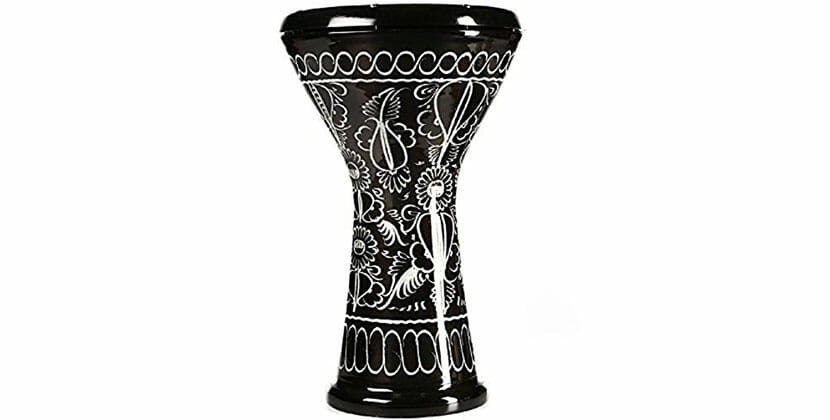 Meinl Percussion is a trusted brand in the world of musical instruments and therefore this aluminium doumbek is a good choice for musicians who want only the best.
HE-3018 Doumbek is a hand engraved doumbek that gives a wide range of music notes—both low tones to high snapping sounds.
Pros
There is scope for enough experimentation as a wide range of sound tones can be produced.
The drumhead is tunable and synthetic, making it more durable.
The position of the rim makes it easy to incorporate finger snapping techniques.
Cons
The cost might be a little on the higher end for some people.
Overall, this doumbek from Meinl Percussion is a great choice for professional musicians who want to diversify and add a little extra in their music. The authentic sounds are a treat to hear and represent the finest in Middle Eastern, North African and Eastern European music.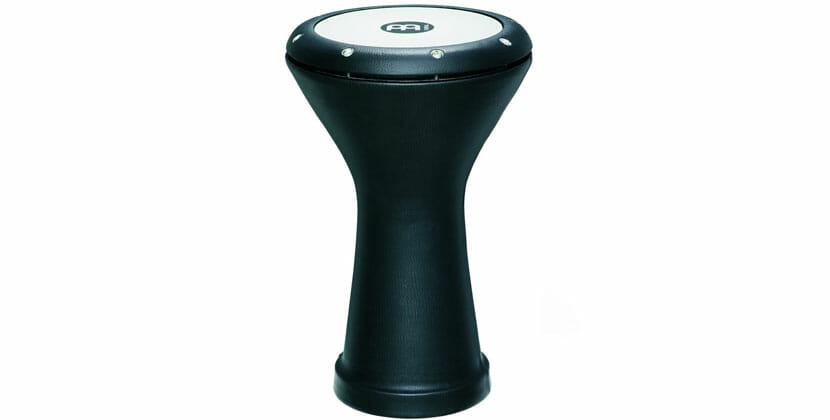 This Meinl Percussion Aluminium Doumbek has a black vinly finish for a glossy and beautiful exterior.
Professional musicians can play a variety of different sound tones with the help of a drum that is about 18 inches tall and has a drumhead of 8.75 inches.
Pros
The sound tones are authentic to the region of origin—Middle East, North Africa and Eastern Europe.
Professional musicians will be amazed by the sound tone diversity.
The rim sits low and is almost flushed to the drumhead. This helps create sound tones easily through finger snapping techniques.
A tunable head is replacable and ideal for creating rich sound tones.
Cons
Not ideal for people who are just starting to learn percussion musical instruments and only meant for true professionals.
This doumbek might be expensive as compared to others.
Overall, this doumbek is a great choice and though it might be a little expensive, its high quality craftsmanship and excellent sound quality makes it all worth it.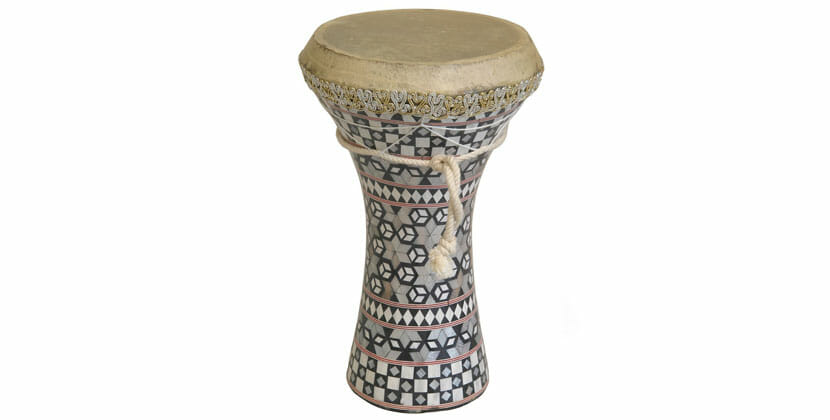 Mosaic Wooden Doumbek is made of wood and has a beautiful mosaic design.
This design comes close to the original doumbek that is produced in the country of its origin and therefore the sound tones are very authentic.
Pros
The cost is in the low range but this doumbek still has a great quality, both sound and construction wise.
The construction is close to the original doumbek that is made in its country of origin.
Ideal for beginners because the cost is not that high.
Cons
The durability is not that great because it is made of wood.
Not the best choice for professional musicians but still can be used for a short period of time.
This doumbek is made of natural goat skin head and comes with decorative tuning ropes that are non-functional. The height is about 12 inches, the width is about 7.5 inches and the playing surface diameter is about 6.5 inches.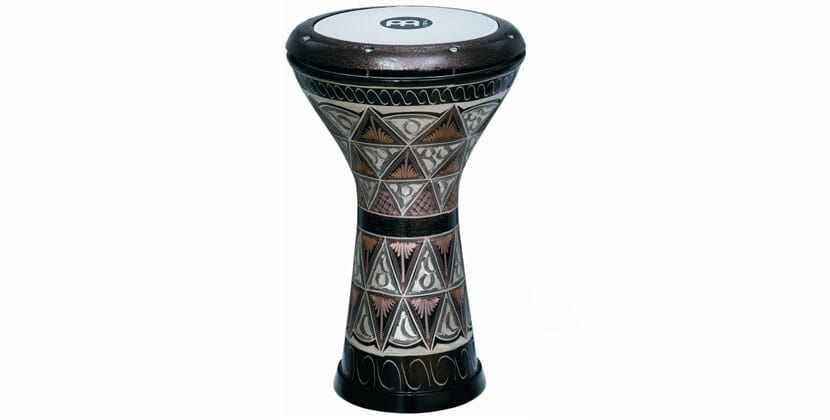 HE-3012 Doumbek is yet another doumbek from Meinl Percussion but with a slight difference.
As compared to other doumbeks mentioned above, this one is made of copper and is hand engraved.
The sound tones produced are both rich, powerful and authentic.
Pros
A copper body makes this doumbek more durable.
It comes with additional accessories like a carrying bag, spare drumhead and a tunning key.
This doumbek is perfect for professional musicians.
Cons
The price range is a little higher but Meinl Percussion fully justifies the same—quality wise.
Overall, this doumbek has a copper body, a height of 8.5 inches and a height of about 17 inches. The additional accessories that comes with this doumbek, fully justifies the high cost it has.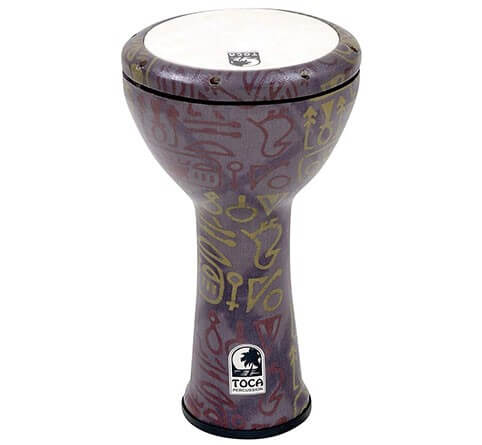 SFMTDK-9AB Doumbek from Toca comes under a moderate price range but gives tough competition to other high priced doumbeks when it comes to quality. There are many features that make it a good buy.
Pros
The doumbek is really light in weight and has a synthetic shell that is seamless.
The bottom of the drum is protected by a rubber base.
The goatskin drumhead is about 9 inches in diameter and the doumbek has a total height of 18 inches.
Cons
There are no major cons and it is ideal for both beginners and professionals.
This doumbek is from a trusted manufacturer and therefore is worth taking a look at. The exterior might not be beautiful but the sound tones are spectacular.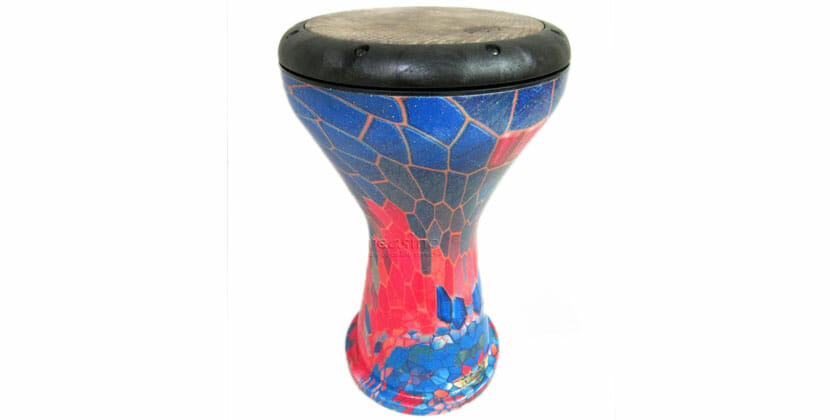 Ergo-Crystal Doumbek from Remo is in a league of its own and stand about 17.5 inches tall with a diameter of 9 inches in playing area.
It is further decorated with fish graphic image that Remo uses in almost all its musical instruments.
Pros
The doumbek has a synthetic drumhead that can produce Tek tone and full bass. Therefore, the sound tones are authentic.
The manufacturer is wel known for its high quality musical instruments—especially percussion instruments.
Cons
The price might be expensive because Remo is a trusted brand that delivers on quality.
The crystal body might need some extra care.
Overall, this doumbek has an authentic look and feel with its crystal body and synthetic drumhead. Furthermore, Remo is a brand that is trustworthy and will not disappoint.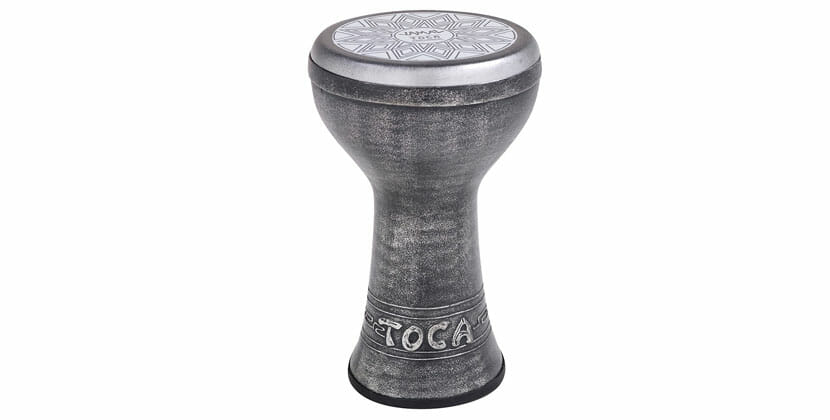 Fiberglass Doumbek from Toca is yet another masterpiece that stands about 16 inches tall and has a drumhead diameter of 9.5 inches.
There is no manufacturer warranty and it is really not needed with the superior construction.
Pros
This doumbek is portable and can be carried around easily.
The outer shell has an antique finishing of silver with intricate embossing.
Unlike other doumbeks, the drumhead too is beautifully decorated with Middle Eastern pattern, leanding an authentic and beautiful look to the doumbek.
Cons
There is no manufacturer warranty on this doumbek.
Overall, this doumbek is a beautiful piece of art and comes close to its heritage. The fiberglass body further makes it tough, durable and strong. The strength however does not mean this doumbek is heavy but instead is completely light in weight and can be carried around easily.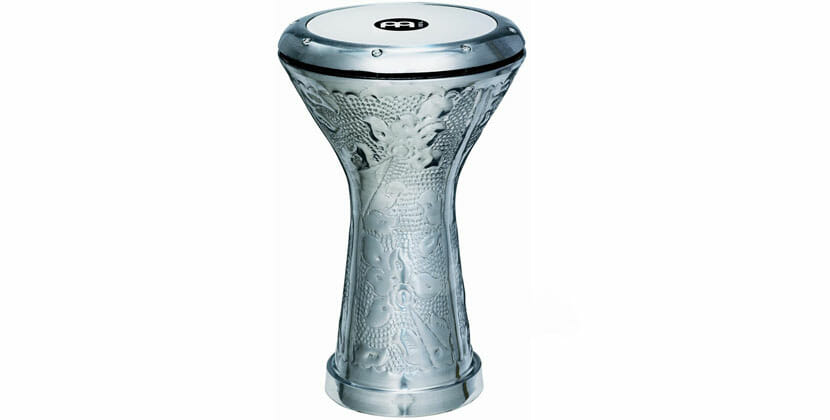 HE-3030 Doumbek from Meinl Percussion has an aluminum body that stands 17 inches tall and a playing area that has a diameter of about 8.5 inches.
Pros
The synthetic drumhead is tunable, replaceable and is hand hammered.
The sound projection is powerful and loud enough.
There are additional accessories that come with this doumbek like a carrying bag, spare head and a tuning key.
Cons
Similar to all Meinl Percussion Doumbeks, this falls under a higher price range.
Overall, this doumbek is a good investment for all professional musicians because of the rich sound tones it produces.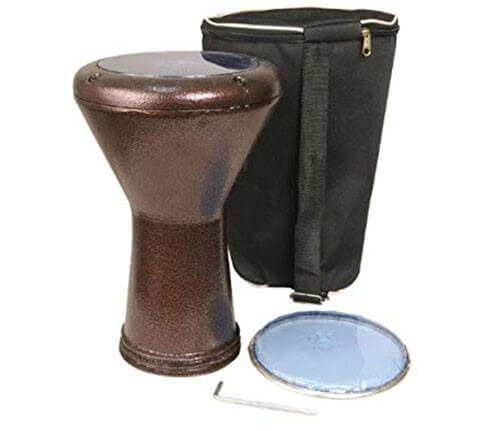 Alexendria Doumbek is a smaller doumbek compared to all others in this list. It is made of aluminum but has a bronze finish.
Pros
This doumbek is small and therefore it easier to carry it around.
There are additional accessories included with this doumbek like a tuning tool, a nylon case and a standard synthetic head.
Cons
It is from a lesser known brand but is directly imported from its place of origin—Middle East.
Overall, this doumbek is ideal for beginners who want to learn doumbek or any other percussion instrument from the start.
The doumbek is a great percussion instrument to play—especially if you want to explore Middle Eastern music. There are many options available as listed above but we recommend Meinl Percussion HE-3018 Hand Engraved Aluminum Doumbek, Synthetic Head and Remo Doumbek for professional musicians. Beginners can take their pick from a number of options from Toca Jamal Fiberglass Doumbek Silver to Mid-East Medium Pretuned Mosaic Wooden Doumbek.