Meinl Percussion HE-3030 Doumbek has several features which make it very unique. First of all, it is hand hammered thus each drum is unique as there are some differences present in each product made by hand. Most people would see this as a flaw but a true musician knows how important uniqueness is for an instrument. Even though, the doumbek is made out of aluminum and one might be skeptical about sharp edges, but that has specifically been taken care of. The drum is as smooth as it gets. Its sleek design also makes it easy to play. It is also very portable as it does not weigh much and thus, is a pretty convenient choice for travelling musicians and players.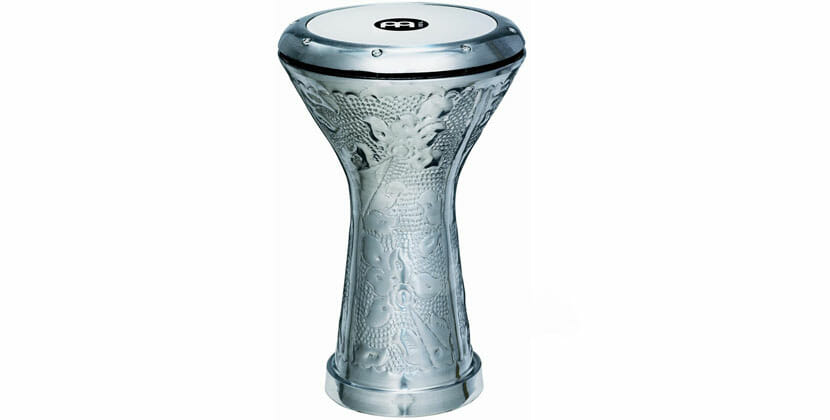 Table of Contents
Basic Construction
The doumbek is built out of aluminum and weighs about 3.3 kg which is pretty light and thus increases it portability. It has of 8 1/2″ x 17 1/8. The hammered goblet body of this doumbek is very smooth and thus, does not cause any discomfort to the player. Also, it sleek design ensures that the drum can be played in any position, may it be sitting or standing.
Attractive Features
It is very durable since it comes with a synthetic and more importantly replaceable head.
It also weighs only around 3.3kgs and is thus, pretty lightweight and causes no inconvenience to the player.
A noteworthy and unique feature is the amazing sound projection.
It is also comes along with a tuning key, which can be used to tune the equipment to produce various sounds.
It has a pretty sleek design which makes it easy to handle.
The hammered goblet body is pretty smooth which makes it all the more better.
It is also very nice look at, since it has a pretty shiny look.
How Does It Fare?
Like all the other Meinl percussions this one also has an amazing sound projection and with the right tuning and playing, it can produce varying sounds. The music generated by them is very upbeat. It is also very durable since it is made out of aluminum, one does not have to worry about rusting or erosion. Another plus is that it comes along with a tunable and synthetic head. If all this was not enough already, you don't have to worry about finding the right fit bag or finding an equipment for tuning or what to do if your head breaks, since the product comes along with a bag, a tuning key and even a spare head.
This instrument is better suited for professionals who can use their skilled hands to produce various kinds of music with this and also can tune the doumbek according to their requirements. It is not suitable for a beginner or a child since it is pretty expensive for a novice who can go for other quality drums produced by Meinl but which cost less than this one.